As expected, UNLV was not good. Rutgers shouldn't be much better.
Pick a metric, any metric. UNLV is 109th in the Sagarin. Rutgers is 98th, just ahead of Jacksonville State, which by the way is in Alabama for some reason. The Scarlet Knights - this weekend's Buckeye False Sense of Security™ - jump to 79th in the S&P, whereas UNLV - last weekend's Empty Buckeye Victory™ - drops to 112th.
Ohio State is 4th and 2nd in those algorithms respectively. We already know what happens in tepid matchups like these, especially following an early loss - you consume them while grasping a red pen anxious to circle what wasn't good enough while diminishing anything that looked better than okay. We grade on a downward curve because UNLV was not good, and Rutgers is Rutgers. Facts.
Our joylessness and cynicism are peaking - in September! 
Ohio State only has unwinnable beauty PAGEANTS scheduled until Penn State visits COLUMBUS.
The Buckeyes already lost to the Sooners. Penn State comes to visit in a month, but until then Ohio State only has unwinnable beauty pageants scheduled. Army now ranks close to 100th in those aforementioned metrics. Homecoming guest Maryland will be flirting with 70th and starting no better than a 3rd string quarterback not named Cardale. Nebraska and Illinois are two more opponents you will have to scroll down a bit to find on FBS grade cards. 
But it's not all bad: Indiana, Iowa and Michigan State are solidly top 50 teams this season. Only Michigan and the Nittany Lions are top 10, which means half of Ohio State's opponents present opportunities for legitimate wins. The other half is just filler.
That also means after one month the Buckeyes are still stuck at 1-1 with a whole other month to go before they even get the chance to upgrade their record. Class participation and beating up on UNLV do not figure into final grades, students. In the meantime, we'll just have to depreciate touchdowns and hollow victories while hoping our red pens don't run out of ink.
Only a week and a half until midterms! Let's get Situational.
---
The ANNIVERSARY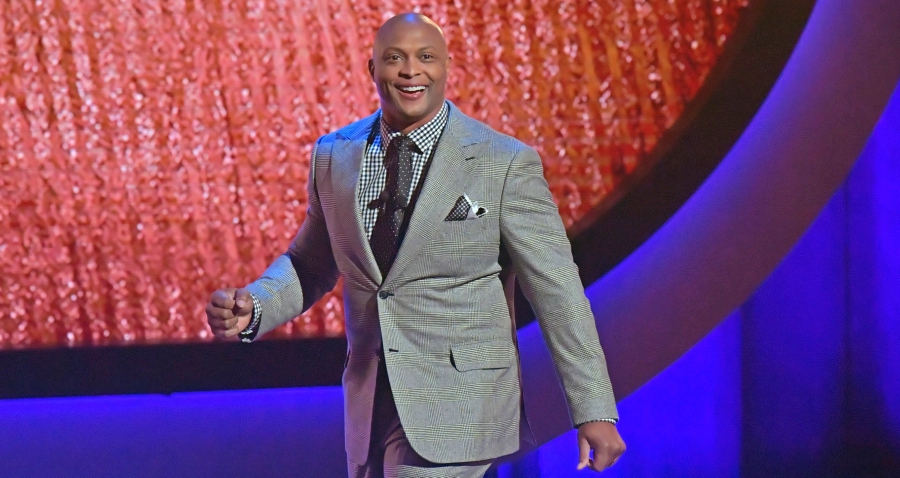 Normally when Ohio State commemorates its iconic players and moments, it does so between quarters at midfield during television timeouts. Saturday vs. UNLV was unique; this ceremony was held at the one-yard line on the south end of the stadium during live game action.
Rashod Berry and Parris Campbell did the honors. It took two men to do this anniversary justice. If you're young or forgetful it might have been lost on you.
Twenty-five years ago a freshman running back named Eddie George fumbled twice inside the Illinois 5-yard line in Ohio Stadium. The first fumble took place at the end of a dominant opening drive as George was plunging in for the score. The Illini ran it all the way back for the game's first points. It's still (and will always be) the longest fumble return in Big Ten history.
Three quarters later with the Buckeyes clinging to a 16-15 lead, Eddie fumbled again with a touchdown inches away - this time the Illini fell on it, then proceeded to hold the ball for almost nine minutes, plodding down to the Ohio State 5-yard line and chip-shotting the game-winning field goal, sealing their fifth consecutive win in Ohio Stadium.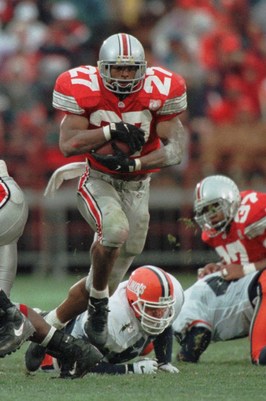 After the game fans were furious over why George was even in the game at all (Robert Smith was the starter) and further - why was he at running back and not with the linebackers. He looked like a linebacker! He had bad hands! Joe Paterno had recruited Eddie as a linebacker which was part of the reason he ended up in Columbus as a running back, which was what he wanted.
Buckeye fans care for little beyond their own hurt feelings. That has been part of our culture since long before Woody Hayes was almost run out of town in the mid-1960s for not winning enough. The whole 1992 season was already in flux, in early October. Following that crushing loss, the perpetually beleaguered John Cooper said:
There's nothing easy for me these days. It's almost like it wasn't meant to be.
Yikes. Had Internet message boards or Twitter existed back then, this episode in Buckeye football history would have put our current J.T. Barrett QB squabbles to shame. There are few - if any - October home losses that compare in program history. And as is always the case, the seasons passed and the years did roll. Ohio State football survived to fight another year.
Three seasons later Eddie was putting in record-breaking work as a senior that would result in his name and number hanging forever in the endzone opposite the one where he fumbled twice that terrible day. That two-goal line fumble game 25 years ago is something few people remember anymore. 
A quarter-century later Ohio State absorbed two eerily similar turnovers when Berry and Campbell converted sure scores into UNLV 1st downs. Just as Eddie did before either was born, both players also made it safely into the endzone during the game. This time those two turnovers only kept the Buckeyes from covering a 40-point spread. Victory was a foregone conclusion.
Eddie eventually redeemed himself, the linebacker talk disappeared and he replaced those groans from that afternoon with his name being chanted every time he touched the ball - or whenever he comes back to town. Here's to Campbell and Berry someday enjoying the same adulation.
---
The Bourbon
There is a bourbon for every situation. Sometimes the spirits and the events overlap, which means that where bourbon is concerned there can be more than one worthy choice.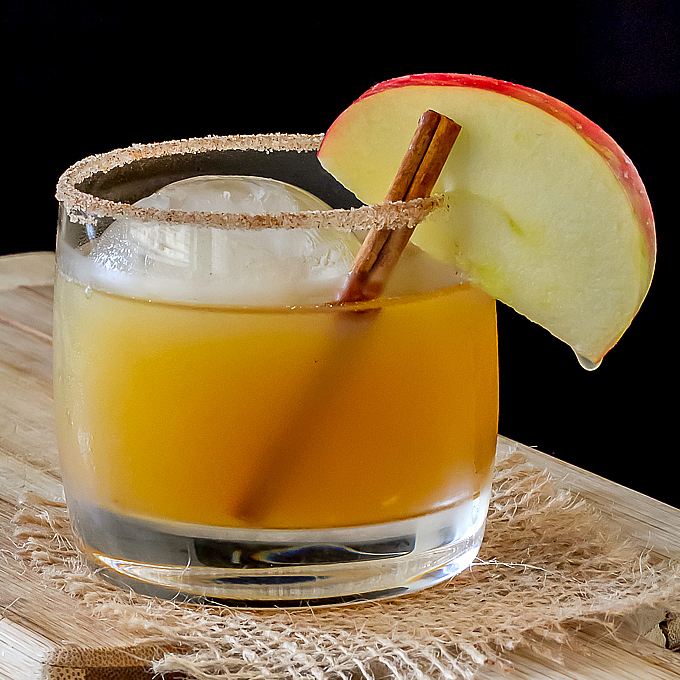 Summer officially ended last Friday, so you've likely been inundated with #pumpkinspiceeverything over the past few days, and that's fine. I'm old enough to remember when fall was about fresh apple cider, before the pumpkin spice cartel amplified its lobbying efforts. Apples are in peak season right now, and bourbon is in peak season all year. Let's proceed.
I created The Fall Guy (not the show, which was also good) after finding conventional apple cider-whiskey recipes missing...something. Lee Majors and Heather Thomas, for starters. Those recipes aren't tart or sweet enough and have plenty of room to command more delicious calories, so adjustments were made. In Hollywood this is known as a rewrite.
You're going to need a high corn mash bill bourbon for this, and the easiest ones to come by are going to be Hudson (Baby) or Old Charter. You could probably go with corn whiskey instead of bourbon if you like, but providing any guidance on those is well outside of my purview. This is a show about bourbon.
THE FALL GUY

| Ingredient | quantity |
| --- | --- |
| HUDSON BABY | 2 shots |
| APPLE CIDER | 2 shots |
| GINGER BEER | 1 shot |
| BITTERS | 1-2 dashes |
| CINNAMON SUGAR | glass rim |
Choose your whiskey and then pick up some cider from the apple-pickin' place, or your local farmer's market, or if you're rustic and #artisan then make some yourself. I don't know how to do that, and frankly it sounds exhausting. However you procure your cider, it should be fresh. It's in season right now. Don't buy the mass-produced from-concentrate shit from Conagra, you dummy.
First take the glass of your choosing and dip the rim in cinnamon sugar. Carefully place a fancy ice cube or ball inside of it. Hit it with a dash or two of bitters, then gently pour a shot of bourbon, a shot of cider, a shot of bourbon and a shot of cider over it (alternating = better mixing). 
Finish with a shot of ginger beer. Adding a cinnamon stick stirrer and a skinny apple slice garnish is advised for both taste and aesthetic. Enjoy The Fall Guy with some college football or even a little playoff baseball. Pumpkin spice? It can sit this one out.
---
The Playoff
Ohio State's 1955 season recap video is something to behold. 
Your reading companion for that video:
Buckeyes went 1-2 in non-conference play and still finished No.5 in the country #B1GBIAS
Plenty of dazzling highlights from the Duke game...which the Buckeyes dropped 20 -14 in Columbus. Yeah, the narrator sort of skips over that part.
Hop Cassady won the Heisman that year after finishing third the prior season (in which the Buckeyes were undefeated national champions). 
Hop was not a team captain. He never was. Had Ohio State carried nine of them in 1955 the way they do in 2017, he wouldn't have been denied entry to over 60 years of Captains' Breakfasts. National champion, NFL champion, AP Male Athlete of the Year, Hall of Famer, 2x Big Ten POY, Retired number in Ohio Stadium...no breakfasts. 
Please bring back those argyle endzones ASAP, thanks.
TBDBITL's stadium spot in 1955 was the west goal line in the north end zone. Okay.
Ohio State QB Frank Elwood wore the 24 jersey. This is good and more QBs should do this.
The Full House backfield and the fake option-pitch TD out of that formation in this video: Football pornography.
JIM PARKER FAT GUY TOUCHDOWN
Ohio State (No.6) at Michigan (No.9) with both teams wearing their home jerseys. Please bring that back ASAP, thanks.
Buckeyes shut out the Wolverines 17-0 at home, effectively canceling Michigan's Pasadena plans and giving the Buckeyes the Big Ten title again. Please bring this back in November, thanks.
And since Ohio State played in the Rose Bowl the previous season, Michigan State got to go instead. Those were the rules back then. Please keep this in 1955, thanks.
Thanks for getting Situational today. Go Bucks. Win all of the beauty pageants.