Imagine waking up today worried the FBI might shackle and chain your favorite college hoops coach by sunset. Couldn't be us Ohio State fans.
ICYMI:
Word of the Day: Mage.
 BET THE RENT. Ohio State fans agree: Rutgers is going down Saturday night in Piscataway. But how many of those "fans" would be willing to put their net worth on the outcome of the game? A much smaller number, indeed.
But it might not be such a bad investment, according to a projection model done by a computer—which makes it truth.
From cbssports.com:
SportsLine's Projection Model turned in double-digit winning weeks in college football last season across all picks, including a remarkable 18-4 run on straight-up picks to open the season. Anyone who followed it during those weeks profited big. And it's fresh off a 9-4 week on moneylines.

This week, the model simulated every Top 25 game, plus the rest of the slate, and the results were surprising. 

The model loves Ohio State to win and cover convincingly, even on the road at Rutgers. The Buckeyes are 29-point favorites, but SportsLine's model has them easily covering and winning 39-6. It's predicting Ohio State quarterback J.T. Barrett to throw for 246 yards and two scores and add 63 more yards on the ground. 
Well, that settles it. I called Starcat last night and told her to wire my savings account to my clandestine proxy in Las Vegas.
"All $10?" she asked. ALL TEN DOLLARS.
Jokes aside, I don't gamble. But if I did, I Ohio State (-29) seems as easy as hustling a baby into a Ponzi scheme.
 KICKER SWAG. A walk-on supplanted scholarship kicker Sean Nuernberger last year. With Blake Haubeil, the No. 4 kicker of the 2017 class, arriving on campus this summer, Nuernberger returning to his role was no sure thing.
But he not only returned to kicking field goals, Urban Meyer has talked about him supplanting Haubeil on kickoffs.
It's been quite the transformation.
From Ohio State beat G.O.A.T. Tim May of The Columbus Dispatch:
"He was a little boy when he first got here and acted like a little boy and didn't prepare like a grown man," Meyer said. "I think his family and this program have done wonders for him because he's a grown man. He's really handling it."

Nuernberger feels the same way, that time has been his friend.

"I can definitely handle it now. I'm a lot more composed when I go out there, especially compared to the last time I kicked in 2015 or whenever that was," Nuernberger said. "I feel completely different. Back then I was kind of nervous running out there.

"Now I feel like I've been at Ohio State for 12 years. ... It feels a lot better."
Good to hear from Nuernberger, because nobody will ever convince me the Clemson game would've been different if Ohio State MADE THOSE FIRST TWO FIELD GOALS.
 GO TO JAIL, RICK PITINO. Shoe companies throwing money at college basketball recruits and funneling them to appropriate schools has been an open secret as long as I've been covering sports. (Stories about football recruiting are equally insane.)
Turns out, bribes and not paying taxes on six-figure windfall profits remains highly illegal.
And the FBI is coming for people in charge.
From yahoo.com:
The above alone consist of a national championship program with a Hall of Fame coach (Louisville), a Final Four team from 2017 (South Carolina), historic powerhouses (Arizona, Oklahoma State), as well as major schools (USC and Auburn) with a history of NCAA problems.

Death penalty. Postseason bans. Mass firings. It's going to be a scorched earth, the bill coming due on a sport that has operated in the shadows of corruption for generations.

Yet for college hoops none of it represents the scariest part of the three complaints laid out by the DOJ on Tuesday. This, a statement by said undercover FBI agent, should terrify every coach in America:

"Because this affidavit is being submitted for the limited purpose of establishing probable cause, it does not include all of the facts that I have learned during the court of the investigation."
Noted honest person Rick Pitino is once again flabbergasted by allegations of wrong doing at his school.
From courier-journal.com:
"These allegations come as a complete shock to me," Pitino said in a statement released by his lawyer, Steve Pence. "If true, I agree with the U.S. Attorney's Office that these third-party schemes, initiated by a few bad actors, operated to commit a fraud on the impacted universities and their basketball programs, including the University of Louisville. Our fans and supporters deserve better and I am committed to taking whatever steps are needed to ensure those responsible are held accountable."

Asked in an interview if he expects Pitino will keep his job, Pence said: "I would certainly think so. I don't know why it would be otherwise."
Going to be fun watching the FBI work their way up the ladder from this case, because these four coaches and an Adidas sports marketing director are the tip of the iceberg. 
Shoutout to Thad Matta, too. Now people understand why he hard trouble closing on big-time recruits. Money talks.
With that said, I want carnage. I hope Kentucky, Duke, Kansas and every other blue blood goes down in flames. This keg of tea, which may or may not be illicit FourLoko, will hydrate me as the pyre flames dance across my fat face.
Let's hope Pitino and Louisville get the guillotine first.
 THIS TAKE DID NOT AGE WELL. The year is 1966. Purdue is the Big Ten king, and Ohio State, mired in a five-loss season, will never win another game as its students no longer have time for the sport.
Or so it seemed.
Via Colin Hass-Hill, here's a 1966 edition of The Lantern: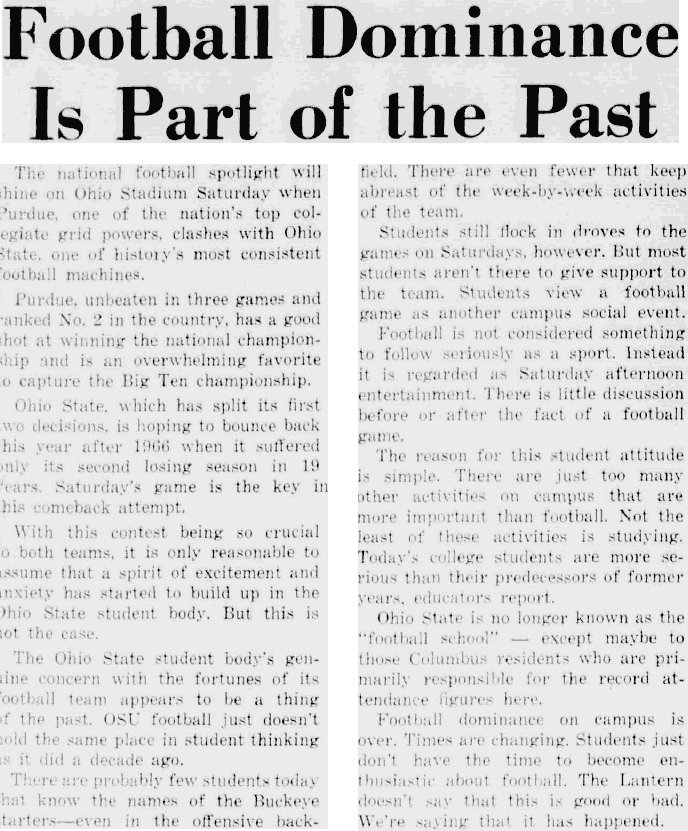 Thankfully they printed that without a byline, otherwise Twitter users would dig up his remains to ridicule his rotted corpse over his sports prediction that turned out to be wrong.
This guy from 2005 will not be so lucky.
 OHIO STATE DOES GOOD THING. Ohio State is following Michigan's lead and paying the way for in-state undergraduate students eligible for Pell or Ohio College Opportunity Grants.
From Summer Cartwright of The Lantern:
Ohio State will cover the full cost of tuition for in-state, undergraduate Columbus campus students eligible for Pell Grants and Ohio College Opportunity Grants — as well as those who come from households that make Ohio's median income of $55,000 or less — starting Autumn 2018, University President Michael Drake announced Tuesday.

The federally funded Pell Grant and state-funded OCOG programs are both available only for low-income students needing financial assistance.

An estimated 3,500 undergraduate students on Ohio State's main campus are eligible for this tuition coverage, according to university data. It's estimated that the total cost each year for Ohio State to cover these students' tuition is $11 million.
As someone who deals with unsavory college loan sharks, I am ecstatic for the thousands of Ohioans who won't have to deal with their ilk.
 THOSE WMDs. Deconstructing the reconciliation narrative after the Civil War... Update: I ghosted my ex-girlfriend, and she just became my boss... How a three-ton mess of dead pigs transformed this landscape... Parents of Otto Warmbier, North Korea captive, say he was tortured... Who fatally shot a pill mill doctor in his New Albany home?