EPISODE 18: REINSTATEMENT
Few things aged worse faster than Ohio State's crime of the century from spring 2010, which dominated media coverage in 2011 until Penn State smacked our scandal senses back into reality.
Scholarship athletes selling their belongs is an NCAA violation, however insipid amateurism crimes might seem today. Instead of reporting and shaming six of his players, Tressel quietly instructed them to stop doing it. That December as the Buckeyes were preparing for the Sugar Bowl against Arkansas, those NCAA infractions became public.
One month later Ohio State uncovered that Tressel knew all along, and the rest is history.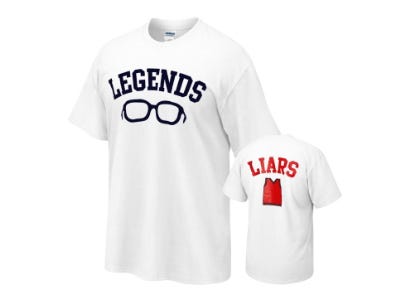 His Ohio State and coaching career both came to an unceremonious end. The Buckeyes absorbed a 2012 postseason ban, which denied Urban Meyer a shot at Notre Dame for the BCS title. The 2011 season was a lost cause from the start, with Luke Fickell inheriting a traumatized program carrying too many of Tressel's otherwise unemployable drones on the staff.
And so that 2010 season, tarnished by trinket-selling players with preserved eligibility was vacated from the record books to cleanse Ohio State of its mortals sins. The 2010 and 2011 seasons both had to die so the Urban Era could live. Or so it was believed.
Today we're reinstating 2010, which would have been unaffected had Tressel shamed his players and suspended them at the outset. Throwing them in NCAA purgatory for four games would have forced several backups into action against teams they faced anyway, in garbage time, because that team was really good. We'll discuss how good in our celebration.
I cannot decide if we barely remember or acknowledge that 2010 season because of Tatgate's shadow, or because of how uncomfortable 2011 ended up being, or because of the emotional effect of the NCAA voiding it out or because 12-win seasons are just so common for the Buckeyes. Don't look it up - Ohio State has had seven of them since 2010. They feel normal, not extraordinary.
Either way, 2010 was one of My Favorite Things. Let's give Tresselball the celebration it deserved.
But first, a lesson in how fortunate Ohio State fans are (it's a gentler word than spoiled).
Here's how the Buckeyes' discarded 2010 season compares to every other Big Ten program's best season from the decade:
OHIO STATE IN 2010 vs REST OF B1G'S BEST SEASON OF THE DECADE

| TEAM | BEST 2001-10 | RECORD | B1G FINISH | POSTSEASON |
| --- | --- | --- | --- | --- |
| INDIANA HOOSIERS | 2007 | 7-6 | T-7th | INSIGHT BOWL (L) |
| MICHIGAN WOLVERINES | 2006 | 11-2 | 2nd | ROSE BOWL (L) |
| MICHIGAN STATE SPARTANS | 2010 | 11-2 | T-1st | CAPITAL ONE BOWL (L) |
| OHIO STATE BUCKEYES 2010 |        -- | 12-1 | T-1st | SUGAR BOWL (W) |
| penn state nittany lions | 2005 | 11-1 | T-1st | ORANGE BOWL (W) |
| illinois fighting illini | 2001 | 10-2 | 1st | SUGAR BOWL (L) |
| iowa hawkeyes | 2009 | 11-2 | 2nd | ORANGE BOWL (W) |
| MINNESOTA GOLDEN GOPHERS | 2003 | 10-3 | T-4th | SUN BOWL (W) |
| NORTHWESTERN WILDCATS | 2008 | 9-4 | T-4th | ALAMO BOWL (L) |
| PURDUE BOILERMAKERS | 2003 | 9-4 | 3rd | CAPITAL ONE BOWL (L) |
| WISCONSIN BADGERS | 2006 | 12-1 | T-2nd | CAPITAL ONE BOWL (W) |
None of those schools would just toss a year like that the way Ohio State fans did so easily.
We quickly moved on from and disposed of a season that would rank as the best of the century for every single other Big Ten program. For some of them, that season would be their best ever. You'd be shocked to learn how many 12-win seasons mighty Michigan has had (do I have to do everything here - 1905, 1997. Two. The answer is two).
Ohio State's 2010 began very awkwardly on a Thursday night in Columbus against the Marshall Thundering Herd, where the season theme Dane Sanzenbacher is Always in the Right Place was established early in the first game.
Dane was always open, and as an added bonus - he always caught the ball! We'll provide more evidence of this shortly.
Even in Ohio State's current era of blazing speed, Brandon Saine had generational straight-line velocity in pads, which meant if he found a hole and no obstacles in front of him he was going to end the drive in a matter of seconds.
Dane and Saine was very briefly a thing, but it was overcome by the old and tired Thunder and Lightning with Boom Herron playing the part of thunder. Brian "Hitman" Rolle scored the Buckeyes' first defensive touchdown of the season on that same Thursday night. 
Nine days later, a rematch seven years in the making. The Miami Hurricanes took a four-hour break from complaining about the one goddamn call that wasn't twisted in their favor during the 2003 Fiesta Bowl to exact revenge on the team that kicked their ass that night.
Cam Heyward nearly scored Ohio State's second defensive touchdown of the season, but instead he ran as far as he could before making the sound of Pac-Man getting eaten by a ghost. He would have scored, but alas defensive guys notoriously can't block for shit.
While Dane and Saine never caught on, a scrappy young blog called Eleven Warriors sold a Terrelle Pryor tee shirt that season called LeBron in Cleats. This was before the site grew large enough to land on Ohio State's trademark attorneys' surveillance desk.
These days all of our merchandise is engineered around trademarks, and - ironically - the likenesses or names of amateurs like Pryor - who famously sold the sportsmanship award he received after the 2008 Fiesta Bowl for petty cash. Selling a literal participation trophy for cash should have endeared him to a certain generation but alas, he was vilified.
Anyway, here's LeBron in Cleats.
Miami lost to Ohio State again in a game that wasn't made unnecessarily close by shitty one-sided officiating. You can think of it as the Anti-2019 Fiesta Bowl in that sense.
The following week we were treated to a good old fashioned sibling war. After Rufus assaulted Brutus, Sanzenbacher got the whole stadium pregnant again with his receiving ability.
The Bobcats earned every bit of their paycheck that afternoon. Heyward caught his breath from his interception against Miami and notched a safety here despite OU having the ball at the 4-yard line.
OU is lovely and Athens is terrific, but there's exactly one rule when you have the ball on your own 4-yard line and it's Don't Lose Five Yards. Really, the only thing to not do. And they did it.
The Buckeyes went MAC-to-MAC that September (hell yeah you loved that) with EMU visiting from almost-Ann Arbor the following Saturday. There was no reason to play this game. Who wants to see an alien like Pryor run through a glorified high school defense?
TRICK QUESTION I did and you should have too, because look at this. This game ruled.
The Buckeyes scored 73 points against EMU. Reminder, Tressel really hated Michigan.
Speaking of high school, the Buckeyes pulled out the halfback pass for old Jeannette teammates that Saturday when Jordan Hall hit Pryor on a throwback to break through the 50-point barrier. Joltin' Joe Bauserman and true freshman Kenny G both got playing time with 40-point cushions. And to think you didn't approve of this matchup.
Because sports are supposed to be fun. Beating Michigan teams into a crime scene puddle is fun. 
The Buckeyes hit the road the following week and visited Champaign, which is just as spooky and miserable as West Lafayette except that Ohio State somehow always wins there.
Here's a reminder that TP would be a cyborg in any offense, even on a cold day in Tressel's heart.
Let's get out of Champaign. This was a mess of a game, which the Buckeyes still won.
The following week Ohio State was back home against Indiana. Saine was Curtis Samuel without the wiggle or the accent.
And now we've arrived at the Buckeyes' lone blemish from that season, which kept Ohio State from running the table. It turns out that sleeping through the 1st half in Madison against a good Wisconsin team is bad? Nobody knew this until that evening. Lesson learned.
ESPN College Gameday was there and yet the road team just didn't have it that night. Like, at all. Until it was too late. This was Bert's only win against Ohio State, and it hurt.
The silver lining is that this is still Wisconsin's most recent win over Ohio State. The Buckeyes went a perfect 8-0 against the Badgers over the following decade.
You know what else was unique and fun about the 2010 season? Beating the ever-loving shit out of Purdue.
Ohio State won 49-0. Running it up on Purdue! What a novelty. The Buckeyes went just 2-2 against the Boilermakers during the following decade. Imagine not believing in hell. 
The following week Ohio State visited the shiny new TCF Bank stadium for the first time. The Dilly Bar Guy was in attendance and eating Dilly Bars! We just didn't know who he was yet, and the camera guy wasn't paying close enough attention.
This was a fun game and as an added bonus it wasn't a trillion degrees below zero. The Buckeyes have not lost in Minneapolis since 1981, and for those of you playing the My Favorite Things home game - if you have the Stuff That Happened When Ryan Day was Two Years Old card you can move your gold pants totem up two spaces.
Alas, 2010 not only marked the end of the Tressel era, it closed out the Pick Six University streak, when every Penn State game reliably delivered a defensive touchdown for the Buckeyes. This was the second game of that streak to give us two! It was Ohio State's second ESPN College Gameday game of the year. A third would be in New Orleans.
This was quite a sendoff, with play-by-play analyst Kirk Herbstreit informing the viewing audience early on that Penn State QB Matthew McGloin had incredible moxie. To this day, that 25-cent word is associated with the former walk-on QB who did not bring it upon himself.
Here is McGloin moxifying a pass to Devon Torrance which gave the Buckeyes the lead. They had pulled a Wisconsin and slept through the 1st half again. Gameday, damn it stop.
Here is Moxie hitting Travis Howard for six later on. Generosity has never been so plucky.
And in the continuing adventures of Dane Sanzenbacher is Always in the Right Place, here's Dane being...correct, exactly where you would expect him to be.
The Buckeyes then headed to Iowa City for what ended up being a street fight. In the end, Pryor bailed out the team on the final drive in a sequence reminiscent of Troy Smith sacking Ann Arbor in 2005.
It began with a last gasp 4th and 10 conversion he earned on his own, continued with a seam shot to Sanzenbacher that had back-shoulder shades of the iconic Gonzalez catch, and concluded with a game-clinching touchdown to punctuate the drive of the season and win the game.
As for the following week against Michigan, the entire Rich Rodriguez era - including his final shot at the Buckeyes in 2010, can be consumed in far more detail back in Episode 9. 
Wisconsin, Michigan State and Ohio State all ended up at 11-1. The Badgers returned to Pasadena to lose another Rose Bowl while the Spartans - whose loss was an annihilation by the Hawkeyes in Kinnick (haha imagine that) got Alabama in the Capital One Bowl. It went poorly.
And the Buckeyes got 10-2 Arkansas, which gave us several weeks of SEC Speed refrains and reminders of how Ohio State had lost two BCS title games to to SEC teams along with a bunch of Cooper Era consolation bowl games as well.
That refrain took it on the chin early and throughout the game. If you want to ask where Sanzenbacher was that night, stop. Consider thinking it through first.
First-team All Big Ten WR Dane Sanzenbacher had no use for moxie. Moxie is window-dressing. Moxie is a false sense of security. Dane didn't check any luggage. He traveled light.
Here's one of the best offensive sequences of the entire Tressel era. Jones tells me this is called a "Tight End Pop Pass Off Play-Action" and I just decided to call it TEPPOPA for short.
TEPPOPA!
Before Tatgate burned everything down, the 2011 Buckeyes were slated to deliver another season with one or zero losses. It was almost as if the offense was beginning to turn the corner while the defense would be a standard-issue Tressel defense.
Alas, instead we fell into this black hole of despair.
END OF THE TRESSEL ERA: A STEP BACK WAS INEVITABLE

| ERA | 1ST PLACE | CONF TITLES | POSTSEASON WINS | MICHIGAN RECORD |
| --- | --- | --- | --- | --- |
| 2001-2010 | N/A | 7 | 6 | 9-1 |
| 2011-2020* | 8 | 4 | 9 | 8-1 |
This decade ain't over yet, hopefully. Shared titles have been replaced by conference championship games and divisions. That bygone era feels far more distant than just a decade.
Here's the play that closed out what would be the best season of the century for any other Big Ten program.
And then "scandal" hit. That scandal is long gone, and Tressel was inducted into multiple Halls of Fame while serving his 5-year NCAA show cause. His final season deserves more recognition that it received.
So here's to 2010, disposable 12-win seasons, beating Michigan and ironic S-E-C chants. Cheers.