The Cleveland Browns had not yet ruled out Terrelle Pryor.
In August 2011 Ohio State's newly-ineligible quarterback made himself available for the NFL's supplemental draft. There was a lot to like about him; namely a 31-4 record, Sugar Bowl MVP and Rose Bowl MVP tightly packed into a nearly six-and-a-half foot frame that was faster than anyone else on one of college football's best teams.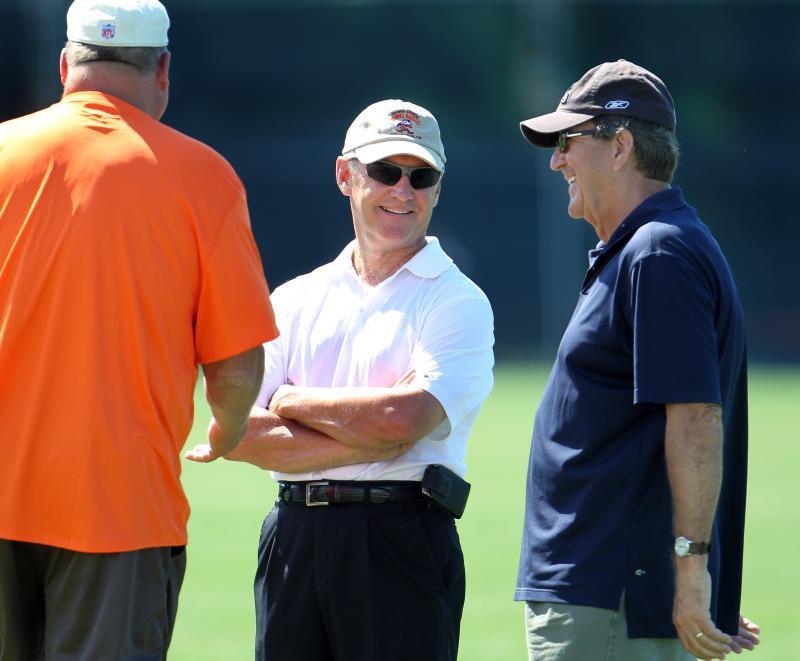 And as there are with every prospect, there were also red flags. Pryor had more than usual. His name had been in the news nearly every day that year, and it was now August. His college coach had recently been interrogated by the NCAA, a meeting which produced a 139-page public transcript that revealed as much about the quarterback as it did the coach being investigated.
Much of the questioning was centered on Pryor, whose actions initiated Ohio State's memorabilia scandal which was the focal point for that NCAA probe. His coach's testimony revealed an immature kid who lacked confidence. Pryor required regular positive reinforcement from his (since deceased) mentor back in Pennsylvania, who was coached on how to provide it by Tressel while Tressel himself attempted to shape Pryor into a confident, assertive leader many outsiders falsely already believed him to be:
"I remember after spring ball [Pryor] asking me, 'Do you think I'll be good enough? [to play in the NFL]' " Tressel said. "He's always looking for that reinforcement. 'Do you think I can do this? Do you think I can reach my goals?' And I remember vividly saying to him, 'You'll only reach your goals in football if you become the right kind of man.' "
Tressel was invited that month by the Browns to advocate on behalf of the former pupil who was the catalyst for his coaching career's demise. Cleveland ended up passing on Pryor (and everyone else - it did not use a supplemental draft pick) but five years and a circuitous route later, he is the team's leading receiver closing in on a 1,000-yard season. Pryor is finally reaching his goals in football.
His old coach, despite having exited the profession, hasn't stopped coaching him either.
---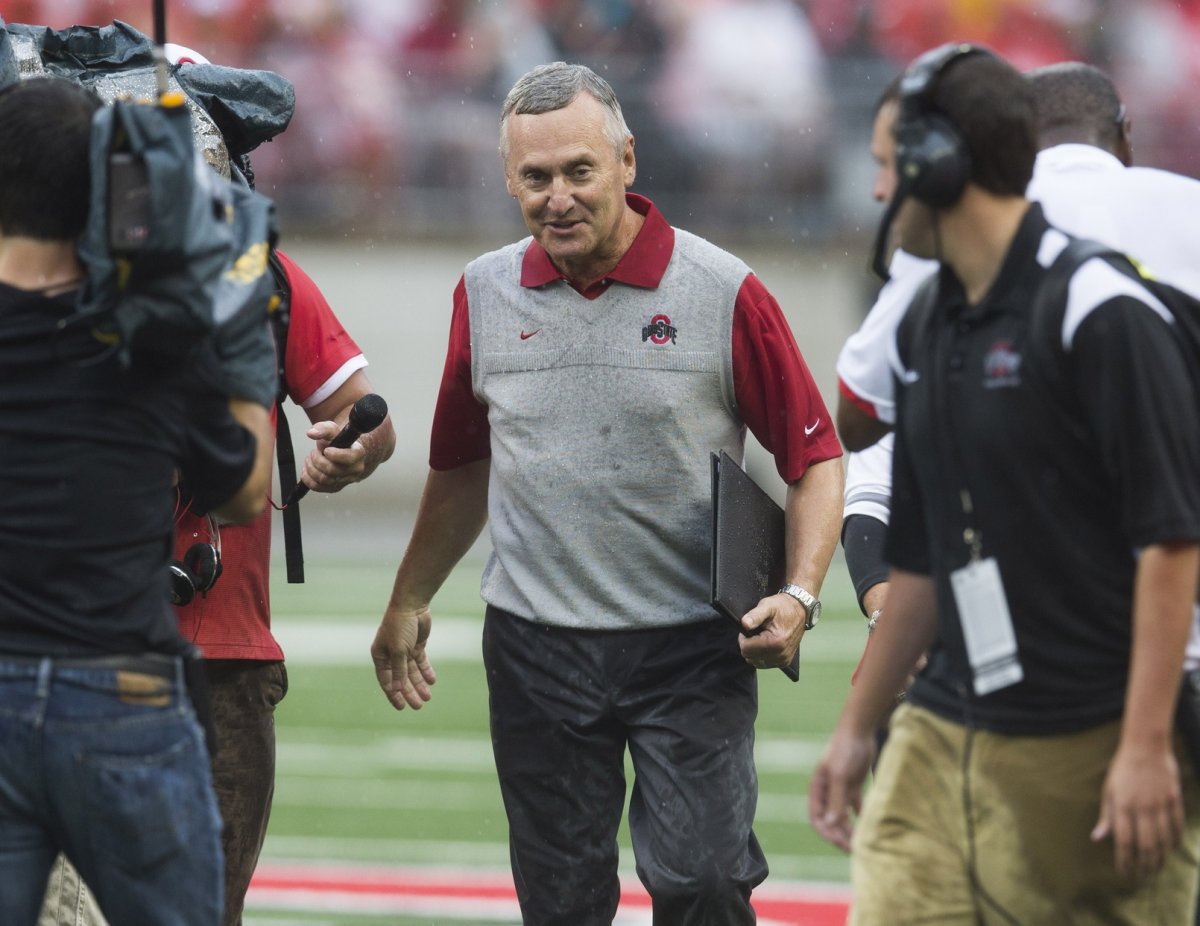 Before the years of fake classes at North Carolina came to light, there was Cheaty McSweatervest.
Before Joe Paterno and numerous officials at Penn State spent decades sheltering a known child rapist, there was the Teflon Senator. Before Baylor went systematically silent about 17 domestic violence, sexual assault and gang rape incidences involving its athletes, Mark Dantonio was chided for referring to Jim Tressel as a tragic hero.
You might have missed that one. Here's what he said in 2011:
Every person (Tressel has) come in contact with as a player and a coach, he's made a positive impact on their lives. To me, it's tragic. He becomes a tragic hero in my respect, in my view.  Usually tragic heroes have the ability to rise above it all in the end and that's what I'll look for in the end.
Tressel's reputation with people who knew him, such as his players and protégés like Dantonio, was shaped when no one else was watching. They know the type of person he is. The way he was portrayed in the media during the fallout from Tatgate wasn't quite as genuine.
But truth is resilient, as both Tressel and Ohio State were reminded after he tried and failed to handle Tatgate free of required governance. Lies travel quickly. Truth has a stubborn way of finding the light, albeit slowly. Give it enough time and truth will get it correct. Eventually.
TRESSEL never stopped coaching. if you're one of his players and you need him, he's STILL there.
In the five years that have passed since his ignominious exit, Tressel has been inducted into the Ohio State Athletics Hall of Fame, which followed his enshrinement in the College Football Hall of Fame. He's now entering his third year as Youngstown University president. Tressel has been under an NCAA show-cause penalty for all of it. This has to drive some people crazy.
Good Man Ends Up On His Feet isn't as sexy a headline as Bookish Football Coach Allegedly Rigged Camp Raffles 30 Years Ago so you don't hear quite as much about him anymore. Tressel coverage no longer moves the needle. There's no false dichotomy between good and evil to manufacture into a made-for-TV scandal drama. We've got enough real scandals now.
He's the same earnest and genuine coach that he's always been. Tressel grew up in a home where his father literally housed homeless players; he has always extended the same type of generosity and discipline to his own, whether the NCAA found out about it or not. Currently he has regular chats with one of his newest enrollees at Youngstown State, a 33-year old student named Maurice Clarett.
He's never stopped coaching. And if you're one of his players and you need him, he's there.
Dantonio also has a long- standing appointment to chat with his tragic hero every Friday night. There are no cameras. His comments about Tressel rising above it all have aged very well.
The Tatgate scandal itself has not been quite as fortunate.
---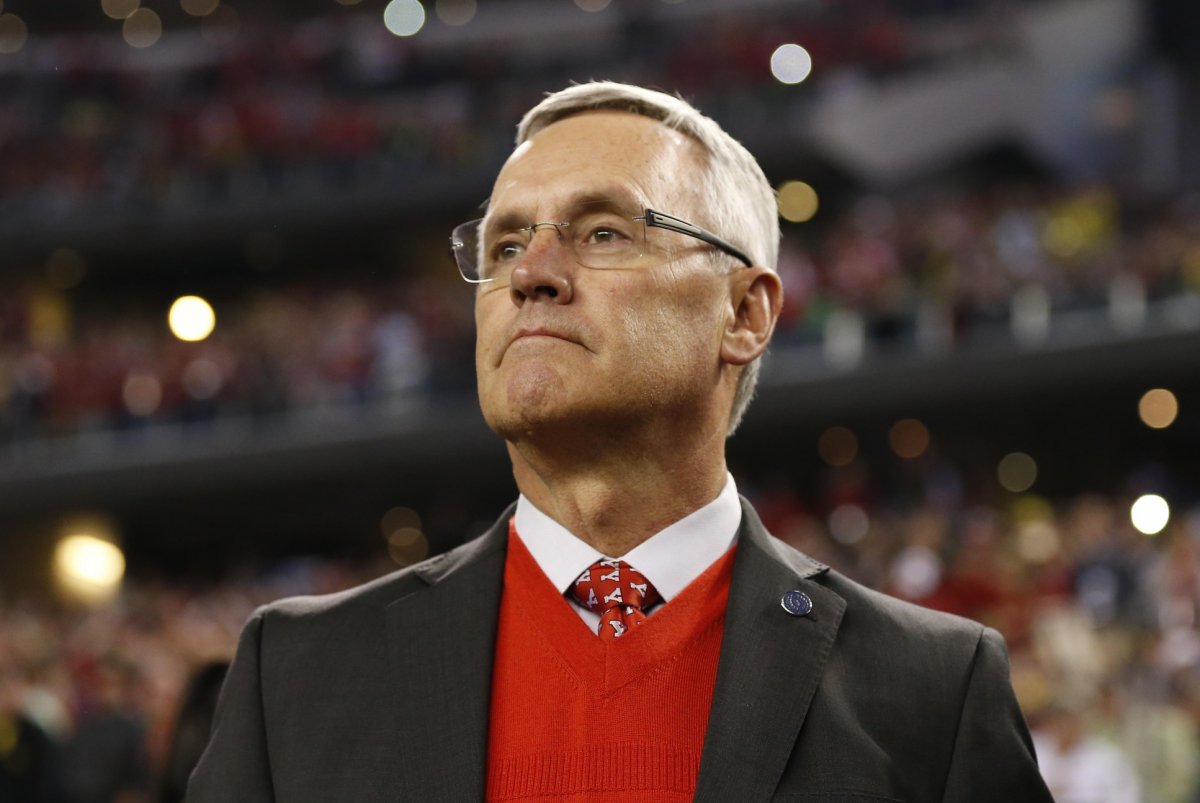 Tressel will be released from NCAA purgatory on Monday. 
Five years ago on December 20 the NCAA levied its punishment against the Ohio State football program while imposing its five-year penalty on Tressel for any member school that attempted to hire him, effectively ending his coaching career.
You may be wondering how the NCAA landed on that five-year sentence. Here are some of its precedents and other cases:
A COLLECTION OF NCAA SHOW-CAUSE PENALTIES

| COACH | SCHOOL | TRANSGRESSIONS | SHOW-CAUSE |
| --- | --- | --- | --- |
| John BLAKE | Oklahoma | Academic fraud, recruiting violations, took money from an agent, misled investigators, lied to the NCAA. | 3 years |
| Bob Wade | Maryland | Paid a recruit, gave gifts to players, coordinated with staff how to lie to the NCAA, lied to the NCAA. | 5 years |
| CHIP KELLY | Oregon | Failure to monitor for recruiting violations, paying recruits. | 18 months |
| Bruce Pearl | Tennessee | Recruiting violations, lied to the NCAA. | 3 years |
| CLem HASKINS | Minnesota | Paid a tutor to do schoolwork for players, lied to the NCAA and encouraged players to lie as well. | 7 years |
| Norm Sloan | Florida | Knew of players taking money, paid for player benefits himself, lied to the NCAA. | 5 years |
| JIM TRESSEL | Ohio State | Lied to the NCAA. | 5 years |
Tressel decided to handle matters himself once he learned what Pryor and other players were doing. He ordered them to stop it, knowing they had committed NCAA violations but declining to report them - instead choosing not to publicly shame guys for actions he deemed otherwise harmless. [COUNTERPOINT: Teflon Tressel did anything to win, as the Buckeyes needed all hands on deck to stay competitive with Marshall, a neutered Miami team, Ohio and Eastern Michigan to start 2010]
It was as sloppy as it was stupid, but it wasn't diabolical - which was how the entire episode was covered and framed at the time. So much has changed for the better since Tressel took the fall, and it's not just how journalists now choose to report on amateur athletics scandals either.
While ESPN was saturating every single one of its media instruments with Ohio State scandal coverage in 2011, you could watch/refresh in real-time as hundreds of pieces of signed memorabilia from college athletes - there were pages of Denard Robinson items - were quietly pulled off eBay en masse. We'll never know by whom. One of life's enduring mysteries.
Five years later nobody cares about that anymore. Nobody cares. N o b o d y  c a r e s.
There are autographed items from anonymous sellers available for purchase for just about any active player, though the ones from Ohio State athletes are still a little harder to come by. No one asks about how much a college football player's elaborate tattoo cost in 2016. It has all been policed about as rigorous as jaywalking since Tatgate shamed us all for being so outraged.
NoBODY CARES how much a college ATHLETE'S elaborate tattoo costS in 2016.
Speaking of nobody cares, George Dohrmann's reputation as a serious investigative journalist has also fallen on hard times. He parachuted into Columbus chasing an accolade he would not receive for some low-hanging fruit, while his contemporaries in State College, Tallahassee, Chapel Hill, Coral Gables and later Waco worked important investigations that will age exponentially better than his.
And also speaking of so much has changed for the better, Ohio State football has gone 61-5 since that 2011 season. Over the next few weeks, Urban Meyer will attempt to go 4-0 in college football playoff games over his career, which sounds great until you remember the coach who preceded him owns a career playoff record of 23-6.
Tressel significantly upgraded the Buckeyes while he was in charge and the program has only grown stronger in his absence, during which time - and in spite of the penalties imposed on him - Ohio State's and College Football's Hall of Famer has never stopped being a coach. The NCAA show-cause he is under may be expiring next week, but that will have no impact at all on any coaching aspirations he may have.
That's because Tressel permanently left coaching in 2011. But coaching will never leave him.