Welcome back to My Favorite Things.
This year is well on its way to being among of the most tumultuous in our country's history - and on top of all of that, sports are on hold. This sucks.
My Favorite Things is an escape to happier days and nights. The philosophy is simple:
When I'm feeling sad
I simply remember my favorite things
And then I don't feel so bad
So let's do that. Today, we're in South Bend on Sept 28, 1996.
---
EPISODE 13: HERE COME THE IRISH
Notre Dame was America's first foray into combining religion with college football.
Every other major program in America followed suit, as it turned out the only house of worship needed to achieve this powerful combination was a stadium. The Church is optional; a cathedral was required.
Back in 1935 Ohio State's football program had found its religion and its footing, it had built a brand new cathedral - and was riding a 10-game winning streak that spanned two seasons. The Buckeyes weren't even allowing five points a game during that stretch.
Meanwhile, Notre Dame already had six national titles. This would be the first clash of major religions. A big moment in recorded human history!
GAME 1: 1935 - GAME OF THE CENTURY
The 81,000 fans packed into Ohio Stadium was a new record, and not even the Great Depression could keep ticket demand down with a scalper rate starting at a cool grand in 2020 dollars.
Elmer Layden was the second-year Irish head coach and athletic director, having taken over for the late Knute Rockne. You might recognize Elmer as the second guy from the left in this picture.
Here's the only highlight we'll hang onto, and not just because 85-year old football game film is hard to come by.
Yes, both teams are wearing their home kits. Pining for the good old days is generally bullshit, but if we're cherry-picking treats from yore times - we have 4K televisions now and don't any jersey help identifying blue from red. Bring this baaaaaack.
That's Buckeye Frank Antenucci picking off Layden's younger brother Mike and then lateraling to Frank Boucher, completing an extremely rare Frank-to-Frank touchdown in your imaginary box score. Ohio State owned the first three quarters of the game and Notre Dame was lucky to be in it at all.
But Layden the coach made terrific halftime adjustments while Francis Schmidt went into full Tresselball mode. Ohio State's 13-0 lead was shaved to 13-6, then 13-12 with two minutes remaining. The Buckeyes fumbled while trying to run out the clock and Bill Shakespeare (no relation, maybe) threw the winning touchdown pass with seconds remaining.
I mean, look at this. Some 1998 Sparty dark magic.
GAME OF THE CENTURY BOX SCORE

|   | 1Q | 2Q | 3Q | 4Q | FINAL |
| --- | --- | --- | --- | --- | --- |
| notre dame | 0 | 0 | 0 | 18 | 18 |
| ohio state | 7 | 6 | 0 | 0 | 13 |
Imagine dropping a G during the Great Depression to attend the biggest college football game up to that point in college football history - and being treated to this. Clearly, the worst thing that happened during the Great Depression. I'm lucky to have been born so late.
---
GAME 2: 1936 - THE SQUEAKQUEL
The 50,000 fans packed into Notre Dame Stadium was a new record, and not even the Great Depression could keep ticket demand down, yeah yeah yeah it smells a little too much like the original all over again.
Ohio State lost 7-2, on Halloween, in a downpour. Notre Dame scored on the only drive it was able to sustain - was also with the only touchdown the Buckeyes allowed over the final five weeks of the season.
In the end the Buckeyes were screwed by officiating because it got dark in an era that predated stadium lights, which impaired everyone's vision including the refs'. That concluded the home-and-home, with Notre Dame winning both games.
They would hold the series lead for 60 years. Let's fast-forward to better times.
---
GAME 3: 1995 - GAME 2 OF 2 THE 2 CENTURY
The 95,537 fans packed into Ohio Stadium was a new record, and Ohio State trotted out 18 members of the 1935 team during the pregame so the youngs could all share in their bitterness. Keith Jackson, who was seven in 1935, did the play-by-play. Here's how he described the buildup to the 1995 game:
Sixty years in the making, a thunderous roll of hoopla
You just read that in his voice. Classic.
Sixty years earlier Ohio State was rounding into form as a major program, and 60 years later it was doing so again coming out of the 1980s when the entire Big Ten had relegated itself into regional relevance; growing pains in shifting from a two-team conference to a, like, four-team conference with two new ones rotating in each season.
It was complicated. Cocaine, as always.
Meanwhile, Notre Dame had won the 1988 natty and had come excruciatingly close to another in 1993. Here's Eddie George's first carry. At this point he is not yet a Heisman candidate.
The Irish scored first on a 20-yard FG by Mike Kafka, no relation to Bill Shakespeare; possible relation to William. Ohio State could not get its shit together early on, and the visitors got ball back, drove a little further than they should have when Mike Vrabel roughed up Ron Powlus - leading to Randy Kinder punching it in to go up 10-0.
Roles were reversed 60 years later, and 18 refugees from the 1935 loss may have found comfort in knowing nature brings balance. Perhaps it would be the Buckeyes storming back late after the Irish clammed up in the 2nd half. Perhaps this is foreshadowing.
Perhaps you've forgotten that the Minnesota Vikings had both Korey Stringer and Robert Smith at the same time. They had a bye that week, which allowed them to return home.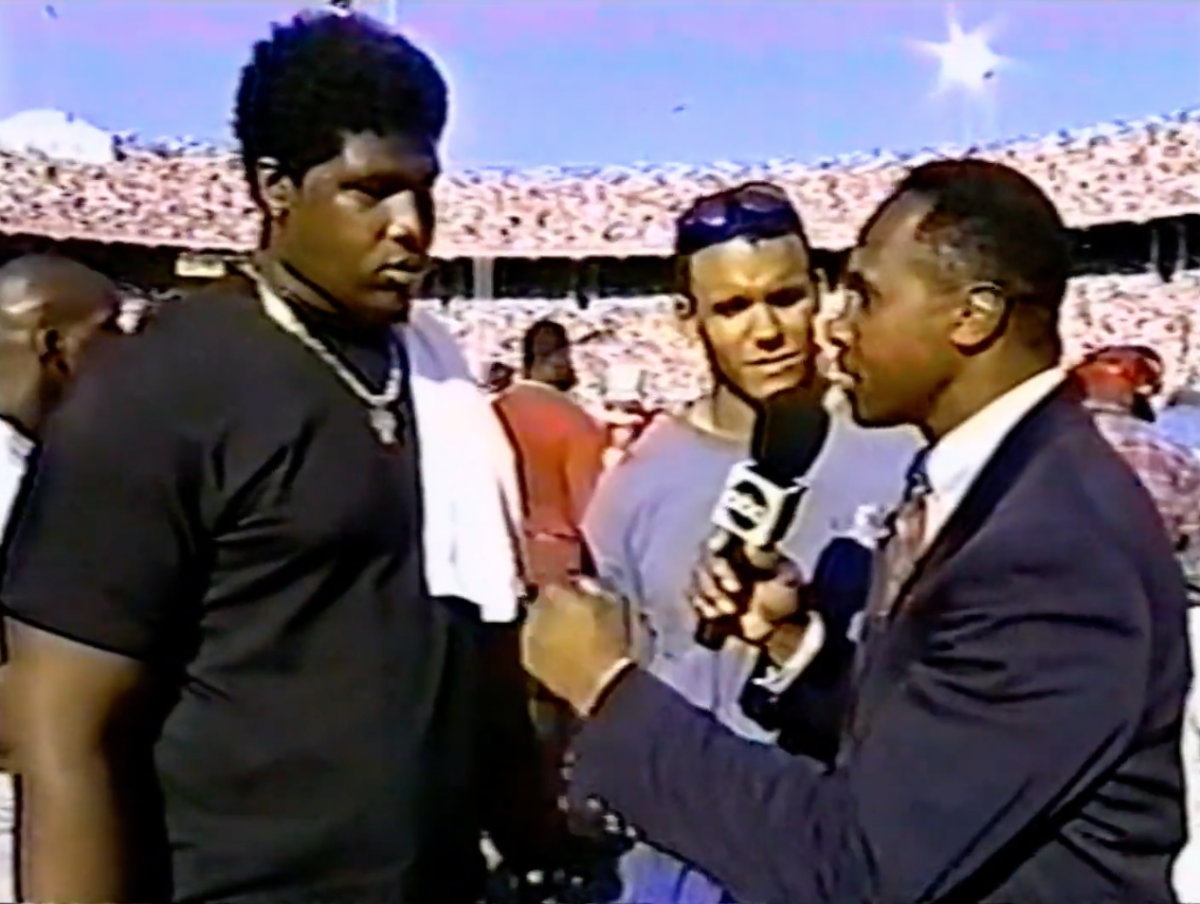 Lynn Swann asked Stringer what young Orlando Pace needed to do in filling for his absence, and Stringer was basically like...he's Orlando Pace. Good answer.
This is Buster Tillman making the Buckeyes' first big play of the afternoon, but uh, well you'll see.
Terry Glenn casually steals the highlight here by breaking the sound barrier. Remember that.
Irish defensive backs Shawn Wooden and Allen Rossum entered the game hyped as the fastest players in football (Rossum would win the NFL's Fastest Player competition 10 years later). They were both burners, by any other measure. Remember that too.
This drive ended with Glenn scoring Ohio State's first touchdown against Notre Dame in 61 years. He had just had a decent outing the previous week in Pittsburgh.
You have to wonder if Terry will score again. 50/50, time will tell.
The Irish marched right back down the field and Kinder got his second touchdown. Would the 1995 Buckeye defense ever get run over like this again by a running back history has otherwise largely forgotten? Let's hope not! t's now 17-7 Irish and the game was emerging as a mismatch.
Ohio State QB Bobby Hoying was alternating between underthrowing and overthrowing receivers on the next drive, while Pace was vomiting on the sideline and had to head to the locker room. The THIS IS FINE dog was in the stadium, which was on fire.
Hoying's passing accuracy did not improve, which is why Dimitrious Stanley had to do this to end the drive in the best way possible. The ball should have been a back shoulder throw but OPE it wasn't; didn't matter.
Wooden zigged (the correct move!) and Stanley zagged (improvisation!) and we had a game on our hands.
It was 17-14 heading into halftime and felt like Notre Dame should have been up by 21, so this was feeling the opposite of the 1935 game as those 18 dudes in the stands could confirm. Hoying was 10-17 for 152 and two TDs, with 51 of it being YAC on the Tillman catch/Glenn sonic boom. The misses were striking; the makes were keeping the Buckeyes in contention with the rushing game largely absent.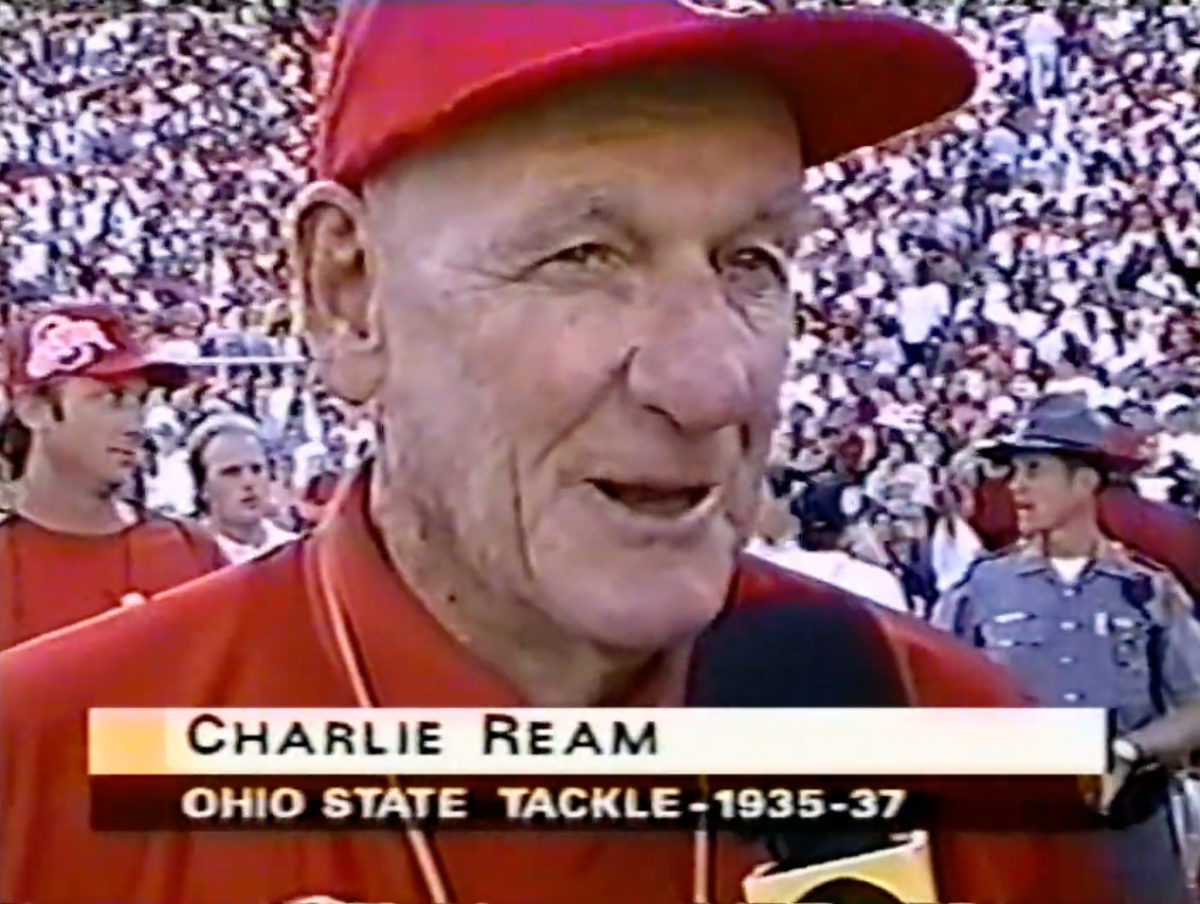 Charlie Ream was one of those 18 guys from the 1935 team, and he talked about Ohio State winning in his sideline interview like it was a foregone conclusion. The real ones: they always know.
Ream said this as Notre Dame was taking the opening kickoff down the field for a 17-play drive that ended with a field goal. It was evident that Holtz was just trying to get out of town, having burned half of the 3rd quarter to the ground for three points. It was a masterclass in Tresselball to that point, and the following Ohio State drive fizzled quickly.
And then, the whole world changed. Tresselball works only when you don't make mistakes.
A break? In the 1990s? This was practically illegal, but you take what you get.
The short field gave the Buckeyes what they needed and Hoying found Rickey Dudley for a touchdown in the middle of the field. Ohio State now had a one-point lead.
Notre Dame's special teams had set up that score for the Buckeyes, and they wanted to make things right. So...they did this.
Ah yes, of course they recovered their own fumble. We're back in 1990s normalcyland.
But Ohio Stadium was re-engaged and cheering at a high level. Didn't matter; the Irish matriculated down the field - but then, on 3rd and 10:
Had Springs picked this off in 2020, replay review would have eaten up 15 minutes before determining there was insufficient evidence to overturn it. Or maybe they would have overturned it.  Maybe they would have given Clemson possession. Hey, who knows.
But in 1995 Ohio Stadium was ready to explode. Sixty years of frustration, or so we were told.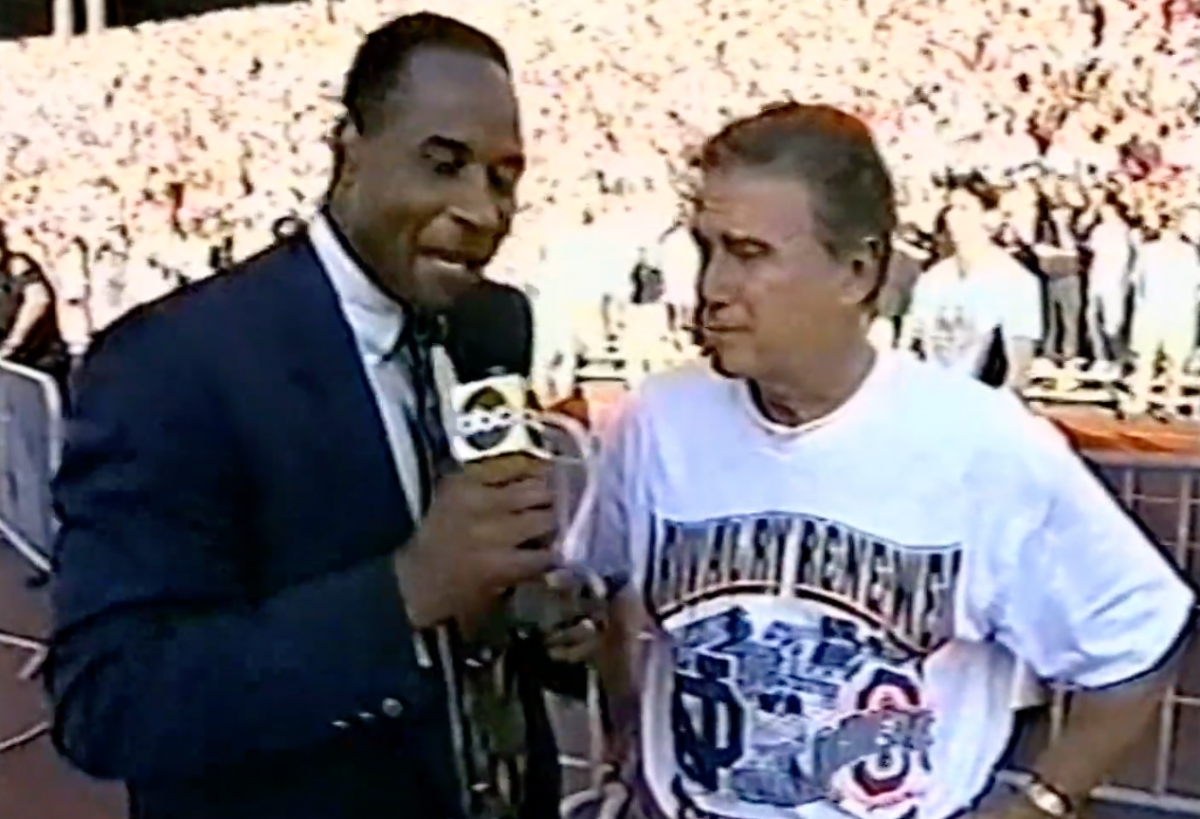 It was Actual Notre Dame alumnus Regis Philbin's turn at Swann's mic, and he ended his interview with:
We're coming back! We're going to win!
You just read that in his voice. Classic.
The very next play:
That's two turnovers becoming two touchdowns. That's the 1995 Ohio State-Notre Dame game tipping in favor of the home team. That's Rossum (15) getting boat raced by a former walk-on. That's 82 yards through the heart of the Hillbilly Vatican.
Just a complete emasculation of the Irish secondary. Even Josh Metellus wasn't humiliated like this hahaha he totally was who are we trying to fool here.
The face when you know nobody is catching you.
Glenn had nine catches for 253 yards and four touchdowns the previous week against the Panthers. Eddie wasn't a Heisman candidate at this moment, but Terry was. People forget.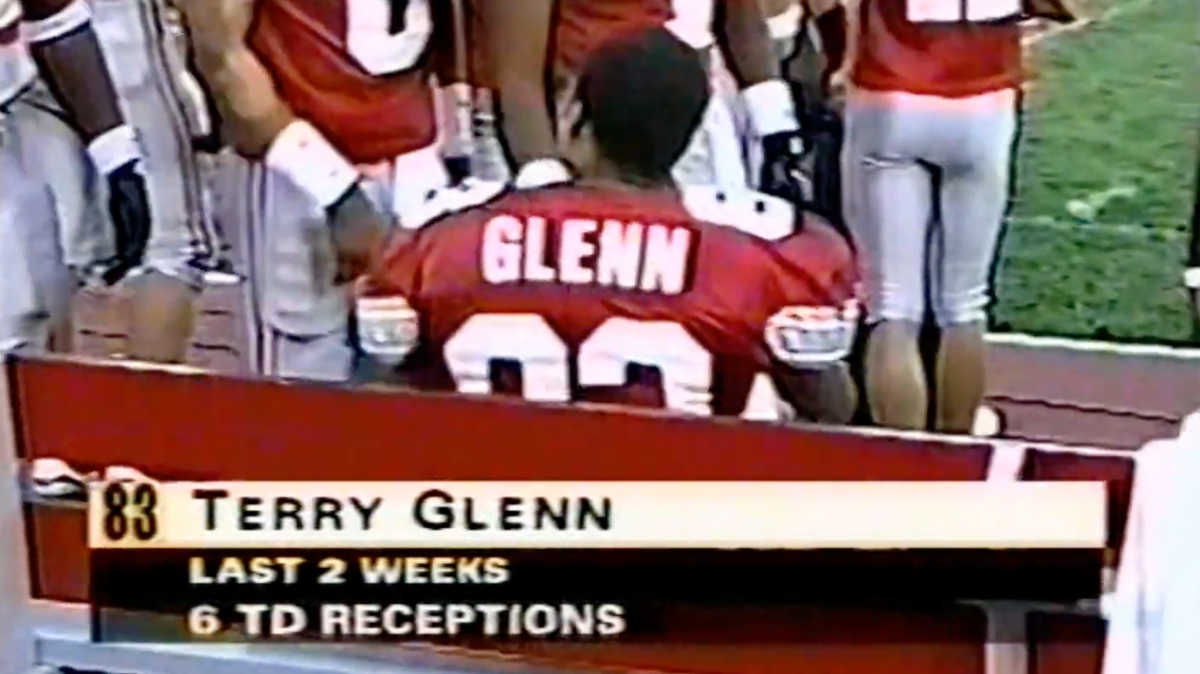 That fumbled punt changed everything and now all the Irish touched was slippery. Ensuing drive:
Notre Dame was spiraling. Matt Bonhaus recovered the fumble, Eddie punched it in a few plays later - and now it's 35-20 Buckeyes. The Irish finally stopped fumbling and scored to cut it to 35-26. But they would get no closer.
We'll close with some icing that produced the Accidental Renaissance photo of Eddie running away from what appears to be *checks notes* Notre Dame's 1995 roster as well as Layden's 1935 team.
Eddie would punch it in and the game ended at 45-26 Buckeyes. It took 60 years, but Ohio State had finally taken one from the Irish.
---
GAME 4: 1996 - NO REBUILD, NO REVENGE
The Ohio State offense looked almost entirely different: Hoying was now Stanley Jackson with a sprinkling of Joe Germaine. Eddie was now Pepe Pearson. Terry was now David Boston. Pitt losing 54-14 to the Buckeyes the previous week was now Pitt losing 72-0 to the Buckeyes the previous week. So, some things stayed the same.
The opening kickoff set the tone for the entire afternoon. 
That's how you start a damn football game. Stanley seemed surprised he had gotten past the 40 without being touched and didn't exactly have his afterburners on, which is evident since his teammates - like tight end D.J. Jones - are closing on him.
The Buckeyes punched it in with nothing fancy, only brutality. Josh Jackson whiffed on the PAT and it was 6-0 road team.
The defense forced a punt, but a deflected Jackson pass became an interception which gave the Irish the ball on the doorstep and an easy TD. Ohio State was now trailing for the first time that season.
They did not seem shaken, as they were loving the left side of the line, hitting it repeatedly with Pepe, Matt Keller and Michael Wiley. Jackson was unfazed by his deflected pick and looked as good as he would look in his entire career that afternoon.
He hit John Lumpkin and then flipped a touchdown pass to Matt Calhoun moments later.
That's two very quick touchdowns in South Bend, sandwiching the mistake that had given the Irish their score. The Buckeyes would go for two and fail, keeping it 12-7. Sixty-one years earlier the Irish had missed all three of their PATs en route to their 18-13 victory. History would not repeat itself, but spooky college football rhythms are underrated ghosts of the game.
And this was not competitive, at all. Score be damned.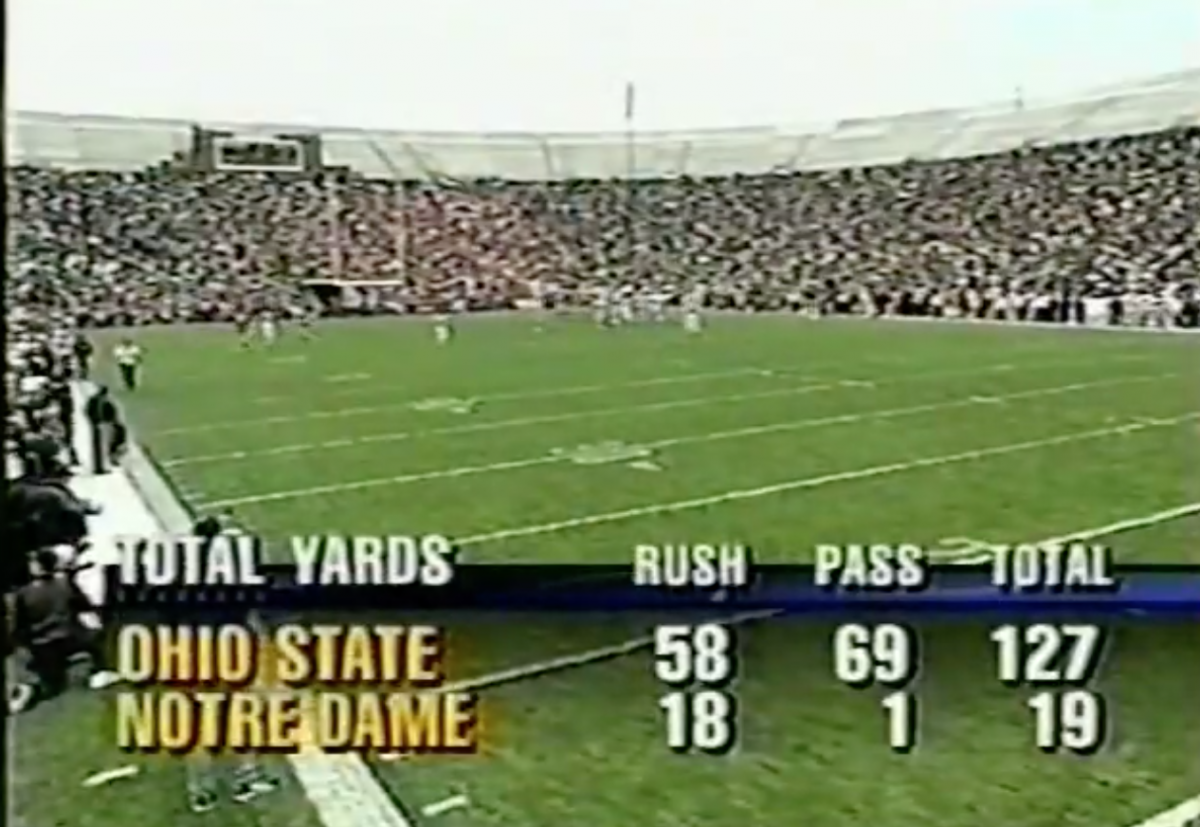 Fifty-eight rushing yards, Nice passing yards and Stanley's opening kickoff combined with the stifling Buckeye defense this early on made revenge look bleak for the home team. The only thing keeping this game from looking like the Pitt game the previous week was...right, Ohio State, which opened the 2nd quarter by missing a field goal and now there were five points missing from the Buckeyes' output.
Notre Dame had a decent little drive that ended with Luke Fickell getting the second and final INT of his career.  
Ohio State's ensuing 11-play drive produced a field goal, and it's now a 15-7 blowout. Pearson, who backed up Robert Smith at Euclid, was now over 100 yards rushing in the 1st half.
The Irish defense now getting sleepy. Wiley was wide awake here for 31 yards.
Even though the scoreboard wasn't showing nail biter, the stats were saying otherwise.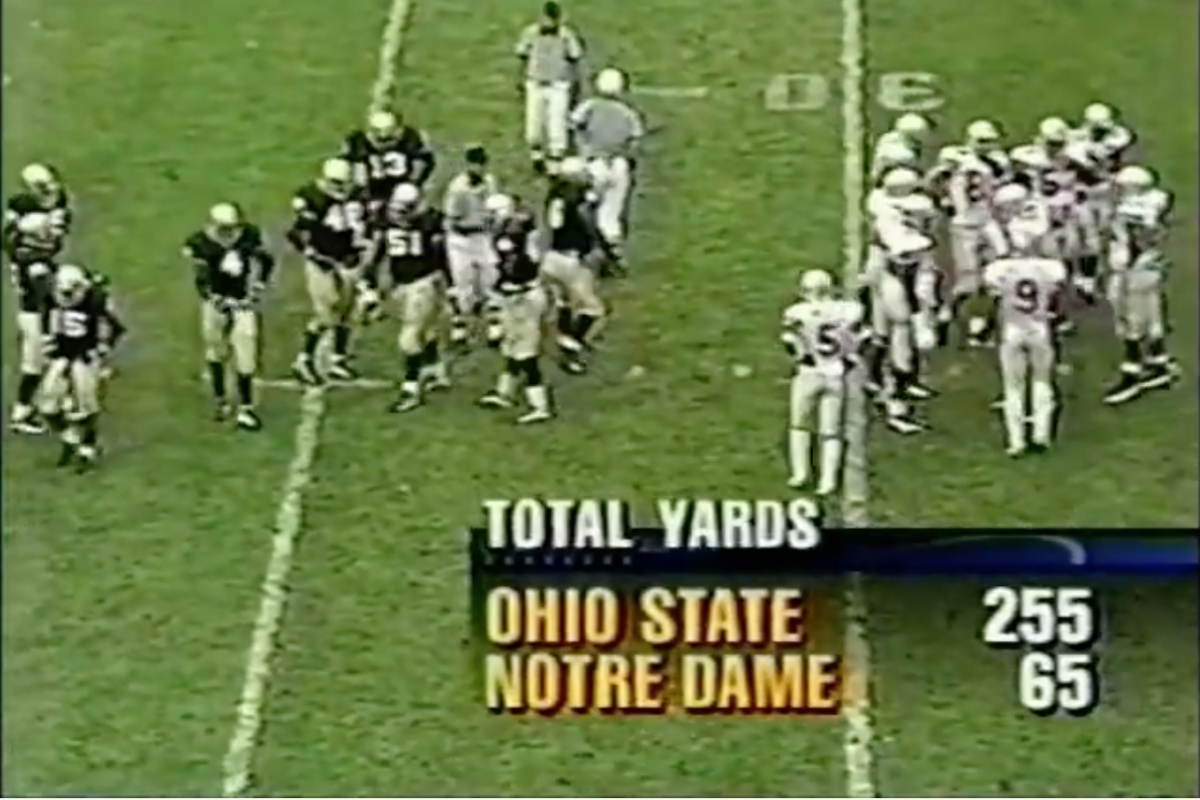 The 1996 Buckeyes were the least efficient juggernaut in program history. Would we be treated to another field goal attempt?
NOT THIS TIME. That's 26-yards down to the one. Pepe walked into the endzone on the next play. The 2nd half was more of Ohio State putting the home team in a headlock than lighting up the scoreboard.
Jones scored the Buckeyes' final touchdown and the series was now tied at two. Rob Kelly picked off Powlus to close the business that afternoon, and here's Coop racing across the field to provide unsolicited security for what appeared to be a burgeoning riot.
The programs had exchanged sweeps, 60 years apart. And now Notre Dame was off the schedule.
---
GAME 5: 2006 - HOME AWAY FROM HOME
Charlie Weis was now running God's team, restoring the glory to Notre Dame that Ty Willingham had previously restored from George O'Leary and Bob Davie and yeah 10 years later Notre Dame was that dilapidated church that still had America's most loyal congregation.
Meanwhile, Tempe was where Ohio State lived in January - it was the third trip in four years, all of which featured the Buckeyes getting leads, squandering them by way of clamming up and then winning the game anyway! The only thing unpredictable about Tresselball was [NOTHING EXISTS HERE].
The Irish scored first on a drive punctuated by Darius Walker slicing up the Buckeye defense, which was jarring to the fans but the team did not seem to be the least bit concerned, because:
Like every Irish defensive back before him in the color television portion of this series, this is Ambrose Wooden's worst nightmare. It turns out that dealing with Terry Glenn, David Boston, Michael Wiley and now Ted Ginn is a bit unfair.
Let's enjoy one more angle. Who could it hurt? Other than, you know, Ambrose Wooden.
Thankfully nobody tackled Ginn in the endzone and knocked him out of the game with an injury. That would have been a friendly-fire nightmare! Let's hope that never happens.
A Troy Smith fumble gave the Irish the ball inside the Buckeyes' 15, but that drive ended like this.
Notre Dame QB Brady Quinn's sister-slash-A.J. Hawk's-then-girlfriend-now-wife was...this is the only face you can make in a game like that. Good for her.
The telepathy between Smith and Ginn was on display in the ensuing drive, and at this point it becomes a grim reality that Notre Dame cannot deal with both Santonio Holmes and Ginn because the only team in college football history capable of locking them both down was Ohio State.
Here's the very next play. Ted Ginn did Everythin'.
Let's celebrate the downfield blocking - it doesn't take a village to spring Ginn, but it definitely helps. Holmes (4) and Rob Sims (77) clear out the speed bumps with brutal efficiency. That's borderline targeting on Holmes, and imagine a world where this play gets called back on account of a clean block. 
Notre Dame punted and pinned the Buckeyes on their own 2-yard line. Here's how that drive ended. But first, let's rewind:
a grim reality that Notre Dame cannot deal with both Santonio Holmes and Ginn
The grimmest reality.
Smith had one of the best play-action moves ever, especially when he was scrambling well (which he was; this web site can only handle so many GIFs and the MFT series cripples everyone's bandwidth but we're in a pandemic and there are no rules).
The zigging, the zagging, the sticky mitts and the premature celebration: Vintage Santonio.
After the game Tressel said they worked on not overthrowing the deep ball in practice, because we knew it would be there and that is a) true b) as passive-aggressive as Tress has ever been c) a clear sign he got sick of hearing about Boy Genius Weis having a whole month to prepare.
This is a massacre.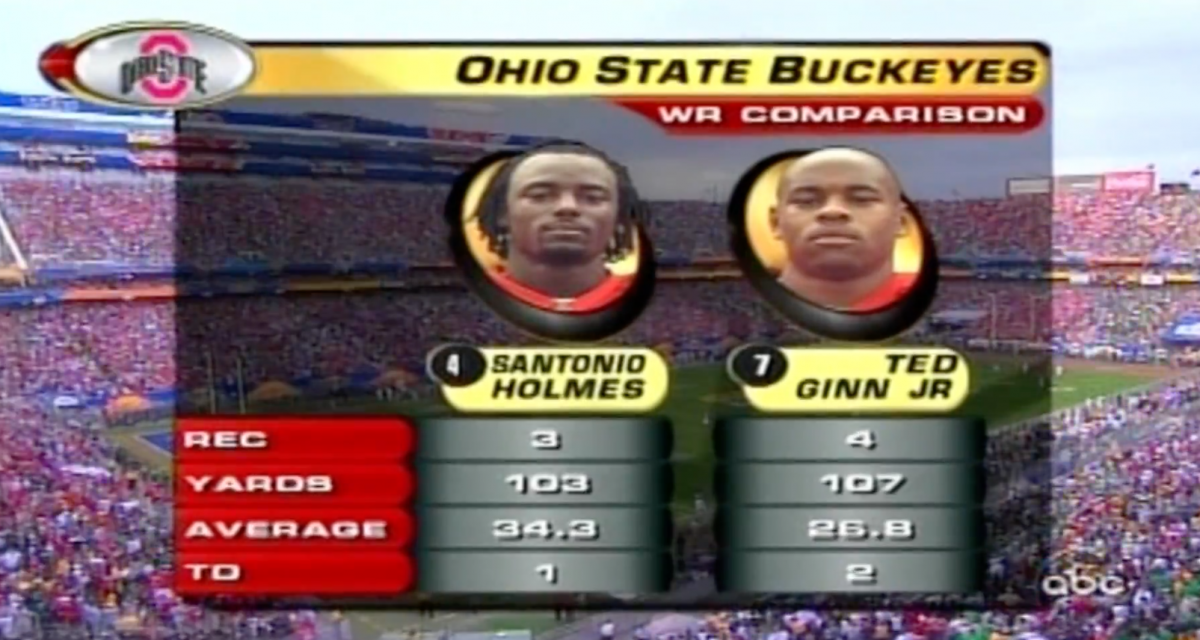 ...that's in the 1st half, and Ginn's end-around touchdown obviously isn't in that police report. The 2nd half was a classic Tresselball Hang on Sloopy affair, where
the only team in college football history capable of locking them both down was Ohio State.
I mean, why run up the score and humiliate Notre Dame's secondary when you can keep it nice and close. Who wants that, anyway.
The Irish got within seven, and Smith pulled this on 3rd and 11. Eyes in the back of his damn helmet.
[MICHIGAN NODDING, SADLY] Yeah. We know.
This play was absurd and doesn't show up in highlight reels and there's no good explanation as to why because it's the essence of what made Smith so great.
And when Smith turns you inside-out on a play he had no business surviving, you're irreparably broken. The Irish were cooked after that conversion, and Antonio Pittman seared them on the next play.
Three Fiesta Bowl wins in four seasons, including that natty against Miami - and three straight against Notre Dame. The Buckeyes now lead the series with the Irish and the Buckeyes would never ever ever play a football game in Arizona again.
Oh whoops, except for this final one. But no others.
---
GAME 6: 2016 - CONSOLATION ROMP
Ten years later and we're only here by association, for the same reason we don't celebrate the 1999 Sugar Bowl over Texas A&M. It's because two generational Ohio State teams ended up in consolation bowl games instead of getting a shot at another placard in C-deck.
They should have inverted veer-annihilated everything in their path back into the playoff and a repeat title, but alas. A deeply unsatisfying win over Notre Dame is still galaxies better than a hard-fought loss. Imagine being upset about kicking that Irish ass. This is My Favorite Things, not The Worst.
We already knew Ezekiel Elliott, Cardale Jones, Joey Bosa and an untold number of other national champions would be playing their final game. The Buckeyes farewell tour opened by cruising down the field for a 7-0 lead.
They got the ball back quickly, and the first play that followed was Marcus Baugh's second catch of the season.
Two plays later, we have reached the natural conclusion of the drive. 
Three plays, 43 yards, 45 seconds. Yeah, this team would have mashed anyone in the country. It mashed Michigan. If it couldn't be in the playoff, mashing Notre Dame would be just fine as an encore. It was to be savored.
Here's what it looked like when Ohio State's tempo was working. This is what the entire season should have and could have looked like and unluckily for Notre Dame, they showed up on the track right as the Buckeye train engineers finally figured out how to control the damn thing.
Here's 40 yards of offense without catching your breath.
Another tempo drive later and it's now 28-7 Buckeyes. Here's Zeke's third touchdown and it's so bad for the Irish defense they're not even set when the Buckeyes telegraph the play right through them.
Five possessions, four touchdowns. Ohio State then started thinking about what the world might have looked like had they entered the Michigan State game with any semblance of a game plan and Notre Dame scored twice while they were wandering around in that fog.
Zeke then found the endzone for the fourth time. Note the seam the Slobs provided here. 
Let's close things out with Sam Hubbard destroying Quenton Nelson.
Ohio State sleepwalkdozed over Notre Dame instead of rematching with Alabama in the Cotton Bowl, and the Buckeyes now owned a 4-2 series lead with the Irish returning to the schedule in 2022 (Columbus) and 2023 (South Bend). The souls of the 1935 and 1936 team had been cleansed. Most of us have no idea what losing to Notre Dame feels like.
Was this the best BattleFrog Fiesta Bowl ever? Historians are unified - it most certainly was.
No program in college football history that has faced Notre Dame at least six times has a better winning percentage than Ohio State does. In a clash of religions, the righteous prevail.