Welcome back to My Favorite Things.
This year is well on its way to being among of the most tumultuous in our country's history - and on top of all of that, sports are on hold. This sucks.
My Favorite Things is a brief escape to happier days and nights. The philosophy is simple:
When I'm feeling sad
I simply remember my favorite things
And then I don't feel so bad
So let's do that. Today we're in Ohio Stadium on Oct 13, 1984. Illinois is winning 24-0.
---
EPISODE 12: THE SHOE GAME
That's all you have to say, really. The Shoe Game. But you came here expecting GIFs and dry humor and I refuse to add even more disappointment to your 2020. So let's build.
This game was far more than Keith Byars' dazzling touchdown run, during which his left shoe gained 13 yards without his foot in it. The 1984 Ohio State-Illinois banger was The Comeback for five years. It could have been The Comeback for far longer, except The Comeback happened just five years later - and now it's just The Shoe Game. 
Let's dust off the other details - from a buildup standpoint, this was a Revenge Game™ (uh oh!) for the Buckeyes, who had their 15-game win streak against the Illini snapped the previous season in Champaign. Illinois went on to run the table, going 9-0 in conference.
Ohio State had never done that before, going 9-0 in Big Ten play. Michigan had never done that either. What the ffffffhow? Illinois?
DURING THE EARLY 1980s the Illini were basically THE Big Lots Miami Hurricanes.
Mike White's Illini had joined Hayden Fry's Hawkeyes as bold, new Pasadena challengers to the Big Two as the decade turned. The major difference between them was the spice level: The Hawkeyes were a little bit of Texas shoehorned into Iowa City, whereas the Illini were basically the Big Lots Miami Hurricanes. They were swagadillidopalicious. Yeah, Illinois. The 80s, man.
In 1984 the Buckeyes were rolling and had climbed to No.2 in the country when they suddenly and shockingly crapped themselves in...*squints*...*squints again*...West Lafayette? Wait, what year was this? Ah yes, of course.
Humanity is in syndication and yet we're always caught off-guard by its reruns. Yay, Homecoming!
This was two years before Cleveland ruined mass balloon releases for the rest of Ohio. It was the first Buckeye football game broadcast live on national television that season (!) in case you mistakenly believe you're now living in the worst possible timeline. The common element of every period of human existence is struggle. The Big Ten has its own network now - we do have good things!
So, it's 24-0 Illinois two plays into the 2nd quarter. In Ohio Stadium, on Homecoming, one week after that season's edition of Purdue Harbor. Awkward South Stands scoreboard (RIP in Peace) show the good people how bad it was: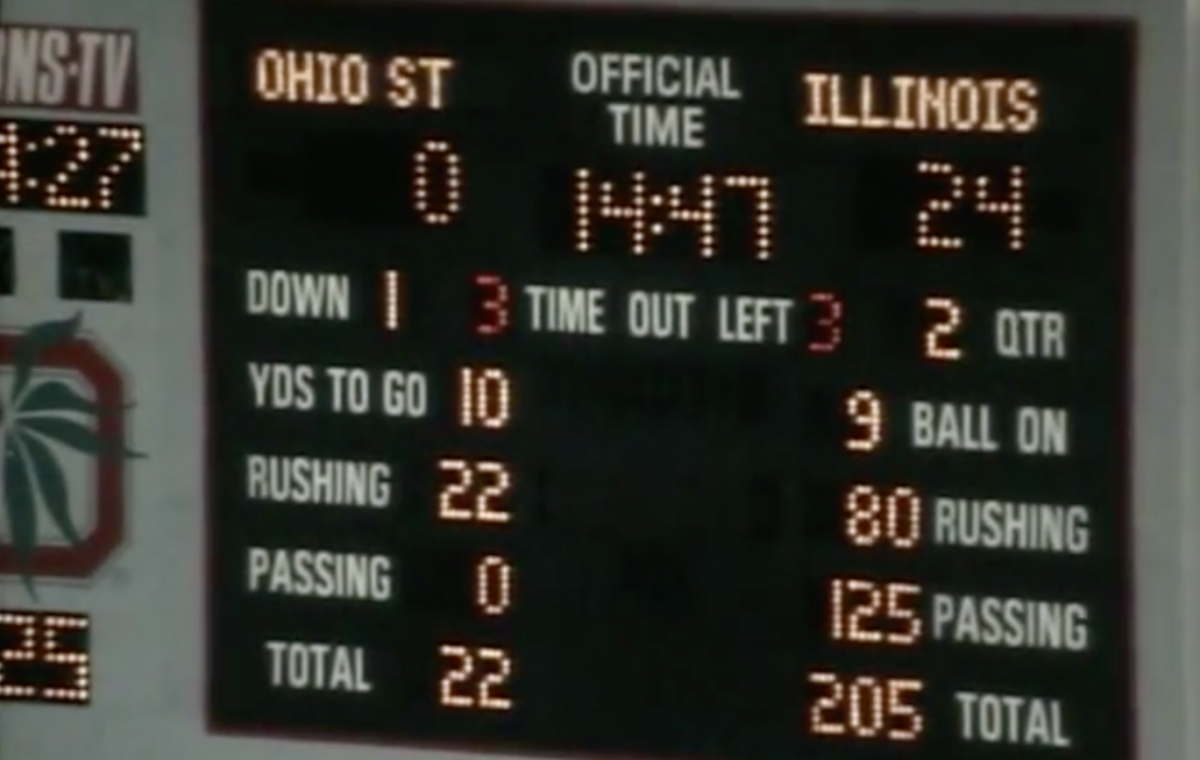 Yikes almighty, that's bad. What in the screaming blue hell happened, you ask? Instead of suffering through how the 1st quarter snowballed, a summary - just assume Illinois scored all 24 of its points off this single play.
That's Byars, who was famous for emulating Walter Payton's ball security. One-handed, out in space, daring anyone to strip it - not full-blown Earnest Byner energy, but Earnest Byneresque years before Earnest Byner Earnest Bynered. This is what happened when Byars would actually try to tuck the ball. Bad things.
Sweetness would never do that. That's why Byars fumbled. BAM 24-0 Illini.
His position coach, an upstart 31-year old named James Patrick Tressel, settled him down and told him there was plenty of game left to erase what had just happened. While Jimmy got his star running back's mind right, Jack Trudeau kicked Ohio State's ass all over its own turf and this Revenge Game was looking more like a rEvEnGe gAmE.
Rose Bowl dreams were already looking bleak in October. Ohio Stadium, filled to the brim was asking itself difficult questions. What, are we Sparty now? The world was cold and dark; when it's 24-0 in the 2nd quarter, you're not thinking comeback. You're thinking blowout.
The Buckeyes finally got some passing yards via Mike Tomczak to a freshman named Cris Carter (the h is both silent and invisible). He's wide open here, as Illinois didn't realize he was a future NFL Hall of Famer. We all have our oversights.
Still, no one was bothering to cover Cris Carter. The Illini got a big lead and began feasting on moron sandwiches.
Officials didn't tack on 15 yards for targeting here because headshots were still celebrated back in 1984, as America was still in love with footbawww and we were still years away from replacing it with football. Didn't matter; Buckeyes got close enough for Byars to punch it in without fumbling again:
Whew, 24-7 is way better optics heading into halftime - just kidding, optics hadn't been invented yet in 1984, which is why everything during that decade was feathered, tacky, dusted with narcotics and set to synthesizers. No one cared how anything looked back then.
Byars came to the sideline, looked into a live TV camera and called his shot like Babe Ruth.
Ohio State's first national television audience of the season had no reason to believe him, as this team had just done snow angels in its own diarrhea a week earlier in Ross-Ade Stadium. Byars had as many fumbles as he had touchdowns at this point. The audacity.
Pre-fedora Earle Bruce - who publicly accused White of both cheating and dirty recruiting and despised the program - smelled blood and called for an onside kick. It wasn't quite the Haubeil-to-Olave elegance from last season's Maryland game, but it worked.
And it kept Trudeau on the sideline longer. Yay, more good optics! Whatever those are.
Ohio State had the ball back, and Earle - who had moved Ohio State's spring game back into April (it's still there!) so that he would be unencumbered in early May - smelled more than just blood. He smelled a mint julep at Churchill Downs, with the best intel this side of Quantico. It was Homecoming. Earle was an alumnus. He loved Ohio State as much as he hated Illinois. His team was down 24-7 and had just executed a gotcha-style onside kick.
Earle smelled opportunity, simple syrup, dirt and determination. Earle smelled a winning ticket. Win, place, show. Superfecta vibes. Fancy dresses. Woodford Reserve. Fancy hats on aristocrats. His 100-1 longshot felt like a sure thing - so he hammered the bet.
The call was a fake end-around stop-and-go route into triple coverage, targeting Carter whom Illinois had finally figured out would have a bust in Canton someday. And friends, the call worked.
Buddy Ryan was the Bears' defensive coordinator at the time, and a few years later when he was coaching the Philadelphia Eagles he famously complained that all Carter did was catch touchdowns. This was a glimpse into his headache. Ugh, touchdowns. Gross.
In awe of the air Tomczak put into this floater. An absolute kite of a throw, tossed under pressure with the confidence that his freshman receiver was better than the entire secondary.
This game is getting sideways and no one even realized that they were playing in The Shoe Game (shhh don't tell them). Things were only going to get more haywire, which is the best kind of College Football Saturday.
Look at the sheer determination of walk-on fullback Ken Blair refusing to be left hanging. The 80s were the cultural peak of the American high-five, a significant and sanitary upgrade from the 70's slipping of skin. Progress. Epidemiological concessions. Fraternity. This is how you keep your mojo rising. 
Trudeau had been stuck on the sideline for approximate four days at this point, with two Ohio State scoring drives and that onside kick cooling him off. Once Illinois finally got the ball back, White chose to ride his hot QB instead of just getting to the locker room, and Sonny Gordon made him pay.
How stupid and fun were the mid-80s? Here's a pile-on in the 2nd quarter with Pepper Johnson on top. Gordon escaped unscathed; scientists are baffled and cannot explain how.
The home team had been losing 24-0 in this quarter. The Buckeyes' strategy abruptly shifted from Just Get to Halftime Without Dying to Damn it Halftime, You're Wrecking our Momentum.
Ohio State had been the statue for the whole 1st quarter. In the 2nd quarter, it was the pigeon.
That's how you carry a football, Keith. Like a baseball. Like Sweetness.
Awkward South Stands scoreboard (RIP in Peace) show the good people how drunk the 2nd quarter was:
The Buckeyes were still losing, but momentum is unambiguous. Remember when Evan Spencer hit Michael Thomas for that touchdown against Alabama? Of course you do. Do you remember that Ohio State was losing before and after that play happened? It just didn't feel like it.
And neither did this. Holy shit, this game is only halfway finished.
Here's the opening play of the 2nd half. For those of you counting at home, Illinois has now failed to secure two (2) kickoffs. It's tough to win when you do that, even with a 24-point head start.
Earle was still Kentucky Derby dreaming and hating on White, dialing up an inordinate amount of throws that afternoon, but his offensive coordinator - an upstart 34-year old named Glen Mason - settled him down and informed him there was plenty of game left and the urgency to dig out had subsided.
No fake end-arounds this time. Just Keith, Keith and more Keith.
It was now 28-24 Buckeyes. They're winning. Serious 2015 Sugar Bowl vibes a decade prior to any of the players from that game being born. Both games featured 28-0 runs by Ohio State. Everything is in syndication. We just need to get Purdue canceled.
Illinois maintained a drive for the first time in 90 minutes and got a FG out of it to cut the Ohio State lead to one. And now we've reached the section where we finally justify the title of this episode.
It was a draw play that began with Byars wearing both of his shoes.
Keith dusted the defending Big Ten champions with one shoe on. People were screaming. Toilet paper was flying. Let's Go Crazy by Prince, a brand-new song which had just been released was playing out in real time in Columbus. HE LOST HIS SHOE - AND ACCELERATED.
Strangers were hugging. Remember hugs? Hugs were awesome. Keith was awesome.
Damn 35-year old standard definition videotape. E N H A N C E
Had Byars failed to score with one shoe, the play would have been swallowed by time. This episode would be called My Favorite Things: Illinois Was Good For a Minute or something else - or it would not an episode at all.
Here's what happens when you run out of your shoe and fail to reach the endzone.
Yeah, still pretty great. Zeke's final rushing attempt of the 2014 B1G championship game doesn't crack the top dozen highlights from that evening. But imagine if he had scored with one shoe on. Pandemonium. TCU and Baylor would have immediately been like, yeah we're not making the playoff. Indianapolis would still be recovering.
Lucas Oil Stadium would have morphed into that scene in Airplane! where everyone loses their shit. Zeke would have done that Feed Zeke motion thing with his shoe in his hand instead of an invisible spoon. Shirts would have been made. Maybe Zeke gets a co-MVP with Cardale. That's the difference between scoring and not scoring when your shoe flies off.
But Zeke didn't score, and that play is barely an anecdote. Back in 1984, the defending Big Ten champs responded to The Shoe Touchdown with a 10-play scoring drive of their own, plus a two-point conversion to tie the game at 35. It's still the 3rd quarter. 
The Buckeyes returned serve with a Rich Spangler FG. Illinois drove down the field and got to the doorstep, upon which they were rudely turned away. And this is low-key what decided the game.
White settled for this, which sent his swagadillidopalicious team the worst possible message. The Illini had racked up 35 points on the road at this point, and all of a sudden they're kicking 17-yard field goals.
...with Keith Byars having 4 TDs and over 200 yards rushing. Illinois had just climbed into a casket.
White committed a fatal coaching error by forgetting that while 50% of the game is physical, 50% of it is mental, 30% is field position and 25% is keeping Byars under 250 rushing yards. Yeah I majored in English, why do you ask.
Ohio State got the ball down three with just minutes remaining, which begged for a championship-caliber, season-defining, revenge game-winning and Shoe Play-enshrining drive. 
Earle wanted to throw, which produced an incompletion. Mason winced. Then, nine straight rushes, six of them the exact same play. Mason smiled. Tressel beamed. Earle Earled. The Buckeyes dared the Illini to slow down what they were telegraphing - and champs got knocked backwards with every snap.
Ohio State manballed Illinois all the way down the field. John Woolridge spelled Byars for a play, and yes you're right Alice - you could run through that hole too. We all could. We should have scholarships.
After 55 minutes of insane football, Ohio State got Illinois to scream uncle. Byars' 5th TD of the game would be its decisive play - and he did it while wearing both shoes. 
The 274 yards Byars gained was a new school record, eclipsing Archie Griffin's 246 against Iowa in 1973, Archie's 239 against North Carolina a year earlier and Ollie Kline's 229 at Pitt in 1945. This was history. Eleven years later Eddie George would break Byars' record against the same team on the same field in a game that locked up the Heisman Trophy.
And in a fair and just world, in 1984 the Big Ten MVP and 1st team All America wins the Heisman over Doug Flutie, who finished with just five more TDs than Byars' 22 along with 11 interceptions. Flutie won on the strength of an insurmountable sweetheart bias/QB bias combo. If you mention that to Keith (I've mentioned it to him) he will grimace like he just heard Flutie's name being called instead of his all over again, even though it's been 35 years.
Keith didn't get the Heisman, but the Buckeyes dethroned the Illini and won Earle's final conference title that season. And the big fella rumbling toward the endzone leaving defensive backs in his wake - with only one damn shoe on - will stand forever as a defining play in Ohio Stadium history.
That's not a bad trophy. Put that in the WHAC lobby.