Welcome back to My Favorite Things.
We're isolated from each other, trying to survive a global pandemic. We're also isolated from each other in separate versions of what we believe America is and should be.
This year is well on its way to being among of the most tumultuous in our country's history - and on top of all of that, sports are on hold. This sucks.
My Favorite Things is a brief escape to happier days and nights. The philosophy is simple:
When I'm feeling sad
I simply remember my favorite things
And then I don't feel so bad
So let's do that. Today we're in Pasadena on Jan 1. Happy New Year!
---
EPISODE 11: ANGELS AND DEVILS
Ohio State went out and bought itself a John Cooper after firing Earle Bruce toward the end of the 1987 season. It was a big, bold investment.
Here is a taste of what everyone in Columbus expected to happen - with glorious regularity - back when the local college imported a new, mysterious and twangy outsider.
*clutches chest* My God it's everything an Ohio State fan of the 20th century could ever want.
Bo Schembechler is looking melancholy and sad, as if he just lost his seventh Rose Bowl or something. Meanwhile, there's our new savior Coop getting a champion's ride out to midfield in what used to be - and still kind-of-sort-of is - the most coveted destination and setting in college football.
Beating Michigan in the Rose Bowl was an impossible arrangement for Ohio State back then. Today, there's a non-zero percent chance the fantasy could actually happen; both teams would have to make the College Football Playoff and either pair in a semifinal in the Rose Bowl or meet up there for the title game.
BEATING MICHIGAN IN THE ROSE BOWL IS UNLIKELY TO EVER HAPPEN FOR OHIO STATE, AND THAT'S FINE. PORNOGRAPHY ISN'T SUPPOSED TO BE REALISTIC.
Try to conceptualize the Buckeyes beating the Wolverines to clinch the division en route to winning the conference in Indy, and then handing them a second L a month later in Pasadena on the way to a national title. It's possible but unlikely to ever happen, and that's fine. Pornography isn't supposed to be realistic.
The next best thing, of course, is beating Michigan and then winning the Rose Bowl. Perhaps you're old enough to remember when Ohio State hung 62 on the (favored!) Wolverines and then raised the trophy in Pasadena to ring in the new year. Well, back in 1987 OSU hired a guy who had taken an Arizona State program with little history, no tradition or zero longevity to that very mountaintop.
Imagine that guy in Columbus, with our resources! This is what Ohio State was buying.
Here's an enthusiastic ASU fan is holding up a towel at the 1987 Rose Bowl. The backstory is Coop had developed a habit of waving a towel on the sideline when he sensed fans were getting distracted in Tempe to generate enthusiasm. Eventually, Sun Devil fans returned the gesture, and the Coop Towel was conceived.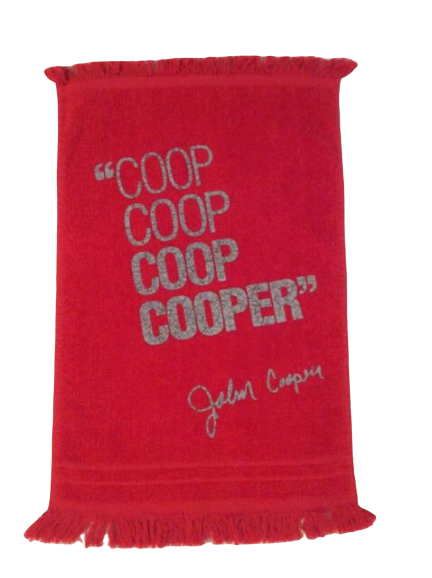 That towel was one of the very first imports coordinated with his arrival in Columbus. Coop had his first press conference, made an awkward reference to Ohio State playing football games in "Buckeye Stadium" and then shot a Big Bear commercial from a hot tub (I checked the internet for it and came up empty - but it was real).
Laugh all you want, but this is what Ohio State football coaches do. Coop might not have been named Head Breakfast Coach but he was a grocery store pitchman and brought that towel with him to town.
Decades before PJ Fleck Rowed the Boat™ wherever he collected his paycheck, Coop was pioneering the portable coaching brand concept in Columbus. By the time Ohio State finally returned to Pasadena in his ninth season, the Coop Towel had long been forgotten and retired.
Had he showed up from Tempe and pulled an Earle, a Tressel, an Urban or a Day with an out-of-the-gate showstopper debut - maybe we'd still be waving those towels at games. But they lost their appeal in an extended rebuilding era, so you could say Ohio State threw in the towelon Coop's towels.
Besides, Buckeye fans don't get easily distracted during games. We don't need damn towels.
Anyway, here's the final pass Jim Harbaugh ever threw in college. It gave Coop the biggest win of his career, and as it turned out - 1/3 of his career Michigan victories.
That's how the 1987 Rose Bowl concluded. Your heart just bleeds for Harbaugh, who had abused a brief and bullshit NCAA rule around controlling excessive crowd noise to get officials to charge Ohio State with a timeout in the final game of that season.
That's right, kids - in 1986 the NCAA had a rule that punished home field advantage. The 1980s continue to defy explanation beyond shrugging and muttering;"er, uh, I don't know, cocaine?"
Harbaugh just barely missed completing that pass, too. It was so close. How close?
Yeah, about that close.
Earlier in the day Ohio State fans watched their team wallop Texas A&M in the Cotton Bowl. That was nice, but this...this was better. Better bowl. Better opponent. Better win. Better everything.
And Arizona State seemed to love this guy. He had phenomenal pants, too. Fans waved towels that had his name on them. Ohio State's coach wasn't nearly that cool and had just abruptly changed his whole image from PhysEd Teacher to Youngstown Goodfella that morning, like a bizarre New Year's resolution.
There was a fair bit of coveting in Ohio that evening. We wanted this.
Bring us this guy. He won 10 games and the Rose Bowl! Only! Only one loss! Who'd he lose to, anyway? *checks notes* Ah, a three-loss Arizona team? ASU's arch rival? Surely, an outlier - nothing ominous about that! (NOTE: Coop never beat Arizona while at Arizona State; nobody reads the fine print when they're making a big purchase - they're too excited!)
Ten years later, the Buckeyes returned to the scene of Coop's inadvertent closing argument for the Ohio State job. Three Rose Bowls in 35 years. One per decade since Earle's final Pasadena visit. None thus far in the 1990s and only one in the 1980s. Only one. The Buckeyes of that era were so damn good and yet so…unfulfilled. But how?
Er, uh, I don't know, cocaine? ¯\_(ツ)_/¯ wooo let's play football!
The 1997 Rose Bowl was hit by lousy weather, robbing us of the San Gabriel sunset and making The Most Handsome Bowl Game on Television look more like the Independence Bowl. Whatever, we'll take it!
Andy Katzenmoyer opened the action by sacking ASU QB Jake Plummer. Katzenmoyer's freshman year was basically Maurice Clarett's if Clarett never got hurt. He over-compensated for the permission to wear Archie Griffin's No.45 and the initial outrage over un-retiring for him it quieted down once those angry fans, um, saw him play.
If you have no memories of the 1996 defense - which allowed nine (9) points per game - you were born too late, sorry. Blame your parents for waiting too long. It was the most intimidating, badass and competent Ohio State defense of my lifetime.
Ferocious pass rush. Smart and agile linebackers. Two lockdown corners. Here's Ty Howard letting his man go by him knowing his safeties are always in position and Damon Moore was going to play enforcer. They could all read each other's minds, and they were all so competent and violent. A beautifully harmonized destructive force made up of collegiate sorcerers.
No weaknesses.
Offensively, things were just fine until November struck, which was traditionally when Coop's Buckeyes would realize they were undefeated and destroying everyone - and got nervous. In 1996, the realization led to them getting janky and discombobulated when they had the ball. It was compounded by Coop not settling on a quarterback and platooning between Stan Jackson and Joe Germaine.
Neither of them ran the unified strategy that was put in place all that well. When the stakes got higher, the offense got colder.
Here Jackson misses a touchdown pass to David Boston - he did not have the arm to make this throw, but he had the legs to pick up a nice gain. Boston would have to wait to score.
One play later, a wheel route to Matt Keller, who missed a touchdown because he slipped and fell down.
He slipped. He slipped. Too soon, 1996 season.
One historically shitty game earlier, Shawn Springs famously slipped which caused the dam to break and spiraled into another Michigan loss. One season earlier the Buckeyes lost the Citrus Bowl to Tennessee because the Volunteers wore illegal cleats shoes that worked in slick conditions while the Buckeyes wore what appeared to be banana peels.
Keller had inadequate footing on wet turf. If you're wondering who Ohio State's equipment manager was during the mid-1990s, don't, we're way past the statute of limitations and SPOILER the Buckeyes are going to win this game in spite of their stupid shoes.
They also scored the first points.
Even in our current era for talented freshman Ohio State receivers, Boston was both advanced technically and a physical alien for a kid who had been in high school months earlier.
And now for the extra point. Why include a PAT in this GIF orgy?
Because it's relevant, unfortunately. Something happened to Josh Jackson toward the end of that season that resulted in extremely blockable kicks, and ASU schemed for it. That slippery field and Ohio State wearing dumb shoes may have contributed. We'll get back to this, unfortunately.
Reminder, Katzenmoyer was a true freshman who was so good that senior captain Greg Bellisari moved outside in his final season to accommodate AK45 starting in his tenured position. Look at this witchcraft.
Onto the 2nd quarter. SUMMARY GIF: Here's every Arizona State rushing play from the game.
The ground attack was not working at all, so Plummer started airing it out. He was amazingly talented, but on this touchdown pass he had some assistance.
What a catch. Can't cover much better than that. Waaaaait a second.
That shouldn't have counted. The good news is that bowl game officiating that negatively impacts Ohio State would never happen again! You've got to love a happy ending.
Just kidding! This is the ensuing Ohio State drive, and Buster Tillman 100% caught that ball.
Ohio State could catch passes but it couldn't catch a break - and Arizona State couldn't catch a pass while every bit of Cooper Era frustration was already beginning to accumulate on the best football day of the year.
It's going to be one of those games, huh. Like, how did Ohio State not recover this?
Oh sure, he just kicked it to himself with four Buckeyes right there. However, on the next play Belli and Rob Kelly made plans to meet at the quarterback. Ugh, I loved this defense so much.
All America receiver Keith Poole was Plummer's favorite target and most dangerous receiving threat that season. All America defensive back Shawn Springs erased him that afternoon.
The Sun Devils came out of the locker room with misdirections, reverses, anything to trick the Buckeyes' aggressive defense.
Here's a 3rd and 1 play deep in Ohio State territory. Squint and you can see Orlando Pace lined up at nose tackle (and getting double-teamed at the point of attack, something ASU likely saw Michigan do with success on tape). You don't have to squint to see Damon Moore clean up the play.
Ugh, favorite Ohio State defense ever. I may have already mentioned that and it's still true until another defense shows up and changes it. ASU got a field goal off this drive and kicked off to the Buckeyes who had switched to Germaine late in the 1st half.
Germaine had the only arm on this team to make this throw.
That and his composure vs. Jackson's moxie and mobility were what made the controversy happen. Ohio State's second score of the game was a precision ball that hit Dimitrious Stanley in stride. Arizona State was crashing the line, so there was no safety net.
Let's check in on ASU's 1st team All America DE Derrick Rodgers casually being treated like a mediocre child by Pace, who should have won the Heisman that season.
And let's nervously watch another knuckleball PAT.
The game got chippy after they traded possessions. Ohio State's bench took a 15-yard penalty for unsportsmanlike conduct, and there was plenty of extracurricular action after each play.
And then, this. Katzenmoyer, 1996. *swirls glass* One of the greatest vintages ever produced.
Unfortunately Moore and Kelly were both spectators on Katzenmoyer's INT return. Downfield blocking just wasn't coached at Ohio State in that era. More on this in a bit!
STOP WATCHING HIM AND START BLOCKING FOR HIM.
Still the best defense I've ever seen. Yeah but their downfield blocking after forcing turnovers needed work is how you criticize a legendary unit. I mean, come on. Look at this stat.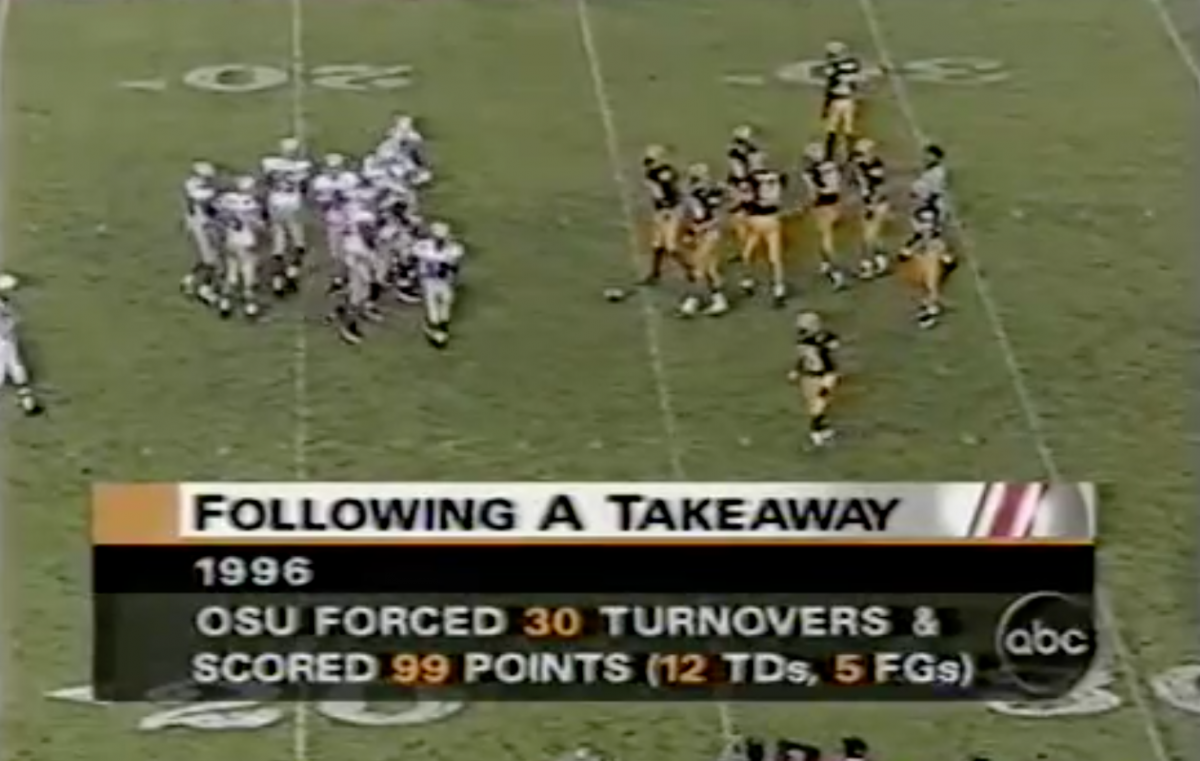 If you're wondering how 30 turnovers would fare over the past decade of college football: It would lead or be near the top of the FBS in several seasons. Oh, whoops - and they only played 12 games.
Ohio State's schedule included three top-five teams and five ranked ones. Absolute legends - now let's see what the Buckeye offense does with Katzenmoyer's pick, which was brought back due to a chop block. Here is 3rd down. Joey watch out for your faaaaaace!
Sure, that's targeting today but in 1997 it was super awesome and good football. SMOOCH
Germaine's chin met the crown of an ASU helmet and the helmet definitely won. Blood was spilling down his jersey on live television on New Year's Late Afternoon, which Jim Delany likes to call the most valuable television property of the year. Families everywhere in the living room, still in their pajamas, watching...bloodsport. America!
So wholesome.
That's a significant amount of blood. Football used to be so metal, man.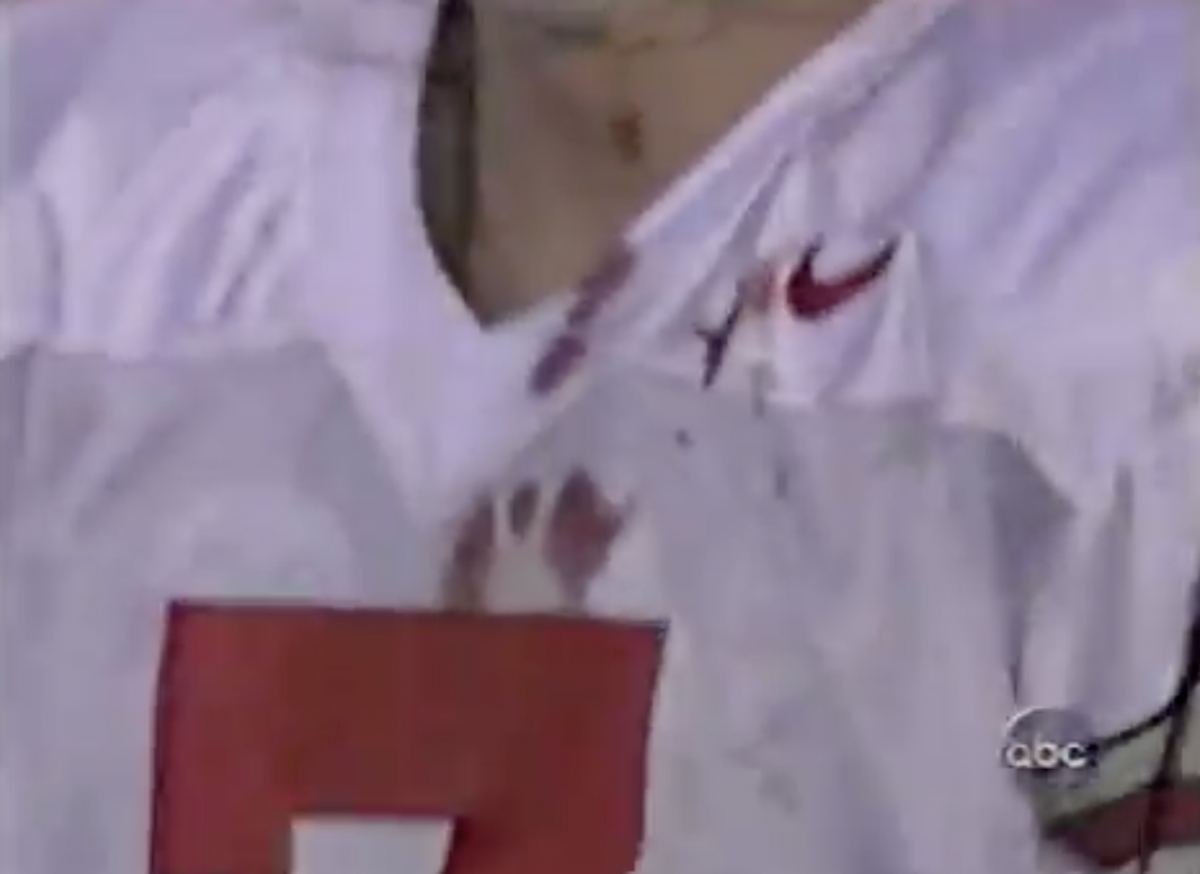 Buckeyes got into the 4th quarter with a slim lead, which meant Coop's fingernails were in danger. Ohio State had the undefeated No,.2 team in the country on the ropes. This moment was generally too big for Coop's teams.
ASU had a key 3rd and short against a defense with no weaknesses. Earlier we said:
Here's every Arizona State rushing play from the game.
Lather, rinse, repeat. It's not like passing was working either, but still.
Beautiful and violent. But this was still Ohio State during the 1990s - something supernatural, shitty or self-inflicted was required to happen. Hold onto your butts.
Let's peek back at Episode 3, when Pepe Pearson missed a touchdown in the nightmare game prior to this one - in large part because Stanley was a spectator instead of a downfield blocker:
He didn't slow Charles Woodson - who shoestring-tackled away a touchdown - at all. We said:
You could watch that GIF 100 times and still not understand if Dimitrious Stanley (3) had a blocking assignment, if he forgot he was involved in a live football play or if he simply chose to be a spectator. His eyes are fixated on the ballcarrier instead of anyone in yellow pants, including the guy covering him who makes the TD-saving tackle.
That was one game earlier. Surely the trauma of that missed opportunity against Michigan was examined, accepted, coached, corrected and healed. There's no way it could happen again.
So let's see what happens when the Buckeyes run the exact same play in the Rose Bowl.
If No.3 even slightly blocks No.32, Pepe becomes this game's legend and Joey G's mashed chin is an anecdote. We all know Terry McLaurin would have sprung both of Pepe's runs for touchdowns, Unfortunately, baby Terry was only 16 months old during this game. Everything in life comes down to timing.
Jackson was back in on that drive and had struggled in the passing department even prior to the Tillman catch drop. The Buckeyes settled for what would be their first field goal attempt of the game.
The Pace double-team plus another low kick equals nightmare scenario.
Arizona State returned it for a touchdown that was aided by a forward lateral, so the Sun Devils assumed possession in their own territory with the game winding down. Ohio State was so close to winning a big game, finally. This was when they fell normally fell apart.
ASU smelled blood and went for the touchdown on the first snap. Well, not actual blood. Not Germaine's blood. It's a metaphor. Maybe they did smell actual blood. Either way, they picked on Springs because memories are short.
He was having none of it. SEXY FLASHBACK:
All America receiver Keith Poole was Plummer's favorite target and most dangerous receiving threat. All America defensive back Shawn Springs erased him that afternoon.
Springs was the Big Ten's DPOY that season despite not registering an interception. He erased a third of the field. Might not have been the best player on his own unit, either. An absolute technician. Ugh, I loved that defense so much.
Read his eyes and broke his heart.
Plummer willed the offense down the field, converting a 4th down with a 29-yard teardrop to Lyndsay Jackson at Howard's expense, who did nothing wrong on the play. Everything the Sun Devils got, they earned. The Buckeyes made no mistakes.
Here's ASU's only legitimate touchdown of the game. Jake the Snake, man.
An absolute wizard. Ohio State got the ball back down three with 93 seconds left and a timeout.
Coop tapped Germaine for the final series, and this is worth rewatching in non-GIF form. The program that shriveled in late season big moments was suddenly wrecking another team's storybook ending.
D.J. Jones started that drive with two awful drops, but everything beyond it was the stuff of legend.
In the end, Boston destroyed his man in short-yardage and Coop...Coop destroyed his fingernails.
The PAT would have made it a four-point game and basically iced it with this defense. HOWEVER.
The protection was fine. I could have blocked that PAT. You could have blocked that PAT. Nothing was guaranteed in that era. Nothing.
After the Buckeyes kicked off, the Sun Devils raced to try and get in field goal position but 19 seconds just weren't enough seconds, and Ohio State had just won the Rose Bowl for the first time in forever. Coop won a big game. Coop. Won. A. Big. Game.
If we still had those towels we would have been crying happy tears into them.
This was what Ohio State signed up for when it bought itself a John Cooper 10 years earlier.
The 1997 Rose Bowl had all the markings of a classic Cooper era catastrophic loss - every reason to win, felled by little things, slip-ups and dark sorcery. Coop screamed we can win the big game! as his first postgame comments and then begged on the Rose Bowl victors stage to play the Sugar Bowl winner (Florida was rematching Florida State; had ASU won they would have finished atop every poll).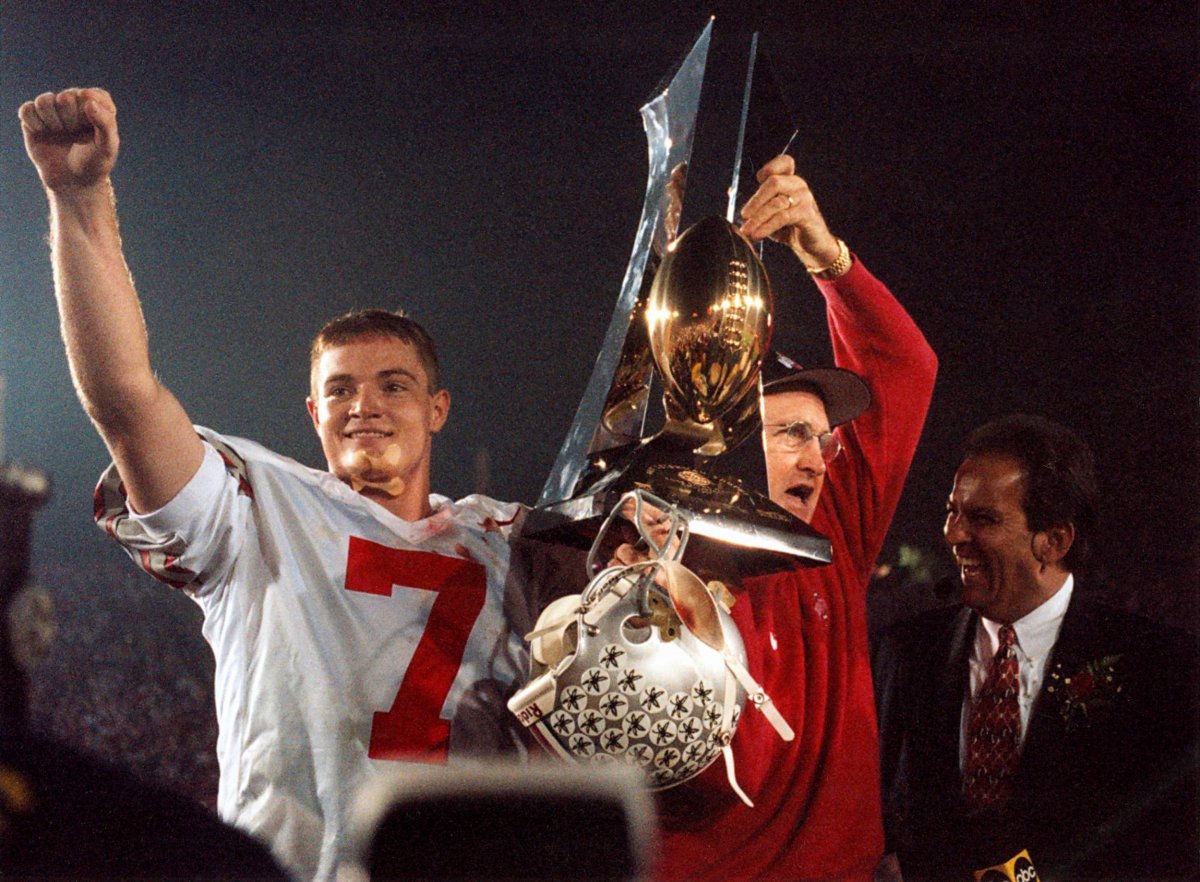 His request was heard but not listened to, and this would not be the last time Ohio State handed Florida a national championship.
Every other Cooper loss to Michigan was followed by a bowl loss (eight of them!) or a hollow victory (woo hoo Holiday Bowl champs!) The 1997 Rose Bowl was a beautiful, welcomed and shocking aberration. It was took place in an era when nothing was taken for granted, which is part of the reason why it is so revered in program lore. These days, Ohio State won its bowl game after beating Michigan is pretty much the expectation.
There would be no satisfaction or peace under Coop, where even in 1998 the Buckeyes beating Michigan and winning their bowl game - the only time that happened - felt hollow. But on that New Year's Day it seemed like Ohio State had finally turned the corner. We were so happy for him. We were so happy for us. We were just so happy.
And all around us were signs that we were about to be rewarded for our patience. Nebraska had just waited 21 seasons for Tom Osborne to finally break through. Ohio State had waited 10 for Coop to almost make good on his accidental job interview when he beat Michigan in Pasadena.
Surely the best was yet to come. But for that moment, it felt like it had already arrived.