Welcome back to My Favorite Things.
We're isolated from each other, trying to survive a global pandemic. Each day brings more uncertainty and terrifying news, as we take shelter from an invisible global scourge. A single cough can send your mind to a dark place. Life is paused. Sports are on hold. This sucks.
My Favorite Things is an escape from all of that. The philosophy is simple:
When I'm feeling sad
I simply remember my favorite things
And then I don't feel so bad
So let's do that. Today we're in Minneapolis on Oct 28, 1989. Ohio State is down 31-0 in the 2nd quarter.
---
EPISODE 8: THE COMEBACK
Ranking Ohio State's greatest comebacks is unfair. It's like choosing a favorite child.
For a recent example, the 2017 Ohio State-Penn State outcome was phenomenal. That 4th quarter was absolutely one of My Favorite Things.
It had been one of the most excruciating games I've ever experienced, as well as the second time I've been forced to watch a team open with a kickoff return touchdown against Urban Meyer...and still lose. (This was the good one).
Denzel Ward, Sam Hubbard, Johnnie Dixon, Marcus Baugh and J.T. Barrett all elevated themselves to turn the Nittany Lions inside-out, and recency bias demands us to accept that this was Ohio State's greatest comeback.
https://t.co/nI2z508gQG pic.twitter.com/BvduW9yh9R

— Ohio State Football (@OhioStateFB) May 6, 2020
Yes, it was awesome. So was the 2005 escape in Ann Arbor. But mathematically, both of those comebacks were several touchdowns short of what OSU pulled off in Minneapolis 30 seasons ago.
We've got fresh B1G West road nightmare blowout losses lingering in our memories from Iowa City and West Lafayette. This particular visit to Minneapolis actually started off worse than either of those two, which produces today's question:
Have you ever walked away from an active, terrible Ohio State football game?
Guilty. In 2001 I walked out of the Rose Bowl to try and find Neutron Man for another beer rather than watch the Buckeyes continue to vomit all over themselves. I bailed out early on both home losses in 2011 because frankly, Out-r-Inn offered a healthier and more cohesive game day strategy.
I left early and missed the Sparty's kicker's windmill celebration dance in 2015. Good call.
And in 1989 I turned off the Minnesota game in the 2nd quarter because the conclusion felt foregone. My Favorite Things guarantees a happy ending, so let's slither through the sewage from that precarious afternoon together.
Let's begin with this 1st quarter Greg Frey fumble.
By the time Minnesota recovered it, the road team had already 1) kicked off out of bounds to start the game 2) had a punt hit one of their guys in the back that was recovered by Minnesota, which 3) allowed a way-too-easy touchdown. Frey's fumble tripped the alarm. This wasn't going to be a fun afternoon.
The 1989 Buckeyes had Jim Colletto calling their plays - he later left Ohio State to become Purdue's head coach, where he had Mike Alstott for four years and went to zero bowl games. Current 49ers running backs coach Bobby Turner had that same job in Columbus back in 1989. The offense was, shall we say, traditional.
Future Bowling Green head coach Gary Blackney was co-DC with Bill Young - the latter of whom Tim Biakabutuka owes his entire epitaph to (that was Young's final game with Ohio State). A young Ron Zook coached defensive backs, and John Cooper was only in his second season rebuilding Ohio State's roster into a nationally-relevant NFL factory.
Minnesota scored a touchdown following Frey's fumble, but it was called back by a holding penalty so they settled for a field goal. It's now 10-0 Minnesota. Not disastrous, but not ideal either.
Here's the ensuing kickoff. We'll speed Carlos Snow up because, well, you'll see.
1st and Goal! Okay, enough of this bullshit. It's Minnesota. They suck. Let's go.
Two plays and no yards later, it's 3rd down. Frey sees the Gopher defense showing a tendency he noticed on film, so he audibles into, uhhhhh this.
You don't need to see the rest of the play. It's now 17-0 Minnesota.
Frey has two fumbles, giving the Buckeyes 12 (!) on the season (this was only the seventh game) and there are still three minutes left in the 1st quarter.
We have arrived at the first moment where Ohio State's John Cooper Experiment™ is called into question. He's just 0-1 against Michigan in 1989, with the 1988 game being a hard-fought heartbreaker - and his rebuilding task and timeline was accepted by even the least rational segment of the Buckeye tribe.
But this...what the hell is this?
Play action effectively draws Ohio State free safety Bo Pelini (yes, him) far away from where the ball gets thrown, giving the Golden Gophers an easy touchdown and a shocking 24-0 lead.
How badly was Pelini fooled? Let's go to the telestrator.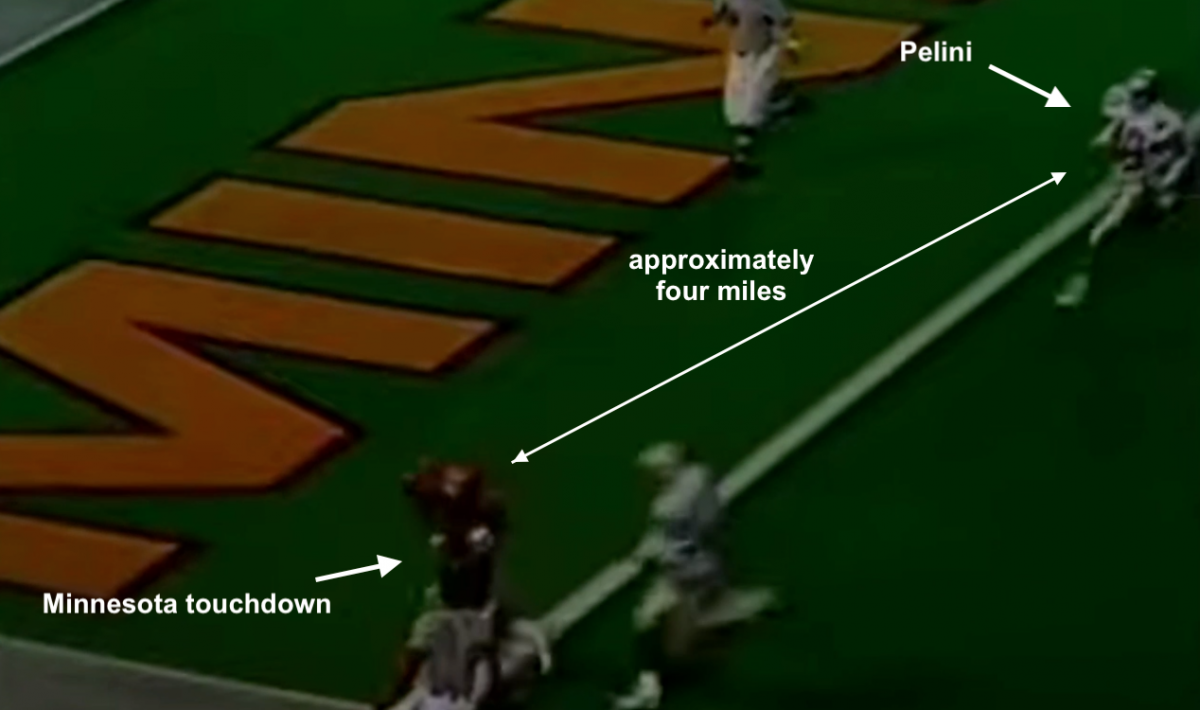 An early 24-point deficit for a team that had failed to score more than 21 points against Southern Cal, Illinois or Purdue seemed like...a lot. I thought about walking away at this point, but we wait all year for college football season, man. Bad football is still football.
It was going to take more than a bad quarter and-a-half of diarrheaball to push me away.
Not sure who Frey was aiming for here, but he threw it into an orgy of maroon pajamas. Minnesota scored on the ensuing drive and it was now 31-0 in the 2nd quarter. Ohio State was losing a football game to Minnesota by a score of thirty-one to nothing.
So I walked away. No one survives 31-0. Not on the road, not at home, not anywhere.
Which means I did not see Ohio State's 4th & Goal with 15 seconds remaining in the half.
Spoiled the shutout! *Coop voice*: I can't say enough about how we ended that 1st half, you're looking at one happy football coach.
Cooper immediately dials up the 2-pointer, and they got it. Gophers 31, Buckeyes Ocho.
A 31-8 halftime deficit isn't something you'd normally expect a clunky-ass team to bounce back from, and I actually have no memory of what I was doing instead of seeing the Buckeyes getting trounced by the Gophers. Did I flip it to another game? (in 1989 there were as many as two college football games on at the same time, so...maybe).
Did 15-year old me go outside to get some fresh Columbus fall air? No idea ¯\_(ツ)_/¯.
Frey started the 2nd half with a laser to Jeff Graham for a nice gain that was called back due to illegal motion. But Frey liked what he saw, and went back to the well a few plays later on 2nd and 2 when he audibled out of what Colletto called and targeted his top receiver.
You can see him check out Graham's matchup, think oh, yeah and change the play.
The drive ended with a field goal. Every play Frey ran from the sideline got blown up, and every play he audibled out of turned out okay. Hmmm. That cut the deficit to 31-Elevener, Golden Gophers.
Here's the first play of Minnesota's ensuing drive.
The home team made another mistake - and Steve Tovar was there to scoop it up for the Buckeyes, just outside the red zone. This episode of My Favorite Things is called The Comeback, and right now you're thinking hell yeah this is where the good stuff really begins.
Sudden change. Turning point. Crowd's anxious. Buckeyes in striking distance. They have to score here. They have to dig deep. They have to rip their hearts out, now. They have to -- [car accident sounds]
...they have to get Scottie Graham's backup a chance to pass. Folks, that's a second-string fullback pass for the INT. Ohio State's strategy in 1989 was - rewind that back please?
The offense was, shall we say, traditional.
Right. Get out of character and bad things happen. James Bryant ran 10 yards in the wrong direction and then threw a duck into coverage. If you're keeping track, that's Ohio State's 83rd mistake of the game. HARD TO WIN WHEN THAT HAPPENS.
Had I been watching this, I would have likely broken an appliance - which back in 1989, they were all super heavy, made out of lead and asbestos and came from a department store called "Sears." Minnesota ended up punting and pinning the Buckeyes inside their own 5-yard line. Oof.
Here's how Ohio State's drive ended.
Apparently Ohio State's problem all afternoon had been good field position. The visitors have now scored 18 straight, including a full-field touchdown drive. Interrrrresting.
Minnesota returned the kickoff to midfield and converted a field goal to extend the lead to 16 points, and the Ohio State offensive line - which had struggled all afternoon - was now in full turnstile mode.
Frey was forced to put on his invisible cape and tights.
Ridiculous. Next, he fools everyone and dumps a screen off to Snow. T O U C H D O W N.
Are the Buckeyes going to go for two again? Man, confident Coop was the best Coop.
It's now 34-26 Minnesota, Ohio State is on a 26-3 run, and this game is drunk as hell.
I have no idea any of this is happening because I'm [muffled sounds]. The Buckeyes forced a 3-and-out and got the ball back down only one score plus another two-point conversion (pffft like that's even possible; no one gets three of those in a single game).
Here's 1st down - ooh, shotgun! It's 1989; remember, this is as an exotic formation in Columbus.
Can we hit rewind again please?
The offense was, shall we say, traditional.
Another wacky playground stunt bit the Buckeyes again, as the shotgun formation requires a shotgun snap to be successful (it's true; look it up). The Gophers were held to another field goal. It's now 37-26, but the Buckeyes have grit, talent and three timeouts. Five minutes left. Plenty of time, maybe.
Frey had been slicing up Minnesota's now noticeably exhausted defense. This time he took Ohio State right down the field in two minutes and hit Jim Palmer for a touchdown, which - have you been watching this game? Of course you know what happened.
Holding cancels the touchdown. Here's the next play - have you been watching this game? (I was not)
Minnesota was now officially too tired for gimme pick sixes. Dropping gifts is always psychologically destructive to a defense, and a few seconds later it's 4th and Goal from the doorstep.
Would Ohio State fumble again? Or would Minnesota just, like, faint? Someone had to lose here.
And it was Minnesota, whose 31-point lead had been shaved down to four points. Hold on. HOLD ON. Is that...a third two-point conversion attempt's music?
Three. In one game. Ohio State was now on a 35-6 run and still losing. This game should have been put into protective custody immediately. I'm not sure how any of this was legal.
The Buckeyes pooched the kickoff and the Gophers had about two and a half minutes of game clock to burn in order to still escape with a W. Alas, they barely wasted a minute before punting back to the Buckeyes.
And at this point, my parents' landline (in 1989 this was known as "a telephone") rang. The call was for me. I went over to where the phone was and picked it up:
Hello?

Can you believe this?

Can I believe what.

The Buckeyes?

Yeah, they suck. I stopped watching.

Dude they're down two and have the ball. You should turn it back on.

Shut up.
What in the hell. I turned it back on and, wow, somehow this was the same game? I had no idea how we got here. 
In 1989 there was no internet to inform me of what had happened. Little in-game production value to recap the stunning turn of events in a convenient segment. There was only one ESPN channel in 1989; tHe dEuCe had not yet germinated and every other channel on the dial was useless except for MTV for music videos and Cinemax after 2am (I'm talking about other teens, mom, not me).
Frey hit Snow for a screen that ate up 20 yards, then threw a rope to Brian Stablein on a seam route for another 20. Um, where was any of this when I was watching? Doesn't matter; this rules.
The Gophers sacked Frey on a blitz the following play, but they were gassed all to hell. And then:
Nothing sexier in football than a 300 lb ballcarrier. Close runner-up: A tight end spin move.
Palmer hit the B button in the Nintendo era back when the B button didn't even do that - this is a giant video game paradox; totally appropriate for this game - and gained precious YAC with under a minute remaining and the Buckeyes a field goal from winning. Impossibly sexy. My voice cracked (when I was 15 this was common, but still).
The Buckeyes could now eat clock, set up the game-winning kick and be done with it.
Whoops.
Frey to Graham, again. It's now a 41-6 Buckeye run, following a 31-0 Gopher run.
Ohio State is winning.
Ohio State is winning.
Look at Frey, man. Violating the Emmitt Smith rule before it even existed.
The Buckeyes - those cowards - took the PAT instead of a fourth two-point conversion, extending their lead (their lead!) to four, which forced the home team - who was up 31 just 90 minutes ago - to score a touchdown to avoid losing.
They would fail to do so. Here's your game recap, in a single GIF.
I did not get to watch this game in its entirety until the mid-1990s, when trading VHS tapes of old Ohio State games became the internet's hottest early black market commerce engine. For years I could only imagine the sorcery that took place in Minneapolis while I avoided watching it unfold.
Thirty-one years later, here it is in GIFs. So yeah, that Penn State comeback in 2017 was amazing.
But the 1989 Minnesota comeback was the best one I never saw.