Troy Smith, Terrelle Pryor and Braxton Miller are three of the most decorated and productive quarterbacks in Ohio State history.
Smith won 25 games as a starter, beat Michigan three times in ruthless fashion and has a Heisman Trophy to his credit. Pryor won 30 games as a starter, also beat Michigan three times in ruthless fashion, was the Rose and Sugar Bowl MVP and was set up for an historic senior year before, um, stuff happened.
And somehow Miller was the B1G Freshman of the Year despite the lack of a qualified position coach or competent offensive coordinator. He's already won 21 games as a starter, beaten Michigan, has accounted for almost 6,700 yards and carries a scorching 168.5 QB rating into this weekend.
Those three names are scattered all over Ohio State's record books as passers, rushers and winners. They also share one unfortunate, inconceivable and wholly embarrassing distinction.
Smith, Pryor and Miller have done nothing but lose at Purdue. Those three phenomenal quarterbacks are winless in West Lafayette.
Smith's lone foray into Ross-Ade Stadium dropped the vacillating 2004 Buckeyes to 3-4 in conference play in a game where DT Quinn Pitcock had more interception return yards than Ted Ginn had receiving yards.
The Buckeyes fell 24-17 to a reeling Purdue team trying to avoid a fifth-straight loss. The following week they annihilated #7 Michigan, the Big Ten champion. Ginn outpaced Pitcock's yardage output by a cool 210 yards in that game.
Following that Purdue trip in 2004, the Buckeyes wouldn't lose another conference game to an eventual non-BCS bowl team until five years later, when Pryor made his visit to West Lafayette.
Those struggling Boilermakers entered the game hoping to avoid a sixth-straight loss while the Buckeyes were aiming for a 17th consecutive conference win that would have tied the Big Ten record.
Pryor was thoroughly outplayed by something called "Joey Elliot," and the way the game progressed even the decrepit lead singer of Def Leppard by the same name could have schooled the Buckeyes that afternoon.
Nobody played well and Ohio State's coaching was abysmal. It was a holistic failure in what should have been a gruesome mismatch and a Big Ten record.
Pryor led all OSU rushers with a paltry 34 yards on the game against the country's 94th-ranked rushing defense. This is the same team that ended up winning the outright Big Ten title while beating Oregon in the Rose Bowl.
Purdue won that game 26-18. It took the Buckeyes 16 quarters - almost four full games - after leaving Ross-Ade Stadium to allow 26 more points. They didn't lose again. That's how awful they were in West Lafayette.
It was the second and final time in ten seasons that a Jim Tressel-coached Buckeye team lost to a school with a losing record. Two weeks after pulling the upset of the season, Purdue was shut out 37-0 by Wisconsin, whom the Buckeyes had easily handled 31-13 the week prior to the debacle in West Lafayette.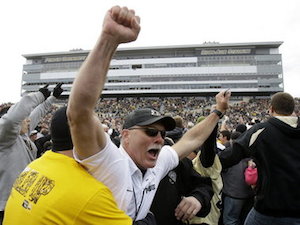 Then there's the 2011 game at Purdue - the entire 2011 season, really - which played out like macabre fiction in lieu of what had been scheduled to be a seventh straight conference title run.
All the Buckeyes had to do to beat the Boilers was kick an extra point. Drew Basil attempted a total of 37 PATs during that forgettable season.
He missed one. That one. Purdue won in the overtime period which only took place because Ohio State couldn't keep a goddamn extra point from being blocked with the game on the line.
[Quick sidebar: This year's Buckeyes got their 37th PAT against Iowa - with seven games still left to play - another reminder that Jim Bollman is the worst offensive coach in the universe].
That lousy afternoon in West Lafayette was the beginning of a four-game slide that still serves as Ohio State's most-recent losing streak. Its next victory came under Urban Meyer and it has not lost in the 20 games since.
The ghoulish, gray abscess on the Midwest that is West Lafayette serves as the only Big Ten venue where Smith, Pryor or Miller haven't won. This comes with apologies to Nebraska, which was getting torn apart by Miller to the tune of 27-6 late in the game before he exited with an injury.
Then Bollman and Joe Bauserman decided that ten years of Tressel sitting on 2nd half leads was boring and decided to literally air it out all over the stadium, stopping the clock long enough for the Huskers to enjoy their biggest comeback in school history. Hard to pin that on Miller.
But this isn't about Nebraska. It's about Ohio State having more losses to Purdue since Tressel was hired than it has to Michigan or the entire SEC.
Purdue only sucks after it's been clobbered by Ohio State, not before.
No school has beaten the Buckeyes more than Purdue has in that period, and not one of those losses was expected. The Buckeyes aren't ever supposed to lose to the Boilermakers, yet they've done so four times this century. You need to go back 40 years beyond that to find four more.
This Purdue team is as bad as the victorious ones that preceded it. It might actually be worse. But we don't know that yet. That's for Ohio State to determine on Saturday.
Is there concern with a massive 32-point spread, a 20-game win streak, enormous momentum coming off the unprecedented massacre of Penn State, title aspirations where style points are required, mismatches at every single position and a Purdue team that has yet to beat an FBS opponent while ranking 122nd in scoring offense and 106th in scoring defense?
Probably not. But Ohio State has taken Purdue lightly far more often this century than it has taken it seriously. This apathy - from the coaching staffs to the players - has directly resulted in all of those losses and three overtime games. Notre Dame brought that apathy with them in September and needed the 4th quarter to come from behind to win.
As memorable as Holy Buckeye was, nobody wants to see dramatics at Purdue like that again. The Buckeyes have to approach this game understanding that Purdue only sucks after it's been clobbered by Ohio State, not before.
So if Purdue really is the picture of mediocrity that it appeared to be in 2004, 2009, 2011 and right now then Miller and his current teammates will have to do something he, Pryor and Smith all failed to do in every one of their previous visits to the Big Ten's least-memorable campus.
They're going to have to actually prove it.