Entering the 2019 season, there was plenty of excitement for the debut of Justin Fields. The sophomore transfer from Georgia entered training camp as the starter despite attempting just 39 passes during his brief stint in Athens, but both fans and media expected him to flourish in a system that produced the nation's leading passer a year prior.
His impact was felt immediately, darting 51 yards untouched for his first rushing touchdown in a Buckeye uniform on the season's opening drive. But although he was expected to pick up plenty of yards with his feet, he showed he could do so with his arm as well, connecting on four touchdown passes and finishing the day with 234 passing yards on 25 attempts.
Of course, Fields would go on to have one of the greatest passing seasons in school history, as his 3,273 passing yards mark the third-highest single-season total while his 41 TD passes trailed only Dwayne Haskins' 2018 total of 50. Most impressively, however, was his 181.43 QB rating, the highest ever recorded in one season at Ohio State.
Despite only seeing limited action as a freshman, his transition to a new school and system certainly appeared seamless. As Ryan Day noted, much of this was due to his development at the high school level.
"I know he was exposed to a high level of football just in terms of his understanding of situations, of playing the game, of coverages, things like that," Day said in December. "Pretty good coming in. Didn't know our offense and hadn't played. He wasn't, like, raw coming in."
But it wasn't as though Fields was perfect from day one. In fact, he came quite a long way as a passer in only 14 games last fall.
Of course, any struggles were masked by plays like his first career touchdown pass, a 25-yard strike to tight end Jeremy Ruckert on a scissors concept meant to attack quarters coverage. As seen below, two defenders often follow one player as they fail to match both routes that far downfield, leaving the quarterback with an easy throw.
Throughout the year he received deserved praise for the way in which he took care of the football, throwing just three picks in 354 attempts, and receiving Pro Football Focus' highest pocket-passing grade of any college quarterback last fall. But though the signs were minor, there was still room for improvement early on.
As seen from the season-opener against FAU, Fields initially stands tall as he waits for the Spread/Saints concept to develop downfield. But with pressure coming up the middle, Fields elects to use his athleticism to desert the pocket entirely and scramble for a short gain as his second read comes open across the middle. 
No one will fault him for getting out of a potential big hit, but this focus on avoiding contact would diminish as the season progressed.
Even though allowing pressure was a problem throughout the season, as the Buckeyes ranked 108th (of 130) in sacks allowed last season, Fields sometimes struggled to see a clear picture downfield even when he had a clean pocket. As Michigan State came to town midway through the season, the QB seemed to have an open throw on a Spacing concept, which is meant to horizontally stretch the seams of zone coverage.
After initially seeing his first two reads covered up, he works back across the field to his third option, Bin Victor. The senior wideout runs a great route by going outside the flat defender and gaining width that creates a big window as he curls back around.
But although Fields appears to stare down the open receiver, he fails to pull the trigger, opting once again to break the pocket and scramble.
Luckily, as the Buckeyes' schedule reached the summit, facing four consecutive ranked opponents, Fields' game improved in kind. Against Michigan, Wisconsin, and Clemson, the former 5-star prospect showed why he earned such accolades with 921 passing yards and eight touchdown tosses against three of the nation's top 11 pass defenses.
By the Fiesta Bowl in late December, he looked more confident and polished than ever in the pocket, correctly identifying the defense and subsequently working through his reads. Such a task wasn't easy considering the never-ending barrage of pressures and disguised coverages shown by Clemson defensive coordinator Brent Venables, as rarely did the Tiger defense show the same picture pre and post-snap.
As Fields began identifying the defense quicker, he also got the ball out instead of taking a sack or trying to escape, as he didn't hesitate to dump the ball off to his running backs. It's no coincidence that J.K. Dobbins set a career-high that night with six catches, many of which came as hot routes like this one against an oncoming blitz.
Perhaps the most impressive stretch of Fields' relatively brief career came at the beginning of the second half, with Dobbins on the sideline nursing an injury and his team backed up to their own 3-yard line. But with everyone in the stadium expecting him to throw, Fields completed three big passes that moved the ball to midfield, flipping field position entirely. 
Of the three completions, the second will stick with opposing coaches and pro scouts for a long time, as he showed the kind of poise rarely seen from a college quarterback.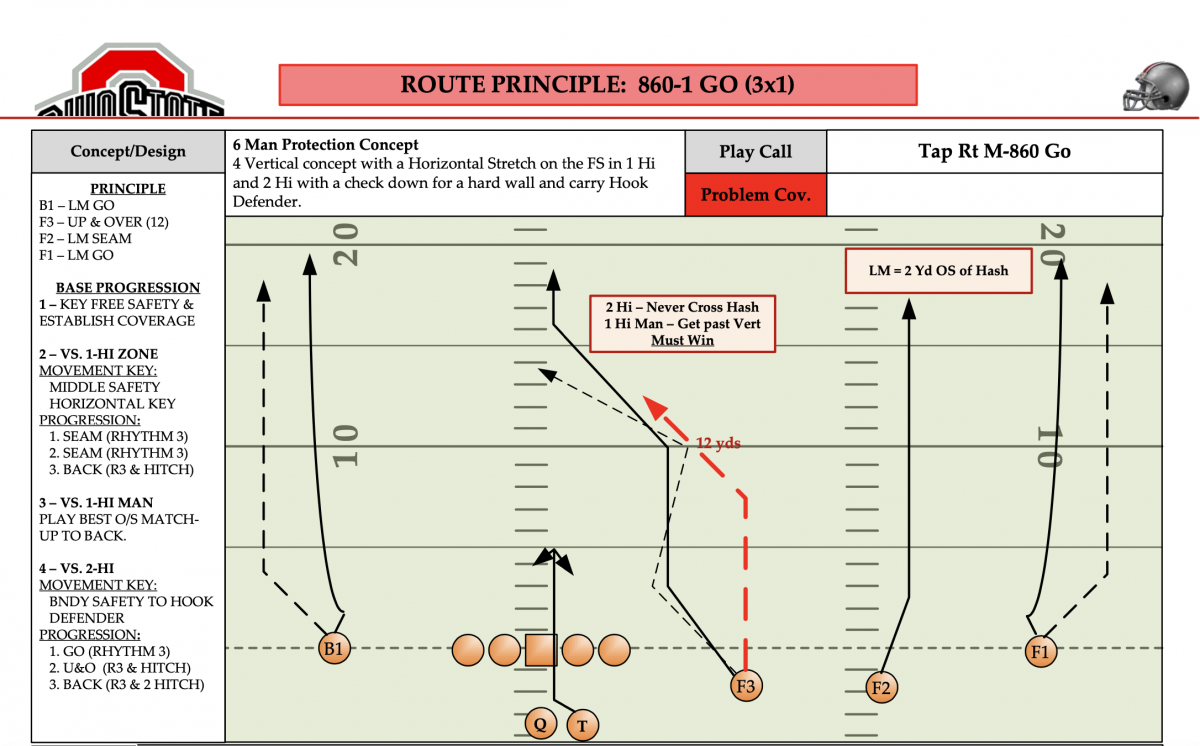 Clemson lined up with two deep safeties only to drop into a three-deep zone with hybrid safety/linebacker dropping all the way from the line of scrimmage to his deep-middle zone. As Simmons bailed out of the box, Fields hit the top of his drop and anticipated an open window in which K.J. Hill streaked down the seam.
Without any hesitation, Fields dropped in a perfect pass that didn't lead his receiver too far, ensuring he'd be able to make the catch in the small window between defenders instead of trying to throw over everyone's heads.
Few quarterbacks at this level would've even attempted that pass, much less fire it in with such accuracy. Yet Fields was confident enough in what he saw and his mechanics were so clean that his feet were perfectly set to deliver such a strike.
After such an impressive ending to the season, it's evident that Ohio State will enter the 2020 campaign with the most polished opening day starting quarterback in program history, leaving many to wonder how high his ceiling might be. But while fans and teammates might be thrilled by such a prospect, no one is more excited than Fields' head coach.
"I thought from game one all the way to the last game he really improved. So it's exciting that we're going to have him back," Day said to the press in December. "That's what's so exciting. And so many quarterbacks, I feel like over the last eight years, haven't had a quarterback that's started and then come back and had another year with them. This is the first time I've had it since I can remember. So that's exciting."