The 2014 national title-winning Buckeyes were largely built in Ohio.
The entire OL from tackle to tackle was in-sourced from the Buckeye State: Taylor Decker (Vandalia) Billy Price (Austintown) Jacoby Boren and Pat Elflein (Pickerington) and team uncle, Darryl Baldwin (Solon).
All three starting receivers were natives, too: Devin Smith (Massilon) Jalin Marshall (Middletown) and Evan Spencer (Pops is from Martins Ferry; Evan was "from" the Chicago burbs because Dad played for the Bears). They were either Ohioans or Ohioans*.
Braxton Miller (Huber Heights) was the B1G's best player and starting QB in fall camp, but by the time the CFP title game happened it was Cardale Jones (Cleveland) running the offense.
In total, over half of the scholarship guys had OH listed after their high school in the media guide.
Urban Meyer made a point at the beginning of that era to assemble a staff where each coach had, at worst, flimsy ties to the state. The guy who grew up in a house that had a portrait of Woody Hayes hanging on the wall had to make sure his version of the Buckeyes had more than enough Ohio in them. He believed it was that important.
COLLEGE FOOTBALL Nationalization strengthened Ohio State to the point where the state's borders have never been more imaginary.
You could argue Meyer only did this to assuage fans fearful that spreadifying Buckeye football would render it unrecognizable, or worse - Ohio State in name only; Florida/Utah with better uniforms. It turned out there was plenty of power in Meyer's spread offense, and since the Buckeyes won far more often than they lost, his style was embraced.
Today, it's hard to remember the fuss many fans made over adopting the spread. But something seismic still happened to OSU DNA while we were too busy obsessing over offensive philosophy.
Over half of the 2014 team was from Ohio, with notable exceptions (Zeke, Michael Thomas, Joey Bosa - though he and his brother are definitely Ohioans*). The Buckeyes had always been mostly homegrown. But in 2022, that's not even close to being the case:
Miyan Williams, Jayden Ballard, Zach Harrison, C.J. Hicks, Cade Stover, Jaylen Johnson, Reid Carrico, Jack Sawyer, Tommy Eichenberg, Gabe Powers, Michael Hall, Ty Hamilton, Jakob James, Trey Leroux, Ben Christman, Paris Johnson Jr, Joe Royer, Jerron Cage, Jake Seibert.
That's just 19 out of 85 scholarship players. Michigan State had 27 Ohioans on its roster in 2020. Penn State currently has six Ohioans, including its starting QB and its future QB. Michigan has seven, but the Wolverines have a significant history with Ohio players.
Over the course of one decade Ohio State football became Notre Dame, but without the pews.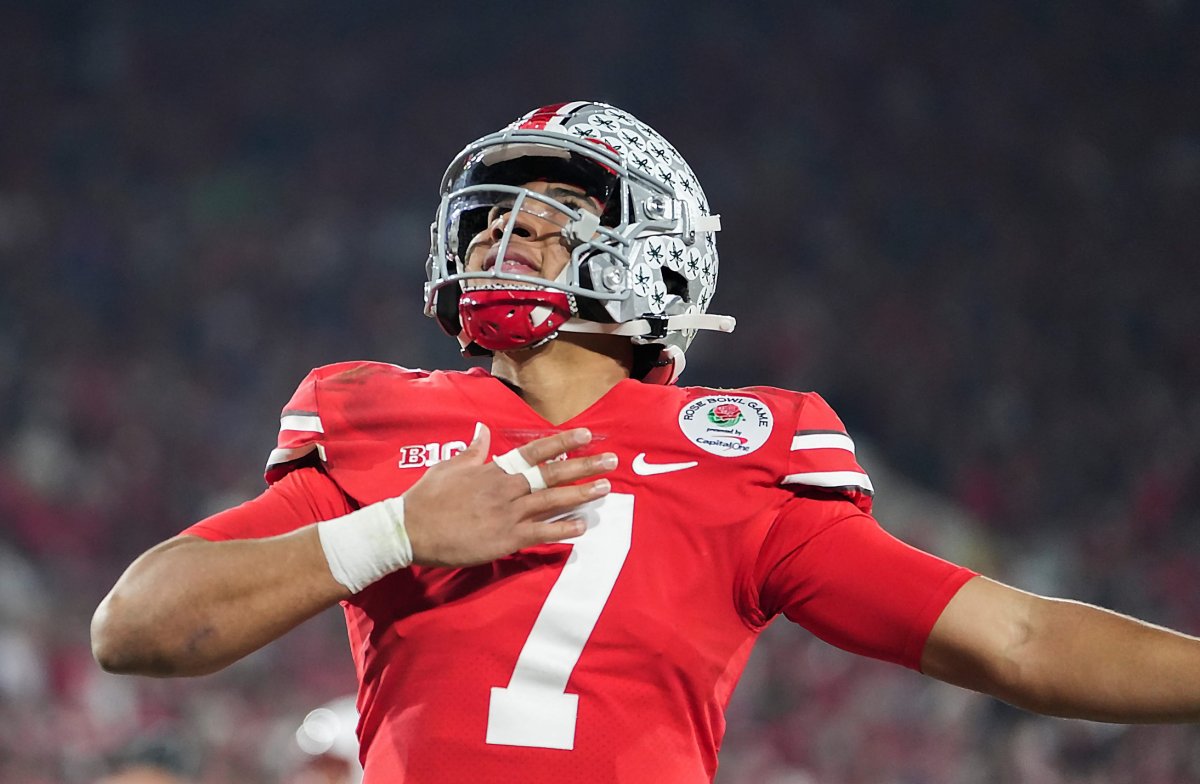 It's easy to be cynical. They're not fighting for Ohio anymore - they definitely didn't 'fight til the end' in Ann Arbor. They're only in Ohio to fight for their NFL draft position. Three of the worst OSU defenses we've ever seen in our lives have passed through Columbus since 2017, and moving bodies while running the ball seems to be more difficult now than ever before.
All true, but cynicism like that will poison your mind and overwhelm the big picture. Last year completed the first decade ever where Ohio State completed each season with no more than two losses. At the peak of his powers, with shorter schedules, uncapped scholarships and participating in what was a regional sport, Woody went 8/10.
The Buckeyes are not just keeping pace with college football's rapid evolution, they're ahead of the curve - and that means changing strategy before reality changes it for them. Consider that the two 2022 recruits among Ohio's top five who won't be Buckeyes this fall are a QB and WR.
It's not ideal they'll both be in State College, but if failing to retain a QB and a WR is upsetting you, please refer to Ohio State's recent history at those two positions. A year ago, four of Ohio's top five chose Columbus and the fifth was another WR.
In 2020, the Buckeyes missed out on another QB, a TE who chose TE University in Iowa City and a guard who chose Louisville. If Ohio State wants an Ohioan, Ohio State still generally gets him.
Since the 2014 championship season, the Buckeyes have only missed three roster-priority in-state top-five players they pursued up until signing day, all offensive tackles: Jackson Carman (Clemson) and Liam Eichenberg and Tommy Kraemer (Notre Dame). That's three out of 40 guys. The rest either chose Ohio State or played a position of relative roster wealth.
Over the course of one decade, Ohio State football became Notre Dame - but without the pews.
Still, there's immense value in having elite, homegrown talent. Ohioans playing for Ohio State play for their their communities, their ancestors permanently embedded in Ohio's earth and their old neighbors who used to tell them stories about previous versions of the team they now represent. It's an overwhelming and powerful legacy that's impossible to nationalize.
Buckeye imports carry more football advantages than emotional ones, but winning this game requires feelingsball at the most pivotal and consequential moments. C.J. Stroud and Jaxon Smith-Njigba were supernatural in Pasadena, but after the game the Buckeyes were breathless in crediting a passionate halftime speech delivered by Demario McCall (North Ridgeville) with powering their comeback.
Cynicism will poison your mind and overwhelm the big picture. You don't need 85 of those guys. You probably don't need as many as the 2014 Buckeyes had, either - you just need enough of them, and none of us know know what the threshold is. In 2022, Ohio State still maximizes those types of in-state guys.
Xavier Johnson (Cincinnati) doesn't count toward the 19 because he's not on scholarship. He turned down full rides from UC, Iowa State, WKU and the entire MAC to walk on in Columbus. He currently sits in OSU's most stacked position room, he's easy to hear at practice and everyone loves him.
X is the type of player who converts native Ohioanism into a communicable culture. If he's not one of your favorite Buckeyes, perhaps you should reconsider and update your list.
College football has changed dramatically over the past decade, let alone since Woody's era. I'm old enough to remember too many Saturdays when the Buckeyes were playing - but not on my television in Columbus. Nationalization strengthened Ohio State to the point where the state's borders have never been more imaginary.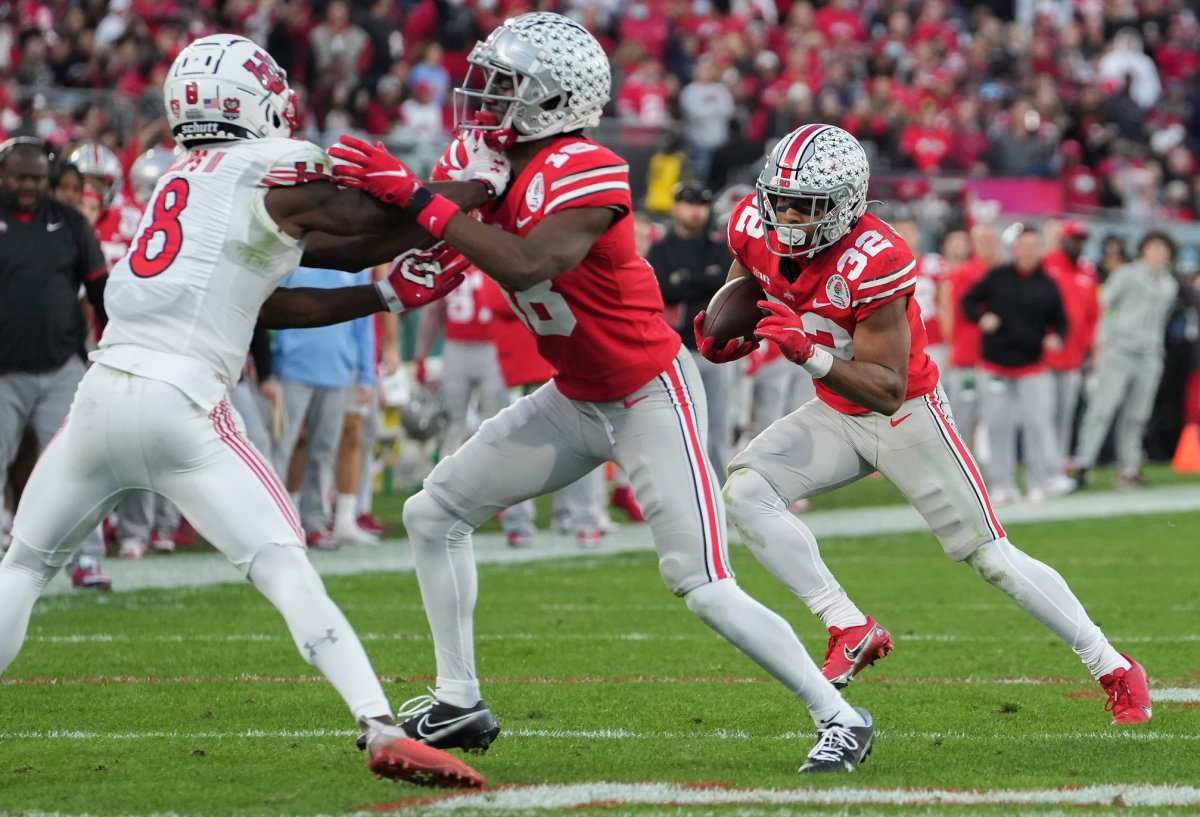 This was a regional sport in most people's lifetimes. Colorado, Georgia Tech and to a lesser degree Miami and Washington all claimed a national championship my senior year of high school and there was very little debate as to who was right or wrong, because it didn't matter.
They were national champions in their geography. Artifacts of that era include the Rose Bowl's sustaining importance to the Midwest, despite its position in the CFP pecking order. Today, that bizarre 1990 four-way national title would be an equally bizarre CFP slate.
College football nationalization means elite recruits like Dylan Raiola can grow up watching the Buckeyes from Arizona and commit to them without the OSU staff prioritizing the top Ohio QB in his class (Trotwood-Madison's Timothy Carpenter, trending toward the MAC). It also means Kenny Guiton (Houston) can abruptly commit to Ohio State without ever having visited Ohio.
Nationalization has made everything slightly less romantic but a lot less mysterious, while elevating powerful brands to a level only Notre Dame previously enjoyed. As a result, Ohio State and Alabama can feel like a home team anywhere.
By the way, the Crimson Tide have 30 Alabamans on their roster, including walk-ons and hometown heroes who refused to put on another helmet. The Buckeyes have 44 Ohioans.
Conventional wisdom used to suggest that in recruiting, a tie would go to the kid from Ohio. That's probably not the case anymore, as Ohio State has a lot more to gain by establishing a foothold in foreign lands. The Buckeyes don't have an in-state brand in Texas, but being a star Texan and going to Columbus isn't the least bit mysterious anymore.
We probably won't regain 2014 levels of homegrown talent anytime soon or ever again, and that's just another consequence of college football's evolution dovetailing into what's necessary to compete for undisputed national titles. Ohio State will continue to strike what it perceives to be the correct balance of in-state talent and outsourced superstars.
And as long as they win, you'll continue to barely notice most Buckeyes are from somewhere else.