Kenny Guiton could be suiting up in purple and gold this weekend preparing to play Texas Southern. Or he could have a job in the real world. It depends on whether Prairie View A&M redshirted the quarterback.
Instead, Guiton will walk to midfield in Ohio Stadium as a captain for the Ohio State Buckeyes. The journey from 2009 to now is such an improbable story that written in script form, it would be too unfathomable even for Hollywood.
"It's crazy," said Guiton, a fan favorite backup quarterback. "I just got done talking to my parents about that last night. When I found out I was captain, I called them and we talked about how we were almost at Prairie View. But I came up here and I made something happen. It's pretty cool." 
On Oct. 20, 2012, Guiton went from backup quarterback to Ohio State legend. A perfect season was on the brink of collapse. The Buckeyes were struggling with pesky Purdue in the second half, and then Braxton Miller suffered a game-ending injury. It thrust Guiton into a starring role in a drama-filled sports epic.
What transpired over the game's final minute and overtime etched Guiton's name into Buckeye lore. Fifty years from now, the name Kenny Guiton will resonate with legions of Ohio State fans. All because of two drives in one game.
"Yes, sir. That's pretty cool," he said, with a toothy grin. "That's something I have to live on for the rest of my life. I'm happy that got to happen."

An array of factors made Guiton's ascension on that fall Saturday so unlikely, beginning with his brief recruitment. Tajh Boyd spurned the Buckeyes late in the process during 2009, and Ohio State wanted a quarterback in the class. Then-recruiting coordinator John Peterson happened to be in Guiton's hometown of Houston. Thus, Guiton was offered a scholarship.
But up to last season, his career consisted of redshirting and being a second- and third-string quarterback. The first sign that Guiton's role could expand came at Michigan State, when he orchestrated a touchdown after Miller missed a handful of plays after a late hit.
The situation against Purdue was far different, though, and dire. Guiton had completed just two passes and had thrown an interception on the preceding drive when the Buckeyes got the ball back with 47 seconds left needing not only a touchdown, but also a two-point conversion to force overtime. 
No worries for the inexperienced signal-caller who prepares as if he's the starter. Guiton calmly led a six-play, 61-yard drive, and then completed the two-point conversion. The game-winning drive came in overtime.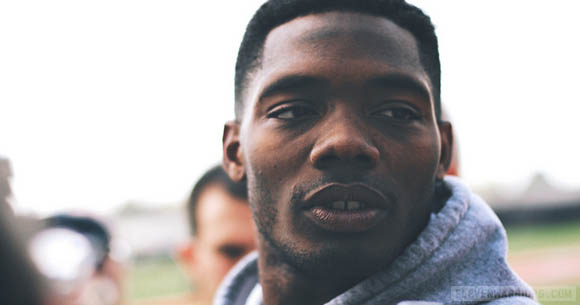 Guiton said he gets thanked frequently. That isn't typically of most backup quarterbacks. Sure, they are often the most popular player on the team. But the flare and dramatics are left to the starter. 
"He has all the intangibles that you could ask for as a leader and as a quarterback," said offensive coordinator Tom Herman. "He knows the offense inside and out, and he's a coach on the field. The big knock on him was he just didn't quite have the release and velocity on his ball. That has improved. It's certainly not close to where Braxton's is or some of the elite guys in the country, but he makes up for some of that deficiency with his leadership, his ability, his anticipation.
"He's a rock in my room."
If anyone believes in Guiton, it is Herman. Their story began when Guiton was a quarterback at Eisenhower High School and Herman was Rice's offensive coordinator. In need of a gunslinger, Herman turned to Guiton and found himself in the quarterback's living room.
"We recruited him quite heavily," Herman said. "He's a coach's kid, bright kid. He was a very good leader, had a lot of talent around him. I think they had five or six kids from that Eisenhower team that signed Division I scholarships. But you could tell even at that time that he had a presence about him."
That Herman would be guiding Guiton during the comeback against Purdue seems more than farfetched. Herman said it resulted in a neat sidebar and showed how small the world really is.
Despite being a three-star recruit, Guiton was not highly coveted coming out of a big high school in the football-mad state of Texas.
"Sometimes you take chances where certain coaches see a diamond in the rough, so to speak," said Herman, who believes Guiton could start for half the teams in the country – and be a coach, earning Kenny G another nickname, "Coach Guiton."
Ohio State enters the season with visions of filling a trophy case. If it happens, Guiton thinks he'll be part of the story. Not just as a captain, but taking crucial snaps. Even as a captain – an honor that came as a surprise to Guiton – his purpose remains the same.
"What I've done has made me a captain, so I'm going to keep it up."
"I don't think anything changes," he said. "I try to be a leader every day. So I'm going to keep doing what I'm doing. What I've done has made me a captain, so I'm going to keep it up."
A backup quarterback being named captain is a rarity. For Meyer, however, it seemed like common sense.

"He got a lot of votes. It wasn't surprising," he said, revealing Guiton's total was the third- or fourth-most on team. "That tells you what an incredible kid he is. [His] parents need to be proud of that guy."
This entire odyssey nearly went the way of the Dodo prior to last season. It was then that Meyer became unimpressed with Guiton's character and work ethic. It almost earned him a one-way bus ticket back to Texas. But in stepped Herman to right a wrong.
"If a kid's not doing something right, you're never in his corner," he said. "But you do take the stance sometime, 'Coach, give me a month, we'll get this straight.' There's a difference between bad kids and bad people and good people that make bad decisions. To say that I was in his corner, yeah, I believed in him. What he needed to do was not a stretch by any means for him to do it. But, at the same time, had he not done it, I would have been in Coach Meyer's corner."
Guiton stepped away the cliff and became a vital presence for the Buckeyes. Still, with all the good come some bouts of frustration. Every competitor wants to play. Only one quarterback can be on the field, though, and when a player of Miller's caliber is listed on the roster, it's hard to justify removing him.
"It's tough," Guiton said. "But I keep my head up. I always try to stay ready to go. I continue to do that.
"Sometimes it comes up in my head. What if? What if I did this or that? But I'm here. I'm happy I came here, it's a lot of fun. I keep working. I want to play, so that's one thing I'm shooting for."
What if Guiton had ended up at Prairie View? Then the story wouldn't be a bestseller.