Sitting beside two of his team captains for a final time, Utah head coach Kyle Whittingham began his Rose Bowl postgame press conference by expressing his gratitude that, "the fans and the networks got their money's worth out of that one."
Of course, Whittingham was referring to Ohio State's thrilling 48-45 Rose Bowl win over Utah that had gone down to the wire earlier in the evening. The Utes raced out to a two-score lead early on, but record-shattering performances from Jaxon Smith-Njigba and C.J. Stroud proved to be too much for the Pac-12 Champions to overcome in Pasadena.
"Give credit to Ohio State," Whittingham said after the game "They played exceptionally well, particularly on offense. That quarterback is terrific, statistically the best in the country as far as quarterback rating system — proved it tonight."
Whittingham agreed with a journalist that asked if Stroud was the best quarterback he had faced as head coach of Utah since the Utes battled with current Los Angeles Chargers quarterback Justin Herbert. Herbert played for Oregon in the 2019 Pac-12 Championship when the Ducks beat Whittingham and Utah 37-15.
But despite his overwhelming praise for Stroud, the Utes' head coach remained firmly focused on the shortcomings of his own team relative to their failure to win the football game.
"At some point, we gotta play defense," lamented Whittingham. "We just didn't play very well all night long on defense, it wasn't our usual... not sure that we would be able to get a stop, and it all started with poor coverage on the kickoff. Our kickoff unit all night long just wasn't up to par where we needed to be and put us in bad field position several times."
The final two drives for each team were a subject of controversy as they unfolded and in the aftermath of Ohio State's victory. Many questioned Whittingham's decision to not use any of his three timeouts at any point during the fourth quarter, but specifically when Ohio State was driving into Utah territory for the deciding points in the closing minutes.
"If we could have gotten behind the chains at least one time, but other than that all we would have been doing was helping their cause" Whittingham explained to reporters. "We had been making first downs, second and short — and they only had one timeout left, so I didn't want to help them out. It was kind of a catch 22... had we got them behind the chains — second and long, third and long — then absolutely it was in the back of my mind."
As for making an aggressive decision to go for two after getting the touchdown needed to tie the game, Whittingham acknowledged that had been a consideration following the score. "Had an inclination to go for two right then, but too much time left on the clock. Had there been under a minute — would have gone for two. That was the mindset, but they had a full two minutes and the analytics said not to do it either at that point." 
"That quarterback is terrific, statistically the best in the country as far as quarterback rating system — proved it tonight."– Kyle WhittingHam, On Ohio State Quarterback C.J. Stroud
Whittingham also provided context on some of the injury issues plaguing Utah's defense heading into the Rose Bowl, such as how the team was forced to incorporate one of its running backs into the defensive back rotation.
"We had three of our top four corners down, that's no excuse because you have to play with who you have healthy," Whittingham said.
Those injury issues only got worse over the course of the Rose Bowl, particularly when starting quarterback Cameron Rising was knocked out of the game with a concussion. When asked for an update on Rising's condition, Whittingham offered, "I don't think he lost consciousness…. he's doing fine now… he should be okay."
Overall, Utah's head coach expressed a mixture of lament but also pride in the direction of the program. Earlier in the press conference, he made sure to point out that, "we came up short but these guys made history for Utah football."
After the first Pac-12 title in program history, Utah will have a significant youth movement next season with 72 of 85 players poised to be incoming freshman or sophomores. "We are excited about the youth and talent of this football team. Many of those guys are playing for us already."
As for dreams of roses in Salt Lake, those may have to wait a bit longer.
"We're all disappointed we didn't win the game this afternoon," Whittingham said, "but that's how life goes."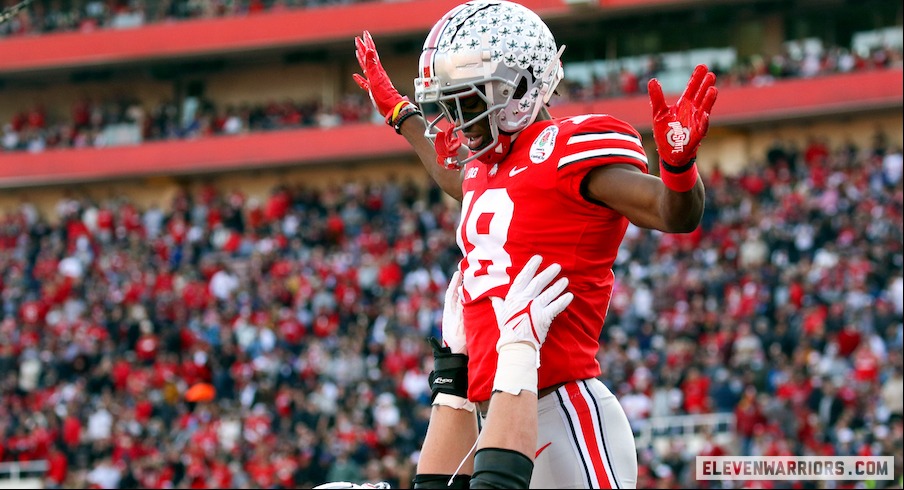 #6 Ohio State 48, #9 Utah 45
Jan. 1, 2022 • The Rose Bowl • Pasadena, CA