Wins against Penn State rarely come easily, and that was true once again for Ohio State on Saturday night.
Ohio State trailed for most of the first half and scored just two offensive touchdowns in the game, but the Buckeyes ultimately grinded out their fifth straight win over the Nittany Lions, defeating Penn State 33-24 in front of a crowd of nearly 103,000 fans in Ohio Stadium.
Both teams fumbled on their opening possessions of the game. Ohio State tight end Jeremy Ruckert had the ball stripped out of his hands by Penn State's Ji'Ayir Brown while fighting for a first down on the Buckeyes' opening series, but Penn State gave it back on the very next play when Marcus Williamson forced a Noah Cain fumble and Haskell Garrett recovered.
Penn State scored first after Ohio State punted on its second possession. The Nittany Lions converted three third downs, after which Sean Clifford completed a 32-yard pass to Parker Washington. Clifford found Brenton Strange for a 5-yard touchdown pass to give the visiting team the early 7-0 lead.
Ohio State made its first trip into the red zone on its third possession of the game, thanks in part to a late-hit penalty against Penn State cornerback Joey Porter Jr. after a Garrett Wilson catch, but ended up settling for a 35-yard Noah Ruggles field goal. The Buckeyes trailed at the end of the first quarter, 7-3, for the first time all season.
 
Q1
Q2
Q3
Q4
 

#5

 Ohio State
3
14
10
6
33

#20

PENN STATE
7
3
14
0
24
Neither team would score again until the 3:48 mark of the second quarter, when C.J. Stroud completed a 38-yard pass to Chris Olave – one play after Wilson took a jet sweep for a 7-yard gain on 3rd-and-1 – to give Ohio State its first lead of the night.
Less than two minutes later, Jerron Cage extended the lead to 17-7. Tyreke Smith and Zach Harrison sandwiched Sean Clifford for a strip sack and the Ohio State nose tackle scooped up the fumble and returned it 57 yards for a touchdown.
BIG MAN TOUCHDOWN @CageJerron scoops it and scores to extend No. 5 @OhioStateFB's lead. pic.twitter.com/zpxf00wXtT

— Big Ten Network (@BigTenNetwork) October 31, 2021
A 47-yard field goal by Penn State's Jordan Stout on the final play of the first half cut Ohio State's lead to seven points at halftime.
Penn State tied the game on its opening drive of the second half, which included three more third-down conversions before Jahan Dotson took a direct snap for a 2-yard run into the end zone for the game-tying score.
Ohio State looked poised to score a touchdown on its opening drive of the third quarter, too, when Jaxon Smith-Njigba had a 58-yard catch-and-run on the Buckeyes' first offensive play of the second half. The Buckeyes were unable to punch the ball into the end zone after getting 1st-and-goal at the 6-yard line, however, and were forced to settle for a 23-yard Noah Ruggles field goal after a TreVeyon Henderson false start on 4th-and-goal.
| OHIO STATE |   | PENN STATE |
| --- | --- | --- |
| 466 | TOTAL YARDS | 394 |
| 161 | RUSHING YARDS | 33 |
| 34 | RUSHING ATTEMPTS | 29 |
| 4.7 | AVERAGE per RUSH | 1.1 |
| 1 | RUSHING TOUCHDOWNS | 2 |
| 305 | PASSING YARDS | 361 |
| 22-34 | COMPLETIONS–ATTEMPTS | 35.52 |
| 13.9 | AVERAGE per COMPLETION | 10.3 |
| 1 | PASSING TOUCHDOWNS | 1 |
| 22 | 1st DOWNS | 27 |
| 68 | TOTAL PLAYS | 81 |
| 6.9 | YARDS PER PLAY | 4.9 |
| 5-6 | RED ZONE | 3-3 |
| 5-14 | third down conv | 11-18 |
| 10-74 | PENALTIES | 7-56 |
| 30:10 | POSSESSION | 29:50 |
After being bottled up for the entire first half, Henderson finally made his first big play of the game on Ohio State's next possession, breaking free for a 68-yard run. Two plays later, Henderson ran it into the end zone for a 1-yard touchdown to extend Ohio State's lead back to two scores.
Penn State responded with its third touchdown drive of the game on its next possession, converting three times on third down again on an 11-play, 75-yard drive that culminated with a 1-yard run by Keyvone Lee that cut Ohio State's lead to three points, 27-24, with 10 seconds to play in the third quarter.
Ohio State made it back into the red zone on each of its next two possessions, but came away with just three points. The Buckeyes opted to go for it on 4th-and-3 and Olave got open in the end zone, but turned it over on downs when Stroud's pass attempt came up short. Ohio State got a short field on its next drive following a Cameron Brown interception, and went for it on fourth down once and converted 4th-and-1 on a Henderson run, but ended up settling for a 25-yard Ruggles field goal after failing to convert on its next set of downs.
After Ohio State forced a punt on its next defensive series, the Buckeyes were forced to settle for yet another Ruggles field goal in the red zone, but his 26-yard make was enough to give Ohio State a two-score lead with less than three minutes to play, effectively putting the game away for the Buckeyes. A missed 49-yard field goal by Stout on Penn State's next possession put the game out of reach for the Nittany Lions and sealed the Buckeyes' nine-point victory.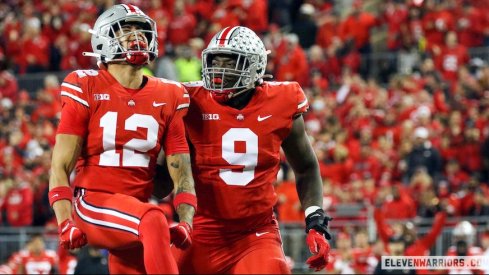 #5 Ohio State 33, #20 penn state
oct. 30, 2021 • ohio stadium • Columbus, oh
Game Notes
Olave's touchdown catch was the 31st of his career, moving him ahead of Devin Smith into sole possession of second place all-time on Ohio State's career touchdown reception list. David Boston holds Ohio State's all-time receiving touchdown record with 34.
Cage's fumble return touchdown was Ohio State's sixth defensive touchdown of the season. Ohio State now has two fumble return touchdowns by defensive tackles this year, as Haskell Garrett also had a scoop-and-score in the season opener against Minnesota.
Kamryn Babb, Olave, Thayer Munford and Harrison were the game captains for the opening coin toss. Penn State won the coin toss, dropping the Buckeyes to 1-7 on coin tosses this year.
Tyreke Smith returned to the starting lineup for the first time since Ohio State's third game of the season against Tulsa, replacing Javontae Jean-Baptiste at defensive end. Ty Hamilton made his first career start at defensive tackle alongside Garrett. The rest of the Buckeyes' starters on both sides of the ball were the same as the Indiana game.
Former Ohio State wide receiver Binjimen Victor was recognized during a media timeout in the first quarter. Members of the 1970 Ohio State football team and upcoming College Football Hall of Fame inductee Keith Byars were recognized during media timeouts in the second quarter.
Ohio State linebacker Steele Chambers was ejected from the game for targeting on the first play of the second half. He will be suspended for the first half of next week's game against Nebraska.
A season-high 102,951 fans attended Saturday night's game at Ohio Stadium.
Palaie Gaoteote recorded his first sack as a Buckeye in the third quarter of the game.
Henderson continued his streak of scoring in all of his first eight games of his Ohio State career. He topped 100 rushing yards for the third time in his career.
This year's game was the sixth straight game between Ohio State and Penn State to be decided by 13 points or fewer.
Ohio State has now won five straight games against Penn State for the first time ever.
Brown's interception was the first of his Ohio State career.