Of all the players one might have guessed would score a touchdown for Ohio State against Penn State on Saturday, Jerron Cage likely wasn't near the top of anyone's list.
Ohio State had already scored five defensive touchdowns this season going into Saturday's game, so it wasn't a shock to see the Buckeyes' defense score yet another touchdown by themselves against the Nittany Lions. Ohio State safety Ronnie Hickman said the Buckeyes had actually talked before the game about which defensive player would score for them this week. But no one said Cage's name.
"Nah, I ain't gonna fake it, no one said his name," Hickman said with a laugh after Ohio State's 33-24 win. "But we're going to take it."
A 305-pound nose tackle scoring a 57-yard touchdown is a rare occurrence, but that's exactly what Cage did against the Nittany Lions. After defensive ends Tyreke Smith and Zach Harrison sandwiched Sean Clifford in the pocket to knock the ball out of his hands, Cage deftly scooped the ball off the ground and ran untouched to the end zone for the first score of his Ohio State career.
BIG MAN TOUCHDOWN @CageJerron scoops it and scores to extend No. 5 @OhioStateFB's lead. pic.twitter.com/zpxf00wXtT

— Big Ten Network (@BigTenNetwork) October 31, 2021
Harrison admitted he didn't expect to see Cage return the fumble all the way for a touchdown.
"Honestly, I hit the quarterback and I saw Jerron pick it up and I stood there kind of just shocked for a minute," Harrison said. "I was like, 'Is he really gonna score?' And then he scored and then I ran to the sideline and gave him some love."
Ohio State cornerback Cameron Brown said that play, which put Ohio State up 17-7 to give the Buckeyes their first two-score lead of the game, "was really a game-changer for us."
"We was all excited," Brown said. "Everybody on the sideline, even everybody on the field, I was probably like 60 yards away trying to run down to catch him to try to celebrate with him. He was too tired, but I tried to do a little something."


The @OhioStateFB DL cools off @CageJerron after his @OhioStateFB fumble return TD. pic.twitter.com/Hrw2R1EuNi

— Big Ten Network (@BigTenNetwork) October 31, 2021
Hickman said he and his teammates were "super happy and proud" to see Cage make that play. Ryan Day was, too, though he did poke fun at how Cage – a fifth-year senior who was a backup for most of his career before earning a role in the nose tackle rotation last season – carried the ball as he raced down the field.
"The ball security, he was carrying it like a loaf of bread at times," Day said with a laugh. "But it was great to see him running down the field. This is a guy who's been through it in this program, he's been through a lot. I'm very proud of Jerron, but how about the play by Zach and Tyreke to get that ball out of there?"
Smith shines in return to starting lineup
The two defensive ends who made the strip sack to set up Cage's touchdown were Ohio State's starting defensive ends for Penn State, which for Smith meant making his first start in five games. After starting the first three games of the season, Smith missed Ohio State's next three games with an injury and came off the bench in his return to action against Indiana.
On Saturday night, though, Smith made it clear that he belonged in the starting lineup with one of the best games of his Ohio State career. Including the strip sack – he was the player officially credited with both the sack and forced fumble – Smith recorded a career-high five total tackles against the Nittany Lions and frequently brought pressure against Clifford on Saturday night, including a pressure early in the fourth quarter that forced Clifford into throwing an interception to Brown.
CAM BROWN INT. Buckeyes back in business with a 3-point lead pic.twitter.com/vacxXgbC24

— 247Sports (@247Sports) October 31, 2021
Smith had said Tuesday that he wanted to do whatever he could to help Ohio State win during the second half of his senior season, and he certainly played a significant role in the Buckeyes earning their toughest win of the season to date against Penn State.
Harrison was proud of the way Smith stepped up.
"Man, Tyreke is really a special talent, and I'm happy he got a chance to show off what he can do and his pass-rush ability today," Harrison said. "He was just making plays. And we were talking before the game, during the game, like I'm gonna meet you back there, we're racing to the quarterback, we're both trying to affect the game and have fun while we're doing it."
Brown's first career interception
The aforementioned interception by Brown was the first of his Ohio State career. Matched up against Penn State wide receiver Jahan Dotson on the play, Brown broke back to the ball on Clifford's underthrow after Smith's pressure to pick off the pass and return it to Penn State's 28-yard line.
Day was impressed by the play Brown made.
"The play by Cam Brown on a double move by Dotson was a tremendous play, that's competitive excellence right there," Day said.
Brown, who is in his fourth season as a Buckeye but playing the biggest role of his Ohio State career to date as one of the Buckeyes' top three cornerbacks along with Denzel Burke and Sevyn Banks, said he was able to make that play because of the film study he put in before the game.
"I was really looking at that exact play a lot this morning," Brown said. "He just ran a slant-and-go, and I just stayed over the top, and I just used my technique and the pressure really got there and he underthrew it, so I was able to come in there."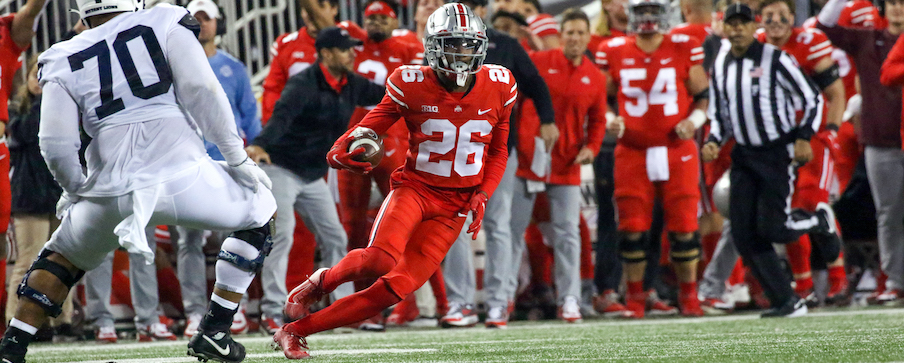 Ruggles stays perfect
On a night where Ohio State scored just one touchdown in six trips to the red zone, it had to rely on Noah Ruggles more than it did in any previous game this year. While Ruggles made all seven of his field goal attempts and all 46 of his extra point attempts in Ohio State's first seven games of the year, the Buckeyes hadn't had Ruggles attempt more than two field goals in a game before Saturday.
Against the Nittany Lions, Ohio State turned to Ruggles to kick four field goals, and he remained perfect on the season by making all four of them – from 35, 23, 25 and 26 yards out – for 12 points that were crucial to the Buckeyes' nine-point victory.
Ruggles said Day had told the team going into Saturday's game that it would be crucial to take advantage of scoring opportunities against the Nittany Lions. While the offense wasn't able to consistently get that done, Ruggles delivered every time he was called upon.
"Coach Day emphasized all week how important every scoring opportunity would be this week, and I knew I had to come in there and make the most out of every opportunity I had," Ruggles said. "And shoutout to the guys up front and my snapper and holder for getting it down, they make me look good."
Now 11-of-11 on field goals for the season, Ruggles is tied with Missouri's Harrison Mevis for the third-most made field goals without a miss so far this year in the Football Bowl Subdivision. Only Bowling Green's Nate Needham (14) and Appalachian State's Chandler Staton (12) have had more field goals without a miss in 2021.
Ruggles said he hasn't been thinking about those numbers, however, but just trying to do his job every time he steps on the field.
"I just take it one kick at a time," Ruggles said.
Chambers gets ejected
Steele Chambers looked poised to play a big role in the second half of Saturday night's game when he took the field at linebacker alongside the rest of Ohio State's defensive starters for the start of the third quarter. Instead, his night ended after just one play in the second half.
Chambers was called for targeting as he hit Clifford on a run behind the line of scrimmage, and was disqualified from the game after the targeting call was upheld upon replay review. Because the penalty occurred after halftime, Chambers will also have to sit out the first half of next week's game at Nebraska.
With Chambers out early, Teradja Mitchell (58) and Cody Simon (56) played most of the snaps at linebacker against Penn State while Tommy Eichenberg also rotated in for 25 defensive snaps, according to Pro Football Focus.
Those three made up the rotation in Ohio State's base defense after Chambers' exit, and likely will continue to in the first half of next week's game, though Palaie Gaoteote also played six snaps against Penn State in third- and fourth-down pass-rushing situations. On a 3rd-and-10 play in the third quarter, Gaoteote combined with Antwuan Jackson to sack Clifford for the first sack of his Ohio State career.