No one needs a full-throated review of last year's Ohio State pass defense.
It was bad. Really bad. Historically bad. And everybody remembers.
Blame can get — and has gotten — shifted in a number of different directions. Coaches? New coordinator? COVID-19? Recruiting misses? Guys not living up to expectations? All of the above? Take your pick. One thing's a certainty: The Buckeyes know they can't afford to put forth a pass defense that performs even remotely similarly to the one that consistently got shredded a season ago. That would put Kerry Coombs squarely on the hot seat, leave Ryan Day questioning his scheme and mean that a unit filled with former four-star and five-star recruits somehow couldn't come together the way it should have. 
Coaches and players alike understand the job in front of them, and they've attacked it head on thus far in the offseason.
"I feel like we're a more experienced team than we were last year," Zach Harrison said after the spring game. "Last year, we gave up a lot of yards. That's just the reality of it. We didn't play the greatest on defense and we knew that coming into this spring. We knew that coming into this spring. Defensively, we took that personally, so we know now the D-line, we know we've got to get pressure on the quarterback, the DBs know they've got to give us that extra second to get home, same with the linebackers tied in."
One key to ensuring a disastrous pass defense is avoided in 2021? Getting better play from its edge rushers and cover corners.
In recent history, Ohio State has produced top-flight players at two defensive positions – cornerback and defensive end – at a rate exceeding just about every single other program in college football. You know the names. Nick Bosa, Marshon Lattimore, Joey Bosa, Denzel Ward, Chase Young, Jeff Okudah, Tyquan Lewis, Bradley Roby… 
The list goes on and on.
Absent in last year's subpar pass defense? Top-flight cornerbacks and defensive ends. Shaun Wade was supposed to be a superstar, and his stock slipped to that of a fifth-round draft pick. Sevyn Banks and Marcus Williamson had their ups and downs. Up front, Harrison and Tyreke Smith – a pair of prime breakout candidates – combined for three sacks. No defensive end accounted for more than Jonathon Cooper's 3.5 sacks in the eight-game season, and together they all recorded a combined 9.5 sacks, just a little more than one per game.
The typically elite play from Ohio State's edge rushers and cover corners didn't exist for the most part in 2020. If the Buckeyes are to get back to having a stellar pass defense next season, they need improvements out of those two positions.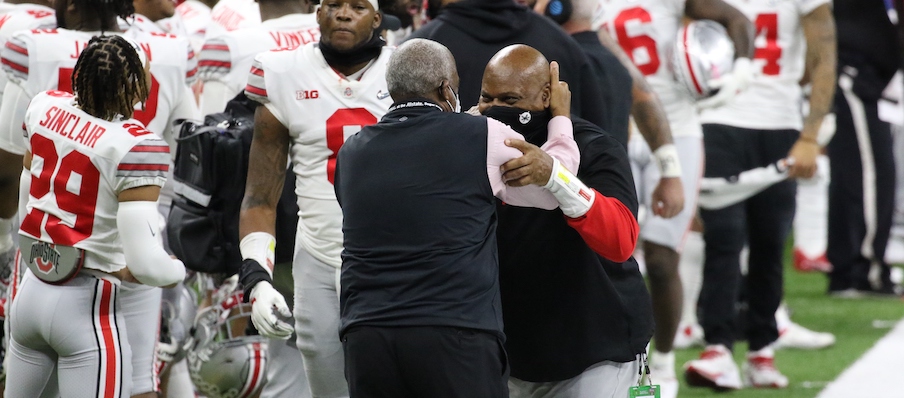 At cornerback, skepticism is fair. Banks has to be a No. 1 cornerback, Cameron Brown is coming off a torn Achilles, Williamson endured a rocky first season as a starter, most of the younger guys – Lathan Ransom, Cameron Martinez and Ryan Watts, among others – haven't played much and Coombs first year as a defensive coordinator went poorly. Plenty of uncertainties exist.
Up front at defensive line, however, Ohio State seemingly has everything it could ask for.
In Larry Johnson, it boasts somebody who has a reputation as one of the top defensive line coaches in the nation. In Harrison, it features a physical specimen who wowed coaches in the spring and is now three years removed from five-star status. In Smith, it has a senior defensive end who has battled injuries but is now healthy and has his position coach predicting those watching will see "a different guy." In Javontae Jean-Baptiste and Tyler Friday, it can fall back on a pair of fourth-year players to provide high-end veteran depth. In Jack Sawyer, it gets a seemingly sure-fire superstar pass-rusher who rose to exceptionally high expectations with an impressive first spring camp. 
Put everything together and it would seem to be the perfect recipe for disruptiveness from the defensive ends.
"I'm excited about the unit because most everybody's back," Harrison said in April. "We all know what it takes now. We all know what areas we have to improve in, and we're taking that personally every day in practice. We're trying to improve on those areas so we all can reach our goals."
Those improvements will be key since, among this team's edge rushers, the potential has far outpaced production.
Harrison has top-of-the-first-round ability as an NFL prospect yet hasn't yet turned into somebody opponents need to specifically game plan to shut down. Smith's pressure rate shot up a season ago but he hasn't translated it into more than three sacks in a season. Jean-Baptiste has a first-round physique yet remains raw as a pass-rusher. Friday missed a few games last year and hasn't found his groove.
Could this be the year the upperclassmen break through, along with some help from guys like Jack Sawyer and possibly J.T. Tuimoloau? They think so, and Ohio State hopes so as well.
"We talk a lot about it because we feel we all came in around the same time and we all made strides together," Jean-Baptiste said. "We feel that if we're all at our top game, then other teams can have a problem."