The NFL draft industrial complex grows by the year.
It no longer takes months for draftniks to turn their focus from one year's draft to the next. It doesn't even take weeks. Mere days after the 2021 NFL Draft concluded, just about every outlet that covers the annual event put out their own 2022 mock draft. 
Absurd to put a mock draft out a full year ahead of time? Yes, of course. Is it a guilty pleasure of football fans who can't get enough of the sport, know they won't see any on-field action until September and want something to both pass the time and get their imagination racing? Also yes.
ESPN's Todd McShay has said in the past that the article is annually his most-read piece of content of the year. Whether people actually love them or not, they're interested enough to click on them.
This year's slew of "way-too-early" mock drafts featured several familiar faces projected to turn into first-round picks next April. Some of the Buckeyes whose names came up – Garrett Wilson and Chris Olave – were predictable. Others, namely Zach Harrison (raw athleticism and a sky-high ceiling) and Haskell Garrett (an All-American last fall), were understandable as well. One of them was, in the eyes of most who watched Ohio State play last season, an outlier.
Again and again, cornerback Sevyn Banks – who had an up and down first year as a starter in 2020 – showed up as a first-round selection. ESPN, Yahoo Sports, FOX Sports, Draft Network, Sporting News and others all included him of their first-round mocks.
The reasoning for Banks' inclusion in so many mocks presumably isn't too deep. These analysts have been knee-deep in the 2021 draft and have yet to put much time into studying the potential 2022 prospects but understand Ohio State has produced guys like Marshon Lattimore, Denzel Ward, Eli Apple, Jeff Okudah, Damon Arnette and Bradley Roby. Many of them likely decided to include Banks in their predictions because he'll be a second-year starter for a team that just played in the national championship game and has recently produced cornerbacks at a ridiculously high rate. 
In a sense, that's an understandable explanation. But the idea of Banks becoming a first-round pick in 11 and a half months is a lot of projection. He didn't come close to playing at that level last year in his first stint as a full-time starter.
Yet if Ohio State's defense truly is to bounce back in a big way, it needs Banks to look something like the first-rounder many project of him. An argument can be made that Banks is Ohio State's most important defensive player of the 2021 season.
"Sevyn just keeps on getting better and just keeps on working on his craft every day," Shaun Wade said earlier this year. "That's what he's been doing in practice. Sevyn's going to be a great player in the future."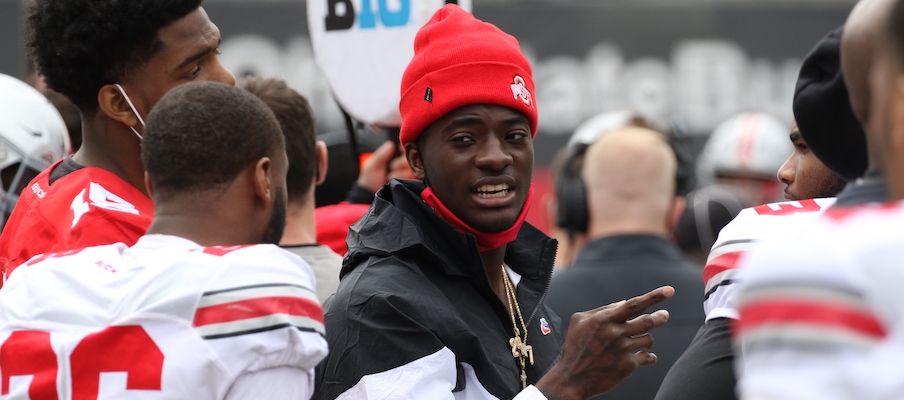 Wade, in fact, was supposed to be Ohio State's lockdown cornerback last season. A year ago, he was the guy listed in the first round of early mock drafts. He was the one Kerry Coombs was supposed to be able to rely on to completely take out whoever he was tasked with covering. 
For whatever reason, whether it was playing through a turf toe injury, struggling with a move to the outside, a lack of normality with a jagged season or something else, Wade didn't produce the way the Buckeyes needed. His struggles weren't the sole reason for their secondary melting down, but they didn't help.
Ohio State needs a No. 1 cornerback it can trust. In 2021, that No. 1 cornerback has to be Banks.
Undeniably, he has an impressive skillset. Coombs targeted and signed him out of Florida in 2017, and though he left shortly thereafter to take a job with the Tennessee Titans, Banks continued his ascent. By the end of the 2018 season, Banks had impressed enough in pre-Rose Bowl practices for Greg Schiano to say he "could be the next big-time corner here if he keeps developing." The next year under Jeff Hafley, he and Cameron Brown served as the primary backups to Jeff Okudah and Damon Arnette, and by 2020 he was starting for Coombs.
"With this being his first year completely starting, I think he's just reached a new comfort level and been able to trust his training, trust his body, his technique," Marcus Williamson said in January.
Three regimes of coaches in the defensive backfield came through, and all three were highly impressed with what Banks – who's 6-foot-1 and 200 pounds with a brother playing safety in the NFL – offered them as an outside cornerback. Every single year, the coaches have increased Banks' role in their defense. The belief in his ability will crest this fall when Coombs and Matt Barnes turn to him to lock down top-producing wide receivers as the No. 1 cornerback on the defense of a College Football Playoff mainstay.
Ohio State has plenty of questions to answer elsewhere on defense.
Can Zach Harrison and Tyreke Smith finally become vaunted pass rushers? Will Taron Vincent stay healthy? How does Jack Sawyer fit in? Who is going to play linebacker? Is the Bullet locked in as part of this defense? How does the slot cornerback picture look? Who will start opposite of Banks? Will Cameron Brown be healthy and look like his old self?
What the Buckeyes don't want to be a question mark come the fall is whether it can rely on Banks. Because if they can't rely on Banks, their defensive backfield could be in trouble for the second straight year. 
He's a first-round talent who hasn't yet put out first-round film at Ohio State.
Banks, whether he ends up as a first-rounder next year or not, simply has to be better. Has to remain on the upward trajectory he has been on ever since Coombs plucked him out of Orlando. Has to take a significant step forward.
If he can be put on an island and consistently take care of his duties, the Buckeyes will have the No. 1 cornerback they need to put their defense in a better spot to produce in 2021. If not? Well, last year taught us how bad things can get in a secondary.
Banks won't single-handedly make or break this defense. His play, however, will go a long way to determining whether Ohio State can return this fall to the BIA status the defensive backs so often talk about.