Just about everybody expects Ohio State to take somewhat of a step back at quarterback this fall. How much of a step back? That's for C.J. Stroud, Jack Miller or Kyle McCord to answer.
To help put quarterback and all of the other position groups in context, we're ranking the strengths of each unit, comparing three years: 2020, 2021 and 2022. 
The game is simple: Will the Buckeyes be better at each position this season and/or next season than they were last season?
Quarterback
1. 2020
2. 2022
3. 2021
Justin Fields set the bar incredibly high. He was the most talented quarterback to ever suit up for Ohio State, propelled last year's team to the national championship game amid a fragmented season and became the 11th pick in the NFL draft.
C.J. Stroud, Kyle McCord, Jack Miller and Quinn Ewers each have tremendous potential, but it's impossible to project they'll be better in either 2021 or 2022 than the guy many believe to be the best to ever throw passes in a Buckeye uniform. By 2022, either Stroud, McCord or Miller will be a second-year starter or Ewers will have impressed to such a degree that he overtakes them, which is why this season's quarterback picture is ranked behind next year.
Running Back
1. 2022
2. 2021
3. 2020
The idea of third-year Miyan Williams and second-year TreVeyon Henderson, along with whoever else is in the room a year from now, is enough to put the 2022 tailbacks on top. By then, they should be more seasoned and experienced, giving them ever so slightly an edge on the prior two years.
Picking between 2020 and 2021 is, in actuality, pretty darn difficult. Last year, Ohio State had a mediocre running back situation for most of the year, and then Trey Sermon suddenly exploded for two massive games in the postseason. We have 2020 behind the 2021 tailbacks because the Buckeyes should have more options, with six players capable of handling the ball with several potentially dynamic weapons.
Wide Receiver
1. 2021
2. 2020
3. 2022
You can't go wrong with any of these groups. This fall, Ohio State might have the best of the three years, though, with Garrett Wilson and Chris Olave out to prove why they're projected as first-round draft picks and a rotation otherwise consisting of Jaxon Smith-Njigba, Julian Fleming, Emeka Egbuka and Marvin Harrison Jr. surrounding them. It has a chance to be the best wide receiver group in program history.
Last year, the Buckeyes had a similar group of wideouts, which is why they slightly trail the 2021 bunch. Coming in third are the 2022 receivers, but there's a chance they're led by three former five-star recruits as starters. Them coming in last in this exercise tells you everything you need to know about the state of this position.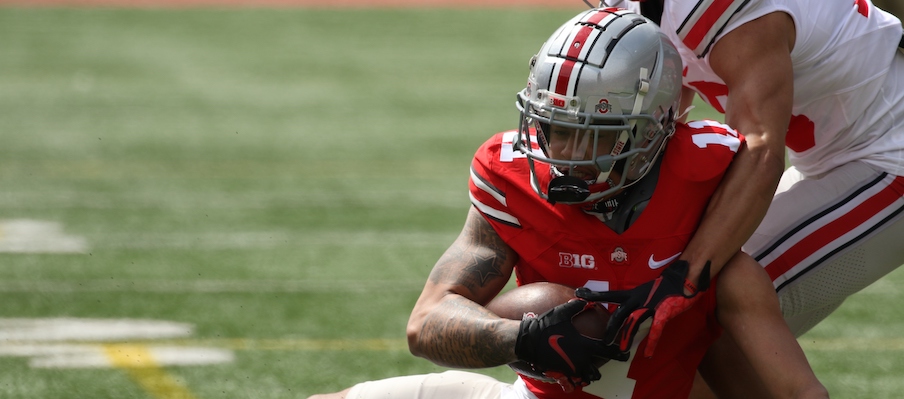 Tight End
1. 2020
2. 2021
3. 2022
Last year's tight ends were borderline perfect for what Ohio State wants to do. Kevin Wilson had one of the nation's best blockers at the position in Luke Farrell, one of the best receivers at the position in Jeremy Ruckert and a fifth-year senior in Jake Hausmann to be the third tight end.
Ruckert might be more productive in 2021 than in 2020, but as a whole, the position group is expected to take a bit of a step back depth-wise. The 2022 tight end room is an even larger question mark since Ruckert will leave after this season, putting it in the hands of Cade Stover, Joey Royer, Sam Hart and Gee Scott Jr., none of whom have done anything of note in college at the position quite yet.
Offensive Line
1. 2020
2. 2021
3. 2022
Perhaps no position group was harder to put into an order than the offensive line. Superb offensive tackles – Thayer Munford and Nicholas Petit-Frere – with Wyatt Davis and Josh Myers holding down the interior gave the 2020 unit a minuscule edge on the following two year's lines.
The 2021 bunch could very well be better since Munford and Petit-Frere return, but the interior of the offensive line is a question mark. Harry Miller struggled in Year 1 as a starter, Paris Johnson will be a first-time starter and Luke Wypler and Matthew Jones remain in contention for the last spot. How those three spots shake out will ultimately determine whether the 2021 group should've claimed the top spot. The 2022 offensive line comes in last largely because Greg Studrawa will be without Munford and possibly Petit-Frere.
Defensive Line
1. 2021
2. 2020
3. 2022
Even accounting for the loss of Tommy Togiai, Ohio State's 2021 defensive line should be a supercharged version of the 2020 front. Zach Harrison, Tyreke Smith, Haskell Garrett, Jerron Cage, Taron Vincent, Antwuan Jackson, Tyler Friday and Javontae Jean-Baptiste will all be back, and Jack Sawyer joins the fray too. The ceiling should be high, and it's up to Larry Johnson to ensure the 2021 line reaches it.
Because Ohio State could lose four or five key pieces from this year's line before the 2022 team takes the field, it's tough to put that group above third. But if the Buckeyes can secure five-star recruit J.T. Tuimoloau and pair him with Sawyer, plopping the 2022 line in last could be too low.
Linebacker
1. 2020
2. 2022
3. 2021
The Pete Werner truthers must've been flummoxed when he was the second Buckeye off the board in the draft a week and a half ago. He, along with Baron Browning, Justin Hilliard and Tuf Borland, helped Ohio State have a quality linebacker corps last season. While they didn't reach an unimpeachable level of play, they were reliable and the best part of an otherwise shaky defense.
Now that they're gone, the Buckeyes will turn to Teradja Mitchell and Dallas Gant, though their level of confidence in that duo is in question given how vigorously the coaches pursued Alabama-bound Henry To'o To'o. Given the total lack of in-game experience at the position, the 2021 group comes in last place in this exercise. By 2022, Mitchell and Gant – if they're still around – should be improved versions of themselves, guys like Cody Simon and Tommy Eichenberg will be able to lend more of a hand and C.J. Hicks and Gabe Powers will be added to the roster.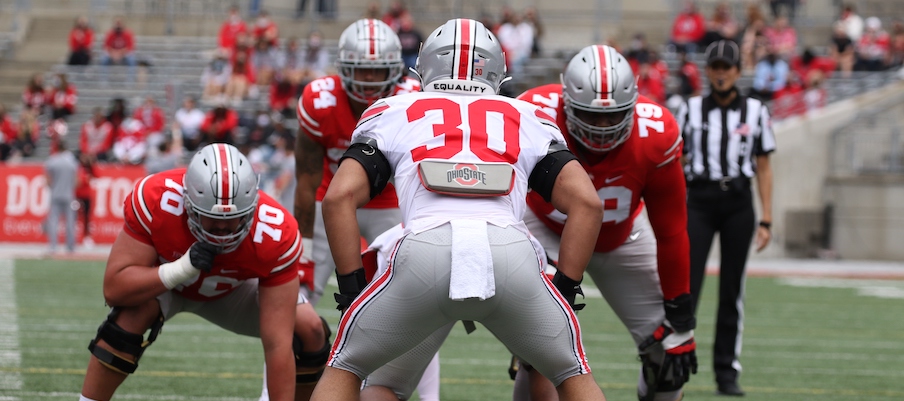 Cornerback
1. 2022
2. 2021
3. 2020
Things are trending upward at cornerback – though maybe that has something to do with the fact that it can't get much worse than what happened last year. The Shaun Wade-Sevyn Banks-Marcus Williamson trio struggled mightily in 2020, and the situation got even more dire once Cameron Brown was lost for the season with an injury.
This fall, with Banks, Williamson and Brown more developed and Lathan Ransom, Cameron Martinez and others pushing for time, the Buckeyes' cornerbacks can be anticipated to take a step forward. Then the following year, with Ransom, Martinez and Brown expected back plus Jordan Hancock and Jakailin Johnson in their second collegiate seasons, Ohio State should be in good shape.
Safety
1. 2021
2. 2022
3. 2020
Without a doubt, Ohio State's safety situation in 2021 should be improved upon what it was in 2020. How much better will it be? That's a big unknown. But Josh Proctor as a second-year starter should be better prepared, and the Bullets – Craig Young and Ronnie Hickman – along with Bryson Shaw and Ransom taking reps should lead to a step up.
What the position looks like in 2022 once Proctor leaves, as most expect to happen, is somewhat of a mystery. But one would think a group of Young, Hickman, Ransom, Shaw, Martinez, Jantzen Dunn, Andre Turrentine and others will be better than last year's safety play.