When Marcus Williamson was asked earlier this month why he never stopped believing he could play football at Ohio State, he started to get emotional.
Although Williamson started all eight games in Ohio State's secondary last season, his road getting to that point wasn't easy. In his first three years as a Buckeye, Williamson played only 205 total snaps and never started a game, leaving him to question whether he'd ever play a significant role. He battled multiple injuries along the way, at one point making him consider whether it was time to move on to life after football.
But Williamson stayed the course, with a mindset of always continuing to fight and never quitting that he attributes to the first sport he began competing in when he was five years old: Wrestling.
"There's not a lot of glory in wrestling. I remember growing up and all my friends played basketball, I went to (Westerville South High School) with Kaleb Wesson, big hooper and I'm in the back, in the gym, just wrestling, just getting better, just having that fight in me," Williamson recalled earlier this month. "I've never been a quitter, and just kind of having that mindset, that whatever it is, I'm just gonna fight through it. There's gonna be better days. This will pass, that will pass. Just keep going."
"I've never been a quitter. Just kind of having that mindset that whatever it is, I'm going to fight through it. This will pass, that will pass. I'm just going to keep going."

Marcus Williamson never allowed himself to give up. pic.twitter.com/QMp7UXet2l

— Eleven Warriors (@11W) April 1, 2021
Williamson's mother, Tamar, says her son is a private person who usually doesn't show a lot of emotion, but she could tell he was frustrated with how things were going earlier in his Ohio State career. Marcus, a four-star recruit in the class of 2017, wasn't used to watching from the sidelines. But his parents – who Marcus specifically credited with helping him get to where he is now – encouraged him not to back down and to find ways to add value even when he wasn't playing.
"He is such a giver, but wanting to learn and to get better and to make a difference and then trying to really think about, 'OK, what additional value do I add?'" Tamar Williamson told Eleven Warriors. "So I think that's hard when you, for so long, have been an elite athlete and you find yourself on the sideline and you have an injury, how do you add value? That's really hard. And so we talked to him a lot about that. Finding other ways to add value whether it's being a leader in the room or whether it's reaching out to the coaches and providing your perspective and your point of view. Or whether it's getting deeper and learning more about the game of football."
Thanks to his perseverance, Williamson earned his way into the starting lineup last season at the slot cornerback/cover safety position. He played 414 snaps in 2020, the fourth-most of any defensive player, and recorded 27 tackles and two pass breakups.
Under normal circumstances, last season would have been Williamson's final season at Ohio State, as he would have exhausted his eligibility. Thanks to the NCAA giving all players an additional year of eligibility, however, Williamson got the opportunity to stay with the Buckeyes for one more season – and for him, that was an easy choice to make.
Williamson and his family had actually explored pursuing a medical redshirt, Tamar said, considering he suffered a season-ending injury during the Buckeyes' fifth game of the 2018 season, putting him one game over the limit to redshirt that year. So, they viewed it as a blessing for Marcus to be able to play another season, giving him a chance to make a bigger impact for Ohio State and elevate his chances of playing in the NFL, without having to go through the medical redshirt process.
"We were just like, 'Man, we need that one more year,'" Tamar said. "So I think that just it feels just like things are falling in place for him, and that it's his time, and he has been locked and loaded and really been adding value just not on the field but off the field, in the room, with the coaches. Lending his perspective, point of view. Learning, growing as it relates to football. Giving from a community service perspective."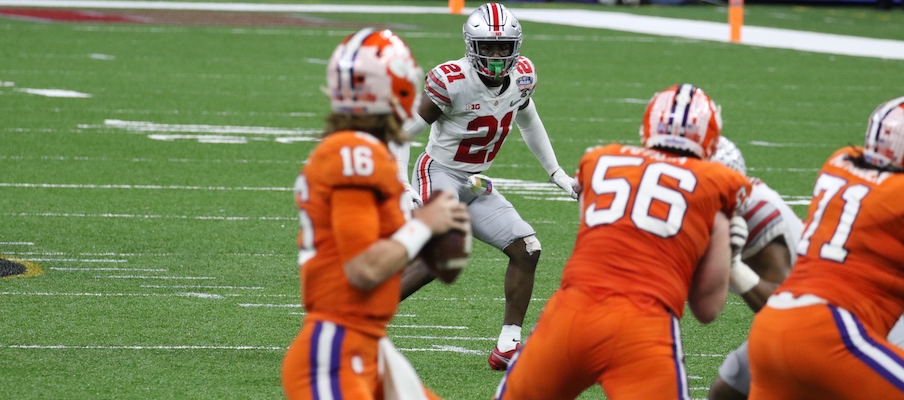 Ohio State is glad to have Williamson and his veteran presence back in the secondary. Ryan Day recently said that Williamson is "having a really good offseason," and Williamson is expected to be one of the spiritual leaders of a defense that's replacing four captains – Tuf Borland, Jonathon Cooper, Justin Hilliard and Shaun Wade – from last season.
While Williamson was often just trying to stay healthy earlier in his Ohio State career, he's now confident in where he is physically and focused on trying to improve as a player going into his fifth season as a Buckeye.
"I was having this conversation with myself today – I know that sounds kind of weird – but constantly asking yourself, what's that motivation? What's that driving force?" Williamson said. "And I think in the past, really the last couple of years, it was fear of being injured. That was kind of my driving force in the offseason. Like 'OK, I'm gonna put this extra time in the weight room, because I can't have another injury. I can't afford to be injured.' And I think now, it's just from a standpoint of just wanting to improve, wanting to get better.
"It's just been waking up every day and getting better. How much can I improve in this area, that area and this area? And I think I've really just seen myself take off in the last few months since the season ended. Just having that mindset and that approach to this year, it's been great and I can't wait to see the results of me doing that. So I'm glad to be back, excited. I think it's gonna be a great year."
Because he now has a full season of playing experience under his belt – one that certainly had its ups and downs, as the Buckeyes made it to the national championship game but gave up more than 300 passing yards per game – he has a better idea of his strengths and weaknesses as a player and where he needs to develop to have the kind of season he covets in 2021.
"I've been in this program a little while, of course. As you practice and you go through things, you learn different defenses, different schemes, you get a great sense of football. But until you step out on that field and take in that game experience, it's hard to really see where you need to improve, how you fit into the defense, what your limitations are," Williamson said. "Being able to have that experience last year, as crazy as 2020 was, I'd say I'm a lot more enlightened in that sense. So just being able to take that information from last year, and just craft myself into the football player I want to be this year, has been great."
"It's just been waking up every day and getting better. How much can I improve in this area, that area and this area? And I think I've really just seen myself take off in the last few months since the season ended."– Marcus Williamson on his approach to this offseason
That said, there's no guarantee that Williamson will even be a starter this year. Lathan Ransom appears to be on a skyward trajectory toward a starting spot in Ohio State's secondary as a sophomore, and he plays the same slot cornerback position that Williamson says he's been "focusing almost exclusively" on this season.
Williamson said he trusts Ohio State's coaches to figure out how to utilize both him and Ransom in the secondary.
"I'm not sure how it'll work out this season. I'm sure the coaches will have a plan," Williamson said. "But I've really just been impressed with the steps Lathan's taken and how eager he is to just learn and get better. So like I said, it'll be up to the coaches how that works out, but his skill set is definitely something that can be used and needs to be used. So we'll see."
Regardless of how things shake out in terms of starting spots and playing time, Williamson is glad just to be back at Ohio State for another season, knowing he's in a much better position now than he was a couple of years ago.
"You never know what'll happen, where it'll end up on the other side," Williamson said. "And I think God has just had a plan for me. If he didn't, I still wouldn't be here. I'm in my fifth year, hopefully going into my second year starting, and two or three years ago, shoot, I was typing up my résumé. Seeing what I wanted to do after football. So just having this opportunity, even if it doesn't go as planned, just having this opportunity to continue to do the sport that I love and to continue to have that wrestling and fighting mindset, has just taken me so far in life and I hope it takes me farther."
No one is prouder of Williamson's growth than his parents, who've seen him become a better man through the trials he's gone through in his years at Ohio State.
"There have been tears. There have been celebrations. But it has absolutely been a journey, and we just keep focusing on 'Bet on yourself,'" Tamar said. "So it's, I would say, it has been a wonderful, wonderful experience for us, for him and I'm just super proud of who he is."