Despite nearly blowing a 28-point lead, Ohio State is now in sole possession of first place in the Big Ten East.
The Buckeyes took control of the division title race on Saturday in a battle of top-10 teams at Ohio Stadium, defeating Indiana 42-35 to improve to 4-0 while handing the Hoosiers their first loss of the season.
After scoring on just one of its first five possessions of the game, Ohio State scored touchdowns on four consecutive possessions between the second and third quarters to seize control of the contest and take a 35-7 lead. The Buckeyes ended up having to sweat the game out in the fourth quarter, however, after a disastrous second-half performance for their passing defense and a failure to put the game way on offense.
 
Q1
Q2
Q3
Q4
 

#3

 Ohio State
7
21
7
7
42

#9

 INDIANA
0
7
14
14
35
It took Ohio State's offense just two plays to score its first touchdown of the game. Justin Fields connected with Garrett Wilson on a deep ball that went for a 65-yard gain on the Buckeyes' first offensive play, and the pair connected again for a 10-yard touchdown on the very next play.
@OhioStateFB is wasting NO time!@justnfields finds @GarrettWilson_V for 65 yards on their first play from scrimmage pic.twitter.com/e5UtuxiyBx

— FOX College Football (@CFBONFOX) November 21, 2020
Fields threw his first interception of the season, however, on the Buckeyes' second possession of the game. While looking for Wilson again, Jamar Johnson broke in front of the pass for Indiana's 11th interception of the year and returned it 33 yards into Ohio State territory. The Hoosiers failed to take advantage of the short field, as Ty Fryfogle dropped a wide-open pass on 4th-and-2 to give the Buckeyes the ball back.
Two possessions later, Fields was intercepted again when he made a poor decision to force a pass to Chris Olave into coverage. After the ball was tipped up into the air by multiple players, it ended up in the hands of Indiana defensive tackle Jerome Johnson for the Hoosiers' 12th pick of the season. Again, though, Indiana failed to take advantage of the turnover, eventually settling for a punt, as the Hoosiers did on four of their first five possessions in Saturday's game.
Indiana broke through on its first possession of the second quarter, when Michael Penix Jr. hit Miles Marshall with a deep ball over the middle for a 68-yard gain. Two plays later, Penix connected with Whop Philyor on a 4-yard touchdown pass to tie the game at 7-7.
Ohio State's offense got rolling on its next possession, though, when Master Teague broke through the Indiana defense for a 41-yard touchdown run.
MASTER TEAGUE FOR THE TD@OhioStateFB retakes the lead against Indiana pic.twitter.com/r05rvVonKn

— FOX College Football (@CFBONFOX) November 21, 2020
After the Buckeyes' defense forced another punt, a 30-yard run by Fields followed by a 2-yard run into the end zone by Teague extended Ohio State's lead to two touchdowns with 4:32 to play before halftime.
@MasterTeagueIII punches it in for @OhioStateFB and adds to their lead in the first half pic.twitter.com/hYpN1gu1sL

— FOX College Football (@CFBONFOX) November 21, 2020
Indiana hit another big play on its next possession when the Buckeyes left David Ellis wide open, leading to a 51-yard gain on a pass from Penix that got the Hoosiers to Ohio State's 13-yard line. On the Hoosiers' next play, however, Ellis fumbled the ball on a short catch – aided by a big hit from Pete Werner – and Baron Browning recovered the loose ball for a Buckeye takeaway.
Ohio State proceeded to drive 93 yards in nine plays, capped by a 9-yard Fields touchdown run with 17 seconds left to play before halftime, to take a 28-7 lead into the locker room.
@OhioStateFB ends the half strong with this @justnfields TD! pic.twitter.com/IdqEJOJOlU

— FOX College Football (@CFBONFOX) November 21, 2020
The Buckeyes got the ball to start the second half and drove right back down the field again, completing a six-play, 75-yard drive with Fields finding Wilson for a 9-yard touchdown.
@OhioStateFB starts the second half with a @garrettwilson_V touchdown! pic.twitter.com/v0nJ8rLsgm

— FOX College Football (@CFBONFOX) November 21, 2020
Indiana hit its third passing play of over 50 yards on its opening possession of the second half, as Fryfogle got behind the defense to catch a deep ball from Penix and went all the way for a 63-yard touchdown.
Fields threw his third interception of the day on the Buckeyes' next possession, with Jamar Johnson making his second, on another poor decision to chuck the ball up into the middle of the field under pressure. Ohio State was able to avoid giving Indiana a short field, though, when Julian Fleming forced a fumble on Johnson's return and Thayer Munford recovered for the Buckeyes.
Nonetheless, the Hoosiers would still score on their next possession when Penix completed a 33-yard touchdown to Fryfogle, beating Marcus Hooker in the process, cutting Ohio State's lead to 14 points.
Jake Seibert missed his first career field goal attempt from 44 yards out on Ohio State's next possession, giving Indiana a chance to make it a one-score game. Shaun Wade extended the Buckeyes' lead back to three touchdowns instead by intercepting Penix and returning it for a 36-yard touchdown.
BIG TIME PLAYERS MAKE BIG TIME PLAYS!@shaunwade24 gets the pick-six for @OhioStateFB pic.twitter.com/pt2N5WSq3h

— FOX College Football (@CFBONFOX) November 21, 2020
| OHIO STATE |   | INDIANA |
| --- | --- | --- |
| 607 | TOTAL YARDS | 490 |
| 307 | RUSHING YARDS | -1 |
| 50 | RUSHING ATTEMPTS | 16 |
| 6.1 | AVERAGE per RUSH | -0.1 |
| 3 | RUSHING TOUCHDOWNS | 0 |
| 300 | PASSING YARDS | 491 |
| 18-30 | COMPLETIONS–ATTEMPTS | 27-51 |
| 16.7 | AVERAGE per COMPLETION | 18.2 |
| 2 | PASSING TOUCHDOWNS | 5 |
| 27 | 1st DOWNS | 19 |
| 80 | TOTAL PLAYS | 67 |
| 7.6 | YARDS per PLAY | 7.3 |
| 4-6 | RED ZONE | 2-3 |
| 6-14 | 3rd DOWNS | 4-13 |
| 3-35 | PENALTIES | 2-30 |
| 36:24 | POSSESSION | 22:58 |
But Indiana wasn't done yet. It cut the lead back to two touchdowns on its next possession when Ohio State left Ellis wide open on 4th-and-10, allowing him to stroll into the end zone for a 16-yard catch-and-run. It cut the lead down to one touchdown on its next possession after that when Fryfogle beat Wade for a 56-yard touchdown.
Ohio State officially entered the danger zone after its next possession, when the Buckeyes opted to go it on 4th-and-1 from Indiana's 7-yard line and Fields missed a pass intended for Luke Farrell under pressure. The Buckeyes were able to force an Indiana punt, though, to get the ball back with 3:10 to play.
Trey Sermon picked up one first down to nearly run the clock out of Ohio State, but the Buckeyes were forced to punt the ball back with less than a minute to play, giving Indiana one last shot to tie or win the game with 38 seconds to play and 78 yards to drive. But the Hoosiers' final possession ultimately stalled on their own side of the field.
Ohio State finished the game with 607 yards of offense – 307 rushing yards and exactly 300 passing yards – while Indiana had 491 passing yards with a net loss of one rushing yard.
Ohio State is now the only remaining unbeaten team in the Big Ten East and will look to improve to 5-0 next Saturday, when the Buckeyes are set to face Illinois on the road.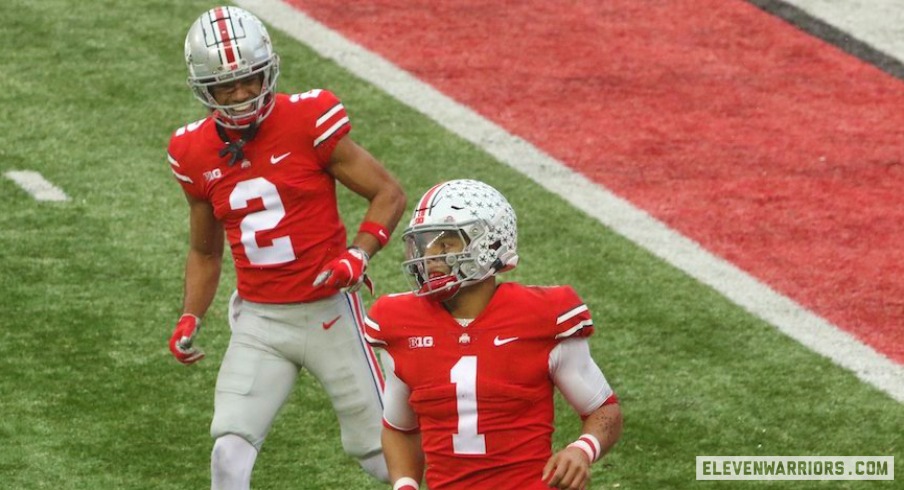 #3 Ohio State 42, #9 INDIANA 35
NOVEMBER 21, 2020 • OHIO Stadium • COLUMBUS, OH
Game Notes
Because of the Columbus Department of Health's stay-at-home advisory that went into effect on Friday, no fans were in attendance for Saturday's game. Only 635 total people were inside Ohio Stadium.
Tuf Borland, as he has been for every home game this year, served as the captain for the pregame coin toss.
Before Fields' first interception, he had completed every pass he attempted in the first quarter this season. He had three first-quarter incompletions, including two interceptions, on Saturday.
Indiana became the first Big Ten team to record multiple interceptions in five straight games since Ohio State in 2009.
Wilson has now topped 100 receiving yards in four straight games to start the season. That's the second-longest streak in school history, behind only Cris Carter, who had five straight 100-yard games in 1986.
Olave also topped 100 receiving yards for the third time this season.
Wade's interception return touchdown was the first touchdown of his Ohio State career and Ohio State's first interception return touchdown since Damon Arnette's 96-yard pick-six against Indiana in 2019.
Saturday's game was the first time Ohio State allowed more than 400 passing yards in a game since Indiana had 420 in the Buckeyes' 2017 season opener.
Saturday was the first time Ohio State has ever had a 300-yard passer (Fields - 300), 150-yard receiver (Wilson - 169) and 150-yard rusher (Teague - 169) in the same game.