Any honest fan knew Ohio State's pass defense was a liability coming into yesterday's game against No. 9 Indiana. 
That said, few likely expected Hoosiers quarterback Michael Penix Jr. to throw for 491 yards and five touchdowns as the Buckeyes held on for a 42-35 win over Tom Allen's upstart squad in a dank and vacant Ohio Stadium. 
While Kerry Coombs' secondary had shown its vulnerability nearly all season, quite the opposite had been the case with Ohio State quarterback Justin Fields. As such, it was indeed shocking to see the Heisman hopeful toss a career-high three interceptions against two touchdowns as part of an 18-for-30 and 300 yards afternoon. I doubt we see such a disjointed outing from Fields moving forward. 
Bottom line, a lot went right, particularly in building a 35-7 lead early in the third quarter but Ohio State has yet to play a complete game thanks largely to a leaky secondary, a lacking pass rush and collective struggles in handling the blitz. 
Despite those issues, Ohio State is the lone undefeated team left in the Big Ten East and there's no doubt Indiana deserves a hat tip. The Hoosiers' passing attack did work and the defense is certainly better than I gave it credit for coming into yesterday's battle. 
Let's get on with this week's Five Things before Ohio State turns its attention to next week's roadie against Illinois. 
---
MASTER PLAN
Speaking of hat tips, here's one for Master Teague. 
After averaging 4.5 yards per carry and 70 rushing yards through three outings, Teague caught fire yesterday carrying it 26 times for 169 yards (6.5 ypc) with two touchdowns. 
Purposeful running combined with some excellent blocking helped Teague rip off runs of 10, 32 and 41 yards. He had just one carry for negative yards. 
It probably isn't a coincidence that Teague was able to get going as (1) he was able to get into a rhythm due to scaled-back rotation with Trey Sermon and (2) Justin Fields logged 15 rushing attempts for 78 yards, forcing the defense to account for him as a running threat. Fields carried it just 12 times combined in wins over Rutgers and Penn State. 
With Teague charging downhill, Ohio State ran for more yards (307) than it accumulated through the air (300) for the first time this season. 
Teague's big day was clutch as Ryan Day needed a viable running game to take advantage of the Hoosiers' blitz-happy defense and also run clock in the second half, helping keep his own defense off the field.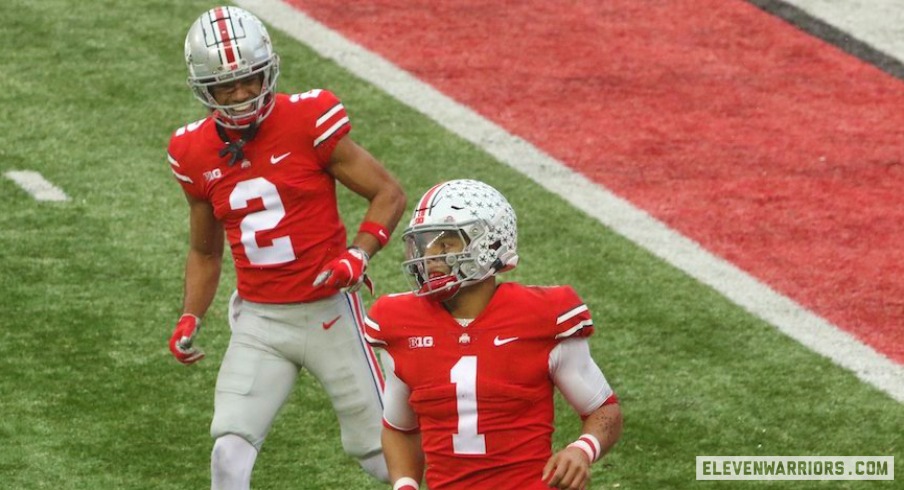 #3 Ohio State 42, #9 INDIANA 35
NOVEMBER 21, 2020 • OHIO Stadium • COLUMBUS, OH
SO.. THE FRONT SEVEN LOOKED REALLY GOOD IN THE FIRST HALF
You wouldn't know it from looking at the full game stats but Ohio State's defense was pretty damn solid in the first half as the Buckeyes built a 28-7 lead. 
Indiana's offense had eight first half possessions (not counting the 1-play kneel down right before the half) and three of them resulted in 3-and-outs. Six of the eight went for 21 yards or less. 
The Buckeyes completely stuffed Indiana's rushing attack with the Hoosiers running it 12 times for -6 yards. Sampson James led the cream and crimson with three carries for 10 yards while a typically effective Stevie Scott picking up five yards on five attempts. 
The defense held Indiana to 1-of-7 on third down conversions and most importantly, didn't allow the Hoosiers to score a point on two drives following Justin Fields interceptions. 
The front seven was flat out dominant over the first 30 minutes as Indiana's attempt at balance showed 12 rushing attempts (for the noted -6 yards) and 22 passes for 197 yards. 
Baron Browning had probably the play of the half, forcing and recovering a fumble after Indiana reached Ohio State's 5-yard line. If Browning doesn't create the turnover, Indiana likely scores a touchdown to make it a 21-14 contest with less than three minutes left in the opening half. 
Instead, Ohio State's offense took the ball 93 yards in nine plays and 2:54 of game clock, culminated by a Fields touchdown run for a 28-7 lead with just 17 seconds left before intermission. 
HARD PASS
After Justin Fields and company took the second half kickoff right down the field for six, capped by a 9-yard Garrett Wilson grab to make it 35-7, Indiana's offense was forced to abandon the run and air it out. 
With the Hoosiers throwing it on 29 of their 33 second half snaps, Penix Jr. straight up torched Ohio State's secondary. The lefty completed 15 of those 29 throws for 294 yards and four touchdowns (against one pick). 
For the game, Penix Jr. finished with the 4th-most passing yards ever against an Ohio State defense with 491 to go along with five touchdowns. Wide receiver Ty Fryfogle was his chief target with seven grabs for 218 yards and three scores. 
Fryfogle got the better of Shaun Wade on a handful of occasions though Wade did record a pick six giving Ohio State a 42-21 lead late in the third quarter. 
Still, this secondary is taking on water. Even with the pick, it feels like Wade has cost himself a lot of NFL money by not turning pro after last year, unless he finishes strong. Senior Marcus Williamson has taken some lumps while adjusting to having a major role on the defense after playing sparingly in his first three seasons. 
Marcus Hooker appeared to be out of position a few times yesterday, and in past games as well, as he, like Williamson, is also adjusting to having a ton of responsibility in his first year logging major minutes. 
No spring ball, the loss of Cam Brown earlier this season to an Achilles tear and the February dismissal of Amir Riep, combined with Jeff Okudah, Damon Arnette and Jordan Fuller now playing on Sundays has Kerry Coombs' secondary behind the eight ball.
The lack of depth is so glaring that the defensive braintrust can't really deploy a dime defense, opting instead to take its chances with linebackers in obvious passing situations. 
There's still time for the secondary to improve but right now, you'd have to be wearing some severely rose-colored glasses to see this secondary as championship-level. And a middling pass rush further magnified these issues yesterday against Penix and company. 

LINE MAKING PROGRESS
I felt like the offensive line took some strides yesterday, specifically in the run game as Ohio State went for a season-highs of 307 rushing yards on 6.1 a pop. The total rushing yards were Ohio State's most since a 383-yard day last November versus Maryland. 
Teague went untouched on his 41-yard touchdown jaunt midway through the second quarter and he was able to get a head of steam on most of his carries thanks to the work up front. 
You might take issue with the fact Indiana put up five sacks but I didn't see a ton of mistakes or 1-on-1 beats from left tackle to right tackle. Oftentimes, Indiana brought more blitzers than Ohio State could account for and Fields looked flat out confused on more than one occasion. 
Fields also held the ball forever a handful of times, as he does and as we should generally be fine with, but the line can only pass block for so long. I'm no offensive coordinator but I found it curious a few times as it seemed Ohio State kept dialing up downfield throws that take time to develop while Indiana was bringing the kitchen sink. I don't fault the line for that. 
At least one other time a tight end was asked to go in motion and pick up an edge rusher which failed and while Teague had a great day running, he looks like an average to below average pass blocker. He was bowled over a couple times leading to trouble and he whiffed twice taking on edge rushers. 
GARRETT WILSON IS UNREAL
Another day, another 100+ yards receiving for Garrett Wilson. 
The sophomore lit Indiana up with seven catches for 169 yards and two touchdowns on 10 targets.
Wilson accounted for all 75 yards on Ohio State's first possession of the afternoon, hauling in a 65-yard catch on the first play before snagging a 10-yard touchdown on the second. He would later add catches for 27 and 39 yards along with a 9-yard touchdown grab putting Ohio State in front 35-7 early in the third quarter. 
He now has four consecutive games of at least 100 yards receiving putting him within one game of tying Cris Carter's school-record set back in 1986. 
For future reference, David Boston owns the single-season record for total games of at least 100 yards receiving with nine (in 12 games) in 1998. 
Through four games, Wilson is averaging 7.8 catches per contest which still has him on track to break Boston's single-season record of 7.1 set back in 1998.