Mookie Cooper knows what it's like to have football taken away from him.
Going into his senior year of high school, Cooper chose to transfer from Trinity Catholic, a private school in St. Louis, to Pattonville, a public school in nearby Maryland Heights. Like the NCAA, however, Missouri State High School Activities Association rules stipulate that students who transfer schools are ineligible to compete in athletics unless they meet one of several exceptions.
Cooper had hoped his eligibility would be reinstated and even practiced with the team at Pattonville for part of the season. When he learned his appeal to reinstate his eligibility had been denied, officially ending his high school football career, Cooper was heartbroken and overcome with emotion.
"No lie, I walked out of the office and I cried for probably like four weeks straight," Cooper said earlier this year when asked how he reacted when he received the news. "After school, I'd just go sit in the car and just sit there and just cry."
Because Cooper loves playing football so much, being barred from finishing his high school career caused him to become "nearly depressed," he said in February during his first interview session with Ohio State reporters. Cooper began meeting with a counselor at his school, Chaun Tate, who played college football himself at Southeast Missouri State and helped Cooper cope with his emotions. Initially, Cooper didn't want his mother to see how much he was hurting, but he eventually confided in her, as well.
"I was hurting because that was my therapy as well," Cooper's mother, Danita Gibson, told Eleven Warriors. "I never missed a game. It was always me and him, so we always had that. That was like our date night. He'd go to football, I watch him play.
"So it was mentally hard for the both of us, but I think it was really bad for him because he finally admitted to me like 'Mom, I feel like I'm depressed.' And then that's when I felt helpless, because I went to the school, I literally cried and begged and pleaded with the proper people just trying to see if he would be able to play. But overall, it was all for the best."
Cooper has declined to discuss the specifics behind his decision to transfer, but one reason was because Trinity Catholic would not allow him to graduate early so he could enroll early at Ohio State after committing last July. And as devastated as he was not to be playing high school football last fall, he felt it was worth it to be able to start his Buckeye career in January alongside fellow freshman wide receivers Julian Fleming, Gee Scott Jr. and Jaxon Smith-Njigba.
"I used to count down every day on my Snapchat, I'd post 'How many days left?' But once it got to like the 30-day mark, like the first day of December, signing day was coming up, I started feeling more at ease because I was just getting closer to getting here so it was more like, 'All right, this phase of my life is getting over with,'" Cooper said.
---
From the time Cooper began playing youth football at just seven years old, Gibson had visions of her son playing at the collegiate level.
His athletic ability was apparent from a young age, and so were the off-field qualities – "he's always been a straight-A student" and never had any behavioral issues as a child, Gibson said – that he would need to succeed in college. So Gibson did everything she could, signing him up to play on travel teams in various sports, to help him get that opportunity.
"I've always told him when he was playing little league football, the object of all of this is to get to college for free. Because being a single mother, I really couldn't afford it to send him to school paying out-of-pocket," Gibson said. "So to me, this is everything that I wanted. This was all of my time and money and energy that I invested in him since he was the age of seven has really paid off in the end, and attending Ohio State is a really big deal because it's one of the top schools that will be able to allow him to just get a great education and play for a wonderful program."
By his junior year of high school, when he made big plays all year long to lead Trinity Catholic to a state championship, Cooper emerged as one of the top 100 prospects in the recruiting class of 2020 and drew interest from most of the top programs in the country.
Ultimately, Cooper chose to become the fourth St. Louis native to commit to Ohio State in a three-year span, following Kamryn Babb and Cameron Brown from the class of 2018 and Jameson Williams from the class of 2019, in part because of the relationships he had built with those Buckeyes as well as with Ohio State wide receivers coach Brian Hartline and quality control coach Keenan Bailey.
Cooper also decided he wanted to move away from St. Louis, and his mother agreed that would be in his best interest.
"I wanted him to get away from St. Louis, but I didn't want him to go too far," Gibson said. "I wanted to be able to support him and be there for every home game, so I didn't want him to go too far. But Ohio State was definitely somewhere where I felt that he can do great things."
Even when Cooper ended up being unable to play high school football last fall, Ohio State never wavered in its commitment to him. Hartline wasn't overly concerned about him taking a year off, noting after the Buckeyes signed Cooper in December that body should be fresher coming into Ohio State as a result. And because Hartline and Bailey immediately made it clear to Cooper when he transferred schools that he had their support, it solidified his choice to become a Buckeye.
"When everything first happened, telling Coach Kee and Coach Hart, that day is when I knew like, 'All right, these are some good coaches, they got the best interest in me,'" Cooper said. "Because everyone was asking me like, 'Do Ohio State know? You still going to go there? Do I still got the offer?' But Coach Hart and Coach Kee was telling me like, 'Once you're a Buckeye, you're a Buckeye.' They knew I could play. 'Just come in and work, everything gonna be good.' So they just stayed solid with me through the whole time, so that's when I knew like, this is where I need to be then."
While another year of high school football certainly could have helped Cooper in his development before coming to Ohio State, last fall taught him how to deal with adversity and how his opportunity to play the sport he loves could be taken away from him at any time. Most of all, it reinforced just how much football means to him, and increased his hunger to become an impact player for the Buckeyes as his college career begins.
"It just proves how much a person really wants it," Cooper said. "A lot of people, you got a year off of not doing something, certain people they might just sit around, have fun with it. It just tells you how much you really want it, what you coming for."
---
While Cooper wasn't able to play in any football games last fall, he continued to work at his craft. He participated in regular training seasons during the week with Roren Thomas, a former Lindenwood wide receiver who briefly played for the Jacksonville Jaguars, and on weekends with Terry Fenton, the wide receivers coach at East St. Louis High School.
By the time he arrived at Ohio State this winter, though, Cooper was itching to start practicing with a team again.
"Even when we're going through workouts, when it's hard, I'm just thinking like 'Why we can't get a football out here? Why we can't get a football out here?'" Cooper said in February. "But I can't wait for the actual football to start."
Unfortunately for Cooper, and every other player at Ohio State and the rest of the nation, football was put on hold for him once again after just three spring practices due to COVID-19. He missed out on the opportunity to play in his first spring game, which his mother was planning to come to Columbus to watch, and is now forced to deal with the uncertainty of whether he'll be able to play this fall, once again.
Assuming there is a season, though, Cooper expects to prove he belongs on the field as a true freshman and contribute for the Buckeyes this fall.
"I expect to get on the field," Cooper said. "I'm not gonna say I'm gonna start, but I expect to get on the field. There's some guys ahead of me, but I feel like the way our receiver room and how it works, I feel like I'm gonna be able to get some reps in, learn from the older guys and just be able to develop. And when my time fully comes in, that's when my time comes."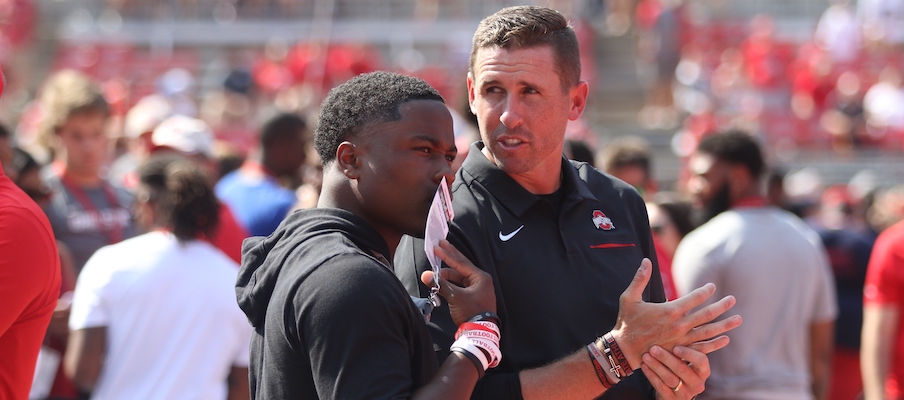 Cooper faces substantial competition to earn a spot in the wide receiver rotation in 2020. Garrett Wilson is expected to start at slot receiver, the position Cooper is also expected to play, after playing outside last season. Fifth-year senior Demario McCall is trying to finally earn a spot in the rotation in his last season at Ohio State, as will C.J. Saunders if his sixth year of eligibility is approved. Fellow true freshman Jaxon Smith-Njigba also began the spring practicing in the slot.
That said, Cooper offers a different skill set than most of Ohio State's other wide receivers. He's one of the shortest receivers on the roster at 5-foot-10 and 195 pounds, but he has an excellent combination of lateral agility and speed to go along with demonstrated toughness and a willingness to block. And while the young receivers are the ones who could be hindered most by this year's lack of spring practices and months away from campus, Hartline has expressed that the best receivers will play regardless of their age.
"Sitting out his senior year, there'll be more to find out," Hartline said of Cooper. "But I think the skill set's through the roof. He's very twitched up, very quick. He's pretty straight-line fast, too. And I think he tracks the ball really well. He's going to provide mismatches. And I'm thrilled to be having him. He's got a skill set maybe in our room that we don't have a ton of."
Having played both running back and receiver in high school, Cooper offers the potential to be used as both a pass-catcher and a runner in Ohio State's offense, though Ryan Day's Buckeyes have trended away from using slot receivers as hybrid players like Urban Meyer's Buckeyes did with Curtis Samuel and others. Two of the most similar players to Cooper on last year's roster – McCall and Jaelen Gill – didn't see the field much, and Gill has since transferred to Boston College.
Nonetheless, Cooper isn't worried about being underutilized in Ohio State's offense, because he expects to make it clear with his efforts in practice that the Buckeyes need to get him on the field one way or another.
"Everybody's different, but I just know my attitude coming in here, the workouts and everything, they're hard but I just know where I'm trying to get with this program and where I'm trying to get playing here," Cooper said. "So I just feel like I just keep that in my head and keep working till I get what I want to get."
Cooper has the potential to be a game-changing playmaker for both the offense and the return game at Ohio State, and after already experiencing a fall without football last year, he's going to be as hungry as he's ever been to make plays once the Buckeyes get back on the field.
"I just want to help as much as I can," Cooper said. "I know our wide receiver room is big, but I'm just going to work on busting my tail every day, and then just whatever the coaches feel like is the best spot for me to go, I'm going to just do that."
And Gibson, who says she's his "No. 1 fan," is also eagerly awaiting the opportunity to get to watch her son play in Ohio Stadium.
"I'm looking to just get out there and scream and see it and be supportive of him," Gibson said. "This is the best feeling, this is like the ultimate reward as a mother, to be able to see your child just do great things."