Along the way, Demario McCall became something of an Ohio State cult hero in the past half-decade.
Maybe it was his laid-back attitude or the warm smile that appears on his face any time he gets to talk about football. Or it was his infectious personality that feels looser and more unfiltered than most players. Of course, his electrifying playmaking ability combined with track-runner speed had something to do with it, too. The photos of him on dirt bikes and holding pieces of bread as though they were stacks of cash didn't hurt his likability one bit, either.
One way or another, his popularity long preceded his on-field production in Columbus. As a result, it felt as though he might break out just about every year since he arrived on campus in 2016.
When McCall committed, he said he thought he'd be able to play immediately, and he did. He carried the ball 49 times for 270 yards and three touchdowns, adding four receptions for 84 yards and a touchdown. McCall's next step to become a featured weapon in the Buckeyes' offense, however, never came. In the three following seasons combined, he touched the ball only 55 times on offense.
Now, as he prepares for his fifth and final season at Ohio State, he's an afterthought, which nobody could have foreseen. His name rarely comes up in conversations about how the Buckeyes' offense will operate in 2020 even though they're looking to replace starters at both running back and H-back.
And perhaps most incredibly, we still don't even know what position he'll play.
During his recruiting process, Urban Meyer told McCall he reminded Meyer of Percy Harvin, imagining the former North Ridgeville star as a dynamic H-back with the Buckeyes. After his freshman season, McCall called himself a running back, saying, "I don't want to be an H-back," while also noting he'd play the role in order to get onto the field as early as possible. He opened spring practices with the running backs, with Tony Alford saying he'd fight to keep him there. Once the fall of 2017 came around, though, he was with the wide receivers as an H-back.
That was three years ago, and we still don't know what position he'll play. 
"It's something that we've always tried to find that role for him where he can be a running back and also be a matchup problem for teams like that. It didn't quite play out like that."– Ryan Day on Demario McCall's role
This spring, McCall spent the first three practices primarily with the wide receivers, even after Master Teague got injured, leaving Steele Chambers as the only scholarship running back in Tony Alford's position group. He also spent the majority of the 2019 season with the wideouts. 
Does that mean he'll play receiver as a redshirt senior this fall?
"Only time will tell, man," McCall told Eleven Warriors in December at Fiesta Bowl media day. "Only time will tell. That's all we can do."
The lack of understanding of how he fits into the offense no longer frustrates McCall in the way it once did, he said.
"Not no more," he said in December. "Not like I used to. I've learned to live with what it is. Just get better every day."
Really, how could he not have gotten used to it? 
Just last year, he went through the positional roller-coaster again. McCall spent time with the running backs throughout spring practices in 2019, began preseason camp in the backfield, then ascended to the point where Alford deemed him Ohio State's top backup tailback to J.K. Dobbins in late August. But that didn't last. Dobbins served as a bell-cow running back, setting the program's single-season rushing yards record, while Teague accrued 789 yards and four touchdowns as his backup.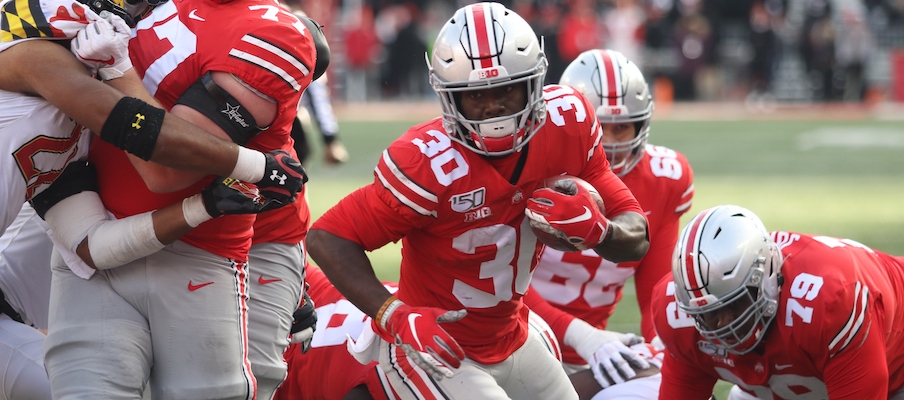 McCall played only 90 snaps the entire season, managing 18 carries for 122 rushing yards and two touchdowns on the ground while adding four receptions for 28 yards.
"It's something that we've always tried to find that role for him where he can be a running back and also be a matchup problem for teams like that," Day said in March. "It didn't quite play out like that (last year). And I think a lot had to do with how well J.K. was playing. It was hard to take J.K. off the field last year. And same thing with K.J. (Hill). We got into a rhythm a little bit of K.J. was in the slot and then we were getting some 12 personnel. 
"So we never got quite that far with Demario."
Same story, different year. Amazingly, it might happen again in 2020. Day essentially wrote an identical script while speaking during his final in-person press conference before the coronavirus pandemic sent everybody home in March.
While McCall began spring camp with the wide receivers, Day said he expected the 5-foot-9, 195-pounder to also spend time with the running backs in the spring. He planned for McCall to "do both of those things."
"He has that skill set," Day said.
Ever heard that before? You probably have. Every single year.
At this point, it's understandably hard to believe this will be the season McCall's breakout happens considering he's seemingly been on the precipice of one ever since he arrived in Columbus over four years ago. He's dealt with injuries. He's been unable to find a role on the offense. He's gone from people constantly asking, "Why isn't he on the field?" to being an afterthought.
This year, if McCall manages to secure a consistent role in Ohio State's offense, it would likely have to come in the phantom hybrid running back/H-Back role that has been phased out of the offense in recent years. The addition of Trey Sermon potentially gave the Buckeyes a full-time running back to rely on as a starter, and Brian Hartline's move of Garrett Wilson to the slot – if it's permanent – was the latest step to turning H-backs into true inside wide receivers. 
It would seem as though someone with McCall's ability to break off chunk plays would encourage Ohio State to find a way to fit him into the offense. Yet as the offseason drags on, your guess is as good as anyone else's when imagining how he'll fit into the plans this fall.
Only one thing's a certainty. This year will be the last chance McCall gets to make a name for himself on the field as a Buckeye. Quite literally, it's now or never.
Welcome to Demario's Last Dance.