If there is one thing you need to know about Demario McCall, it is that the only time he feels anxious is far away from the football field.
"I don't really get nervous," McCall said at Fiesta Bowl Media Day in Arizona on Dec. 29. "To be honest, the only time I got nervous is when I used to run track. Before the gun went off. But when it comes to football, that's natural."
In brief appearances this past season, McCall displayed an uncanny ability not many human beings possess on the football field. He only played significant snaps in garbage time against Bowling Green, Nebraska and Maryland but made an impact. In all, he played in six games for the Buckeyes and tallied 49 carries for 270 yards and three touchdowns.
"I feel like I had a good season this year. Felt like it could have been better but it is what it is," McCall said. "I feel like I'm going to grind to have a better season next year."
"We have a lot of talent. Lot of good guys. Just gotta work for a spot."– Demario McCall
McCall arrived at Ohio State last summer and the Buckeyes generously listed him around the 180-pound mark. Standing at 5-foot-9 and with electric feet, terrific ball skills and a million-dollar smile, running backs coach Tony Alford said in November McCall was next in line at tailback behind co-starters Mike Weber and Curtis Samuel.
"We're gaining more trust and more faith in him and he has earned that and he's earned that through his practice time and his practice habits," Alford said, before noting McCall had gained about 10 pounds since arriving at Ohio State.
With Samuel now gone to the NFL and the Buckeyes desperately needing game-breakers both in the backfield and at H-back, McCall is a prime candidate to fill the void in 2017. He also wants it desperately and has a plan to get there.
"There are things I could have did better but other than that, I feel like I'm all right," McCall said. "Make sure I get my weight better, get faster and be ready to compete."
McCall said the Buckeyes want his playing weight to hover in the 195-200-pound range his sophomore season, which means a heavy consumption of food and even more workouts with Mickey Marotti from now until August. That isn't out of the ordinary, though, from his first full year on campus.
"I've never ate this much before in my life," McCall said. "At Ohio State, I've never ate this much compared to at home. They feed us crazy."
Being a consistent contributor means you have to be able to stay on the field, and playing high-level football brings plenty of hits along with it — especially in the Big Ten.
"I was a little worried because he's so little," Meyer said after the Buckeyes beat Maryland 62-3, a game in which McCall found the end zone once and ran for 53 yards on 13 carries.
Meyer's offense demands a star at H-back. McCall feels like he can be that guy, even if he would rather play running back.
"I'm a running back. I don't want to be an H-back but I want to get on the field more," McCall said. "So that's what I'll do.
"Coach Alford is my buddy, he wants me to stay with RBs. Stay with him. Stay in his room. But if it works for me [to play H] to get on the field and get more playing time, it is what it is."
Meyer stressed on more than one occasion during the 2016 season that McCall needed to have better ball security, put on more weight and know the ins and outs of Ohio State's playbook in order to field more snaps in the future. But even Meyer cannot deny the potential McCall has at speeding away from defenders.
"I see the same thing, but I also see that thing come out a little bit. And we gotta get that fixed," Meyer said on Nov. 7. "Until he learns to be secure with the ball, it's not going to be intriguing at all; he's not going to play."
But McCall's vibrant personality is already permeating through Ohio State's fanbase. There is a Twitter account solely dedicated to posting photos that exude his charisma, confidence and consistently pleasant outlook on life. Those always makes him a prime candidate for a dynamite quote.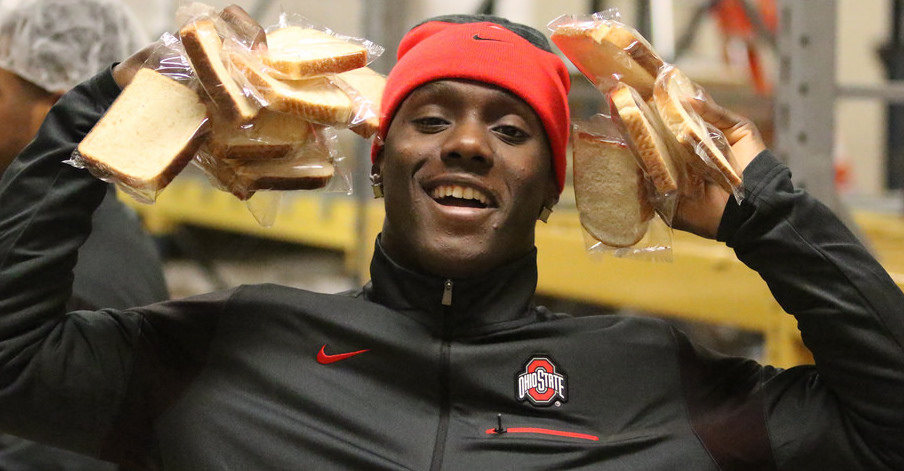 "Without confidence you can't really, you can't be yourself. You can't ball how you want to ball. Confidence is everything," McCall said. "There's a difference between being cocky and being confident. I feel like confidence is you just being able to go out and, I know what I'm capable, I know what I'm able to do. Cocky is talking trash, you know."
Does McCall talk trash? He doesn't consider that part of his arsenal. Unless, of course, certain situations transpire.
"I mean, I will if I got to. If you've been yapping at me, I'm gonna talk to 'em," he says, beaming.
McCall is going to keep smiling no matter what happens next season for him at Ohio State. That is just the way he is wired.
But he wants it to be big and fully recognizes he could be a star on a team starving for playmakers following the departures of Samuel and Noah Brown.
"Coming in, I expected more but it is what it is," McCall said. "We have a lot of talent. Lot of good guys. Just gotta work for a spot."