Typically, the number of players taken from a given college football program has a fairly strong correlation to its health.
That's the case with Ohio State, which had at least 10 players drafted – marking the sixth time it's had double-digit draftees. It has had the second-most players picked in the past five years.
Chase Young (No. 2 overall) and Jeff Okudah (No. 3 overall) got it started in the 2020 NFL Draft on Thursday, and Damon Arnette (No. 19 overall), J.K. Dobbins (No. 55 overall), DaVon Hamilton (No. 73 overall), Jonah Jackson (No. 75 overall), Malik Harrison (No. 98 overall), Jordan Fuller (No. 199 overall), K.J. Hill (No. 220 overall) and Jashon Cornell (No. 235 overall) followed them.
Here are seven initial takeaways about some of the former Buckeyes who got picked up during the three-day draft.
Why Recruiting Top-End Prospects Matters
Talk about perfection. The paths Young and Okudah took – because, truly, they're the exact same – epitomized the word.
Five-star recruits. Picked Ohio State over numerous other top programs. Sat behind future pros as freshmen. Stepped into large, starting roles as sophomores. Turned into All-Americans as juniors. Became top-three overall picks in the 2020 NFL Draft.
Really, neither of them had even the slightest of hitches in their respective developments. Both Young and Okudah are shining examples of what can go right when two top-of-the-line talents fulfill their potential in college.
They also, though, underscore the importance of the Buckeyes continuing to rein in five-star recruits on the trail. That's not exactly news. Everybody has an idea about how important it is to get the top-end prospects, and anyone who doesn't believe in recruiting rankings is lying to themselves. But sometimes it's good to get a reminder, such as Young going No. 2 overall and Okudah getting selected one pick later.
This is what the best programs do. They reel in the nation's most coveted prospects, develop them and send them to the NFL as finished products. In best-case scenarios, which the Buckeyes showcased on Thursday, they turn top-10 prospects into top-10 draft picks.
Yes, lower-rated recruits can turn into top NFL prospects. Joe Burrow says hello. But the hit rate on five-stars far exceeds everyone else, and the Buckeyes just showed on Thursday what they can do when they land the country's top recruits.
Ohio State and Michigan both had 10 draftees in the past three days. What separated them? The two Buckeyes who went top-three overall. And how did the Buckeyes get them into the program? By having an absolute recruiting machine captained by Mark Pantoni.
He'll Be Just Fine
It never mattered whether people actually doubted him or not. For the past 16 months, J.K. Dobbins has assumed everybody's against him. 
Before the 2019 season began, he was his own nonbeliever, talking about how he regressed as a sophomore and needed to get back to what he did as a freshman. Throughout his junior year, he frequently referenced skeptics. Whenever questioned who still was sleeping on him, Dobbins never had names. He instead just delivered variations of, "I feel like people are doubting me," which he said in late October. By the time the season ended, Dobbins had an Ohio State-record 2,003 rushing yards. Literally nobody could still scoff at his accomplishments anymore. 
But over the past few days, Dobbins got an added dose of fuel. He both slipped to the 55th overall pick and watched four other running backs get picked ahead of him. Eventually, he landed with the Ravens in Baltimore, where he'll join Lamar Jackson and Mark Ingram in the backfield. A good situation and a quality organization.
Sure, Dobbins might've had a longer than expected wait on draft night, but he's done quite well with doubters in the past. He'll do more than all right in the NFL. 
A Nearly Non-Replicable Example
Not often does athletic director Gene Smith take to Twitter to recognize an individual player. On Friday afternoon, he made an exception for Damon Arnette.
Last year, he decided to come back to Ohio State to complete his degree and play one more season.

Last night, he became a first-round NFL draft pick. Congrats to @damon_arnette & all of our Buckeyes! #GoBucks pic.twitter.com/F6NkmDP8P6

— gene smith (@OSU_AD) April 24, 2020
Arnette deserves all the props in the world for the development he made in the past year, which culminated with the Las Vegas Raiders selecting him 19th overall on Thursday. But if Smith – and he's not alone – is pointing out Arnette's path as an example that others can follow, that's a bit unfair. What he did was improbable and damn near impossible to replicate.
Heck, he's not even supposed to be here, going through this process, right now.
Arnette fully expected to enter last year's NFL draft. He had returned to Columbus to pack his apartment up when he met with Jeff Hafley and talked to Buckeyes legend Cris Carter, both of whom convinced him to stay for a fifth season. As he revealed on the Daddy's Ball Podcast, he was so set on the 2019 draft that he had to graduate in the summer or else he wouldn't have even been eligible to play for Ohio State last fall because he hadn't been keeping up with his classwork in 2018.
If Arnette had taken the pro route a year ago, he'd likely have been a mid-to-late-round pick, and it wouldn't have come as a complete shock if he went undrafted. Though he already had about two years of starting experience, he had clear flaws.
By getting his degree and sticking around for a fifth year to start under Hafley, Arnette rewrote his legacy, became a first-round pick and will soon sign an eight-figure contract.
Smith and Day can use him as an example for the rest of their time in Columbus, and they should. What Arnette did was incredible. But what made his journey so amazing also makes it improbable that others will follow his path. 
A Band-Aid Transfer Success
Not all transfers are made equal.
Getting Justin Fields from Georgia altered the trajectory of the program. Landing Rutgers interior offensive lineman Jonah Jackson didn't do anything quite as drastic. But it mattered. It mattered a great deal to a line that both needed additional depth and had a gaping hole at left guard. 
Jackson, in a sense, was a band-aid. A fifth-year senior, he was brought in as a one-year solution to make up for Ohio State's past mistakes in recruiting and the development of offensive linemen. It paid off in the fall for both parties, with Jackson steadying an offensive line that was a Joe Moore Award finalist while becoming a first-team All-Big Ten selection.
On Friday, the Detroit Lions picked him 75th overall in the third round. 
The plan worked for Jackson, whose draft stock rose while playing on a winning team for the first time at the collegiate level. But it also worked for the Buckeyes, who showcased their recently implemented strategy of adding graduate transfers to cover up previous errors. 
Oklahoma transfer running back Trey Sermon is next. We'll see both what he can do for Ohio State this fall and how high he gets picked a year from now.
Another Off The Larry Johnson Assembly Line
The first inkling anybody had that DaVon Hamilton might make some sort of leap came in July when Ryan Day said Ohio State was "looking for big things" from him after getting into better shape in the offseason. He said Hamilton "has a chance to change the line of scrimmage for us up front."
As it turns out, he was right.
Hamilton had – by far – his best season yet as a redshirt senior, racking up 10.5 tackles for loss and six sacks. The Big Ten media and coaches both voted him third-team all-conference, and on Friday the Jacksonville Jaguars made him the 73rd overall pick. For somebody who at this point a year ago most viewed as a backup to Robert Landers and an undrafted free agent, it was a remarkable rise.
His ascent, leading to a third-round selection, is largely a testament to three people: Hamilton, Mickey Marotti and Larry Johnson. None of this happens without a boatload of work from Hamilton, who was once ranked the No. 998 overall recruit in his class, and Marotti aided the defensive tackle in his physical transformation. 
But for Johnson, Hamilton represented just one of his latest success stories. He now has had 11 Buckeyes drafted between 2015 and 2020, including eight selected in the first three rounds. As long as Johnson remains Ohio State's defensive line coach, don't expect the well to dry.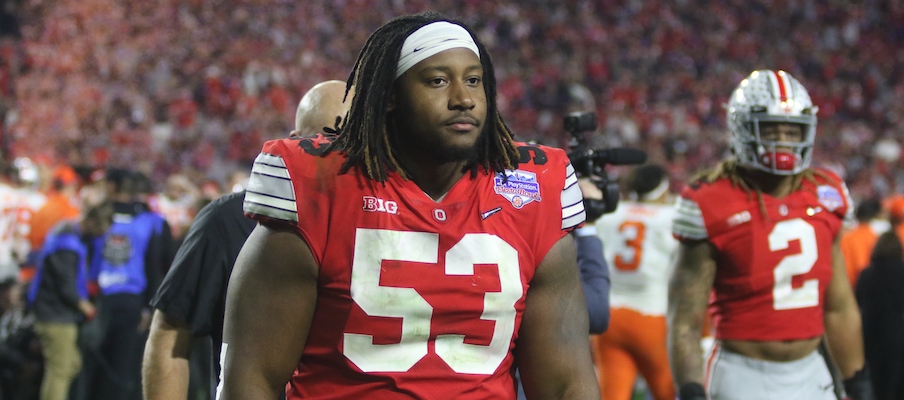 The Value...
Out walked Dwayne Haskins. Parris Campbell, Terry McLaurin and Johnnie Dixon left too, holding the door open for K.J. Hill. He easily could have left for the NFL, too, after catching 70 passes for 885 yards and six touchdowns. He might've been a mid-round pick.
But he didn't leave. Not with Justin Fields coming into the fold. He wasn't ready to go yet.
"I wanted to leave with no regrets," Hill told Eleven Warriors last February. "I wanted to put everything I could into my overall career, and here at Ohio State. So I stayed, so I wouldn't have no regrets."
Hill stayed to leave a lasting legacy, which he did by becoming Ohio State's all-time leading receiver with 201 catches. So, who could have ever guessed he'd have to wait 220 picks to go off the board on Saturday?
Not his father...
Forgive me..Im so confused. (1)No off the field issues (2)All time leader in receptions (3)Sure hands (4)Superb route runner (5) Great film for days (6) Gives it all he has (7) Great character and good human being. So a 4.6 40yd time, has done all this. Not adding up.

— Montez THE ICEMAN Peterson (@mjpeterson6767) April 25, 2020
...or anybody else, really.
Yes, Hill disappointed with a 4.6-second 4-yard dash at the NFL Combine. Yes, he doesn't have quite as high of a ceiling as other wideouts. But for someone whom many projected as a mid-round pick, Hill having to wait until the seventh round for the Los Angeles Chargers to call his name was nothing short of surprising.
Hot take alert: Getting Ohio State's all-time catch leader in the draft's final round is a coup. 
A Quality Signing
Nobody had to question why Branden Bowen didn't get picked on Thursday, Friday or Saturday.
His injury history dug him such a hole that he likely was never on many NFL teams' draft boards. Bowen fractured his tibia and fibula in the first quarter of the sixth game of the 2017 season. Not only did it end his season, but because he required a second surgery, he also missed the 2018 season. Not until 2019 did Bowen get back onto the field. 
Finally healthy, he put together a consistently solid redshirt senior season that flew a bit under the radar. After beating out a former five-star prospect – Nicholas Petit-Frere – to start at right tackle, he earned second-team All-Big Ten honors from the conference's coaches. 
Did that put him on NFL radars? Yes. But ultimately did the leg injury hold him back? Yes, especially since the altered pre-draft process led to uncertainty with the medical information of players – such as Bowen – who didn't get NFL Combine invites.
If he had no injury concerns, there's no chance that 255 picks would have passed without his name popping up. But that led to him going undrafted, leading to the Carolina Panthers snagged him as a free agent.
Nothing's ever a guarantee in the NFL. But if Bowen stays healthy, he's got enough size, positional versatility and talent to make a roster. Carolina bought low on somebody who, if things can finally break right for him, could conceivably have a multi-year NFL career.