The M-V-P chants began when he first took the field.
Cardale Jones was already the face of the DC Defenders prior to their first 1st down, and it was all part of the plan. Nineteen years after the XFL's only other season, the league is back and rebooted not as the sensationalized, professional wrestling-inspired alternative to the NFL that it was created to be in 2001. It's a different type of emotional play now.
The XFL's Take Two takes cameras and microphones into locker rooms, huddles and sidelines - right after big plays, to get fans better acquainted with the player who made it happen. It's a Take Two platform for players like Cardale, who drips a rare combination of skill, affability and empathy that even casual fans flock to. This is far better than watching him on the sideline with his helmet off, or reading that he's on a scout team.
You want to root for him. Lifelong DC Defenders fans already love him. This is the XFL's formula, and he is its primary ingredient.
The most enchanting Ohio State Buckeye since Archie Griffin will be playing professional football on national television for at least the next nine weeks, and this moment - his moment - was over a decade in the making.
TAKE ONE
Cardale dripped out of the same Glenville Pipeline first that produced Troy Smith, Donte Whitner, Ted Ginn, Bryant Browning, Ray Small, Jermale Hines, Marcus Hall, Christian Bryant, Erick Smith and later Chris Worley and Marshon Lattimore.
He would be joining the caravan that led from Ted Ginn's Academy to Jim Tressel's. This scouting report from 2010 is still dead-on a decade later.
Cardale Jones, a 6-foot-5, 210-pound junior whose emergence over the playoff run as been a big reason for the Tarblooders' success. Jones, who has an offer from Bowling Green State University already, has steadily improved in his first season at the controls of the offense. Jones will look to throw first, but can run and use his size and athleticism to his advantage.
Cardale's recruitment didn't break the internet, because the internet was obsessed with Braxton Miller - he was the coveted quarterback that recruiting season. Also, Cardale grew up a Michigan fan and had a scholarship offer from Rich Rodriguez. Welp.
Besides, we weren't even really sure what his name was. Was it Cardale or Cordale? He called himself Cordale, but...he was a bit of a joker? Didn't matter. Cordale was Cardale, and Cardale was a man-child. Huge body. Huge arm. Huge personality. Huge pipeline. But Braxton was the future. Better Ohio State's bench than Michigan's roster.
TAKE TWO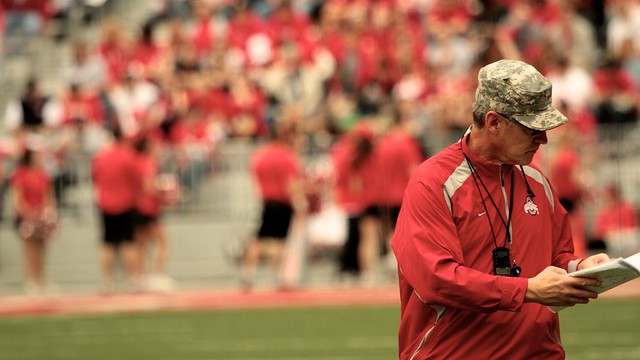 Exit Tressel, the engineer of the Glenville Pipeline. Cardale's letter of intent was the very first one received by Ohio State's fax machine that February morning, but he switched to a grayshirt and attended Fork Union Military Academy out of high school for Luke Fickell's interim season and Miller's first season at quarterback.
Buckeye fans hadn't thought about FUMA since former Penn State linebacker recruit Eddie George passed through it on his way to Columbus in 1991. They didn't give it too much thought. Tatgate was devouring the program and they just wanted 2011 to end.
Cardale roomed with future NFL Offensive Player of the Year Michael Thomas at FUMA. The hype for Cardale's impending arrival In Columbus in 2012 - with Miller beginning his sophomore season as the returning starter - was basically non-existent.
Cardale was depth. Cardale was Pipeline. Cardale would be on the sideline.
TAKE THREE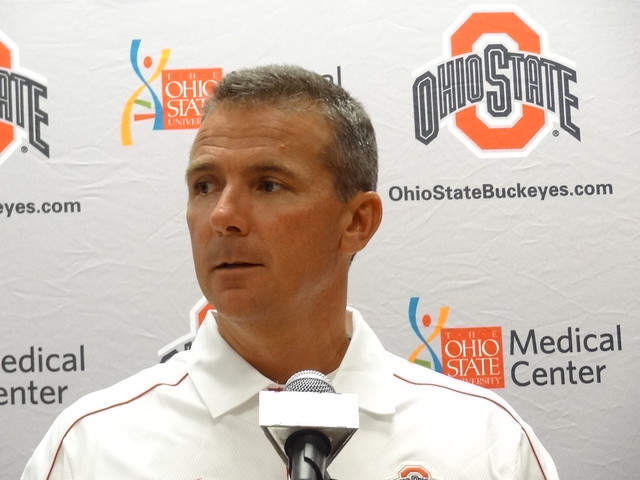 Enter Urban Meyer. Enter Tom Herman. Enter J.T. Barrett. Kenny Guiton was already there. The QB room was now not only full, it had a viable position coach as well. From 2012-2013, Cardale completed one pass and rushed for 17 yards. But that's not what people remember about Cardale from 2012-2013.
TAKE FOUR
#TBT still can't believe I tweeted something as stupid as this but hey, we live and we learn, after your religion/ pic.twitter.com/mqCLK2uEHw

— Cardale Jones (@CJ1two) April 2, 2015
See his original Twitter handle? See it? Cordale. We were fooled. But - spoiler - we were also wrong. 
TAKE FIVE
Exit Miller, whose quarterback career ended in fall camp. Everyone in the queue moved up one. Cardale, the kid known for the tweet, was now Ohio State's backup. Scary! Number 12 in your program, number three in QB evaluations and now number two on the depth chart.
He conducted janitorial services during the 2014 season, cleaning up after blowouts and occasionally delighting audiences by lighting up his high school teammate or leaping hapless defenders in a single bound.
Turned out Cardale was kind of fun! But mostly because he only played whenever the Buckeyes were winning by insurmountable points. Cardale only showed up when winning was happening!
TAKE SIX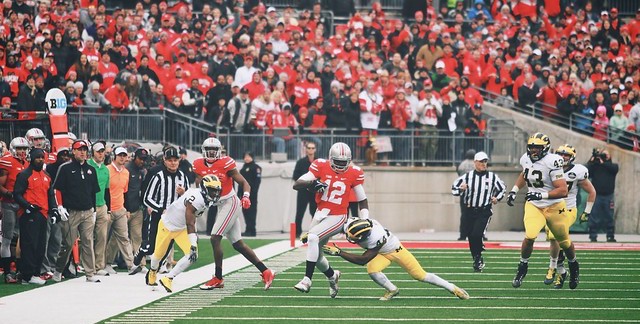 Exit Barrett. Jones took 12 total snaps against his favorite team from his childhood in his college career, and three of them were victory formation kneel-downs. All he had to do was not mess up Brady Hoke's funeral pyre, and he didn't. 
Cardale only showed up when winning was happening. Exit Michigan. Exit Hoke.
We learned after the game that his teammates called him 12 Gauge. We then learned a lot of people cannot spell gauge correctly. We needed to learn as much as possible, quickly, about Ohio State's only viable quarterback heading into the B1G title game, because the only thing we recalled at that moment was that tweet.
The Buckeyes had just beaten Michigan, lost its quarterback - again - in the process, and Cardale was suddenly being hunted by photographers during Carmen Ohio for the first time in his career. Here's how he looked at them.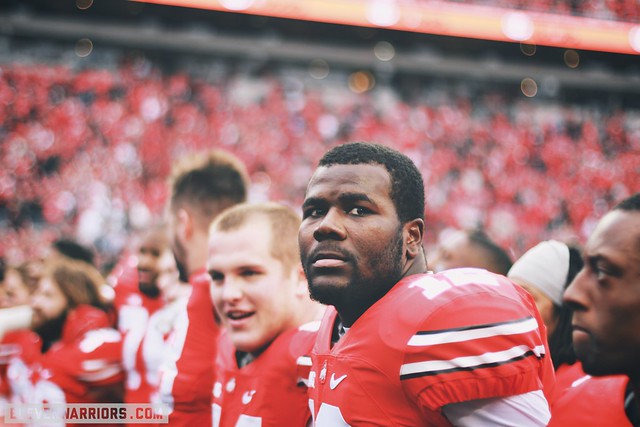 Look at his face, man. Wisconsin was dead and didn't know it. We didn't know it. He did.
TAKE SEVEN
Cardale's first-ever start was in the Big Ten championship game. It went just fine. Exit Wisconsin. Exit Paul Andersen.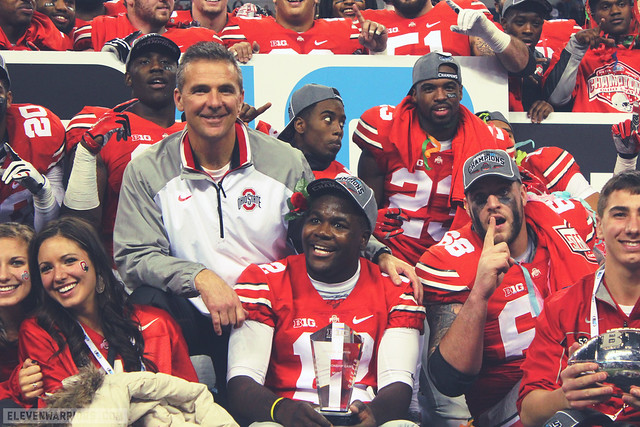 His performance eradicated any doubt from the committee. Ohio State covered the spread in a championship game - as an underdog - by 62.5 points with its 3rd string quarterback. He pulled the Buckeyes from No.6 to No.4 in the final playoff rankings. Cardale only showed up when winning was happening.
TAKE EIGHT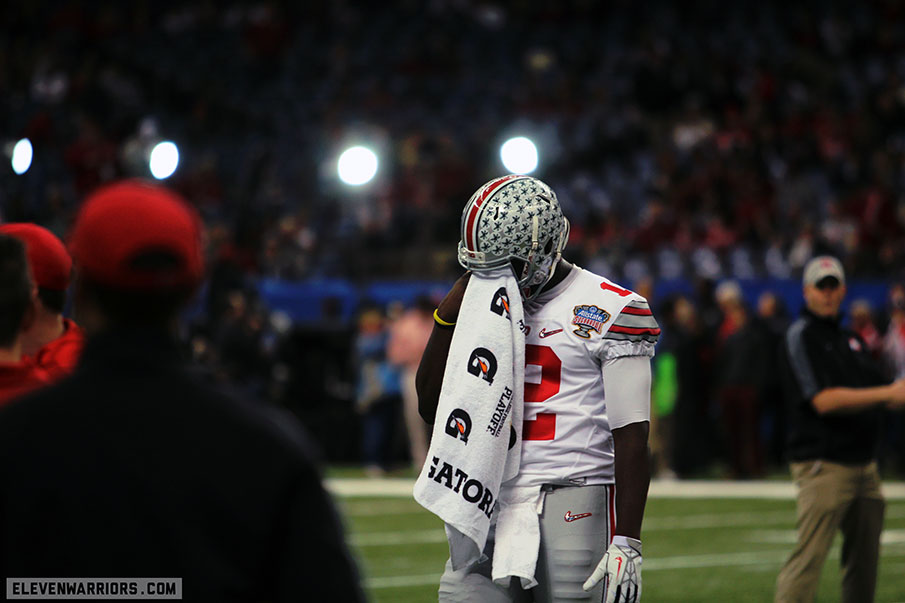 The Sugar Bowl against the Crimson Tide was Cardale's second college start. It went just fine.
3rd String pic.twitter.com/fxdFbFSJeR

— Cardale Jones (@CJ1two) January 2, 2015
Look at his face, man. The SEC champions were dead and didn't know it. We didn't know it. He did. Exit Alabama.
TAKE NINE
Third start. Everything slowed down. He was made for this. We didn't know it. He did.
Cardale was surrounded by reporters and told his roommate Tyvis Powell that he shouldn't have walked out on his mother all those years ago. No one was beating this team, and to date the only thing that had defeated Cardale Jones was Cardale Jones.
Oregon's Heisman winning quarterback looked like the less confident one between the two. Ohio State won the national championship with its affable, talented, accidental starting QB. Exit Oregon. Exit 3rd string.
Cardale had solved the puzzle. He stayed in school. He seized the moment his own way. And he still hadn't started a garden variety college football game yet. Cardale still only showed up when winning was happening
It was the most remarkable three-game stretch in Ohio State football history, and it could not have happened without him.
TAKE TEN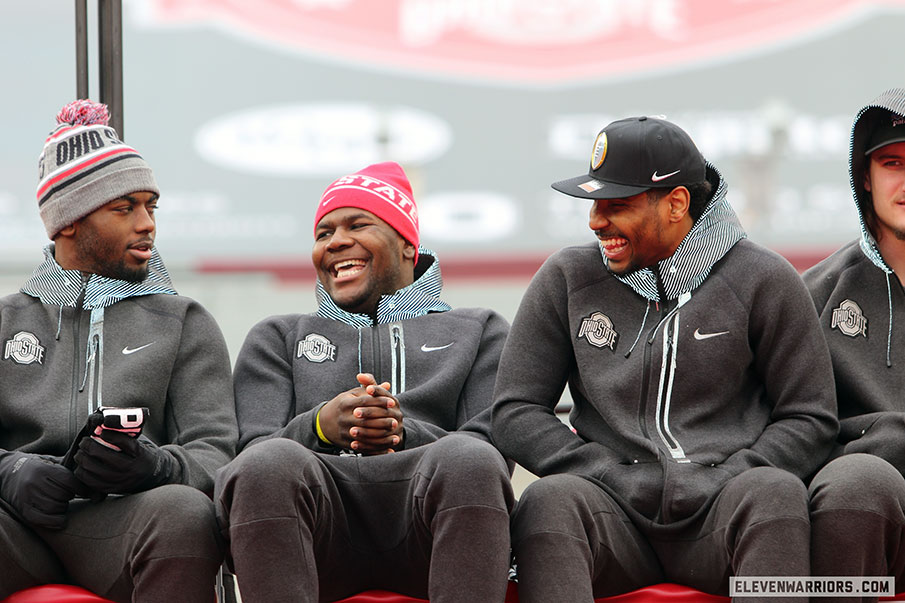 Cardale began appearing in good places, unannounced (or perhaps we just started notcing those appearances). He was Ohio State's least arrogant show-off; his alien ability was practically charming. Cardale even put internet trolls in their rightful place beneath a crushing pile of effortless, elegant humiliation.
@DanGustafson1 Sorry Mr master, I aints allow to tweet nothing but foolsball stuff I donts want you think I more than a foots ball playa sir

— Cardale Jones (@CJ1two) July 23, 2015
His position room was now suffering what's commonly known as First-World Problems. Three healthy supernatural quarterbacks. One starter. And then: Exit Miller.
After that:
Ohio State quarterback Cardale Jones on his way to the hospital for a headache per his siblings (via @BuckeyeEdge). pic.twitter.com/UHEZuaHfuA

— Eleven Warriors (@11W) September 3, 2015
Exit Cardale? No! Enter Cardale. No! Exit Cardale. Oh nooooo. Enter Cardale. Exit Cardale again.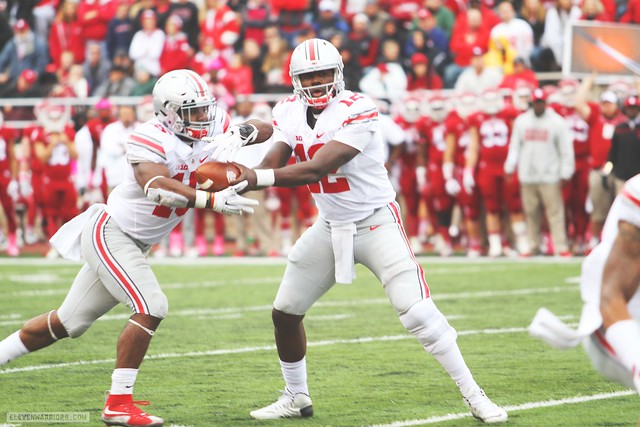 The 2015 season sits alongside 1969, 1998 and several other mostly shiny ones on a shelf that's difficult to look at for longer than a few seconds. Ohio State's coaching staff failed its talent for the better part of the season. It failed both Cardale and J.T..
When that squandered season concluded, Cardale decided it was finally time for a paycheck. He was five years removed from Glenville. He had played supporting and leading roles; whatever his team had asked or needed him to do. 
He was Barrett's phone call from jail in the middle of the night. He was the guy who got out of bed and retrieved the guy who had been keeping him on the bench from the clink. He had never lost a start. Cardale always showed up.
And now it was time to go. Exit Cardale.
TAKE ELEVEN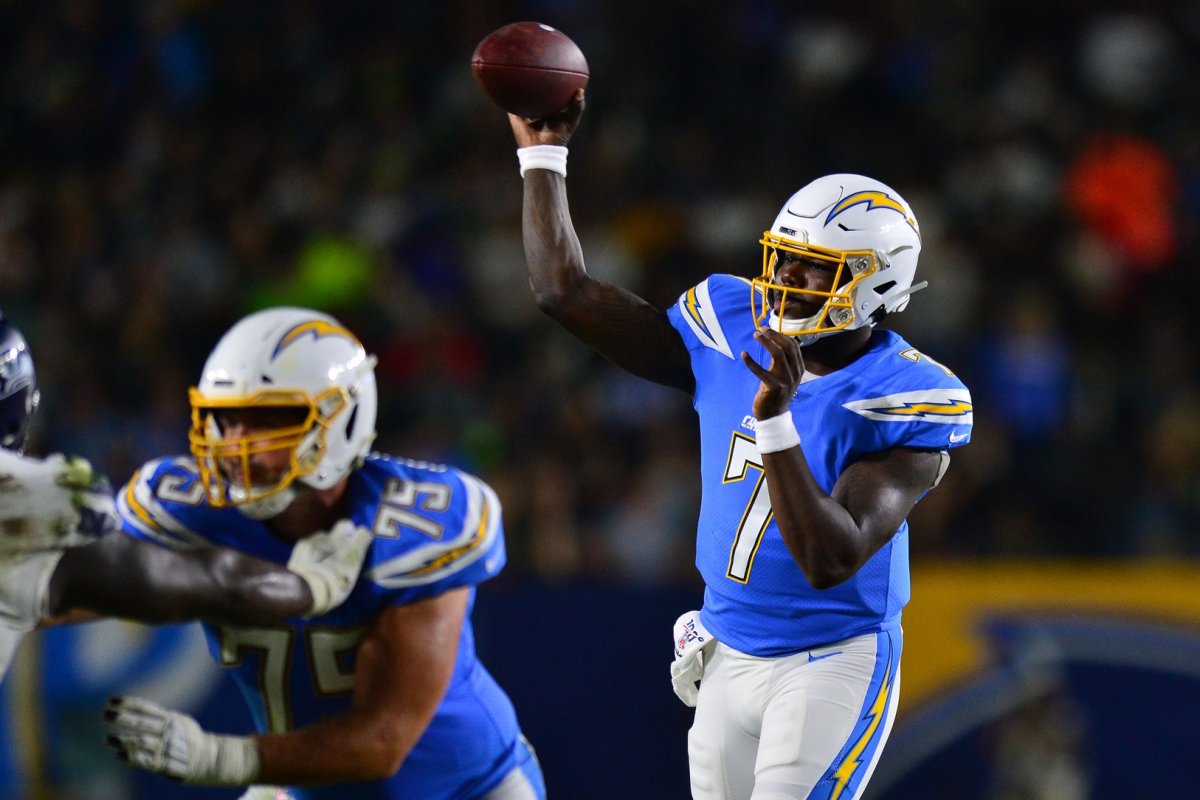 The Buffalo Bills selected Cardale with the 139th pick of the 2016 draft. He was pretty excited.
Mood: When you turn yo dreams into reality @CJ12_ pic.twitter.com/TDma4PSJm6

— Jawn Wick (@comeup216) April 30, 2016
He collected four years of NFL paychecks while on active rosters, scout teams and shuffled from Buffalo to its civic antithesis. He was joyful. Entitlement doesn't have a place in his orbit. So when the XFL knocked on his door, he answered it.
TAKE TWELVE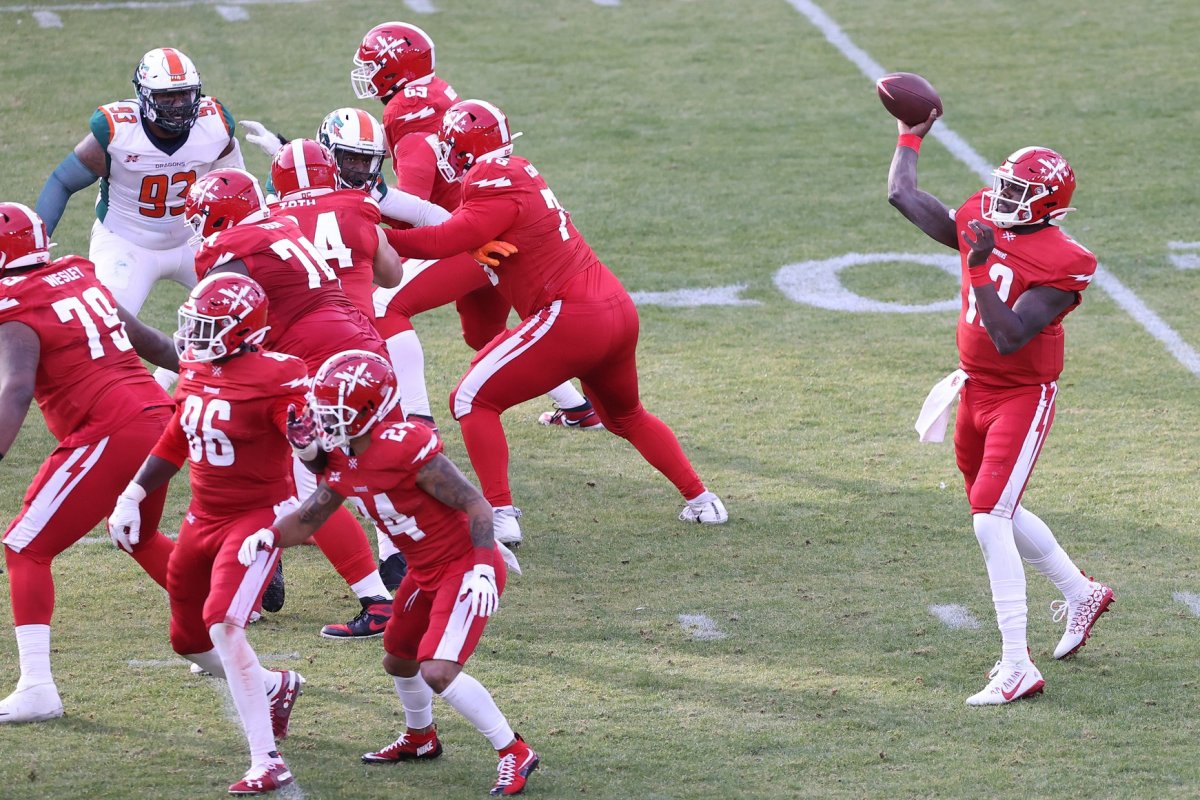 It's one game, but the Defenders won it, the ratings were terrific - and Cardale is still undefeated as a starter since high school. He's now the face of the XFL, the most marketable piece of its Take Two strategy and he still hasn't played a full season of football since he was a Tarblooder in 2010.
He's 12-0, and 12 Guage Gauge is wearing 12 again. He's a starting quarterback playing professional football, and everyone paying attention is paying attention to him. Millions of dollars are riding on Cardale's ability to prove this strategy for a new professional football league is both sustainable and worth keeping around for longer than a hot minute.
Ironically, despite all of his talent, ability and marketability, he's only been able to put together hot minutes up until this point. For the first time since 2015, Cardale Jones is a starting quarterback. But this isn't his last shot.
It's his best one. And a lot of people - including the league itself - is betting on him. Enter Cardale.