What a night.
The last time Ohio State and Wisconsin played football against one another, the Buckeyes averaged 10 yards per play.
Not 10 yards per pass or 10 yards per run. A staggering 10 yards per play.
Urban Meyer's team entered Lucas Oil Stadium intent on making a statement to the College Football Playoff Committee. The Big Ten Championship Game represented the final chance the No. 5 Buckeyes had to show they belonged among the nation's top-4 teams. With No. 3 TCU sitting idle, Ohio State needed to convince the Committee it was playing like one of the four best teams in college football come noon the next day when the final rankings were released.
To say the Buckeyes did that is an understatement. Cardale Jones threw for 257 yards and three touchdowns in his first career start, Ezekiel Elliott averaged 11 yards per carry on his way to a then-career-high 220 on the ground with a pair of scores and nobody could cover Devin Smith.
Ohio State turned everything Wisconsin knew to be normal on its head. Melvin Gordon, the nation's leading rusher and Heisman Trophy runner-up, managed just 76 yards on 26 carries. Joel Stave had to throw 43 times—14 more attempts than any other game that season—because Gary Andersen literally had no other choice. Stave threw three interceptions. The Badgers couldn't move the ball, finishing with 258 total yards and punting eight times.
You get the point. The victory served as the first pit stop in the remarkable, improbable and unpredictable three-game stretch that ended in Dallas with Meyer hoisting the College Football Playoff trophy.
Here are more bits from that game. The next chapter in the Ohio State-Wisconsin series is scheduled to kick off at 8 p.m. Saturday.
Cardale Jones to Devin Smith Part I
In what became a theme throughout the night, Jones chucked the ball downfield to Smith for a touchdown. Smith leapt over Sojourn Shelton and hauled in the 39-yard pass on Ohio State's first drive of the game to what turned out to be an insurmountable lead for Wisconsin.
For as great as the throw and catch was that put Ohio State out front early, Jones' celebration after his first career touchdown toss might even be better.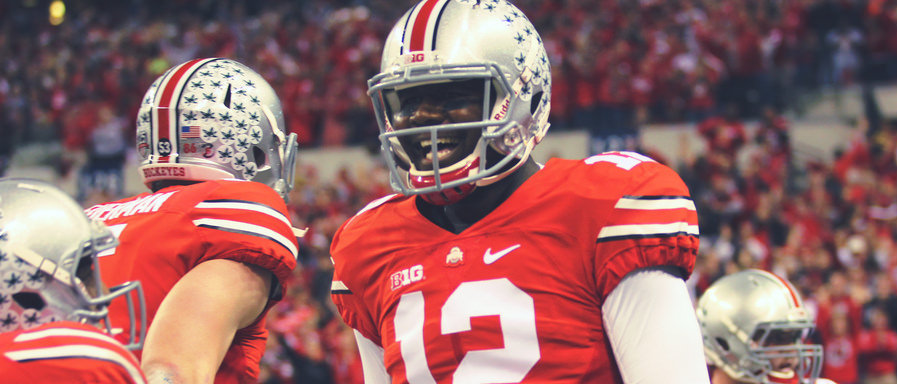 Michael Bennett Makes His Presence Felt
Wisconsin went three-and-out on its first possession, nearly turning it over after Darron Lee's hit on Austin Traylor popped the football out of his hands. The Badgers recovered and tried to run Gordon on 3rd-and-4, only to have Michael Bennett bolt through the offensive line and tackle the running back for a 1-yard loss.
Bennett's jersey pop after the play paid homage to the late Kosta Karageorge, a walk-on defensive lineman who was found dead a week earlier. Bennett, who served as one of the pallbearers at Karageorge's funeral, wore No. 53 to honor his teammate.
The senior finished the game with five tackles, four for loss, a pair of sacks and forced two fumbles—easily the best statistical game of his career.
"Maybe he gave me strength, because I've never played like that before," Bennett said after of Karageorge. "I think he gave the guys strength, because we were able to rally around together and realize how special it is to do what we do with each other."
Zeke To The House
The Badgers and Buckeyes exchanged punts, then this happened.
Perfectly blocked by the Ohio State offensive line, Elliott's 81-yard, untouched streak came at the expense of safety Tanner McEvoy, who tripped over an official's foot as he turned to chase the running back.
McEvoy took a poor pursuit angle, however, so even if he hadn't slipped up the chance he had to stop Elliott is slim. When Elliott crossed the goal line, the closest Wisconsin defender was 5 yards away.
Cardale Jones to Devin Smith Part II
After a few more failed Wisconsin possessions—including Stave's first interception on the night, thrown to Vonn Bell which the Buckeyes turned into three points—Ohio State's offensive line began to assert its will.
Elliott ran hard, Jones had all day to throw and found his receivers with pinpoint accuracy. Then, he stood in the pocket and tossed this dime to his favorite target.
The 45-yard strike to Smith gave Ohio State a 24-0 lead with more than 11 minutes to play until halftime.
Joey Bosa's Turn
Elliott jogged into the end zone untouched for the second time on the night on Ohio State's next possession following Smith's second touchdown reception, this time from 14 yards out to cap a 6-play, 69-yard drive in which Jones was 3-for-3 passing and also scrambled for 8 yards.
The teams exchanged punts, allowing Stave roughly 90 seconds to try and get his team on the board before halftime. But Bennett teamed up with Rashad Frazier for a sack on first down, forcing Andersen to cut his losses and try to go to halftime only trailing 31.
Joey Bosa had other ideas. Bennett stripped Gordon at the 12-yard line as he ran left, Bosa scooped the bouncing ball up right in front of Stave and fell into the end zone.
Cardale Jones to Devin Smith Part III
Ohio State forced a Wisconsin punt on its first drive of the second half, then Jones handed to Elliott three straight times before scrambling once for 20 yards to move the sticks.
Jones then play-faked and looked down the sideline for Smith yet again. The senior wide receiver made his best catch of the day right at the goal line, leaping over corner Peniel Jean and hauling in a slightly underthrown pass for the 42-yard touchdown.
That made the score 45-0 with more than 9 minutes to play in the third quarter.
Zeke's Shoe Goes Flying
A handful of punts, another Stave interception, a Sean Nuernberger missed field goal and a failed 4th down attempt by Wisconsin flipped the game into its final quarter.
With 12 minutes left, Jones turned and handed to Elliott at the Ohio State 28-yard line. Elliott broke into the second level of Wisconsin's defense once again but lost his shoe when a defender dove and clipped his heel. It likely kept Elliott from scoring once again, as Ohio State's star ran out of bounds at the 12-yard line.
With Elliott on the sideline catching his breath and putting his right cleat back on, then-freshman Curtis Samuel hopped in the lineup. Jones handed the ball to him, who burst outside around the left end and scampered into the end zone. Ohio State 52, Wisconsin 0.
Samuel Caps the Slaughter
After Doran Grant hauled in his second interception of the game on a 4th-and-26 prayer from Stave, Meyer put in his backups on offense. Bri'onte Dunn ran five times for 47 yards on Ohio State's final possession, then yielded to Samuel.
Two plays later, Samuel had his second score of the game and Ohio State led 59-0 with 2:25 left.
Stave drove Wisconsin into Ohio State territory as the clock wound down but meekly checked down to Corey Clement on the final play of the game. An effort representative of the entire affair.
---
"I don't think there's any doubt we're one of the top four teams in America," Urban Meyer said onstage after accepting his first—and to date, only—Big Ten Championship trophy.
The College Football Playoff committee agreed with Meyer and informed the world roughly 12 hours later the Buckeyes were ranked No. 4 in the rankings and set for a date with No. 1 Alabama in the Sugar Bowl.
Gary Andersen left Wisconsin for Oregon State a week after losing to Meyer and the Buckeyes. Melvin Gordon announced he was heading to the NFL. Meanwhile, Ohio State beat the Crimson Tide 42-35 then disposed of Oregon 42-20 to capture the national title.
But none of it would have been possible had it not been for Ohio State's pure domination of Wisconsin.