When Cardale Jones stood inside the gymnasium at Ginn Academy in Cleveland way back in January and announced his intentions to return to Ohio State, there was always the possibility of this scenario. There was always the chance he would not be the Buckeyes' starting quarterback during the 2015 season.
And while it obviously didn't happen right away — Jones won the starting job in fall camp and won his first seven starts of the season — it has now come to that point. On Tuesday, head coach Urban Meyer announced J.T. Barrett would be Ohio State's starting quarterback going forward.
"J.T. has earned the right to start Saturday at Rutgers," Meyer said on the Big Ten coaches weekly teleconference. "Just sheer production. … Red zone production, third-down production made the difference.
"It was a very difficult decision."
Ohio State's quarterback situation was college football's most talked-about story line all offseason. Jones, Barrett and Braxton Miller were all more-than-viable options at the time and it was really an unprecedented scenario for one team to have three such highly-accomplished signal callers.
"Cardale is going to be a very active part, too; we hope to keep him very much involved."– Urban Meyer
That's why Jones' decision to return to Ohio State for his fourth season caught many people by surprise. He had an opportunity to strike when the iron couldn't have been hotter.
There was a ton of intrigue surrounding Jones after the conclusion of last season — the one in which he stepped in after Barrett suffered a season-ending injury and helped the Buckeyes win their final three games of the season and a national championship. He was a 6-foot-5, 250-pound quarterback with a cannon for a right arm. All of the physical tools desired by NFL executives, Jones seemed to have.
Jones didn't have much time to make his decision, though; he had just three days to choose if he wanted to return to Ohio State for his fourth season or enter the NFL Draft — where there were some rumblings about him being a first-round pick despite having just three career starts.
Ultimately, though, he opted to return to Columbus. The conversations about Ohio State's quarterback situation really started then.
Miller announced his decision to pull out of the three-man race in July when he revealed he would be switching to wide receiver for his fifth and final season for the Buckeyes. That left the battle between Jones and Barrett and, in the end, Jones was the winner as he started Ohio State's season-opener against Virginia Tech.
But despite performing well against the Hokies on opening night, Jones' next six starts — which were all wins — were up-and-down performances to say the least. He was replaced by Barrett in several of those — most recently in last Saturday's 38-10 win over Penn State.
The result was Meyer's decision Tuesday to permanently replace Jones as the starter.
So it begs the questions: What is next for Cardale Jones? Where does Ohio State's national championship-winning quarterback go from here?
"Cardale is going to be a very active part, too; we hope to keep him very much involved," Meyer said. "Whether it's doing what J.T. did as far as just staying into the game and coaching J.T., I expect to be very similar in that role."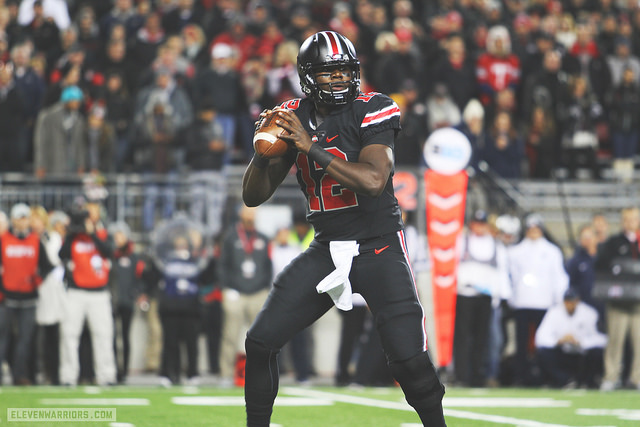 Jones has a big personality; this is not a secret. He's admitted in the past he's dealt with maturity issues. Many have said, however, Jones has changed and he's been able to handle certain situations now that maybe he wouldn't have been able to in the past.
This appears to be one of those times.
The Buckeyes are going to need that from Jones, too. They're going to need him to remain engaged and be an integral part of Ohio State's team because it's certainly possible he will be needed again at some point this season.
What Barrett gives the Buckeyes is a legitimate threat in the quarterback-run game. He's one of college football's best quarterbacks at the zone-read and a much more efficient runner than many might realize.
With that said, Barrett also carries the ball a lot when he's Ohio State's quarterback. In games he started last year, Barrett averaged 14.3 carries per contest. In a limited role the last two weeks — used primarily in red-zone situations — Barrett carried the ball 12 and 11 times.
That's an awful lot of hits for a quarterback to take.
"There's a lot of risk with that," Meyer said recently of the quarterback run.
There also may be a point where the Buckeyes need the rocket right arm of Jones. He could still be used in certain situations; nobody really knows what Meyer is going to do just yet even though it seems the plan right now is for Barrett to be the starter and Jones to be the backup.
What about if Barrett underperforms? Who is to say Meyer won't make another switch? At this point, nothing should be ruled out. 
Part of the about Ohio State's journey to the national championship last season was its ability to ready its quarterbacks for any situation — a task which seems exponentially difficult when dealing with 18 to 22-year old college athletes.
Keeping Jones engaged throughout all of last season when he backed up Barrett was difficult, but in the end the Buckeyes were able to do just that. This scenario is a little different — Jones was benched this time — but the point remains the same: You never know when the backup quarterback will be needed.
Nobody knows that better than Ohio State fans.