Back on Oct. 5th, 2012 — back before Cardale Jones was the Iron King, Poacher of Badgers, Controller of Tides, Slayer of Ducks, Troll Sultan, or 12th Son of Ohio — the Ohio State third-string quarterback earned a 'B' on a Friday morning quiz for which he spent the previous night studying.
As students of the era were known to do, he took his frustrations to social media with a declaration that is now used as a textbook example of how student-athletes shouldn't Tweet.
Jones threw it back on Thursday:
#TBT In honor of #GraduationWeekend pic.twitter.com/w8obRQlXKW

— Cardale Jones (@Cardale7_) May 4, 2017
Recruited by Jim Tressel, Jones didn't immediately mesh with Urban Meyer and his new offensive coordinator, Tom Herman. The relationship deteriorated to the point Herman put a dunce cap on Jones during a unit meeting. Afterwards, Jones informed his family of his intent to transfer from Columbus.
That transfer never occurred. After injuries to Braxton Miller and J.T. Barrertt thrust him into the starting quarterback role against Wisconsin in the 2014 Big Ten Championship game, the Buckeyes rode Jones (and Ezekiel Elliott) to the national championship.
After the 2015 season, Jones passed on his final year of collegiate eligibility. The Buffalo Bills selected him in the fourth round.
Jones never forgot his goal of becoming the first member in his family to graduate. He did that Sunday, with Herman (now coaching Texas) in attendance, when he earned his degree in African and African-American Studies.
He celebrated the occasion on Instagram: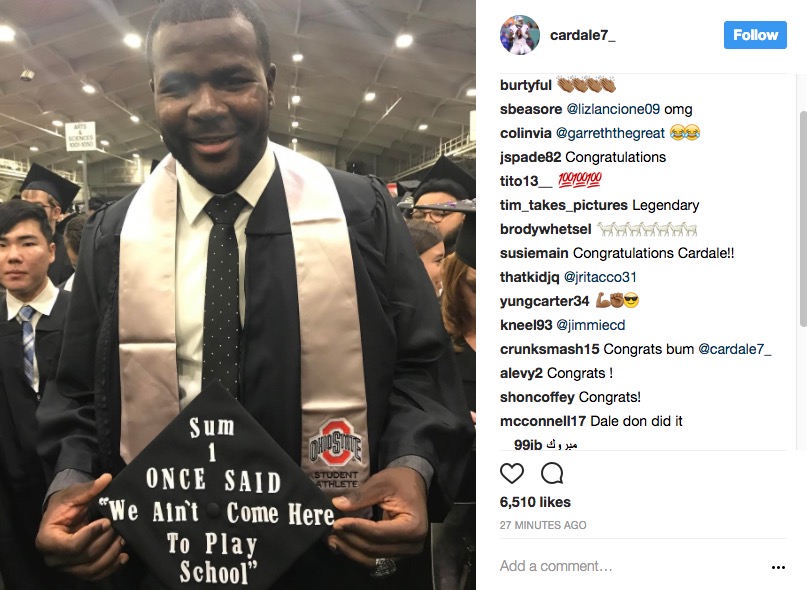 Jones now belongs to the largest graduating class in university history—nearly 12,000 graduates.
Follow Eleven  WarriorsFacebook, Twitter, Instagram and YouTube