Hello again, quarterback controversy. Sayonara, strength and stability.
Urban Meyer's stressed the need for both Cardale Jones and J.T. Barrett to be engaged, locked in and ready to produce when called upon to play quarterback for No. 1-ranked and defending national champion Ohio State.
Meyer thought he'd put an end to the most talked about storyline of the summer, fall camp and 2015 season when he elected to pull the plug on Jones and move full speed ahead with Barrett last weekend.
The sophomore captain led a 49-7 drubbing off lowly Rutgers in Piscataway, New Jersey, accounting for five touchdowns and returning to the form that led him to break a boatload of school records and finish fifth in the 2014 Heisman Trophy voting.
Now, the, annoyance, back-and-forth and frustrations return for the three-time national champion head coach. Barrett was arrested and cited by Columbus Police for misdemeanor OVI early Saturday morning and subsequently suspended for Ohio State's next game, a home contest against Minnesota next Saturday.
Meyer thought he'd closed the door. But the guy who is a team leader on and off the field, the cool customer who scored 45 touchdowns one year ago before breaking his ankle against Michigan, the man who Meyer deemed to be the answer at quarterback, threw it back open.
"Cardale is going to be a very active part, hopefully we'll keep him very much involved," Meyer said the Tuesday before he took his team east to play the Scarlet Knights. "Whether it's doing what J.T. did as far as keeping and staying into the game, coaching J.T. I expect Cardale will be very similar in his role as J.T."
Jones, who is 10-0 as a starting quarterback, roamed the sidelines at High Point Solutions Stadium last weekend, wearing a headset for more than three quarters. He exchanged that for a helmet after the game had been decided, completing all three of his passes for 24 yards.
Meager numbers, sure, but he didn't need to do anything above that with his team leading by seven touchdowns when he entered.
But now, the ball is again in his court.
"It's not always going to go by script," Meyer said.
The Buckeyes certainly know all about that, a year removed from needing Barrett to step in for star Braxton Miller before the 2014 season kicked off. Then, Jones took over and led the team to the pinnacle of the sport following Barrett's injury.
Jones took the reins and the country by storm in December. After losing his job to Barrett midway through the season, he's got the chance to do it again.
"With that, it didn't change when I got hurt. Like I said, Cardale was throwing the ball to Devin Smith, who was a great deep ball catcher and it wasn't anything different," Barrett said Wednesday, part of an unprovoked rant about his arm strength. "The same thing this year. We didn't have new plays in so Cardale could throw the ball farther down the field. It was just our best plays worked within that. Nothing's changed."
It's all changed again, even if Barrett, Meyer or even Jones don't think it has. The 6-foot-5, 250-pound gunslinger reportedly picked up his teammate and best friend from the clutches of the Columbus Police Department early Saturday morning.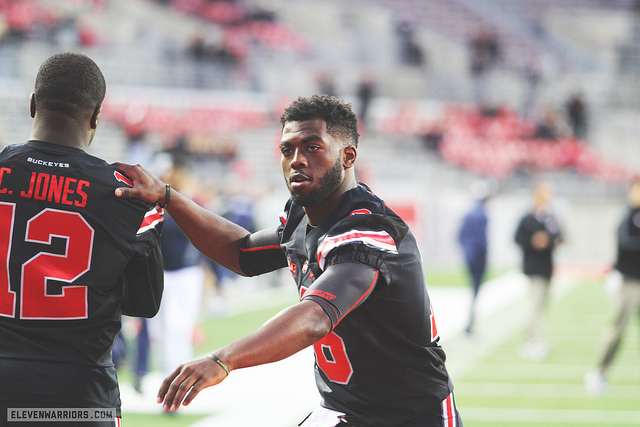 Jones must now do it again for him on the field.
With the date against the Golden Gophers looming under the Ohio Stadium lights, in addition to back-to-back bouts with powers Michigan State and Michigan following a trip to Illinois, Meyer didn't want any consternation or questions surrounding the game's most important position.
Because of a mistake by Barrett, he didn't get his wish.
November is where teams position themselves to win championships. Meyer thought he'd done that by making the move to Barrett a week ahead of Ohio State's open date. His running ability fits the team's personnel better than Jones, evident through the first eight games of the season even though he's played 132 fewer snaps than the junior.
Jones was always one play away as a backup. He thrived in the 2014 post-season, showing off his huge arm to stretch the field vertically.
Meyer tried to continue that this season. It didn't work in the way he wanted it.
But now, for at least one week, it is officially the Cardale Jones show.