Seven days.
Seven days is all that separates Ohio State and Nebraska from taking the field at Ohio Stadium to kick off a long-awaited 2020 football season. For a while, only one question hovered over everything: Would Big Ten football actually get played this fall? Barring anything completely unforeseen happening at the last minute, the answer is yes. 
With football a week away, plenty of different questions now surround the Buckeyes as they look to bounce back from a devastating Fiesta Bowl loss and chase their first national championship since 2014. As Eleven Warriors' season preview nears the finish line, here are Ohio State's 10 biggest questions.
What does the Kerry Coombs/Greg Mattison defense look like, and is it up to snuff?
Without any hyperbole, last year's defense was one of the greatest in Ohio State history. Nationally, it ranked first in yards allowed per game (259.7), first in sacks (54), third in opposing completion percentage (50.9), fourth in opposing third-down conversion percentage (29.1), fourth in points allowed per game (13.7), fifth in total plays of 30 or more yards allowed (16) and sixth in opposing yards per carry (3.0).
Those in Columbus hope for similarly successful results this fall. Yet due to the exodus of Chase Young, DaVon Hamilton, Jeff Okudah, Jordan Fuller, Damon Arnette, Malik Harrison and Jeff Hafley, the defense put forth this fall will look significantly different, both in terms of personnel and structure. 
Kerry Coombs and Greg Mattison have put together a defensive scheme that appears heavy on versatility and matching personnel to take advantage of their players' varied skillsets. How it will actually look once the season starts remains a bit of an unknown, even though recent hints have allowed us to sketch out some projections. Will their work pay off with the desired results? That, we don't know. There's plenty of talent, but much of it is inexperienced.
Can a backfield led by Trey Sermon and Master Teague run wild?
Last year in the weeks leading up to the season, we spent countless time wondering which version of J.K. Dobbins would show up: His freshman form or his sophomore form. The answer was neither. While breaking the program's single-season rushing record, he was better than ever before.
Replacing Dobbins, as everybody knows, isn't easy.
Welcome to the Trey Sermon-Master Teague backfield. A graduate transfer and a third-year who recovered quickly from a March Achilles injury will fill the void. 
The duo has the benefit of playing alongside Justin Fields, who keeps defenses in check with his legs, and running behind perhaps college football's best offensive line. Those advantages will prove extremely valuable for Sermon and Teague. But questions about how productive they'll be will continue to get asked until we see them on the field this fall.
The bar for running back success at Ohio State, based on past legends to come through the program, might be higher than anywhere else in the country.
How does a new-look secondary perform?
Imagine this defensive backfield had Shaun Wade chosen to remain opted out of the season. Not great.
With him deciding to remain on the roster, the Buckeyes have a No. 1 cornerback to rely on, but numerous questions still swirl in their secondary. Ohio State replaced two first-round cornerbacks and a two-and-a-half-year starting safety who's thriving in the NFL. As great of a developer of talent as Kerry Coombs is, it's difficult to imagine this group not taking at least somewhat of a step back.
Sevyn Banks, Cameron Brown, Marcus Williamson, Marcus Hooker and Josh Proctor will do what they can to change that thinking, with Coombs trying to play the matchups and put each of them in advantageous positions for their respective skillsets.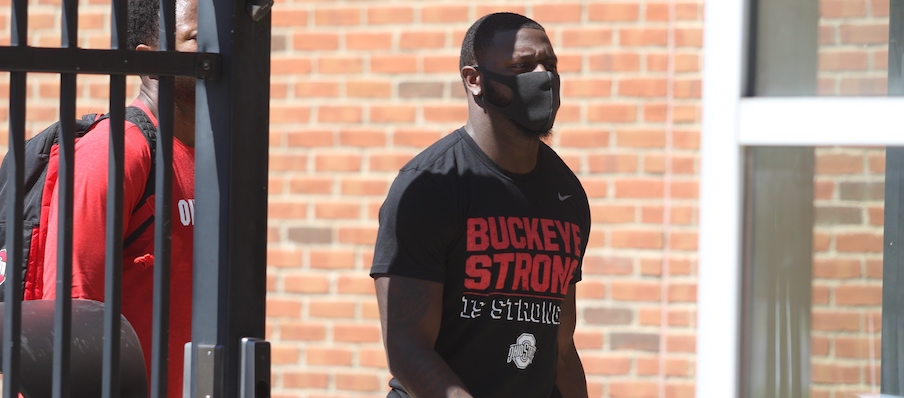 Will Justin Fields stay healthy?
Pretty straightforward here.
If Ohio State keeps Fields healthy, it can beat anybody on a given day. Without him, but the ceiling and the floor drop several levels. His backups – C.J. Stroud, Jack Miller and Gunnar Hoak – might keep the Buckeyes afloat if the Buckeyes called on one of them to spell Fields for a few games. But to achieve the ultimate goal, Ohio State needs Fields taking snaps.
Fields, a Heisman Trophy frontrunner, says he's completely healthy right now after ending last season with a gimpy knee. The importance of keeping his body healed throughout the next few months couldn't possibly be overstated.
Without Chase Young, will Ohio State generate a consistent pass rush?
No, Ohio State won't have a Heisman Trophy candidate at defensive end. Not yet, at least, Zach Harrison.
So, after leading the country in sacks a year ago with Chase Young at the forefront of the pass rush, the Buckeyes will look to take their old-fashioned committee approach, which has worked for defensive line coach Larry Johnson in the past.
Harrison, Tyreke Smith, Jonathon Cooper, Javontae Jean-Baptiste and Tyler Friday will fill out Johnson's rotation. They each feel primed for some sort of a step forward. How much of a step from each of them? We won't know until the ball gets snapped.
Can a talent-rich offense carry this team?
This offense returns Fields, a Heisman Trophy-caliber quarterback, who's coached by Day, one of the most well-regarded offensive coaches in the country. It features a two-headed running back corps, a young but extremely talented group of receivers, a veteran trio of tight ends and what will have a chance to be the nation's most dominant offensive line.
To put it simply, this offense is loaded. Loaded in a way that should help make up for an inexperienced defense with a lot to prove.
If everything clicks the way Ohio State hopes, the concerns about a young defense that experienced significant turnover would lessen.
Does Ohio State have to go undefeated to make the College Football Playoff?
In the immediate aftermath of the Big Ten releasing the Buckeyes' eight-game schedule, it seemed as though they'd have to go unbeaten in the regular season and win the conference title in order to get a berth into the playoff. Week by week, though, before the Big Ten has even kicked off, teams keep losing. The Big 12 has nearly already eliminated itself. Even in the SEC, all but two teams have lost at least once, and those teams – Alabama and Georgia – will play each other on Saturday.
As time has passed, it's become fair to wonder whether going undefeated is the necessity everybody once thought – even if that, of course, remains the team's intention.
But here's the deal: Nobody knows.
Disregard what pundits say. Disregard how Associated Press top-25 poll voters see things. Their opinions don't matter.
The group that makes the decisions – the College Football Playoff selection committee – hasn't commented on how it views the differences between conferences' schedules other than to say it'll be watching everything and evaluating it all. Their take on the situation is the only one that matters, and we won't glean any insight until their first ranking release rolls around on Nov. 24. Then, we'll get a better gauge of what the Buckeyes must do to secure a bid.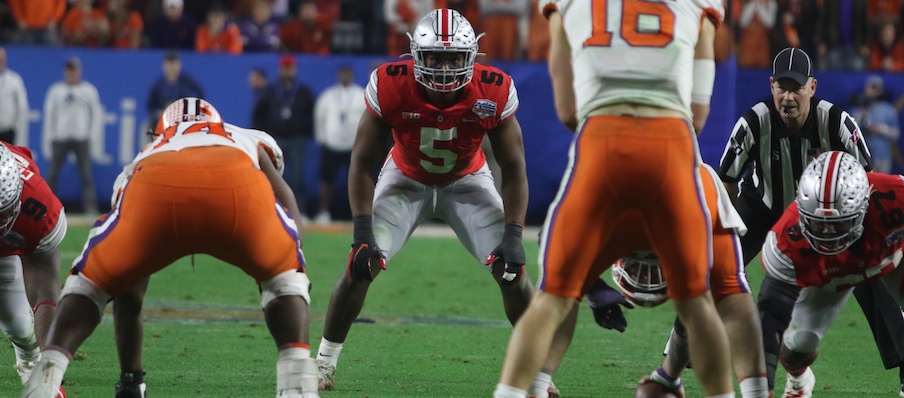 Does a rematch with Clemson await, and how would that go?
Early on in an 11-minute behind-the-scenes video released by the football program this week, a single camera shot stood out from the rest.
Chris Olave, in slow motion with weights in his hands, rises from the ground while seemingly doing lunges. In the background, just behind his head, was a television screen reading the Fiesta Bowl score: Clemson 29, Ohio State 23. The chance to avenge the loss in the College Football Playoff seemed destined to be the chief story of the offseason. Then, the pandemic came into focus and attention shifted from the Tigers.
With the season only a week away, Clemson again has come into focus. Dabo Swinney's team has looked really freaking good in its first four games, and as much as Ohio State's players and coaches will talk about having a game-by-game focus and not looking too far down the road, you just know they're paying close attention to the Tigers.
Nobody affiliated with or rooting for the Buckeyes wants anything more than to topple Clemson en route to a national championship.
What happens unexpectedly, and how does Ohio State handle it?
Ryan Day already has had a few experiences flying this ship in uncertain times. He led the program when Urban Meyer was suspended in 2018, doing so well that it earned him the job he has now, and he took the program through uncertain times this year, keeping them prepared for a season he legitimately had no clue would get played.
The adversity didn't end when the Big Ten gave a fall football season the green light again. Not by a long shot.
Ohio State has no idea how this fall's slate of games will play out. No idea if games will get canceled or how COVID-19 will affect the team. 
This season could get a lot stranger than just fans not being in the stands. The Buckeyes will need to stay ready for anything that comes their way.
Will it all come together for a national championship?
Usually, a successful Ohio State season ends with this team in the College Football Playoff. This fall, expectations have heightened a bit.
More so than most years, this season is national title or bust.
Having Justin Fields back for a second season surrounded by a talent-rich roster means the Buckeyes have to think big. They have to take a step forward as a team. How do they do that? Not by just getting to the playoff and losing. That's not the goal. Ohio State intends to run through the Big Ten, beat Michigan, win the conference championship, then prove it belongs in the top echelon of college football by taking care of the Clemsons and Alabamas of the world to win a national title.
This year, as always, that's the goal. But, to a larger degree than usual, it's also the expectation.