This year's Ohio State offense nearly didn't materialize.
Wyatt Davis momentarily opted out, believing the Big Ten's decision to push the season to the spring wouldn't get reversed. Justin Fields likely wouldn't have played again for the Buckeyes had their chance to compete for a national championship evaporated, and a few others on his side of the ball would have faced tough decisions about whether or not to suit up.
Instead, everybody expected to take the field this fall will do so as Ohio State chases its first national championship since 2014 with what has a chance to be college football's most prolific offense.
"As long as we stay disciplined and as long as we do our job the correct way, I think the sky's the limit for this offense," Fields said earlier this month.
Nine days away from the start of the season, we're diving into what to expect from what should be a dynamic Ohio State offense.
Three Most Important Players
Justin Fields (QB)
The most important player on Ohio State's offense is, far and away, the most important player on the entire team. Without Fields, the entire complexion of this side of the ball would change. But as long as he's healthy and on the roster, the Buckeyes should have one of college football's two best quarterbacks, a Heisman Trophy frontrunner and the engine that powers the entire offense. All signs point to him putting together another standout season that leaves him among the best to ever play his position at this school.
Chris Olave (WR)
Reasonable-minded people can view Garrett Wilson as the most important wide receiver to this offense, especially when factoring in how he'll impact the offense out of the slot this year. But Olave's chemistry with Fields, desire to avenge his Fiesta Bowl mishap, intention to prove he's the team's best wide receiver and special-teams contributions make him one of the offense's most important players. He led the team in receiving yards and touchdown receptions a year ago, and he's in line to do so again this fall.
Wyatt Davis (RG)
As a first-time starter last year, Davis stood out to such a degree that he earned first-team All-American honors, getting a tree planted in Buckeye Grove. Back for his second season manning right guard, he leads the charge to make the Buckeyes' offensive line the best in college football. Davis has the talent to end up as a first-round pick despite playing offensive guard. That tells you all you need to know about his skills.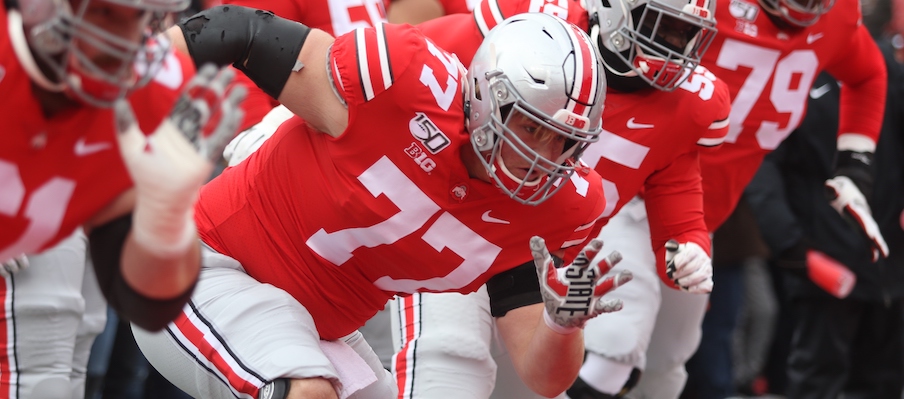 Three Breakout Candidates
Harry Miller (LG)
Has anyone, up to this point, found someone willing to criticize Miller or throw cold water on his entrance into the starting lineup as a sophomore? He impressed his teammates and coaches immediately after arriving in Columbus last summer as a five-star recruit and high school valedictorian, and a year later he's set to replace Jonah Jackson as left guard. Miller, who played 181 snaps last year as a backup, could be set up for a special second season as a Buckeye.
Jameson Williams (WR)
Ohio State returns two wide receivers – Olave and Wilson – who will start and will likely become Fields' two top targets this fall. The third starter? It'll likely be Williams, a second-year wideout from St. Louis who only caught six passes last season but is in line to be a game-breaker with more balls thrown his way in 2020. Head coach Ryan Day and wide receivers coach Brian Hartline both mentioned him as someone who has made strides, trying to add other facets to his game beyond just speed. 
Nicholas Petit-Frere (RT)
For two years, Petit-Frere took the roundabout path. He enrolled at Ohio State as the nation's top offensive line recruit but weighed only 268 pounds. He required an 8,000-calorie diet to put on the necessary pounds but still struggled with his weight last year as he lost a preseason tackle with Branden Bowen and backed him up. Petit-Frere's time has come, though, and we'll get a chance to see what made him so highly regarded out of high school. Day strongly hinted that Petit-Frere has just about locked up the starting right tackle job.
The X-Factor
Jeremy Ruckert (TE)
We've seen Ruckert flash. Remember his one-handed snag in the Big Ten championship last year? Whether he can start to get targeted more often and get put in a position to further impress remains a question, though. Just about everybody has held out any hope that Ohio State will ever throw to tight ends with regularity, but the team also hasn't recently had somebody like Ruckert to target. He only caught 14 passes for 142 yards and four touchdowns a year ago. He's too talented for Ohio State to ignore that much.
Freshman to Watch
Jaxon Smith-Njigba (WR)
The Texan recorded 5,346 receiving yards and 82 touchdowns during his career at Rockwall High School career. Don't expect those kinds of numbers at Ohio State. But he won't have to wait long for balls to get throw his way. Smith-Njigba was put in the slot back in the spring, and he remains an inside receiver who's set to rotate with Wilson as the second-year's backup. He already became the first true freshman in his class to have his black stripe removed.
Standing 6 feet and weighing 196 pounds, he doesn't immediately jump out when just getting a glimpse of his physique. But Smith-Njigba's smooth route-running and strong hands that made him a five-star recruit and an absurdly productive wideout for Rockwall could turn him into a dangerous downfield option for Fields early in his career. 
Updated Depth Chart Projection
| POSITION | STARTER | BACKUP |
| --- | --- | --- |
| QUARTERBACK | JUSTIN FIELDS | CJ STROUD/JACK MILLER/GUNNAR HOAK |
| RUNNING BACK | TREY SERMON/MASTER TEAGUE | STEELE CHAMBERS |
| WIDE RECEIVER (X) | JAMESON WILLIAMS | GEE SCOTT JR. |
| WIDE RECEIVER (Z) | CHRIS OLAVE | JULIAN FLEMING |
| SLOT RECEIVER | GARRETT WILSON | JAXON SMITH-NJIGBA |
| TIGHT END | LUKE FARRELL | JEREMY RUCKERT |
| LEFT TACKLE | THAYER MUNFORD | DAWAND JONES |
| LEFT GUARD | HARRY MILLER | MATTHEW JONES |
| CENTER | JOSH MYERS | LUKE WYPLER |
| RIGHT GUARD | WYATT DAVIS | GAVIN CUPP |
| RIGHT TACKLE | NICHOLAS PETIT-FRERE | PARIS JOHNSON |
The talent across the entire starting lineup stands out when laying out the offense. A Heisman Trophy candidate at quarterback. A pair of intriguing running backs. A pairing of two of the Big Ten's best wideouts and a speedster alongside them. A veteran, steady tight end. Three returning starters on the offensive line and two former five-star recruits joining them to start the season. Not only does this offense have a star quarterback, but it has few – if any – holes.
The offensive line might be the team's deepest position. Paris Johnson (the No. 1 offensive line recruit in 2020) and Dawand Jones (6-foot-8, 360-pounder) serve as the backups at tackle, and Matthew Jones (former top-100 recruit in his third year) and Gavin Cupp (fifth-year senior) provide depth on the interior. At wide receiver, Ohio State might have the most talented position group on the entire team. Yet there's a significant lack of experience there. We're projecting five underclassmen, including three freshmen, earn spots in Hartline's six-wideout rotation. They'll get tested immediately. 
The biggest question mark regarding the depth chart is how Day and Corey Dennis will go about determining a backup quarterback. Gunnar Hoak might have an edge early in the season simply due to his having spent a year in the system and four years in college. But the talent of C.J. Stroud and Jack Miller, along with the necessity of getting them reps ahead of one of them starting in 2021, makes it an unanswered question.
The offense exceeds expectations if…
The production matches the talent. Without any hyperbole, Ohio State might have the nation's best quarterback, most talented receiving corps, steadiest group of tight ends and most dominant offensive line. It'll be up to the players and coaches to maximize the overwhelming potential.
Fields leads the offense into 2020 as a Heisman Trophy finalist who's back to go after the trophy and status as college football's top quarterback. Tony Alford figuring out the most optimal way to rotate Trey Sermon and Master Teague would go a long way to getting the running game going. A star-studded offensive line coming together as a Joe Moore Award-winning unit and a young receiving group's talent overshadowing its inexperience would round out a stellar offense.
The offense falls short of expectations if...
The pieces around Fields don't click, with first-time starters faltering and inexperience proving to be a more difficult obstacle to overcome than expected. Ohio State has to replace 2,000-yard running back J.K. Dobbins, and though Trey Sermon and Master Teague have both had their standout performances, they aren't sure things and have had their share of struggles in big games.
They'll carry the ball behind what should be a strong offensive line. But if Petit-Frere or Miller struggle as first-year starters, Thayer Munford deals with nagging injuries again or the unit simply can't find the necessary cohesiveness, issues could arise. At wide receiver, perhaps Hartline can't get his talent-rich but remarkably young corps to play consistently enough. Half of the wideouts in his rotation could be freshmen.
And, does anyone need a reminder on a worst-case scenario? What happens if Fields gets hurt? Considering he ended the 2019 season with an 80-85-percent healthy knee that hindered him in the Fiesta Bowl, keeping him upright and healthy is of the utmost importance.
---
Photo of Fields and Sermon: Credit to Ohio State Dept. of Athletics