Depth, in college football, might never have mattered more than it will in 2020.
Along with the usual host of injuries that pop up throughout seasons, any player who tests positive for COVID-19 must sit out 21 days, which effectively sidelines them for a minimum of three games.
Thanks to highly-rated recruiting classes year after year, Ohio State has one of the deepest and most talented rosters in the country. However, the amount of depth differs – sometimes significantly – between positions.
Our own Dan Hope projected a three-deep depth chart on Friday, so we're diving further into positional depth today. Each of Ohio State's 10 position groups has been separated into one of four tiers – Strong, Solid, Questionable and Concerning – in order to assess their depth.
Al Washington and Greg Studrawa can smile because we're starting with their units.
Strong
Linebacker
Explaining the depth: Remarkably, Ohio State has seven upperclassman linebackers. Washington has Baron Browning, Justin Hilliard and K'Vaughan Pope to man the Sam linebacker position. Then, on the inside at Mike and Will, he'll have seniors Tuf Borland and Pete Werner backed up by juniors Dallas Gant and Teradja Mitchell. Second-years Craig Young and Tommy Eichenberg could get some snaps, as well.
Explaining the tier: The Buckeyes have an absurd glut of junior and senior linebackers on its roster. It's rare to have that many upperclassmen in any position group on the roster. The biggest challenge? Figuring out how best to deploy all seven of them. Depth is a major plus at linebacker.
Offensive line
Explaining the depth: Ohio State goes at least two deep across the entire line. In 6-foot-8, 360-pound Dawand Jones and five-star freshman Paris Johnson, it has a pair of high-ceiling backup tackles who can fill in if anything happens to Thayer Munford or Nicholas Petit-Frere. Matthew Jones, a former top-100 overall recruit in his third year, and redshirt senior Gavin Cupp are among the top options on the interior of the line. Enokk Vimahi and Ryan Jacoby, a pair of redshirt freshmen, are in the mix, too.
Explaining the tier: Studrawa has to feel great about what he's helped build on the offensive line. Position groups simply don't get much deeper than this. The starting five might make up the nation's best offensive line, and the drop-off to the backups is minimized by a glut of linemen, many of whom will start for the Buckeyes within the next couple of seasons. At one of the most important positions to collect depth, they're stacked. 
Defensive End
Explaining the depth: The Buckeyes plan to utilize five defensive ends in a somewhat even rotation. They'll roll with Zach Harrison, Jonathon Cooper, Tyreke Smith, Tyler Friday and Javontae Jean-Baptiste. Redshirt freshman Noah Potter, converted tight end Cormontae Hamilton and freshmen Darrion Henry-Young and Jacolbe Cowan round out the position group.
Explaining the tier: Ohio State can go five deep at defensive end with five edge rushers who'd start on just about every other Big Ten team's line. There's a good mix of potential star power, veteran leadership and versatility throughout the group. The Buckeyes hope that depth will make up for not having Chase Young.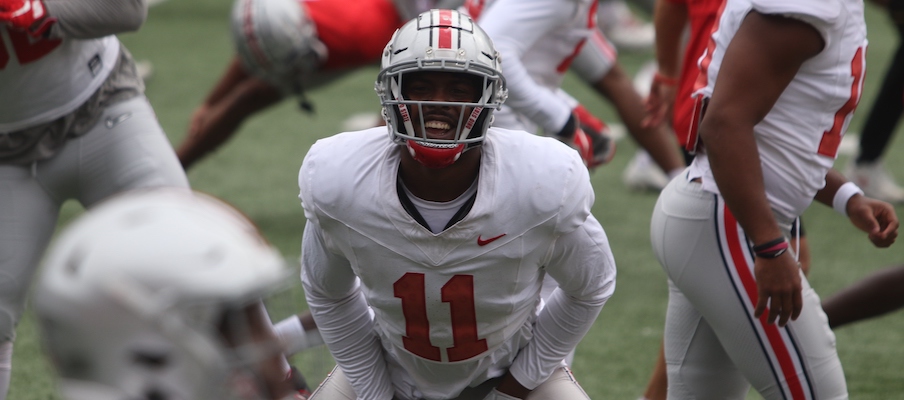 Solid
Running Back
Explaining the depth: Master Teague and Trey Sermon will get the bulk of carries to open the season in what offensive coordinator Kevin Wilson predicted will be a 50-50 split. Redshirt freshman Steele Chambers will back them up to open the season. Marcus Crowley had a "minor setback" in his recovery from an ACL injury that leaves him uncertain when the season kicks off. Freshman Miyan Williams and walk-on Xavier Johnson are also pushing for playing time, and fifth-year senior Demario McCall has the versatility to play there in addition to wide receiver.
Explaining the tier: If not for the addition of Sermon and speedy recovery of Teague from an Achilles injury, this position would likely be a rung or two lower. But with them in the backfield, the Buckeyes have some quality depth. Chambers and an eventually healthy Crowley are quality backups. Williams and McCall can offer some support, too, if needed. 
Tight End
Explaining the depth: Luke Farrell and Jeremy Ruckert are Kevin Wilson's clear top two options at tight end. Redshirt senior Jake Hausmann adds another trusted veteran alongside them. Linebacker/defensive end convert Cade Stover and freshman Joe Royer are two others to watch.
Explaining the tier: Ohio State can't possibly have any qualms about the two tight ends at the head of the room. Farrell and Ruckert are as reliable as Wilson can ask for, and Hausmann gives him some insurance. The only thing holding the tight ends from a spot in the top group is the uncertainty behind the three upperclassmen. Stover's in the middle of a position change and Royer hasn't yet played a game.
Wide Receiver
Explaining the depth: Garrett Wilson, Chris Olave and Jameson Williams could be Brian Hartline's three starters. Outside of them, Ohio State has a quartet of freshman generating copious amounts of hype – Julian Fleming, Jaxon Smith-Njigba, Gee Scott Jr. and Mookie Cooper – to team up with veterans Jaylen Harris, Kamryn Babb and Ellijah Gardiner. 
Explaining the tier: From a pure talent perspective, wide receiver might be the top position group on the team. But zeroing in on the depth at wideout shows a bit of uncertainty. Outside of Wilson, Olave, Williams, the rest of the Buckeyes' receivers have a combined six career receptions, with Harris accounting for five of them. Some quality options, but all unproven.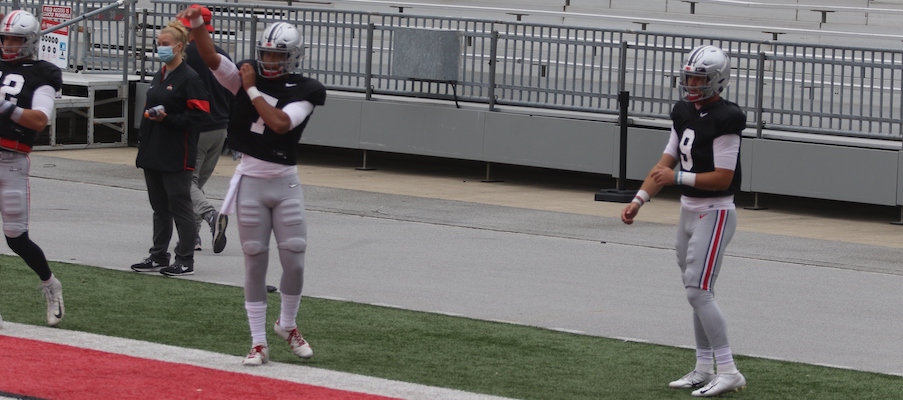 Questionable
Quarterback
Explaining the depth: Justin Fields has the reins at quarterback with a trio of backups behind him on the yet-to-be-released depth chart. Gunnar Hoak, a fifth-year senior who transferred from Kentucky last offseason, completed all six of his passing attempts for 104 yards and a touchdown in 2019. Freshmen C.J. Stroud (No. 42 overall recruit, No. 2 pro-style quarterback) and Jack Miller (No. 334 overall recruit, No. 13 pro-style quarterback) round out first-year position coach Corey Dennis' room.
Explaining the tier: Depth at quarterback only matters if something bad happens to the starter, and as long as that doesn't happen, the Buckeyes are in business with Fields. In a worst-case scenario, however, Ryan Day and Dennis would have quite the conundrum on their hands. Do you turn the team over to the redshirt senior without much experience? Are either of the two freshmen ready? Given the talent of Stroud and Miller, there's a lot to like about them in the long-term. But the first-year quarterbacks had only one week of spring practice, didn't get a normal summer of work and still might be Fields' top backups. Even if the depth is better than last year when Hoak and Chris Chugunov were the No. 2 and No. 3 signal-callers, there's clearly some uncertainty.
Safety
Explaining the depth: What Ohio State plans to do at safety and whether it'll most often use one or two on the field at once is a bit of a mystery. But either way, there's a clear-cut top two at the position: Josh Proctor and Marcus Hooker. Behind them, barely anyone has played. Bryson Shaw redshirted last year and was seen with the slot cornerbacks in the spring. The only other two safeties? Freshmen Kourt Williams and Lathan Ransom.
Explaining the tier: Both Proctor and Hooker are ready for upticks in playing time, but nobody else at the position group has done anything of note yet for the Buckeyes. Williams and Ransom walked into the program with plenty of hype as high-end four-star recruits. They'll have to prove what they can offer in the immediacy, though. Safeties coach Matt Barnes just doesn't have many known commodities.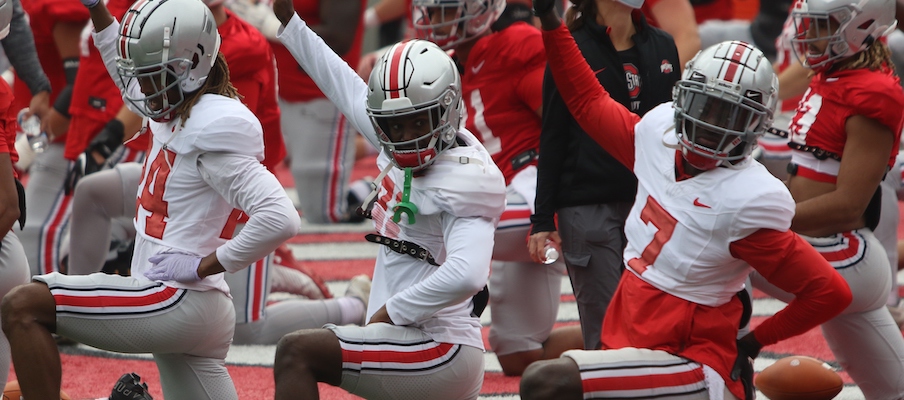 Concerning
Cornerback
Explaining the depth: Shaun Wade and either Sevyn Banks or Cameron Brown – or a combination of them in a rotation – are expected to start at outside cornerback, while Marcus Williamson appears poised to take over the slot. Beyond them, the backup cornerbacks will be Tyreke Johnson (57 snaps in 2019), Ronnie Hickman (who missed his freshman year with an ACL injury) and three freshmen: Cameron Martinez, Ryan Watts and Lejond Cavazos.
Explaining the tier: Ohio State might have the country's top cornerback in Wade. Otherwise? It has plenty of questions. Banks and Brown showed positive signs last fall but haven't ever been regular starters. Williamson has never topped 100 snaps in a season at Ohio State. Though talented, the Buckeyes' backup cornerbacks have yet to prove much. Only one of them – Johnson – has even played a down at the collegiate level. Depth would have been worse had Wade decided to go to the NFL, but it remains a problem even with him in Kerry Coombs' room.
Defensive Tackle
Explaining the depth: At nose tackle behind Tommy Togiai, fourth-year Jerron Cage (88 snaps in 2019) will likely serve as the primary backup. Behind him, it's unclear who else will be in the mix, though defensive line coach Larry Johnson said he plans to go three-deep. It could be freshman Ty Hamilton or starting 3-technique Antwuan Jackson shifting inside for some snaps.
The 3-technique picture would be more clear if everybody was healthy. Jackson will start, but Taron Vincent and Haskell Garrett might not be ready to start the season due to injuries. Redshirt freshman Jaden McKenzie (11 snaps in 2019) might be the top backup until they're healthy.
Explaining the tier: Injuries only exacerbate the issues for a group already teeming with inexperience. There's only one sure thing – Togiai – at a position where Johnson wants to rotate six players. While Johnson projected confidence in the unit this week, the depth concerns simply cannot be ignored.