It's always important for a college football team to have a strong depth chart from top to bottom, but it could be more important than it's ever been this year.
With the looming threat that any player could be sidelined for 21 days – the equivalent of three games once the season begins – if he tests positive for COVID-19, Big Ten teams specifically must be able to rely on their depth at every position as they prepare for a season that could come with unprecedented challenges.
For Ohio State, that depth could ultimately make or break its chance to win a national championship.
"It hasn't really changed the way that we build it, but it's just something that we make sure the guys understand is that they're one, two plays away … at any point, they could be starting or even backups," Ryan Day said last week. "So with our team of 120 guys, that's everybody there, we're going to need them all."
We aren't going to try to project where all 120 players fit on Ohio State's depth chart, but while our past depth chart projections here at Eleven Warriors have typically only included the top two players at each position, this preseason depth chart projection for 2020 will include the potential top three players at each position, reflecting the fact that the Buckeyes need to be prepared to dig deeper into their depth chart this season.
As always, this is an unofficial projection – Ohio State won't release a depth chart until the day before the first game, and the Buckeyes haven't even finalized theirs yet – and a guess, based on what we've seen and heard, at what the Buckeyes' lineup, rotations and next men up could look like when the season kicks off against Nebraska on Oct. 24 at Ohio Stadium.
Quarterback
1. Justin Fields
2. C.J. Stroud
3. Jack Miller
When Day said last week that "all positions are up right now," he acknowledged that no one would take him seriously if he said Fields had to compete for the starting quarterback job. The second and third spots behind Fields on the quarterback depth chart, though, are absolutely up for grabs.
Gunnar Hoak is the only other quarterback on the roster that has seen game action at Ohio State, but the two true freshmen appear to be getting every opportunity to win the backup quarterback job. Day said last week that Miller and Stroud are getting the majority of the reps with the second-team offense, and both of them were ahead of Hoak in the order – with Stroud second and Miller third – during the drills reporters were allowed to watch at the start of Ohio State's practice on Saturday.
Stroud and Miller both have more upside than Hoak, and with an eye toward the future, the Buckeyes should be looking to get both of them reps this season before they compete for the starting job next year. Day said during a radio appearance Monday that he was "very encouraged" by what he's seen from the freshman quarterbacks so far. If he believes either or both of them can be trusted to play this season if anything happens to Fields, they'll likely be ahead of Hoak on the depth chart.
Running Back
1. Trey Sermon
2. Master Teague
3. Steele Chambers
It's clear that Sermon and Teague are in line to be Ohio State's top two running backs this year, but which one of them will start remains uncertain. Sermon is going to have to wrestle the starting job away from Teague – and the way the coaches have talked about Teague's recovery from his Achilles injury, I'm not as confident that will happen now than I was six months ago – but ultimately, it's likely they will end up seeing close to an even share in snaps, at least to begin the season, and they could even end up alternating starts.
Chambers looks to be in line to be the Buckeyes' third running back behind them, but freshman Miyan Williams and even walk-on Xavier Johnson are also pushing for playing time. Marcus Crowley could contend for that spot as well once he gets fully healthy, but it's uncertain whether he'll be ready for the start of the season after suffering a "minor setback" in his recovery from a torn ACL.
Wide Receiver (Z)
1. Chris Olave
2. Julian Fleming
3. Ellijah Gardiner
Wide Receiver (X)
1. Jameson Williams
2. Gee Scott Jr.
3. Jaylen Harris
Wide Receiver (H)
1. Garrett Wilson
2. Jaxon Smith-Njigba
3. Mookie Cooper
It's become increasingly evident that Williams is tracking toward being one of Ohio State's top three receivers this year, and because of that, I believe the Buckeyes will move either Williams or Olave from Z to X so that both of them can start along with Wilson in the slot.
While Williams doesn't necessarily have to start to be a top-three receiver, as the Buckeyes are likely to continue rotating multiple receivers at each position, one reason why I am predicting he will is that I believe the Buckeyes' next four receivers in the pecking order could all be true freshmen, and they might not want to start them right away.
Harris and Gardiner have three years of experience over Fleming, Scott, Smith-Njigba and Cooper, but they're all making a very real push for immediate playing time, and I believe their instant-impact potential will ultimately supersede the others' veteran status.
Kamryn Babb could also factor into the rotation if he's fully recovered from his past knee injuries, but he appeared to still be limited during the portion of practice we were able to watch on Saturday. Demario McCall could also factor in at slot receiver, but he still appears to be a man between positions. At this point, it's probably more likely he plays in a situational capacity as a hybrid back, if he's going to have a consistent role at all on offense, than as a regular in the slot receiver rotation.
Tight End
1. Luke Farrell
2. Jeremy Ruckert
3. Jake Hausmann
This is the easiest position to project on Ohio State's entire depth chart. Farrell and Ruckert could really be considered 1A and 1B. They'll likely play a similar number of snaps, but there's no reason to think Farrell won't still be the first tight end on the field as he's been for the last two years. Hausmann, who finally earned his way into the rotation as a fourth-year junior last season, should also see some playing time behind them as the third tight end.
Cade Stover also shouldn't be ruled out as a potential contributor at tight end, but there probably won't be many snaps available to him this year as long as the top three tight ends are available to play.
Left Tackle
1. Thayer Munford
2. Dawand Jones
3. Max Wray
Left Guard
1. Harry Miller
2. Matthew Jones
3. Gavin Cupp
Center
1. Josh Myers
2. Luke Wypler
3. Josh Fryar
Right Guard
1. Wyatt Davis
2. Enokk Vimahi
3. Ryan Jacoby
Right Tackle
1. Nicholas Petit-Frere
2. Paris Johnson Jr.
3. Trey Leroux
Munford, Myers and Davis are all locked in as returning starters, and Miller seems to be a near-lock to start alongside them at left guard. Petit-Frere also increasingly appears to be the frontrunner to start at right tackle.
Assuming Petit-Frere beats them out for the starting right tackle job, Johnson and Dawand Jones are likely to slot in as the backup tackles; though Jones has also spent some time practicing at guard, his depth might be needed more at tackle this year.
Matthew Jones could be the offensive line's sixth man – he'd likely be the next man up at either guard spot, while either he or Miller could slide over to center if something happened to Myers – but Wypler has the talent to earn an immediate spot on the two-deep while Vimahi is also a strong candidate to make the second-team offensive line after he impressed the coaches with his development as a freshman.
Jacoby and Cupp give the Buckeyes plenty of depth at guard, and either of them could find their way onto the two-deep as well. Wray should at least make the three-deep at tackle, while Leroux and Grant Toutant will vie for the final spot on the three-deep outside and Fryar and Jakob James will vie for the last spot on the three-deep inside.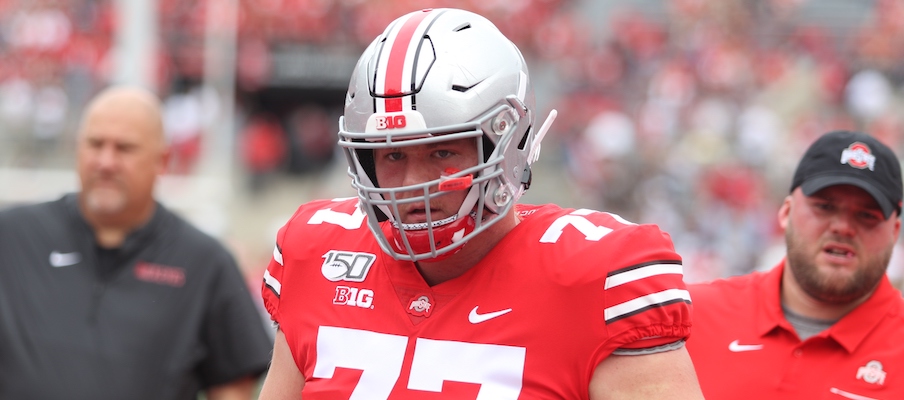 Defensive End
1. Jonathon Cooper
2. Tyler Friday
3. Noah Potter
Defensive End
1. Zach Harrison
2. Tyreke Smith
3. Javontae Jean-Baptiste
Cooper has started every game he's played in since 2018, so he's a safe bet to start at one defensive end spot. Harrison, Smith, Friday and even Jean-Baptiste are potential candidates to start opposite him, but Harrison is the expected breakout star of the group. Harrison started as a true freshman over those three then-sophomores in last season's Fiesta Bowl – as a true freshman – speaking volumes about how much Larry Johnson believes in him.
Regardless of who starts, all five of those defensive ends should see a regular share of playing time in the rotation, as Johnson said he believes they could all be starters at just about any other school in the country. 
Potter is also a candidate to push for some playing time in the rotation this season after he redshirted last year.
Defensive Tackle (Nose)
1. Tommy Togiai
2. Jerron Cage
3. Ty Hamilton
Defensive Tackle (3-Tech)
1. Antwuan Jackson
2. Taron Vincent
3. Jaden McKenzie
Right now, defensive tackle is the most difficult position to project on Ohio State's depth chart. Other than Togiai, who is fully expected to be the Buckeyes' new starter at nose tackle, the rest of the depth chart is filled with question marks around him.
Under ideal circumstances, Haskell Garrett and Vincent would likely lead the 3-technique depth chart with Jackson – the only Buckeye who played both defensive tackle spots last season – rotating with Togiai at nose. But it's uncertain when Garrett will be cleared for game action after he was shot in the face in late August, and Vincent is also still working his way back after missing all of last season with a torn labrum in his shoulder. As a result, Jackson is currently in line to start at 3-technique, at least until one or both of them are fully healthy.
Garrett and Vincent could both factor prominently the rotation once they are good to go, but while Johnson is hopeful that Vincent will be ready for the start of the season, he probably won't be a starter right away. Because there is currently no timetable for Garrett's return, he doesn't factor into the depth chart projection for the start of the season right now.
Cage is likely to be the backup at nose tackle if Jackson starts at 3-technique, while McKenzie appears poised for a spot in the 3-technique rotation after redshirting last year. Hamilton, who has made a big early impression as a true freshman, is likely to end up at 3-technique long-term but could start out in the nose tackle rotation initially due to the Buckeyes' lack of depth options there.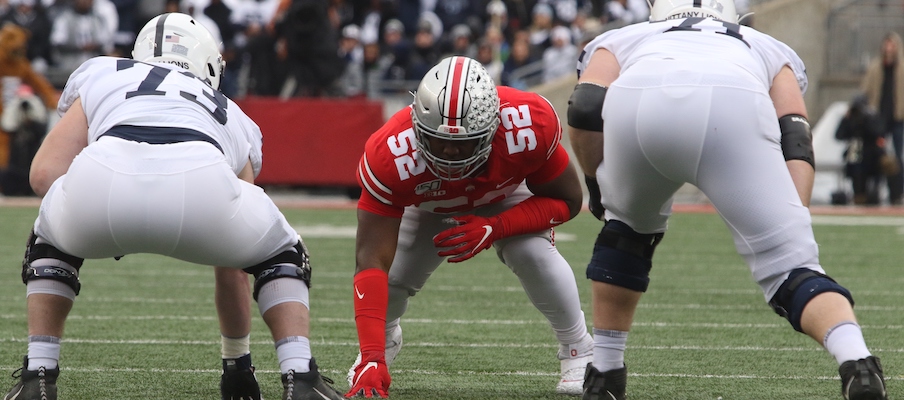 Linebacker (Will)
1. Pete Werner
2. Teradja Mitchell
3. Craig Young
Linebacker (Mike)
1. Tuf Borland
2. Dallas Gant
3. Tommy Eichenberg
Linebacker (Sam)
1. Baron Browning
2. Justin Hilliard
3. K'Vaughan Pope
Werner and Borland are locked in as two of Ohio State's starting linebackers, with Werner set to move to Will after starting at Sam for the past two years. Browning and Hilliard are the leading candidates to replace Werner at Sam; I anticipate both will see regular playing time in some capacity, but Browning might have the edge on the starting role after playing the most snaps of any non-starting linebacker last season.
Gant, Mitchell and Pope are also all pushing for increased playing time as they enter their third seasons at Ohio State, but they still project to be backups in 2020 behind the seniors in front of them. Second-years Young and Eichenberg are likely to round out the three-deep at linebacker.
Outside Cornerback
1. Shaun Wade
2. Tyreke Johnson
3. Lejond Cavazos
Outside Cornerback
1. Sevyn Banks
2. Cameron Brown
3. Ryan Watts
Slot Cornerback
1. Marcus Williamson
2. Ronnie Hickman
3. Cameron Martinez
Wade is the only sure-fire starter in this year's secondary right now, but Williamson looks like the strong frontrunner to be the Buckeyes' new top slot cornerback with Wade moving to outside cornerback. Williamson said during a recent interview session that he, Hickman and Martinez have been the three defensive backs seeing the most practice reps in the slot, so they look like the leading candidates to lead the depth chart there.
Banks and Brown are both strong candidates to potentially start opposite Wade, and it's likely they will end up rotating and both see regular playing time regardless of which one of them starts. Johnson is also a candidate to push his way into the rotation, though he does still appear to be behind the other two third-year cornerbacks as of now.
Cavazos and Watts, both true freshmen, are the only other scholarship cornerbacks on the roster.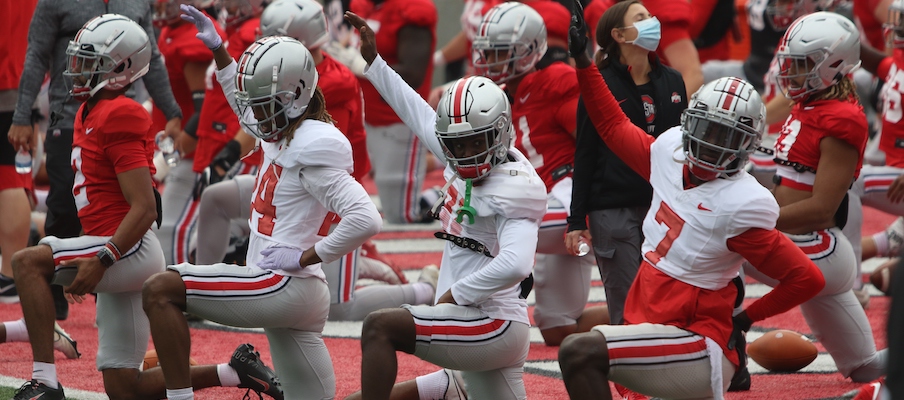 Safety
1. Josh Proctor
2. Marcus Hooker
3. Kourt Williams
While Proctor has long been viewed as the heir apparent to Jordan Fuller and a potential star on the back end of Ohio State's secondary, Hooker is also making a real push for a starting spot, so it's possible the top two rows of the safety depth chart could be flipped. Either way, it shouldn't come as a surprise if the Buckeyes end up playing more two-safety packages than they did last season, as Proctor and Hooker could both end up emerging as two of Ohio State's top four defensive backs this year.
Williams, who was one of the first two freshmen to lose his black stripe this year and who Day recently described as "someone to keep an eye on," seems like a strong candidate to be the next man up behind them at safety, though fellow freshman Lathan Ransom and redshirt freshman Bryson Shaw could push for that spot as well, with Williams potentially poised to be more of a box safety than a deep safety.
Kicker
1. Blake Haubeil
2. Jake Seibert
3. Dominic DiMaccio
Haubeil is a returning starter at kicker, while Seibert will serve as his backup as he prepares to be the Buckeyes' kicker of the future. DiMaccio, a walk-on, is the only other placekicker on the current 120-man roster.
Punter
1. Drue Chrisman
2. Michael O'Shaughnessy
3. Zach Hoover
Chrisman returns for his fourth year as the starting punter. O'Shaughnessy and Hoover, both walk-ons, will serve as his backups.
Long Snapper
1. Bradley Robinson
2. Roen McCullough
It's hard to make any bold predictions about a long snapper battle, but the competition between Robinson and McCullough, both walk-ons, is ongoing. They are currently the only two long snappers on the roster, so it's unclear who would be the third option if an emergency long snapper was needed.
Kick Returner
1. Demario McCall
2. Jameson Williams
3. Mookie Cooper
McCall served as Ohio State's lead kickoff returner last season and could be the frontrunner to be the Buckeyes' top guy in that role once again. If they look to go in another direction to try to spark what has been an underwhelming unit in recent seasons, though, Williams – who saw some playing time on the kickoff return unit last season – and Cooper are two intriguing options, with Williams bringing elite speed and Cooper offering dynamic ability to make defenders miss.
Punt Returner
1. Garrett Wilson
2. Mookie Cooper
3. Jaxon Smith-Njigba
Wilson flashed the potential to be a game-changer on punt returns last season, so he'll likely retain that role going into 2020. Fellow slot receivers Cooper and Smith-Njigba were also seen fielding punts at Saturday's practice, so they'd likely be the next men up if Ohio State chose to go in a different direction and have Wilson focus on playing receiver, or if the Buckeyes just need someone to fill in.