New Hampshire native Ryan Day recently came across an interview with Bill Belichick shortly after the New England Patriots wrapped up their first game of the season.
"What was the atmosphere like in this stadium without fans there? Can you compare it to anything else you've experienced in your football life?" a reporter asked.
Belichick had a one-word response: "Practice."
Belichick's response confirmed to Day that Ohio State should practice more often than usual in the stadium it'll play its four home games. So on Saturday, three weeks before their season opener against Nebraska, the Buckeyes practiced for the second week in a row in the Horseshoe, which Day hopes will help the team acclimate to the unusual environment in which it will play this fall.
The Shoe wasn't completely empty for the start of Saturday's practice, though, as Ohio State invited the media to watch for about 30 minutes, offering us the first opportunity to watch any practice since the Buckeyes' first practice of the spring seven months ago.
While Ohio State didn't give away any state secrets on Saturday, it did give us a long-awaited in-person glimpse of the Buckeyes for the first time this fall, allowing us to make some actual practice observations for the first time since March.
Teague, Crowley back in action
Both Ohio State running backs working their way back from long-term injuries – Master Teague and Marcus Crowley – were full participants in the portion of practice we were able to watch.
During handoff drills with the quarterbacks and running backs, Teague took most of the first-team reps alongside Justin Fields, though Trey Sermon got some as well. All indications have been that Teague will be ready to go for the season opener, and Ohio State offensive coordinator Kevin Wilson said last week that he expects those two running backs to split carries 50/50; based on what we saw Saturday, there's no reason not to believe him.
Crowley was at the back of the running back line behind Teague, Sermon, Steele Chambers, Xavier Johnson and Miyan Williams, which could be indicative that Crowley is still working his way back. Just to see him in the order was a positive sign, though, as Day has suggested in multiple interview sessions that Crowley has had a longer path back to the field than Teague.
Ohio State quarterbacks and running backs working on handoffs. Of note: Master Teague running with Justin Fields (though Trey Sermon got some reps alongside Fields too), and Marcus Crowley who has been working his way back from a torn ACL participating as well. pic.twitter.com/xkbPnDjW9C

— Dan Hope (@Dan_Hope) October 3, 2020
Should you feel like reading anything into it, C.J. Stroud was second in the quarterback order while fellow true freshman Jack Miller was third, with veteran backup Gunnar Hoak fourth. Day said Friday that Stroud and Miller have been splitting the bulk of the reps with the second-team offense as they prepare for their first season as Buckeyes, in which one of them could ultimately emerge as Fields' primary backup.
Here's some footage of those quarterbacks throwing passes to the receivers:
Ohio State quarterbacks throwing to wide receivers. pic.twitter.com/KKlsU6CxO1

— Dan Hope (@Dan_Hope) October 3, 2020
Justin Fields to Garrett Wilson, C.J. Stroud to Jaxon Smith-Njigba, and Jack Miller to Mookie Cooper pic.twitter.com/Pbwu5wyj7o

— Colin Hass-Hill (@chasshill) October 3, 2020
Garrett practices, Vincent absent
Just a little bit over a month ago, Haskell Garrett was hospitalized after suffering a gunshot wound to the face. He told Columbus Police officers that he was shot when trying to break up an argument between a man and a woman on Aug. 31.
He was back on the field on Saturday, practicing with his fellow defensive tackles and showing no limitations in the time the team allowed the media to watch practice.
On his radio show two weeks ago, Day said Garrett was "doing well, all things considered" and mentioned Ohio State expected to get him back onto the practice field "pretty soon." He did say then, however, that he would not be able to participate in contact drills initially.
Provided Garrett can play this season, he'll be in line to see regular playing time at the 3-technique defensive tackle position.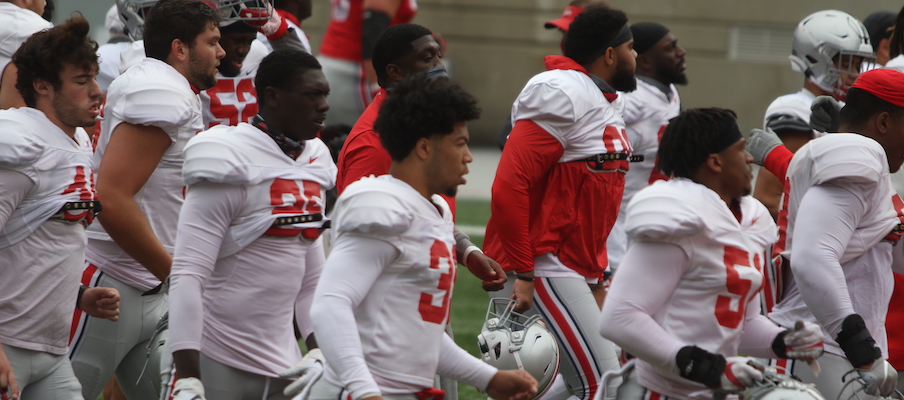 Taron Vincent, a third-year sophomore defensive tackle whom many had projected to start at 3-technique, was not seen participating in drills during Saturday's open portion of practice after he missed the entirety of the 2019 season with a torn labrum in his right shoulder. An Ohio State spokesperson said Vincent was at Saturday's practice, though, in response to a Bucknuts report. Day said two weeks ago that the Buckeyes are battling "a couple of nagging injuries" at defensive tackle.
During defensive line drills early in practice, Tommy Togiai and Antwuan Jackson were seen taking first-team snaps at defensive tackle, while Garrett and Jerron Cage ran with the second team.
Pads on, hitting begins
Teams across the Big Ten put on pads on Wednesday – the first day the conference allowed – and they've begun to steadily increase the amount of contact as the days pass. Ohio State doesn't want to rush into it considering these players haven't hit each other in many months, yet in order to become a physical team that tackles well, it needs to allow for some collisions.
So on Saturday, they had a period specifically designated for tackling.
Here's some footage of the wide receivers and defensive backs going through tackling drills during the practice. Ronnie Hickman, who's healthy after recovering from a torn ACL last year, had a nice wrap-up tackle during the drill.
Some Buckeyes going through a one-on-one tackling drill pic.twitter.com/Gu7Q6HIML0

— Colin Hass-Hill (@chasshill) October 3, 2020
A little bit more one-on-one tackling from Ohio State. Julian Fleming, Garrett Wilson and Cameron Martinez among the participants. pic.twitter.com/DRrGXnvw1H

— Colin Hass-Hill (@chasshill) October 3, 2020
Offensive line: No surprises so far
Greg Studrawa has had three spots on his offensive line locked down for months. Thayer Munford will man left tackle, Wyatt Davis has locked down right guard and Josh Myers will again start at center.
On Saturday, those three took the starting reps, as expected, and so did the other two linemen who most have projected to start. Sophomore Harry Miller was at left guard and redshirt sophomore Nicholas Petit-Frere lined up at right tackle with the first-team line during individual position drills. Those two were also set to open the full-team practice period with the starting offense before the viewing period ended and the media was shuffled out of the stadium.
All indications are that Miller has the inside track to start at left guard. Fields even referred to him as the starter on Friday.
The right tackle competition seems more open, with Paris Johnson and Dawand Jones both going after the starting job. But Petit-Frere was with the starters for at least the start of Saturday's practice.
Additional notes
Typically, injured players rehab off on the side in a group while Ohio State practices. That, however, wasn't the case on Saturday. All players in Ohio Stadium participated in the practice. If some were rehabbing, they did so away from the Shoe. Ohio State won't release a status report – denoting who is and isn't playing – until the week of the game.
Day pulled a classic Football Guy move by being one of the few coaches wearing shorts in sub-50-degree weather. He delivered an animated speech with players circling him in the middle of the field on the 15-yard line. 
Gee Scott Jr. legitimately looks like a physical specimen. He's listed at 6-foot-3, 210 pounds, and he might weigh even more than that. An offseason in Ohio State's weight program did him well. It's not too difficult to see why he was just the third freshman to lose his black stripe.
All coaches wore masks for the duration of practice. At this point, everybody on the field – players, coaches and staffers – are taking daily COVID-19 tests. But that hasn't stopped the coaches from wearing masks. A couple of times, they were pulled down so coaches could yell, but otherwise they were worn for the entirety of the viewing period.
While Day has said the Buckeyes are holding some practices without music to prepare for quiet stadiums, music was playing through the stadium speakers during the portion of Saturday's practice open to the media.
Josh Myers will start at center, but a number of other linemen were snapping to quarterbacks during pre-practice warmups, including Matthew Jones, Luke Wypler, Jakob James and Harry Miller.
Darrion Henry-Young appeared to be working inside as a defensive tackle. Many speculated he could eventually move inside from defensive end as a Buckeye, though he made clear while at Princeton High School that he was hoping to come off the edge in college.
Garrett Wilson took the first reps at slot receiver on Saturday. Jaxon Smith-Njigba and Mookie Cooper followed him up during the positional portion of the practice. Those three receivers also all took reps at punt returner. Demario McCall, who is viewed as a hybrid slot receiver/running back, wasn't seen with either position group on Saturday.
C.J. Saunders, who was denied a sixth year of eligibility by the NCAA, was at Saturday's practice working as a coach.