While Justin Fields and Ohio State's offense are generating most of the hype entering the 2020 season, the Buckeyes' defense could ultimately make or break their championship hopes.
Ohio State had one of the best defenses in the country last year, allowing fewer yards per game than any other team in the Football Bowl Subdivision, but they're replacing seven starters from that defense, all of whom were selected in the NFL draft. The Buckeyes also have a new defensive coordinator, Kerry Coombs, who is revered in Columbus from his previous tenure as cornerbacks coach but has never been a lead defensive play-caller at the collegiate level and has big shoes to fill with the departure of Jeff Hafley.
That leaves some major question marks about the Buckeyes' defense entering the 2020 season, but there's also reason for optimism. Ohio State returns key leaders at all three levels of its defense, including four team captains (Jonathon Cooper, Tuf Borland, Justin Hilliard and Shaun Wade), and has many other defensive players who aren't yet established stars but were highly touted recruits who have been developed by Ohio State's coaches and could now be ready for breakout seasons.
We start this preseason primer on Ohio State's defense by taking a look at the players on that side of the ball who could make the biggest impact for the Buckeyes this year and who could be on the verge of breaking through and becoming Ohio State's next defensive stars.
Three Most Important Players
Shaun Wade (CB)
Outside of Justin Fields, no individual player projects to be more important to Ohio State's success this season than Wade. The only returning starter in the Buckeyes' secondary, Wade provides vital leadership to an otherwise inexperienced unit. He's not just experienced, he might be the best cornerback in the nation, and if he can provide lockdown coverage on one side of the field, the rest of the Buckeyes' defense will be better for it.
Pete Werner (LB)
Even though Ohio State is loaded with depth and experience at linebacker, Werner has the most complete skill set among them. The only other returning defender who played more than 500 snaps last season, Werner is moving from Sam to Will linebacker, but he'll be just as important to Ohio State's defense in his new role. His versatility to line up all over the field increases the Buckeyes' defensive flexibility and should make him a fixture in just about every defensive package Ohio State uses this season.
Tommy Togiai (NT)
Even though Togiai hasn't yet started a game for the Buckeyes, their lack of experienced depth at defensive tackle makes him one of their most indispensable players. He's expected to start at nose tackle and be the linchpin of Ohio State's interior defensive line, and looks like he could be the Buckeyes' next star at the position. They might need him to be, especially if defensive tackles Taron Vincent and Haskell Garrett end up missing the start of the season as they recover from injuries.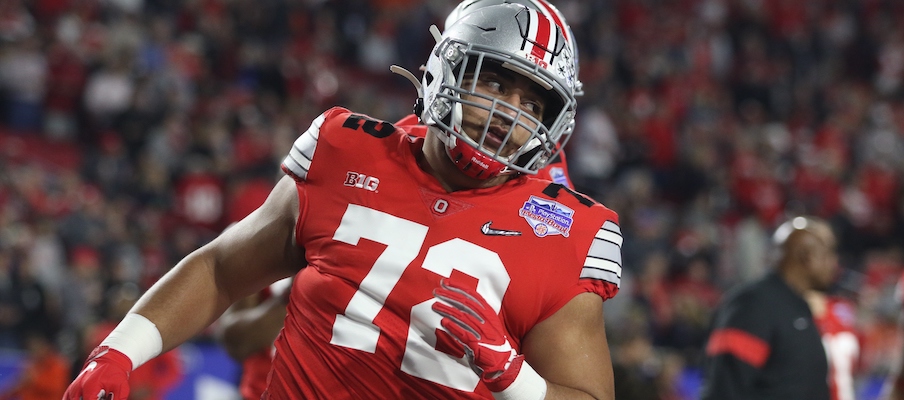 Three Breakout Candidates
Zach Harrison (DE)
Now that Chase Young is in the NFL, the spotlight turns to Harrison as Ohio State's next potential top draft pick at defensive end. Much like Young, Harrison was a five-star recruit out of high school who has the physical tools of a Madden create-a-player, and the door is now wide open for him to become the Buckeyes' top pass-rusher. He shouldn't be expected to be an All-American as a true sophomore, but he should be expected to start making a big impact this season.
Sevyn Banks (CB)
Ohio State is replacing two first-round picks at cornerback, too, and while Wade will probably be next in that line, Banks also has the upside to keep that trend going. He's flashed the potential to be a future star in his first two years as a Buckeye, and he's now the frontrunner to start opposite Wade at outside cornerback. There should be plenty of opportunities for him to make plays, too, given that opponents will probably avoid throwing in Wade's direction as much as possible.
Josh Proctor (S)
It's not a given that Proctor will start for Ohio State at safety, as it's starting to sound increasingly as though Marcus Hooker could be the heir apparent to Jordan Fuller at the deep safety spot, but at a minimum, Proctor's expected to have a role in two-safety/bullet packages as a player who can be a physical tackler in the box in addition to dropping back into coverage. And if that role materializes, he's going to be an intriguing player to watch, as he's already demonstrated the ability to both make spectacular plays on the ball and deliver vicious hits.
The X-Factor
Baron Browning (LB)
Given that he was ranked as the 11th-best prospect in the entire recruiting class of 2017, Browning's first three years at Ohio State can be considered a disappointment. He hasn't yet emerged as the game-changer he's long been expected to be for the Buckeyes, but his move to Sam linebacker just might be the move needed to unleash his playmaking ability. He has tremendous explosiveness at 6-foot-3 and 240 pounds, and could be the secret weapon for Ohio State's pass-rush with the flexibility to line up in a wide variety of spots.
Freshman to Watch
Ty Hamilton (DT)
Hamilton isn't the freshman I would have thought I'd be naming here a few months ago – after all, he was the lowest-ranked defensive player in Ohio State's recruiting class of 2020 – but the Buckeyes' lack of depth at defensive tackle has left the door open for any player at the position to earn a spot in the rotation this year, and Hamilton just might seize one. Even though he was only a three-star recruit, Hamilton has made a big impression on his coaches and teammates in preseason camp, and Larry Johnson wants to continue to deploy a deep rotation at defensive tackle.
Realistically, I don't expect any of Ohio State's defensive freshmen to be on the two-deep or see substantial playing time at the beginning of the season, but Hamilton looks like he could be the top candidate right now.
Updated Depth Chart Projection
| Position | Starter | Backup |
| --- | --- | --- |
| DEFENSIVE END | JONATHON COOPER | TYLER FRIDAY |
| DEFENSIVE END | ZACH HARRISON | TYREKE SMITH/JAVONTAE JEAN-BAPTISTE |
| DEFENSIVE TACKLE (NT) | TOMMY TOGIAI | JERRON CAGE |
| DEFENSIVE TACKLE (3T) | ANTWUAN JACKSON | TARON VINCENT/JADEN MCKENZIE |
| LINEBACKER (WILL) | PETE WERNER | TERADJA MITCHELL |
| LINEBACKER (MIKE) | TUF BORLAND | DALLAS GANT |
| LINEBACKER (SAM) | BARON BROWNING | JUSTIN HILLIARD/K'VAUGHAN POPE |
| CORNERBACK | SHAUN WADE | TYREKE JOHNSON |
| CORNERBACK | SEVYN BANKS | CAMERON BROWN |
| SLOT CORNERBACK | MARCUS WILLIAMSON | RONNIE HICKMAN |
| SAFETY | MARCUS HOOKER | JOSH PROCTOR |
Although there are more question marks on Ohio State's defensive depth chart than its offensive depth chart, there also aren't many gaping holes. Defensive tackle and slot cornerback look like the biggest positions of concern, but conversely, the Buckeyes are loaded with quality veteran depth at defensive end and linebacker.
Wade is the only established superstar on this depth chart, but Borland, Cooper and Werner also provide vital experience. Even though most of the players on this depth chart haven't been starters for the Buckeyes, most of them have already been in the program for multiple seasons; Harrison and Hickman are the only two players are in the projected two-deep that aren't in at least their third year at Ohio State.
The vast majority of players on the defensive two-deep were four- or five-star recruits, too, and many of the backups offer different skill sets from the starters that could make them valuable role players. There might not be a ton of players on this defense who are every-down mainstays on the field, but the Buckeyes should have the manpower to run their defense with a wide variety of personnel groupings.
The defense exceeds expectations if…
Its new starters and key contributors emerge as the players they were recruited to be. All of them have the potential to be future NFL players, and many of them – such as Harrison, Togiai, Tyreke Smith, Browning, Banks, Proctor and Cameron Brown – have the traits to be early-round picks.
Because of all the talent it lost from last season, Ohio State probably shouldn't be expected to have a top-ranked defense again in 2020, but the Buckeyes still have the talent to be one of the nation's best on that side of the ball once again. It just has to all come together.
The defense falls short of expectations if…
Ohio State's new starters on the defensive line and the secondary don't rise to the occasion. Young and the defensive tackle trio of DaVon Hamilton, Jashon Cornell and Robert Landers left big shoes to fill up front, and so did Jeff Okudah, Damon Arnette and Fuller on the back end. While Ohio State has experience it can rely on at linebacker, it's far from guaranteed that the Buckeyes will be able to generate the same kind of pass-rush, be as stout against the run or be as effective in coverage as they were last season.
There are few proven commodities on Ohio State's defense entering the season – even Wade and Werner are both playing new roles – and it's also up to the coaches to put their players in the right positions. You won't find anyone at the Woody Hayes Athletic Center who doesn't believe in Coombs' ability to lead the defense, but he too is unproven in that capacity, and the entire defensive coaching staff must figure out the right balance of adapting the scheme to fit this year's personnel without overcorrecting and undoing what worked last year.