There were tears falling down Austin Mack's face, a widespread look of pain spread across him as teammate Binjimen Victor consoled him, the two weightlessly walking off State Farm Stadium together.
There was Wyatt Davis, an open-mouthed gaze up at the final scoreboard – Clemson 29, Ohio State 23 – in disbelieving shock. That look might be ingrained in Buckeye fans' minds for a long time; it's a face many of them probably made and still might be making today. 
There was Chris Olave. Stunned, silent, expressionless. 
In the postgame press conference, head coach Ryan Day said there were a lot of tears, obvious disappointment and a lot of anger in his locker room afterward. Thrown helmets, grieving "can't believe it's over" type of statements, and it left the coaches shaking their heads and unsure of what exactly to tell their players.
The way this game ended in such heartbreak, and seeing the grim aftermath, has the potential to leave long-lasting devastation that a lesser program might never be able to recover from.
And then the players spoke, showing why it's not a lesser program.
Two players not yet old enough to legally buy a round in the Short North showed maturity.
Olave, a 19-year-old sophomore, took accountability for the game-ending interception. That's not easy for a teenager to do.
Fields, a 20-year-old sophomore, told Olave in the immediacy following his impactful pick that Olave was one of the best receivers in the country and to keep his head up.
"So that happens in life, and you really can't do anything about it now," Fields told the media afterward. "Just have to move on."
Plenty more took to Twitter or the media to detail how this game was going to provide fuel for the future.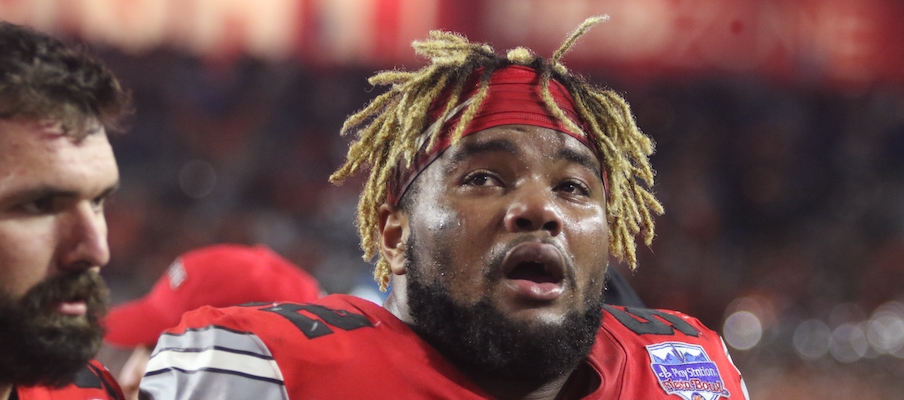 Behind closed doors, perhaps they were ranting and raving about the officials or the bad luck they endured. But after a cool-down period, many were there to face the music head-on and talk about next year.
None of this is by mistake. The Buckeyes showed their character during the biggest adversity – and, really, the only adversity – they had faced all season. We've talked all season about how Ohio State has high-character guys – even talked on Sunday about the high-character players they are soon bringing into the program.
But you don't truly know character until adversity reveals it, and there could not have been a bigger moment for that to happen, unless perhaps it had come 16 days later against LSU.
Now, we have to jump backward to more than two weeks ago when we detailed the story of Gee Scott Jr. and his relationship with a homeless man and diehard Buckeye fan named Jerry.
"That's the thing about Ohio State is the consistency in the message that they deliver."– Gee Scott Sr.
When Gee Scott Sr. was asked about whether his son's relationship with Jerry was indicative of his character, he agreed, but when pressed on if it was exemplary of the character that Ohio State's coaches are trying to bring into the program, he drew back a bit.
"We hear about universities and colleges wanting to bring in good guys both on and off the field," Scott Sr. said. "I think we can admit, don't all universities want that? Don't we all, as people, want to be surrounded by good human beings? I've never met anybody who said, 'I want a bad person off the field and a good player on the field.' Everybody wants that, right?
"I think you get that by the type of relationship that goes on through the recruiting process. With Ohio State, the recruiting process has been so consistent. When I talk to Coach Day, Coach (Brian) Hartline, Coach (Tony) Alford or any other position coach, the message is still the same. With some other universities, the message is different. Some other universities, there's in-fighting amongst position coaches. … (Ohio State's message is), 'we do things this way, and we do things better.'"
It's that consistency in recruiting that has helped Ohio State build the program it wants for the future.
It's likely that programs like LSU and Clemson do things in a similar vein. But those programs are each playing for a national championship to end the season. Once one loses and is faced with its own setback – and perhaps the loser of that game will face defeat in an even more gut-wrenching fashion than the Buckeyes did – then it will be its own players' turn to show what they're made of in that moment. 
This past weekend, it was the Buckeyes' turn in the spotlight, and they responded how people like Scott Sr. expected they would.
"That's the thing about Ohio State is the consistency in the message that they deliver," Scott Sr. said.
All throughout the regular season, that message was delivered like clockwork. Day, assistants, captains, bench players, they all said something similar. Last week's win didn't matter. It was always time to move on because there were bigger goals on the checklist. 
Facing the sting of a loss – an improbable loss where a litany of improbable things had to go against them – for the first time in 434 days and the first one in 17 games with Day at the helm, that message was again clearly delivered. Even if this one felt like they had to force it out of themselves in the aftermath of a brutal heartbreaker, it's time to move forward like they did throughout 2019.
Now we'll see if the program can do it in 2020.