When The Great Recession hit in the late 2000s, it left many Americans fearful of what would come next. Thousands were left jobless, homeless, or both.
Toward the end of the economic decline in 2009, Gee Scott Sr. – the father of Ohio State 2020 receiver commit Gee Scott Jr. – became one of those people. After moving to Washington from Chicago about 10 years prior, Scott was the owner of an auto-detailing business but fell victim to hard times and was forced to live out of his car in Lake City, a suburb of Seattle's northeast region. 
Scott Jr., then 8 years old, and his little brother Zion, 6, were living with their mother as Scott Sr. grinded through a six-week homeless stretch. He got some help from former Ohio State offensive lineman Rob Sims – the two became friends when Sims developed into one of Scott's favorite customers at the dealership – and moved into Sims' home for a couple nights every other weekend when his boys came for visits. 
He downplays it a bit, but it was one of the hardest times Scott Sr. has endured. 
"I'll never forget it," Scott says. "I'll tell you that. I'll never forget that."
Ten years later, he's bounced back from the adversity, landing on his feet to become one of the premier radio hosts in the Seattle area, an MC for Seahawks game days and a successful auctioneer. 
"Crazy how life turns around, right?" Scott says. 
Those events taught him something of value. 
"It serves as a reminder that all of us are one decision away from having an entirely different life, you know what I mean?" Scott said. "In this case, maybe one decision I made wasn't good and found me in a situation like that."
So, before kickoff of one of his son's midseason Eastside Catholic games in October or November, Scott was approached by someone telling him there was a fan he had to meet. A homeless man named Jerry. 
"Gee's got a really big heart. He's always had a really big heart."– Gee Scott Sr. On his son, gee scott jr.
Even if Scott had never been homeless himself before, he probably would have still given Jerry the time of day. But his past experiences helped aid in what happened over the next few minutes and over the past several weeks. 
Jerry is from Toledo, Ohio, and grew up a die-hard Buckeyes fan. He still has family living in Ohio, but he became homeless while living in Ohio and eventually found his way out to Washington about four years ago. 
Jerry resides in a campsite for the homeless called Tent City 4, living with 21 fellow homeless people in a wooded area about 25 minutes from Eastside Catholic. There are no computers, internet or WiFi to connect to, but when Scott Jr. committed to Ohio State on Christmas Day last year, word eventually spread to Jerry that his favorite team had just landed his state's best senior receiver.
So, Jerry saved up some money he earned doing odd jobs and bought himself bus fare and a ticket stub to see the 6-foot-3, 200-pound four-star prospect in person, and he got even more than he bargained for when Scott Sr. gave Jerry the opportunity to meet Gee Jr.
"I asked (Jerry), 'Have you ever met him?'" Scott Sr. said. "And he said, 'No. Can I meet him?' It was pregame, so I brought him down to the field, and he comes down and gives my son this big hug down there on the field."
With that hug, a bond was formed, and it's grown tighter ever since.
Initially, the Scott family thought that would be the beginning and the end of it. One chance-in-a-lifetime meeting for Jerry to meet a future Buckeye in the Pacific Northwest. After all, the last time Ohio State signed a player from Washington was, well, never – at least not in the modern recruiting era. 
But then Jerry came back.
"I met him, but I never thought I'd see him again," Scott Sr. said. "Man, he was back the next game. … That kind of started it, man, and so from then on out, I've started arranging rides and picking him up for games and taking him back. That's where the relationship started – just like that."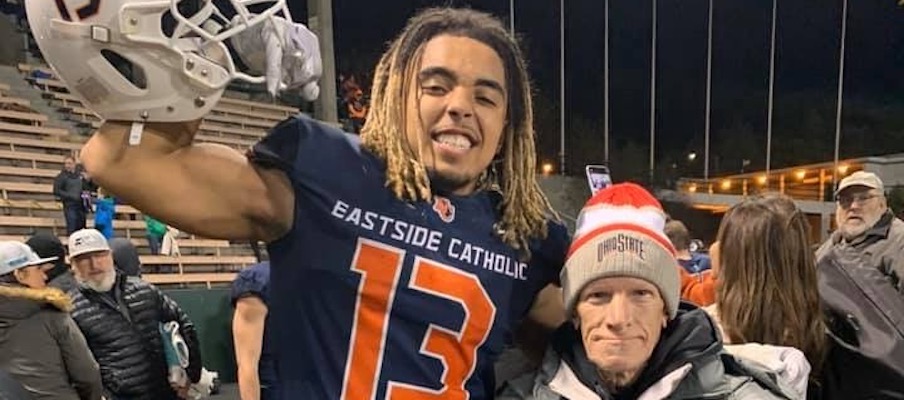 During pregame of the Crusaders' four playoff games, there Jerry was – almost always decked in an Ohio State winter hat and donning Buckeye gloves – giving Scott Jr. a big, fat hug. After the game, the two would embrace even tighter. No reason not to. Eastside Catholic won every game Jerry attended, including when it won a second straight 3A state championship on Dec. 7 that let Jerry really show his passionate side. 
"He's really energetic," Scott Sr. said. "He gives crazy hugs, man. He's up, man. Very loud. Very loud. He lets the whole world knows how important Ohio State is."
(He'd fit right in with a lot of Buckeye fans.)
The Scott family's relationship with Jerry has extended beyond hugs on the football field, and it's led to more than just Jerry getting some one-on-one time with a future star on the sidelines. 
The story between the two has garnered local attention in Washington, catching on with kind-hearted people who have seen Jerry's story and sent him blankets, jackets, sweaters, skull caps, hats, gloves and scarves. Then one of the Scott family's friends asked those who run Tent City 4 what the camp was in true need of other than winter clothing. 
"He said, 'I wanna know what the entire camp wants,'" Scott said. "So they sent this list of five solar panel deals, shoes, tents, lights and all kinds of stuff, so next week, we're pulling up with two semi trucks full of things for the entire camp.
"That's not me. That's just people seeing that and wanting to do more. That's the most impressive thing about this, is the love of others."
All because a player is good enough to play at Ohio State. Strip it down to its core, and that's what this story is about. A football player drew the attention of the Buckeyes, then drew the attention of one particular fan, and nearly two dozen people's lives are in a better position because of it.
Just over a week until Christmas, the one-year anniversary of Scott Jr.'s commitment to Ohio State, the timing of the entire situation should not be overlooked.
"Right now, we're dealing with some weird times, man," Scott Sr. said. "There's a lot of division going on in our country. There seems to be some extra bit of hatred going on in our country, so when you have situations when humans are being compassionate to other humans, it's a great story, man. I hope that things like this inspires others to have more empathy and compassion for others.
"We're a couple paychecks away from being homeless. All of us have had a situation, or all of us have been through some type of adversity, to where we have fallen on hard times or are close to people who have fallen on hard times. … So I'm just trying to get you to understand that when I start getting close to Jerry, I start to realize how blessed and fortunate we are and how much of a blessing it is to have Jerry in our lives because it really gives us more of an understanding and an appreciation of how life is."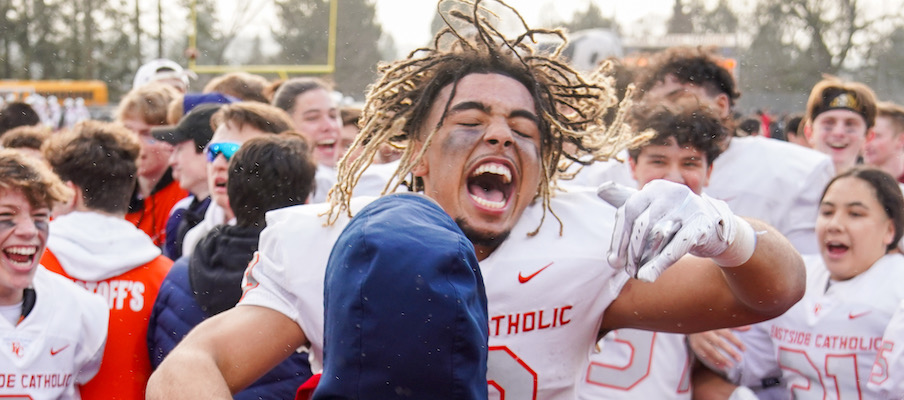 It's certainly given Scott Jr. and Zion more to think about.
"They're not like Jerry. They haven't been homeless, but they know what hard times are," Scott said. "They've had some hard times, and so, yeah, it's really given them an appreciation. Gee Jr. loves the pregame hugs he gets from Jerry and the postgame hugs he gets from Jerry. It's just good for him, man. He knows the impact that he can have on another human being."
The Scotts have impacted Jerry, and that won't stop now that the Washington high school football season is over. They plan on seeing Jerry around Christmastime, most likely on Christmas Day at some point, and they plan to come bearing a gift or two. That could include some more Buckeye gear as Jerry continues cheering from afar.
He has never been to an Ohio State game before, but he has met one of the most critical infrastructure pieces to the program's success. 
When receivers coach Brian Hartline made his flight out last week to the Sammamish suburb where the Scotts reside, the Scotts decided they were going to conduct their "in-home visit" a little differently. They went to see Jerry at Tent City 4, and, of course, the ever-diehard Ohio State fan let Hartline know he was a big A.J. Hawk and Ted Ginn Jr. fan – and that the Buckeyes are underdogs against Clemson. 
THE Ohio State Home Visit was a success. #Jerry #GoBucks pic.twitter.com/I9KwT2hKss

— Gee Scott (@GeeScottSr) December 12, 2019
Hartline got to meet the man whom the Scotts have helped breathe a little more life into. It was another reminder of who he will be bringing into his receivers room when Scott Jr. signs his national letter of intent this week and enrolls in January. His dad believes the events of the last few weeks help exemplify his son's character.
"Gee's got a really big heart. He's always had a really big heart," Scott said. "(This experience) is really important because my son, like me, we've never really had a relationship with someone who's homeless so you really ask yourself, 'why not?'"