Winning Saturday's game against Penn State was important for Ohio State for many reasons: It decided the Big Ten East, kept the Buckeyes' undefeated season alive and kept them in position to make this year's College Football Playoff.
Another reason: It was the final home game at Ohio Stadium for at least 25 Buckeye players.
The Buckeyes shouldn't have needed any extra motivation going into a game against the Nittany Lions, who they defeated 28-17. But Ohio State co-defensive coordinator and secondary coach Jeff Hafley said it was part of the message to the team this week.
"We were going to win the game for them," Hafley said. "There's no way we were going to lose this game. We were not letting those seniors walk out of here, their last game in the Shoe, losers. No way. We told the whole team, wasn't going to happen. There was no way it was going to happen, and it didn't."
Just minutes before kickoff of Saturday afternoon's game at the Shoe, 25 Ohio State seniors came out of the tunnel one-by-one and took the field for their final home games as Buckeyes. As is customary for Senior Day at Ohio Stadium, each of them were greeted with a hug by Ohio State head coach Ryan Day and took a brief moment to celebrate with their families before they turned their attention back to the task of trying to beat Penn State.
Lots of emotions as Ohio States seniors prepared to run out of the tunnel one last time. pic.twitter.com/uUtvs17vlV

— Colin Hass-Hill (@chasshill) November 23, 2019
That made Saturday a bittersweet day for those Buckeyes, as they won their biggest game of the season but also had to come to grips with the fact that they will never play another home game in Ohio Stadium again.
"It's kind of good and bad," said senior linebacker Malik Harrison, a Columbus native. "Being here, I always wanted to play here, so this being my last game, I'm sad. I'm trying not to show it."
Saturday's win didn't come easily. Although the Buckeyes got out to a 21-0 lead, they had to grind out a victory in the fourth quarter after Penn State went on a 17-point run in the third quarter. That was nothing new for the Buckeyes' seniors, though, who experienced a loss at Penn State in 2016 before 1-point, fourth-quarter comeback wins against the Nittany Lions in 2017 and 2018.
"This senior class, we done been through some games, so I feel like when we went up, when they came back and made it a one-score game, I felt like we just stayed the same," said fifth-year senior wide receiver K.J. Hill. "We stayed poised. We knew what we had to do."
Several of the Buckeyes' seniors made big plays along the way to help lead the Buckeyes to victory. Hill caught a 24-yard touchdown pass on Ohio State's opening possession of the third quarter. Harrison had nine total tackles with two for loss. Jordan Fuller had a key pass breakup on a deep ball on the first play of the second quarter.
No outgoing senior made a bigger play than fifth-year defensive tackle Jashon Cornell, who came up with a crucial sack to force Penn State to settle for a field goal when the Nittany Lions were threatening to tie the game after a Justin Fields fumble late in the third quarter.
"I think it might have been one of the best plays of my life," Cornell said. "I put myself in a great situation to be there at that moment. I usually don't show emotions in the game, but that was one moment where I showed a lot of emotion. Coming out as a senior, leaving the field with a sack, it might have been my best play of my career."
The list of seniors who were honored on Saturday also included walk-ons Amari McMahon, Jake Metzer, Derrick Malone, Brock Davin, Owen Fankhauser, Logan Hittle, Noah Donald and Brandon Pahl; long snapper Liam McCullough; quarterback Chris Chugunov; offensive linemen Kevin Woidke, Jonah Jackson, Joshua Alabi and Branden Bowen; tight end/defensive end Rashod Berry; defensive tackles DaVon Hamilton and Robert "BB" Landers; wide receivers Binjimen Victor, Austin Mack and C.J. Saunders; and cornerback Damon Arnette.
Ryan Day considered Saturday's win to be a tribute to those seniors.
"To see the seniors play the way they did today, and how much it meant to them to play their last game in the Horseshoe, and to send them out with this kind of win was huge," Day said.
One notable player who did not go through Senior Day festivities was defensive end Jonathon Cooper. Ohio State announced prior to the game that he plans to redshirt this season and return as a fifth-year senior in 2020.
Huge play by Hilliard
Another player who was considered to be a senior this year but did not participate in Saturday's Senior Day ceremony was fifth-year linebacker Justin Hilliard, who has applied to the NCAA for a waiver for a sixth year of eligibility and is expected to return for the 2020 season if that is approved.
Hilliard has been plagued by injuries throughout his Ohio State career – he was sidelined by biceps injuries for his first two seasons as a Buckeye, and missed the start of this season was an Achilles injury – which is why he could be granted another year of eligibility, but which have also kept him from living up to the potential he came to Columbus with as a five-star recruit.
That said, he's started to earn regular playing time on Ohio State's defense in recent weeks as an outside linebacker when the Buckeyes turn to their four-linebacker packages, which is why he was on the field in the fourth quarter with just over 10 minutes to play in Saturday's game and the Buckeyes needing a stop to preserve their 28-17 lead. Then, when Penn State quarterback Will Levis attempted to force a pass into traffic over the middle of the field, Hilliard was in the right place at the right time and intercepted it.
Justin Hilliard coming through with a clutch pick. pic.twitter.com/5bObS6DQ3O

— Eleven Warriors (@11W) November 23, 2019
It was the first interception of Hilliard's career, and truly the biggest play of his Ohio State career to date, given that Penn State had driven inside Ohio State's territory with a chance to make it a one-score game, which would have put the Nittany Lions right back in the game.
Knowing everything Hilliard has had to overcome, his coaches were thrilled to see him deliver in a key moment of the game.
"He's spent a lot of time in this program, put his heart and soul into it and to have the play of the game with that interception, I couldn't have been happier for him," Day said. "There's a lot of guys who made a lot of great plays in this game, but he was one that really stuck out to me."
Hafley said he was "really proud" of Hilliard.
"Justin, for example, has fought back from injury, fought back from injury, worked, never gave up – at times, he probably could have – and then he probably has the biggest play of the game today on that interception," Hafley said. "You can't say as a coach how proud you are of that, 'cause that exemplifies, everybody looks at the superstars, right? Today was his day, and that's what college football's all about, that's what life's all about. His work, his perseverance and then he comes up with that play, are you kidding me? He'll remember that for the rest of his life, and so will everybody here."
Hilliard also recorded two tackles in Saturday's win.
Fields show toughness once again
With just over two minutes to go in Saturday's game and Ohio State holding a two-score lead, it felt like Buckeyes fans could finally exhale and celebrate another win.
Suddenly, Ohio Stadium went silent and everyone held their collective breath.
That was because Fields, the Buckeyes' star quarterback and the single-most important player to Ohio State's championship aspirations, was down on the turf after being taken down by Penn State defensive back Lamont Wade on a fourth-down sack. After he went down, two of Fields' teammates waved for Ohio State's athletic trainers to come onto the field, and he stayed down for a couple minutes receiving medical attention.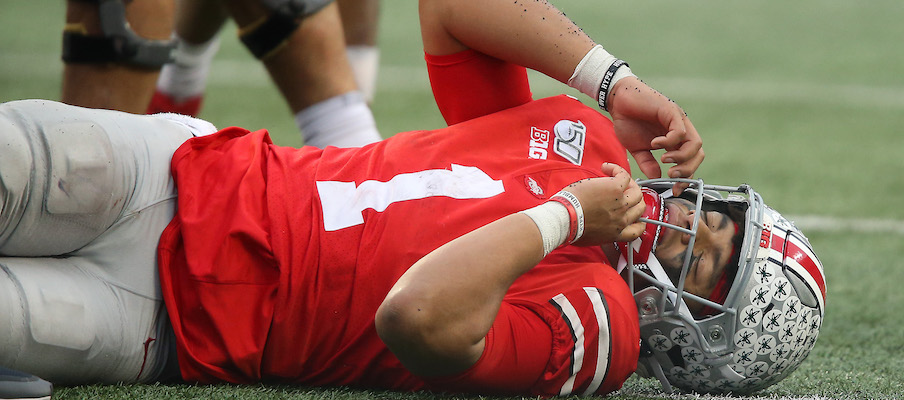 Eventually, though, Fields got up and jogged off the field, and he even returned to the game to handle the Buckeyes' final two kneel-downs in victory formation to run out the clock.
While it looked as though Fields might have injured his ankle on the play, Day said after the game that Fields was "good" and then went onto praise his toughness, as he had already done several times this season but never quite as strongly as he did on Saturday.
"He's a warrior," Day said. "He's got a heart of a lion. I love that kid. He's tough."
Fields showed that toughness by running the ball 21 times on Saturday, more than he had in any previous game this season. He finished with 68 yards on the ground (though he gained 103 without accounting for losses in yardage), all the while he also completed 16 of 22 passing attempts for 188 yards and two touchdowns.
Ohio State center Josh Myers was among those holding his breath when he saw Fields go down on that fourth-down sack. He followed Day's lead, though, in praising Fields for the toughness he demonstrates throughout Saturday's game.
"Your heart sinks to your stomach, it really does. Thankfully, I think he's OK. Boy, it makes you nervous though," Myers said of seeing Fields go down. "But he's such a warrior, such a fighter. So I'm just proud of him."
Hill, however, joked that he thought his quarterback stayed down on the field for dramatic effect.
"He's Justin, ain't nothing wrong with him. He just wanted to lay on the ground for attention," Hill said with a laugh.
One Ohio State player who did leave the game early due to an injury was Tyreke Smith, who started at defensive end in place of Cooper on Saturday. He appeared to suffer an injury to his hand or wrist during the third quarter of the game and did not return; Zach Harrison and Tyler Friday played most of the rest of the snaps at defensive end opposite Chase Young in his place.
Second-string defensive tackle Haskell Garrett, who was listed as a game-time decision for Saturday's game, also did not play due to an apparent foot injury.
On the positive end of the injury spectrum, Austin Mack returned to the starting lineup at wide receiver after missing Ohio State's previous three games and caught two passes for 27 yards. Baron Browning, who missed two of the Buckeyes' previous four games and was limited in the other two, looked as healthy as ever in his return to Ohio State's linebacker rotation on Saturday, as he recorded seven total tackles with 2.5 tackles for loss and 1.5 sacks.