In redshirt senior linebacker Justin Hilliard's mind, he's viewing this as his last season at Ohio State. But if the NCAA allows, his college football career might extend an extra year.
Hilliard, who has dealt with two torn biceps and an Achilles tear as a Buckeye, has submitted a waiver request to the NCAA in hopes of being granted a sixth year. It's now a "waiting game," he said, since the paperwork has been submitted.
"That process has been done," Hilliard said on Wednesday night. "It's something that I need to have a conversation with coach (Ryan) Day, coach Mick (Marotti) and all that. But right now, I'm kind of treating it like these are my last games."
If the NCAA approves the waiver, would Hilliard play another year?
"Probably," Hilliard said. "I think so. We'll see."
The uncertainty in Hilliard's answer, he says, comes from the lack of communication to this point between him, the coaching staff and his family. Though the topic was initially broached last year in a discussion with Urban Meyer, he said, there haven't been serious conversations about it quite yet. Those talks, he believes, will come in the next week or two.
Thus, Hilliard said the possibility of a sixth year is something he wants to "look into," but not something that he's set on doing.
"That's going to be up to Justin to talk about," Day said on Oct. 29. "I don't think he's really focused on any of that right now, but certainly at the end of the season if that's something he's interested in then we can talk about it."
Per bylaw 12.8.1.7.1 in the NCAA Division I Manual, an extra year of eligibility could be awarded if "the student-athlete is deprived of the opportunity to participate for more than one season in his or her sport within the five-year period of eligibility for reasons that are beyond the control of the student-athlete or the institution."
Given Hilliard's checkered injury history, he would appear to fit the criteria as dictated by the NCAA.
Hilliard did not play at all as a freshman due to a torn bicep, and then he only managed three games his second year after suffering a torn bicep in his other arm. By the time he entered his third season, the five-star recruit and top-rated Ohioan from the class of 2015 had just four tackles in three games.
This sesaon, Hilliard suffered a torn Achilles tendon in the spring, which kept him out until the third game.
"The bicep's a little different," Hilliard said. "Obviously you don't run on your arm, so it's I wouldn't say as serious, but it's still a six-month process. With the Achilles, it's completely life-changing. You can't move almost for two months. Kind of the thing with that was the acceleration of my rehab. I went from not walking to trying to walk and trying to jog and get that mobility back."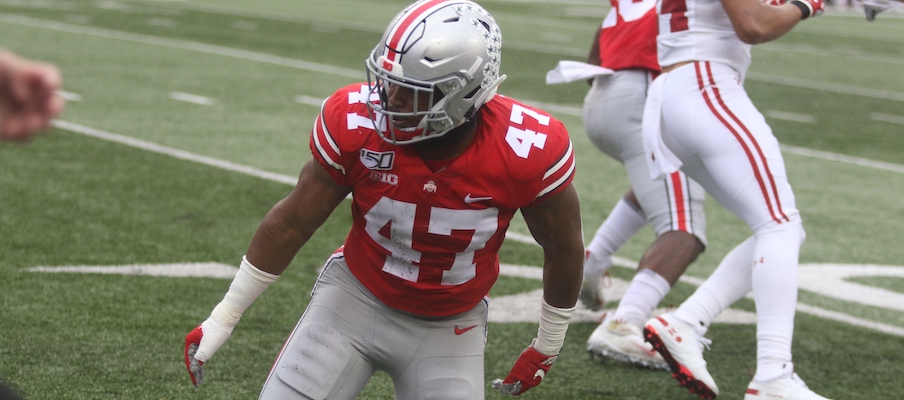 Two days after tearing his Achilles, he remembers sitting down with physical therapist Adam Stewart – somebody Hilliard called a "wizard" – to map out a return to the field. 
Since Hilliard knew this was "probably" his last year, the goal was a return by the second or third week of the season. He had seen Tuf Borland make a similarly fast return a year prior.
"We had goals," Hilliard said. "The whole summer I was working on each goal. It wasn't something I (was) going to rush into. The rehab ended up going great and we were on schedule."
By the third week of the season, Hilliard felt healthy enough to make his redshirt senior debut, playing three snaps on defense and rejoining both the kickoff and punt teams.
The next four games, he maxed out at eight snaps. Then, against Wisconsin, he made his first start of the season, played 18 snaps and had a tackle for loss. Facing a run-heavy team, the Buckeyes went with four linebackers, choosing to put Hilliard at the second level of the defense along with Malik Harrison, Pete Werner and Borland. The added workload didn't faze Hilliard.
"I feel so much better," Hilliard said. "I was telling coach (Al) Washington the other day this is probably the best I've felt since my last surgery. It's a task coming back from surgery, but you've got to push every day."
With a trio of starting linebackers set and Baron Browning also in the mix, Hilliard's role will likely remain limited, but he has no qualms with it.
"I would say yes, it's met my expectations," Hilliard said. "I was coming off an Achilles tear. I didn't start playing even special teams until week three or four, so I'm still progressing. I like where I'm at."
What he doesn't know quite yet is what comes after this season.
The Buckeyes won't have an upheaval at linebacker in the offseason. They'll lose Harrison but return the other two starters – Werner and Borland – along with Browning, Teradja Mitchell, Dallas Gant, K'Vaughan Pope, Cade Stover, Craig Young and Tommy Eichenberg.
If Hilliard both gets approval for a waiver from the NCAA and ultimately decides to return for a sixth year at Ohio State, he wouldn't have any guarantee of a starting spot. That said, he's not somebody who doubts himself.
"I tell people this all the time: just because I've been injured, my expectations still hasn't lowered," Hilliard said. "I'm shooting to try to be the best linebacker in the country. (The possibility of a sixth year) for sure would excite me. It's just, like I said, something I need to have conversations about with coach Mick, coach Day and my family."
With only three weeks left in the regular season and five weeks until the beginning of the early signing period for the class of 2020, those conversations will have to come soon.