When Wisconsin cut Ohio State's lead to 10-7 early in the third quarter on Saturday at Ohio Stadium, it looked as though the Buckeyes might finally need their starters to play for 60 minutes to secure a win in their eighth game of the season.
After the Buckeyes scored touchdowns on each of their next four consecutive possessions, all the while holding the Badgers without another point, they ended up being able to put their backups in to finish out the game once again.
Even though Ohio State's starters on both sides of the ball played into the middle of the fourth quarter of Saturday's 38-7 win, the Buckeyes still ended up playing a total of 60 players – including 52 on either offense or defense – as they rolled to yet another lopsided victory, even against their strongest opponent of the season to date, and improved to 8-0 on the year.
Highlighted by a career-high 57 snaps for sophomore wide receiver Chris Olave and a season-high 18 snaps for fifth-year senior linebacker Justin Hilliard, as both made their first starts of the season, we take a look at the roles that each of those 60 Buckeyes played in Snap Counts, Eleven Warriors' exclusive weekly look at how Ohio State splits up its playing time in each game.
All snap counts were compiled by Eleven Warriors and should be considered unofficial. It is not always possible to see all players on special teams units from TV camera angles for special teams units, so exact snap counts for those plays are not listed.
Quarterbacks
Justin Fields: 64
Chris Chugunov: 10
For the first time all season, Ohio State had to turn to a quarterback other than Fields to play a snap with the game on the line. After Fields' helmet came off on a sack by Wisconsin's Zack Baun, Chugunov checked into the game for one play, as safety rules dictate that a player must leave the game for one player after losing his helmet.
After that, though, Fields played every snap at quarterback – even after a hard landing on his back on his third-quarter touchdown run required a trip to the medical tent – until the Buckeyes' final possession of the fourth quarter, on which they ran out the clock to end the game, when Chugunov returned to the lineup in relief of Fields.
Running Backs
J.K. Dobbins: 53
Master Teague: 22
Dobbins was a workhorse for the Buckeyes once again on Saturday, as he played every snap of the first half and all but three snaps before their final two possessions of the game. He certainly took advantage of those snaps, as he ran for 163 yards and two touchdowns and added three catches for 58 yards for a career-high 221 yards from scrimmage, earning him Big Ten offensive player of the week honors.
Teague came in for four snaps to start Ohio State's second possession of the third quarter, including one play on which Teague and Dobbins were both on the field together, with Dobbins at wide receiver. Other than that, however, Teague did not return to the game until the Buckeyes' final two possessions in the fourth quarter, when Dobbins checked out for the day.
True freshman running back Marcus Crowley, who had carries in six of the Buckeyes' first seven games this season, did not see the field against Wisconsin.
Wide Receivers
Chris Olave: 57
K.J. Hill: 55
Binjimen Victor: 36 
Garrett Wilson: 29
Jameson Williams: 14
Jaylen Harris: 9
Demario McCall: 7
Xavier Johnson: Special teams only
With Austin Mack sidelined by an injury, Olave made his first career start in Mack's place and played the vast majority of the game at Z receiver for a career-high 57 snaps. He took advantage of his increased playing time by catching seven passes for 93 yards, both also new career-highs for the sophomore, and two touchdowns to lead the Buckeyes' receiving corps against the Badgers.
Mack's absence shortened the Buckeyes' core rotation of wide receivers from five to four, as Victor and Wilson continued to rotate at X receiver but Hill was the only slot receiver to play in the first three quarters. Williams checked in for one snap at Z in the third quarter, but the rest of his playing time came in the fourth quarter, while Harris entered the game at X and McCall replaced Hill in the slot for the game's final offensive possession only.
Tight Ends
Luke Farrell: 31
Jeremy Ruckert: 27
Rashod Berry: 18
Jake Hausmann: 8
Mitch Rossi: 4
Berry and Hausmann both returned to action after missing Ohio State's previous game against Northwestern, giving the Buckeyes a four-man rotation at tight end once again. That said, Farrell and Ruckert still played the majority of snaps at the position; Berry played only four snaps before halftime, while Hausmann played only in the second half, with five of his eight snaps coming on the game's final series. 
Rossi, a walk-on, also saw playing time for the eighth game in a row to begin the season, as he checked in for four snaps on the Buckeyes' final offensive possession.
Ohio State had multiple tight ends on the field for 11 of its 74 offensive plays against Wisconsin.
Offensive Linemen
Thayer Munford: 65
Jonah Jackson: 65
Josh Myers: 65
Wyatt Davis: 65
Branden Bowen: 65
Dawand Jones: 9 
Matthew Jones: 9
Harry Miller: 9
Gavin Cupp: 9
Nicholas Petit-Frere: 9  
Kevin Woidke: Special teams only
After playing just 14 snaps off the bench against Northwestern due to an injury, Munford returned to the starting lineup at left tackle and played every snap alongside the rest of Ohio State's starting offensive linemen until the Buckeyes' final offensive possession against Wisconsin.
True freshman Dawand Jones saw playing time on the offensive line for a second consecutive game as the second-team left tackle; Joshua Alabi, the Buckeyes' second-team left tackle for the first half of the regular season, missed his second consecutive game due to injury. The rest of the second-team offensive line remained the same as it has been for most of the years, with Matthew Jones, Miller and Cupp at left guard, center and right guard and Nicholas Petit-Frere returning to the second-team right tackle spot after starting at left tackle against Northwestern.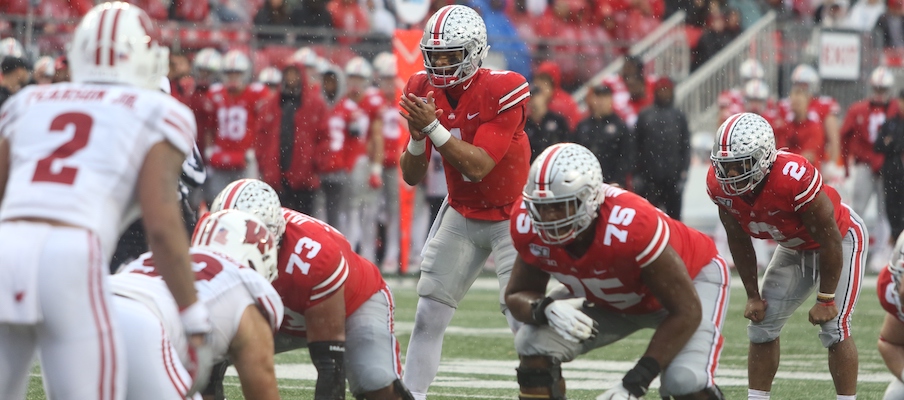 Defensive Ends
Chase Young: 42
Tyreke Smith: 28
Zach Harrison: 21
Javontae Jean-Baptiste: 9
With Jonathon Cooper and Tyler Friday both sidelined for Saturday's game due to injuries, Smith started opposite Young and played 28 snaps, tying his season- and career-highs. Harrison was called upon to be the first defensive end off the bench against Wisconsin, while Jean-Baptiste also mixed in for occasional playing time and was the only other defensive end to see snaps against the Badgers.
Young, who earned national defensive player of the week honors after recording six total tackles, five tackles for loss, four sacks and two forced fumbles in Saturday's game, played all but six of the Buckeyes' first 48 snaps against the Badgers before taking a seat on the bench for the final defensive series. 
Defensive Tackles
Jashon Cornell: 25
Haskell Garrett: 20
Davon Hamilton: 19
Robert Landers: 16
Tommy Togiai: 16
Antwuan Jackson: 8
Ohio State utilized three-man rotations at both defensive tackle spots against Wisconsin, with Cornell leading the way at 3-technique and Hamilton leading the way at nose tackle. With Cooper and Friday both out of action, Cornell also slid outside to play defensive end situationally for four snaps.
Cornell and Garrett took the majority of snaps at 3-technique – six of Jackson's eight snaps came on the Buckeyes' final two defensive series of the game – while Landers and Togiai both worked their way in for their share of snaps at nose tackle.
Linebackers
Malik Harrison: 48
Pete Werner: 46
Tuf Borland: 32
Justin Hilliard: 18
Baron Browning: 16
Dallas Gant: 3
K'Vaughan Pope: 3
Brendon White: 3
Jahsen Wint: Special teams only
Ohio State started Saturday's game in a four-linebacker defense, and Hilliard – less than seven months removed from a torn Achilles – both started and played double-digit defensive snaps for the first time this season as a result. In that 4-4-3 defense, which the Buckeyes used on 18 of 51 defensive snaps against the Badgers, Hilliard and Werner lined up as the outside linebackers while Harrison and either Borland or Browning lined up as the inside linebackers.
Harrison played every defensive snap except for Wisconsin's final possession, while Werner played all of those snaps except for two nickel packages in which Josh Proctor replaced him as a second safety. Browning, in his first game back after missing the Northwestern game, rotated with Borland at middle linebacker, with Borland playing two-thirds of the Buckeyes' first 48 defensive snaps and Browning playing the other third.
When Ohio State put its second-team defense on the field for Wisconsin's final possession of the day, which lasted just three plays, the linebackers consisted of Pope at weakside linebacker, Gant at middle linebacker and White at strongside linebacker.
Cornerbacks
Jeff Okudah: 48
Damon Arnette: 47
Shaun Wade: 30
Cameron Brown: 4
Sevyn Banks: 3
Amir Riep: 3
Marcus Williamson: Special teams only
Okudah played all of the first 48 defensive snaps in Saturday's game, while Arnette played all but one. Arnette, who has been playing with a cast on his wrist, called for a substitution after making a third-quarter tackle and was replaced by Brown for one play before returning to the game.
Wade did not start on Saturday as a result of the Buckeyes' decision to start four linebackers and only three defensive backs, but the slot cornerback still ended up playing 30 of Ohio State's first 48 defensive snaps against the Badgers.
Brown and Banks finished out the game at the two outside cornerback spots, while Riep played the final defensive series at slot cornerback.
Safeties
Jordan Fuller: 48
Josh Proctor: 5
Marcus Hooker: Special teams only
Fuller played every one of the Buckeyes' first 48 defensive snaps at deep safety against Wisconsin, while Proctor took his place in the lineup for the Badgers' final possession. Proctor also checked in as a second safety for two third-down plays in the second quarter.
Field Goal/Extra Points
Blake Haubeil (kicker)
Drue Chrisman (holder)
Liam McCullough (long snapper)
Luke Farrell (wing)
Harry Miller (rocker)
Wyatt Davis (tackle)
Gavin Cupp (guard)
Jerron Cage (guard)
Nicholas Petit-Frere (tackle)
Kevin Woidke (rocker)
Jeremy Ruckert (wing)
Ohio State used the same lineup for its lone field goal attempt – a 49-yard field goal which Haubeil drilled for the first points of the game – and its five extra points against Wisconsin as it did against Northwestern, with Miller continuing to play the position on the left side of the line that Alabi played in the first six games of the season.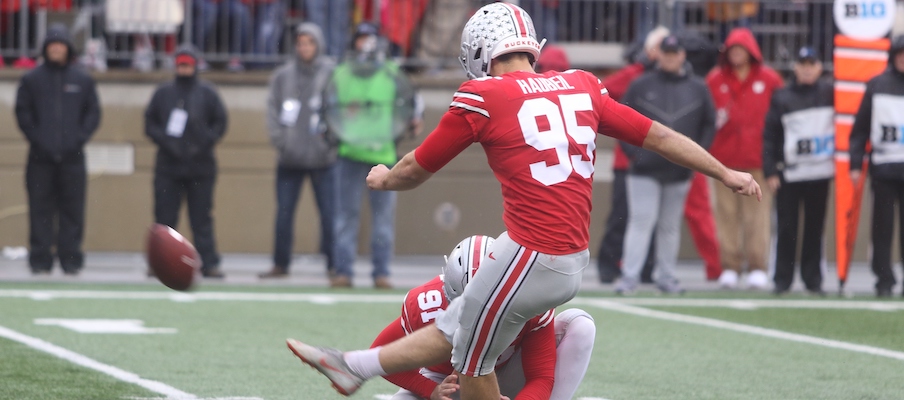 Kickoffs
Blake Haubeil (kicker)
Josh Proctor (gunner)
Justin Hilliard or Xavier Johnson (gunner)
K'Vaughan Pope (gunner)
Amir Riep (gunner)
Dallas Gant (gunner)
Marcus Hooker (gunner)
Jahsen Wint (gunner)
Sevyn Banks or Cameron Brown (gunner)
Brendon White (gunner)
Marcus Williamson (gunner)
Ohio State used the same starting lineup for its kickoff team against Wisconsin that it used in its previous game against Northwestern. Wisconsin's Aron Cruickshank returned four of Haubeil's kickoffs for a total of 83 yards.
Kickoff Returns
Demario McCall (returner)
K.J. Hill (blocker)
Xavier Johnson (blocker)
Mitch Rossi (blocker)
K'Vaughan Pope (blocker)
Marcus Hooker (blocker)
Dallas Gant (blocker)
Amir Riep (blocker)
Jahsen Wint (blocker)
Jaylen Harris (blocker)
Marcus Williamson (blocker)
Hooker and Williamson took the places of Justin Hilliard and Binjimen Victor on Ohio State's kickoff return unit from the previous game against Northwestern, while the rest of the unit remained the same. McCall did not return either of Wisconsin's two kickoffs.
Punts
Drue Chrisman (punter)
Liam McCullough (long snapper)
Jake Hausmann (upback)
Tuf Borland (upback)
Luke Farrell (wing)
Malik Harrison (guard)
Dallas Gant (guard)
Justin Hilliard (tackle)
Jordan Fuller (gunner/tackle)
Chris Olave (gunner)
Jeff Okudah or Sevyn Banks (gunner)
With Cooper and Friday both sidelined by injuries, Hausmann lined up alongside Borland as one of the primary punt protectors for Chrisman. The rest of Ohio State's punting unit returned from previous games, though Chrisman had one of his worst games as a Buckeye, as one of his punts was blocked while none of his four punting attempts landed inside the opponent's 20-yard line.
Punt Blocks/Returns
Demario McCall or Garrett Wilson (returner)
Marcus Williamson (rusher/blocker)
Xavier Johnson (rusher/blocker)
Jahsen Wint (rusher/blocker)
Dallas Gant (rusher/blocker)
Josh Proctor or Pete Werner or Sevyn Banks (rusher/blocker)
Brendon White (rusher/blocker)
Justin Hilliard (rusher/blocker)
Jaylen Harris (rusher/blocker)
Cameron Brown or Chris Olave (rusher/blocker)
Shaun Wade (rusher/blocker)
As has been the case for the most of the season, McCall started Saturday's game at punt returner but was replaced by Wilson later in the game. McCall was on the field for five of Wisconsin's seven punts while Wilson was on the field for just two, but Wilson made yet another case that he should be the Buckeyes' top punt returner with a 23-yard return in the third quarter.
Extra Point Block
Damon Arnette (blocker)
Shaun Wade (blocker)
Pete Werner (blocker)
Haskell Garrett (blocker)
Jashon Cornell (blocker)
Chase Young (blocker)
Robert Landers (blocker)
Baron Browning (blocker)
Malik Harrison (blocker)
Jeff Okudah (blocker)
Jordan Fuller (blocker)
Wisconsin attempted just one extra point and no field goals in Saturday's game, so Ohio State didn't need to do anything special with its kick-blocking unit against the Badgers.
Snap Tracker: Offense

| POS | PLAYER | FAU | UC | IU | MIAMI | NEB | MSU | NW | UW | TOTAL |
| --- | --- | --- | --- | --- | --- | --- | --- | --- | --- | --- |
| QB | JUSTIN FIELDS | 73 | 67 | 63 | 43 | 67 | 76 | 55 | 64 | 508 |
| QB | CHRIS CHUGUNOV | 5 | 5 | 8 | 18 | 9 | DNP | 12 | 10 | 67 |
| QB | GUNNAR HOAK | DNP | 4 | 5 | 14 | DNP | DNP | DNP | DNP | 23 |
| RB | J.K. DOBBINS | 49 | 43 | 44 | 34 | 51 | 57 | 48 | 53 | 379 |
| RB | MASTER TEAGUE III | 18 | 17 | 23 | 24 | 21 | 19 | 11 | 22 | 155 |
| RB | MARCUS CROWLEY | 5 | 1 | 5 | 6 | 4 | 0 | 5 | DNP | 26 |
| RB | STEELE CHAMBERS | DNP | 3 | DNP | 10 | ST | DNP | DNP | DNP | 13 |
| RB | AMARI McMAHON | DNP | DNP | DNP | 1 | DNP | DNP | DNP | DNP | 1 |
| WR | K.J. HILL | 45 | 45 | 38 | 30 | 42 | 63 | 40 | 55 | 358 |
| WR | BINJIMEN VICTOR | 41 | 31 | 32 | 25 | 40 | 45 | 31 | 36 | 281 |
| WR | CHRIS OLAVE | 41 | 33 | 29 | 25 | 29 | 35 | 21 | 57 | 270 |
| WR | AUSTIN MACK | 30 | 31 | 36 | 22 | 35 | 31 | 29 | DNP | 223 |
| WR | GARRETT WILSON | 29 | 21 | 30 | 32 | 27 | 31 | 24 | 29 | 223 |
| WR | JAYLEN HARRIS | 5 | 22 | 14 | 9 | 9 | ST | 7 | 9 | 75 |
| WR | JAMESON WILLIAMS | 5 | 6 | 7 | 14 | 8 | ST | 20 | 14 | 74 |
| WR | JAELEN GILL | 6 | 10 | 14 | 5 | 8 | DNP | 6 | DNP | 49 |
| WR/RB | DEMARIO MCCALL | 6 | 12 | 4 | 6 | 1 | DNP | 7 | 7 | 43 |
| WR | ELLIJAH GARDNER | 2 | 3 | 6 | 7 | DNP | DNP | DNP | DNP | 18 |
| WR | XAVIER JOHNSON | ST | ST | ST | 10 | ST | ST | 2 | ST | 12 |
| WR | AUSTIN KUTSCHER | DNP | DNP | DNP | 10 | DNP | DNP | DNP | DNP | 10 |
| WR | SAM WIGLUSZ | DNP | DNP | DNP | 9 | DNP | DNP | DNP | DNP | 9 |
| TE | LUKE FARRELL | 53 | 29 | 28 | 16 | 33 | 32 | 36 | 31 | 258 |
| TE | JEREMY RUCKERT | 34 | 23 | 20 | 23 | 26 | 22 | 33 | 27 | 208 |
| TE | RASHOD BERRY | DNP | 25 | 24 | 23 | 23 | 18 | DNP | 18 | 131 |
| TE | JAKE HAUSMANN | 16 | 21 | 21 | 23 | 16 | 15 | DNP | 8 | 120 |
| TE | MITCH ROSSI | 2 | 1 | 5 | 6 | 7 | 3 | 15 | 4 | 43 |
| TE | DERRICK MALONE | 1 | 1 | DNP | 4 | DNP | DNP | DNP | DNP | 6 |
| TE | BROCK DAVIN | 2 | 2 | DNP | 1 | DNP | DNP | DNP | DNP | 5 |
| OL | WYATT DAVIS | 73 | 67 | 63 | 43 | 67 | 76 | 55 | 65 | 509 |
| OL | JONAH JACKSON | 73 | 67 | 63 | 43 | 67 | 76 | 55 | 65 | 509 |
| OL | JOSH MYERS | 73 | 67 | 63 | 43 | 67 | 76 | 55 | 65 | 509 |
| OL | THAYER MUNFORD | 54 | 56 | 63 | 43 | 67 | 76 | 14 | 65 | 438 |
| OL | BRANDEN BOWEN | 63 | 56 | 63 | 43 | DNP | 70 | 55 | 65 | 415 |
| OL | JOSHUA ALABI | 24 | 20 | 13 | 32 | 73 | 6 | DNP | DNP | 168 |
| OL | NICHOLAS PETIT-FRERE | 15 | 20 | 13 | 32 | 9 | ST | 47 | 9 | 145 |
| OL | GAVIN CUPP | 5 | 9 | 13 | 32 | 9 | ST | 12 | 9 | 89 |
| OL | HARRY MILLER | 5 | 9 | 13 | 32 | 9 | DNP | 12 | 9 | 89 |
| OL | MATTHEW JONES | 5 | 9 | 8 | 32 | 9 | DNP | 12 | 9 | 84 |
| OL | KEVIN WOIDKE | ST | ST | 5 | ST | 3 | ST | 12 | ST | 20 |
| OL | DAWAND JONES | DNP | ST | DNP | ST | DNP | DNP | 6 | 9 | 15 |
| OL | BRANDON PAHL | DNP | DNP | DNP | ST | DNP | DNP | DNP | DNP | ST |
| OL | MAX WRAY | DNP | DNP | DNP | ST | DNP | DNP | DNP | DNP | ST |
| K | BLAKE HAUBEIL | ST | ST | ST | ST | ST | ST | ST | ST | ST |
| K | DOMINIC DiMACCIO | DNP | DNP | DNP | ST | DNP | DNP | DNP | DNP | ST |
Snap Tracker: Defense

| POS | PLAYER | FAU | UC | IU | MIAMI | NEB | MSU | NW | UW | TOTAL |
| --- | --- | --- | --- | --- | --- | --- | --- | --- | --- | --- |
| DE | CHASE YOUNG | 42 | 34 | 35 | 33 | 29 | 63 | 35 | 42 | 313 |
| DE | ZACH HARRISON | 24 | 17 | 22 | 23 | 25 | 14 | 29 | 21 | 175 |
| DE | JAVONTAE JEAN-BAPTISTE | 33 | 16 | 28 | 21 | 14 | 9 | 27 | 9 | 157 |
| DE | TYREKE SMITH | DNP | 21 | 20 | DNP | DNP | 28 | 26 | 28 | 123 |
| DE | TYLER FRIDAY | DNP | 15 | 33 | 28 | 22 | DNP | 5 | DNP | 103 |
| DE | JONATHON COOPER | DNP | DNP | DNP | DNP | 22 | 24 | 24 | DNP | 70 |
| DE | ALEX WILLIAMS | 14 | 5 | DNP | 13 | DNP | DNP | DNP | DNP | 32 |
| DE | NOAH POTTER | 8 | 6 | DNP | 7 | DNP | DNP | DNP | DNP | 21 |
| DE | AARON COX | 6 | DNP | DNP | 3 | DNP | DNP | DNP | DNP | 9 |
| DT | JASHON CORNELL | 32 | 23 | 22 | 27 | 24 | 33 | 24 | 25 | 210 |
| DT | HASKELL GARRETT | 36 | 19 | 24 | 18 | 24 | 19 | 22 | 20 | 182 |
| DT | TOMMY TOGIAI | 29 | 25 | 22 | 17 | 23 | 14 | 28 | 16 | 174 |
| DT | DAVON HAMILTON | 26 | 20 | 16 | 27 | 17 | 29 | 19 | 19 | 173 |
| DT | ROBERT LANDERS | 25 | 10 | 23 | DNP | 15 | 22 | 17 | 16 | 128 |
| DT | ANTWUAN JACKSON | 18 | 10 | 14 | 13 | 9 | 9 | 21 | 8 | 102 |
| DT | JERRON CAGE | 14 | 4 | 10 | 12 | ST | 4 | 8 | DNP | 52 |
| DT | ZAID HAMDAN | 6 | DNP | DNP | 7 | DNP | DNP | DNP | DNP | 13 |
| DT | JADEN McKENZIE | DNP | DNP | DNP | 7 | DNP | DNP | DNP | DNP | 7 |
| LB | MALIK HARRISON | 53 | 41 | 45 | 37 | 39 | 55 | 53 | 48 | 371 |
| LB | PETE WERNER | 60 | 35 | 41 | 32 | 28 | 50 | 53 | 46 | 345 |
| LB | TUF BORLAND | 36 | 20 | 26 | 28 | 30 | 40 | 38 | 32 | 250 |
| LB | BARON BROWNING | 36 | 32 | 37 | 20 | 29 | 41 | DNP | 16 | 211 |
| LB/S | BRENDON WHITE | 19 | 15 | 27 | 16 | 18 | 17 | 16 | 3 | 131 |
| LB | DALLAS GANT | 6 | 13 | 12 | 15 | 14 | ST | 19 | 3 | 82 |
| LB | TERADJA MITCHELL | 25 | 14 | 12 | 14 | DNP | DNP | DNP | DNP | 65 |
| LB | K'VAUGHAN POPE | ST | 2 | 3 | 12 | ST | ST | 22 | 3 | 42 |
| LB/S | JAHSEN WINT | 19 | ST | DNP | 6 | 10 | ST | 4 | ST | 39 |
| LB | JUSTIN HILLIARD | DNP | DNP | 3 | 8 | 6 | ST | 1 | 18 | 36 |
| LB | CADE STOVER | DNP | 7 | DNP | 6 | DNP | DNP | ST | DNP | 13 |
| LB | CRAIG YOUNG | ST | ST | 3 | 1 | ST | DNP | ST | DNP | 4 |
| LB | TOMMY EICHENBERG | DNP | DNP | DNP | 1 | DNP | DNP | DNP | DNP | 1 |
| LB | CADE KACHERSKI | DNP | DNP | DNP | 1 | DNP | DNP | DNP | DNP | 1 |
| LB | LOGAN HITTLE | DNP | DNP | DNP | ST | DNP | DNP | DNP | DNP | ST |
| LB | BEN SCHMIESING | DNP | DNP | DNP | ST | DNP | DNP | DNP | DNP | ST |
| LB | TRAYVON WILBURN | DNP | DNP | DNP | ST | DNP | DNP | DNP | DNP | ST |
| CB | JEFF OKUDAH | 63 | 37 | 51 | 45 | 39 | 59 | 53 | 48 | 395 |
| CB | SHAUN WADE | 42 | 35 | 54 | 40 | 36 | 68 | 49 | 30 | 354 |
| CB | DAMON ARNETTE | 61 | 41 | 51 | 41 | 38 | 33 | 44 | 47 | 356 |
| CB | CAMERON BROWN | 15 | 18 | 12 | 13 | 18 | 35 | 18 | 4 | 133 |
| CB/S | AMIR RIEP | 6 | 14 | 8 | 12 | 14 | ST | 16 | 3 | 73 |
| CB | SEVYN BANKS | 17 | ST | 8 | 9 | 17 | ST | 19 | 3 | 73 |
| CB | MARCUS WILLIAMSON | 7 | 15 | 9 | 9 | ST | 9 | 16 | ST | 65 |
| CB | TYREKE JOHNSON | DNP | 3 | 7 | 9 | ST | DNP | 10 | DNP | 29 |
| CB | KEVIN DEVER | DNP | DNP | DNP | 1 | DNP | DNP | DNP | DNP | 1 |
| CB | DARRYL SINCLAIR | DNP | DNP | DNP | 1 | DNP | DNP | DNP | DNP | 1 |
| CB | LLOYD McFARQUHAR | DNP | DNP | DNP | 1 | DNP | DNP | DNP | DNP | 1 |
| S | JORDAN FULLER | 61 | 43 | 54 | 45 | 50 | 59 | 53 | 48 | 413 |
| S | JOSH PROCTOR | 6 | 15 | 5 | DNP | 6 | 15 | 3 | 5 | 55 |
| S | ISAIAH PRYOR | 12 | 2 | 15 | 12 | DNP | DNP | DNP | DNP | 41 |
| S | MARCUS HOOKER | ST | ST | 7 | 6 | ST | ST | 19 | ST | 32 |
| S | BRYSON SHAW | DNP | DNP | DNP | 6 | DNP | DNP | DNP | DNP | 6 |
| S | OWEN FANKHAUSER | DNP | DNP | DNP | 1 | DNP | DNP | DNP | DNP | 1 |
| S | RYAN BATSCH | DNP | DNP | DNP | ST | DNP | DNP | DNP | DNP | ST |
| P | DRUE CHRISMAN | ST | ST | ST | ST | ST | ST | ST | ST | ST |
| P | ZACK HOOVER | DNP | DNP | DNP | ST | DNP | DNP | DNP | DNP | ST |
| LS | LIAM MCCULLOUGH | ST | ST | ST | ST | ST | ST | ST | ST | ST |
| LS | BRADLEY ROBINSON | DNP | DNP | DNP | ST | DNP | DNP | DNP | DNP | ST |