When Justin Hilliard ruptured his Achilles tendon on March 23, he thought his Ohio State career might be over.
Achilles injuries can take up to a year or longer to recover from, and the fifth-year senior linebacker had just one more year of remaining eligibility. Unless he recovered much faster than usual, Hilliard faced the possibility of never playing another snap of football.
Hilliard didn't give up, though, and set his sights on returning to the field in just six months. That's what fellow Ohio State linebacker Tuf Borland did after suffering the same injury in 2018, and that's exactly what Hilliard did too, making his season debut in the Buckeyes' third game of the year against Indiana on Sept. 14.
"The day I tore it was probably one of the toughest days of my life," Hilliard said after Saturday's 38-7 win over Wisconsin. "I didn't know if I was going to come back for my fifth (year), or even if it was possible to come back for the season. But me and (Adam Stewart), the head trainer here, kind of sat down and orchestrated a plan so I could come back."
Against Wisconsin on Saturday, Hilliard achieved another milestone, as he earned a spot in the starting lineup for the first time this season and the second time in his Ohio State career.
For Hilliard, a five-star recruit in the class of 2015 who has been plagued by injuries throughout his collegiate career, that was special.
"Just being out there, being able to make some plays, it means so much," Hilliard said. 
Hilliard's opportunity to start came as a result of Ohio State's base defense for Saturday's game, as the Buckeyes primarily lined up in a 4-4-3 alignment – four defensive linemen, four linebackers and only three defensive backs (two cornerbacks, one safety) – with Hilliard lining up at outside linebacker opposite Pete Werner, with Malik Harrison at one inside linebacker spot and a rotation of Tuf Borland and Baron Browning at the other.
Slot cornerback Shaun Wade, who has played as much as outside cornerbacks Jeff Okudah and Damon Arnette in most games this season, only played situationally in Saturday's game as a result.
Ohio State co-defensive coordinator Jeff Hafley said the Buckeyes went with that alignment in order to match up with Wisconsin's offensive formations, in which the Badgers often had two backs or two tight ends in the game and only two wide receivers.
"I've kind of told you guys all along, without really giving things away, based on what personnel groups they have, we have different packages," Hafley said after the game. "We figured this game would be kind of like an inside run drill. So we wanted the backers to defend the run and the DB's to do the pass."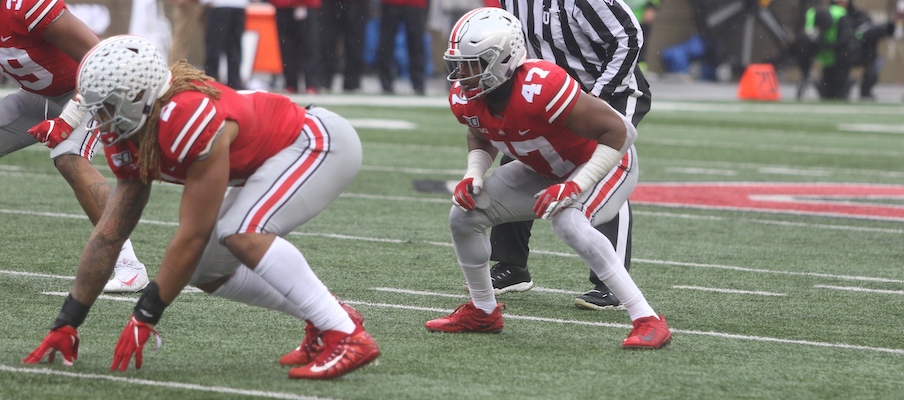 Hilliard made only one tackle in Saturday's game, but it was a big one, as he chased down Wisconsin running back Jonathan Taylor for a 6-yard loss on 2nd-and-10, setting up a drive-ending sack by Chase Young one play later.
Hafley was among those who praised Hilliard's performance after the game.
"You look at a guy who came back from an Achilles injury as fast as he did, kind of waited his time – because we haven't had to use this package yet – waited his time and able to get in the game and play as well as he did with as many snaps, it's a credit to him and for the guys getting ready to play," Hafley said. "I'm so proud and happy for him, because he really deserves that."
Young lines up at linebacker
Ohio State didn't need to do anything different with Chase Young for him to have a dominant game on Saturday, as he wreaked havoc on the Badgers' offensive line throughout the game from his traditional defensive end spot. Young tied a school record with four sacks on Saturday, and all of those came as a defensive end – two from the left side and two from the right side, including one strip sack from each side.
The Buckeyes also introduced a new wrinkle with Young on Saturday, though, which showed yet another side of one of college football's freakiest athletes.
With Wisconsin facing 3rd-and-8 on its second possession of the game, the Buckeyes turned Young into a standup middle linebacker, while Baron Browning lined up as a standup defensive tackle.
Wisconsin called a timeout in response to the unexpected look from Ohio State's defense, but it didn't matter.
Ohio State stuck with the same formation after the timeout, and Young executed the defensive play to perfection. After bursting through the middle of the line to bring pressure on Wisconsin quarterback Jack Coan and forcing him to dump the ball off quickly to running back Garrett Groshek, Young quickly turned around and caught Groshek from behind (with help from Browning and actual defensive tackle Robert Landers, who impeded the runner) for a 1-yard tackle for loss.
Chase Young at linebacker is fun and good. pic.twitter.com/iWvP7OegaU

— Eleven Warriors (@11W) October 26, 2019
Young said he could see the Badgers' "eyes get big" when he lined up at linebacker, and that it was "pretty cool" to get to play that position for a snap.
Hafley said the Buckeyes' defensive coaches have been working to come up with creative formations that can make it more difficult for offenses to game plan against Young, knowing that every opponent is aware of who he is and trying to find ways to neutralize him.
"We're going to have to start moving him around and being more creative, because everybody knows who he is, right?" Hafley said. "So if we always line him up to the left, they can slide to him, they can chip him. If we line him up to the right, they can slide to him, put the back on him, chip him. But now, if we start moving him around a little bit, we can kind of put him where we want him, and then we have to make them adjust. So I thought it was a good plan by the staff, and he executed well."
Day shares a "really cool moment" with Meyer
If there was ever a time this season where the shadow of former Ohio State head coach Urban Meyer could have loomed over current Ohio State coach Ryan Day, it was Saturday.
For the first time all season, Meyer was back in Ohio Stadium for Saturday's game as part of a special on-location broadcast of Fox's college football pregame show, Big Noon Kickoff.
As Ohio State rolled to a 31-point victory over Wisconsin on Saturday, there was no reason for any Buckeye fans to be longing for the past. But Day, who was Meyer's offensive coordinator and quarterbacks coach for two years before becoming the new head coach this season, had a chance to catch up with his former boss after the game when he was interviewed by the Big Noon Kickoff crew on Fox's postgame broadcast.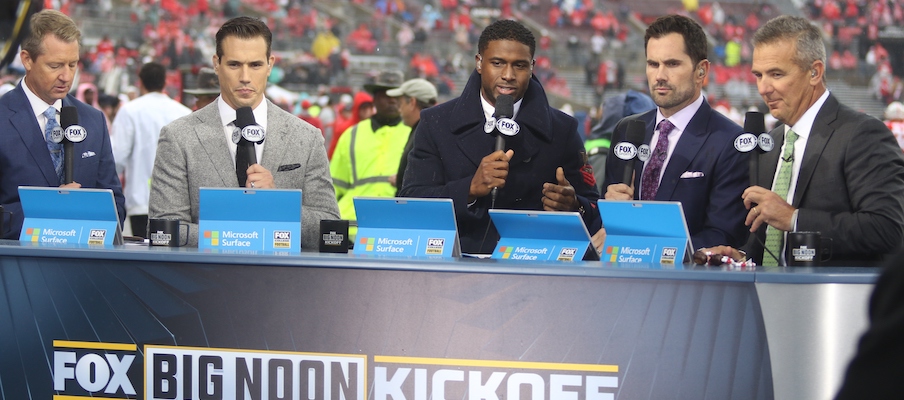 That was special for Day, who has not tried to think about the massive shoes Meyer left him to fill but continues to have a daily appreciation for the impact Meyer has made on his coaching career.
"That was a really cool moment for me," Day said. "I owe everything to he and Shelley – Nina and I – for the opportunity that he gave me and my family to be here. And I just want to make him proud and go out there and play really, really hard, really, really tough and represent the Buckeyes the way that he did when he was here. And, boy, it's hard to follow up a guy who is one of the best college football coaches in the history of the game. It just is. But try not to worry about that and try to just make everybody in Buckeye Nation and obviously Coach Meyer proud."
Injuries sideline Mack, Cooper
Ohio State's win on Saturday came despite the absence of two of its senior leaders, as wide receiver Austin Mack and defensive end Jonathon Cooper both missed the game after being listed as game-time decisions.
Chris Olave, who started in Mack's place at wide receiver on Saturday, said after the game that Mack suffered an injury in practice on Wednesday and Olave "thought it was a bad injury" when it happened. Olave indicated that Mack would be OK, hence why he was listed as a game-time decision, but said Mack sent him a text message on Saturday morning to say he would not be able to play against the Badgers.
Olave stepped up in a big way in Mack's absence, catching seven passes for 93 yards – both career-highs, and more than half of Ohio State's total receiving production on Saturday – and two touchdowns.
Cooper was healthy enough to go through some warmup drills with Ohio State's defensive linemen before the game, but was not in uniform for the game after his coaches made the decision not to play him. Cooper, who missed the first four games of this season with an ankle injury, had tape on the back of his thigh and did not appear to be moving at full speed in warmups.
Jonathon Cooper going through some warmup drills but does not appear to be at full strength. Has some tape on the back of his thigh and is listed as a game-time decision. pic.twitter.com/qPafk5GiFo

— Dan Hope (@Dan_Hope) October 26, 2019
Even without Cooper, though, Ohio State's defensive line dominated – Young certainly wasn't affected, Davon Hamilton also had a sack and the Buckeyes limited Wisconsin to just 83 rushing yards on 34 carries – and Hafley said that was a credit to the Buckeyes' entire defensive line group and their position coach, Larry Johnson.
"I cannot say enough about the D-line, Coach Johnson and what they've done and what they did today," Hafley said. "To me, that sent a message to the whole entire country about who our D-line is."
Young, Dobbins and Hill continue making history
With his aforementioned single-game school record-tying four sacks on Saturday, Young now has 13.5 sacks for the season – which means he needs just one more sack to break Vernon Gholston's single-season record of 14 sacks, which has stood since 2007.
Although Young is excited to be in a position to break that record, he says getting there hasn't been his primary focus.
"Obviously going into the season, you want to play the best, you want to break every record," Young said. "I feel like right now, I really just can't be worried about a sack record. I just gotta keep on trying to perfect my craft and do what I do, and those other things will come."
With his performance on Saturday, Young already became just the second player in Ohio State history with two double-digit sack seasons, joining Mike Vrabel.
J.K. Dobbins, who had a career-high 221 yards from scrimmage (163 rushing, 58 receiving) on Saturday, also made history against the Badgers, becoming the second player in Ohio State history with three 1,000-yard rushing seasons, joining none other than two-time Heisman Trophy winner Archie Griffin.
Dobbins now has 1,110 rushing yards for the season – surpassing the over/under of 1,100 yards set by multiple sportsbooks before the season in just eight games – and is within striking distance, within the Buckeyes in position to potentially play seven more games this year, to potentially break Eddie George's single-season Ohio State record of 1,927 rushing yards.
Like Young, Dobbins said he is more focused on trying to help the Buckeyes win games than his pursuit of individual achievements. But he also recognizes the significance of having his name alongside Griffin at a school with a long list of legendary running backs that includes George, Ezekiel Elliott and many others.
"It's a blessing," Dobbins said. "A lot of great running backs have come through here, so I don't take that lightly. It's an honor to have that. You sit and think about all the guys that came through. I'm just trying to carry on that tradition. That happened, and I can only thank God for that."
Fifth-year senior wide receiver K.J. Hill achieved another milestone on Saturday, as well, when he became the ninth player in Ohio State history with 2,000 career receiving yards. He caught only one pass for 11 yards against the Badgers, but that was enough to extend his streak of consecutive games with a catch to 42, which leaves him just 17 catches away from David Boston's school record of 191 career receptions.