You probably already know the only thing you really need to know about Ohio State's upcoming opponent: Rutgers is bad. Really, really bad.
The Scarlet Knights are just 2-7 this season, and their only wins are over UMass and Liberty. They have lost all six of their Big Ten games this season by at least 28 points.
Ohio State is favored to win Saturday's game by more than 50 points. Considering how dominant the Buckeyes have been this season, defeating their opponents by an averaging of 42.4 points, it would be a shock if the Scarlet Knights can even keep Saturday's game competitive, let alone pull off an upset.
Given that, we're not going to spend much time here talking about players to watch or ways in which the Scarlet Knights could challenge Ohio State, because the reality is, there aren't many. We can take a look, though, at just how pronounced Rutgers' struggles have been and some other facts you might want to know about the team the Buckeyes will play on Saturday before they hit the defining stretch of their season.
Among The Nation's Worst on Both Sides of the Ball
Rutgers' struggles this season have come in just about every phase of the game, as the Scarlet Knights rank among the nation's worst teams on both offense and defense this season.
They've scored only 14.7 points per game this season – only Northwestern and Akron have scored less – while they've allowed 36.7 points per game, more than all but five other Football Bowl Subdivision teams.
Offensively, they've gained only 280.3 yards per game (126th in the FBS) on 4.58 yards per play (124th), and their games against UMass and Liberty were by far their best of the year. Rutgers has failed to cross the 200-yard threshold in each of its four games this season against teams who are currently ranked in the AP Top 25 (Iowa, Michigan, Indiana, Minnesota).
Defensively, the Scarlet Knights have been only slightly better, allowing 431.2 yards per game (96th in FBS) on 6.25 yards per play (102nd). They've allowed their opponents to gain more than 400 yards in all but two of their nine games this season.
Jeff Sagarin's college football ratings, which include both Football Bowl Subdivision and Football Championship Subdivision teams, currently rank Rutgers as the 138th-best team in the country. That's by far the lowest ranking for any Power 5 team – no other Power 5 team is even outside the top 100 – and more than 50 spots lower than any team Ohio State has played this year, including Northwestern (82nd), Maryland (83rd) and Miami (85th), all of whom the Buckeyes beat by at least 49 points.
Their Best Player: Their Punter
One of the only areas where Rutgers ranks among the best teams in the country is punting, and that's not only because the Scarlet Knights do it a lot.
Adam Korsak has been one of college football's best punters this season, averaging 44.6 yards per punt while downing 24 of his 53 punts inside the opponent's 20-yard line. The Scarlet Knights rank eighth nationally with 42.6 net yards per punt, having allowed only 87 yards on 15 punt returns.
Korsak has won the Ray Guy Punter of the Week award three times this season, including one week where he was beat out by Ohio State's Drue Chrisman for the Big Ten Special Teams Player of the Week even though he averaged 47.6 yards per punt on 10 punts with seven downed inside the 20-yard line, five inside the 10-yard line and four inside the 5-yard line, including a 69-yard punt that settled at the 1-yard line.
The Scarlet Knights certainly don't have many players who will be in the running for All-American or All-Big Ten honors this year, but Melbourne, Australia native Korsak has put himself in those conversations.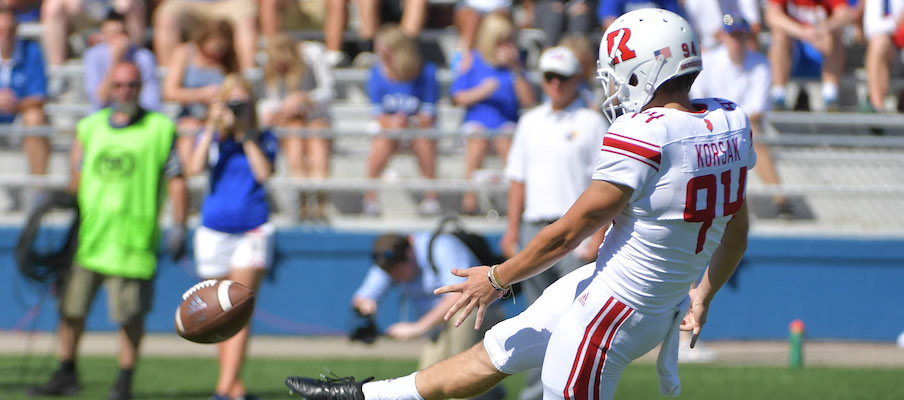 From High School Coach to College Head Coach in Less Than Two Years
Nunzio Campanile has served as the Scarlet Knights' interim head coach since September, when Rutgers fired former Ohio State defensive coordinator Chris Ash after winning just eight games in three-plus seasons. Campanile has also served as the Scarlet Knights' offensive coordinator since then, as previous offensive coordinator John McNulty was fired on the same day as Ash.
Campanile was previously the Scarlet Knights' tight ends coach and was their running backs coach in 2018, but what makes his current standing as a collegiate head coach unusual is where he was before that. Just two years ago, Campanile was coaching at the high school level, where he spent eight years as the head coach at New Jersey powerhouse Bergen Catholic, leading the Crusaders to a state championship in 2017.
Rutgers starting quarterback Johnny Langan played for Campanile at Bergen Catholic, and so did Ohio State defensive end Javontae Jean-Baptiste.
Campanile will only be Rutgers' head coach for the rest of the month, as the Scarlet Knights are currently in the process of hiring their next full-time head coach. According to reports by NJ.com, the Scarlet Knights are likely to hire another former Ohio State defensive coordinator, Greg Schiano – who was previously the head coach at Rutgers from 2001 to 2011 – potentially by the end of this week.
Even so, Campanile's rise from leading a high school football program to leading a college football program in less than two years has been noteworthy, and the New Jersey lifer could be a candidate to remain on staff for the next head coach.
Still Some Ohio State Connections on Staff
Although Ash wasn't given the opportunity to continue coaching Rutgers through this season, a couple of the staffers who Ash brought with him from Ohio State to Piscataway are still with the Scarlet Knights for now.
Ohio State's Previous Games Against Rutgers

| YEAR | LOCATION | RESULT |
| --- | --- | --- |
| 2018 | Columbus | Ohio State 52, Rutgers 3 |
| 2017 | Piscataway | Ohio State 56, Rutgers 0 |
| 2016 | Columbus | Ohio State 58, Rutgers 0 |
| 2015 | Piscataway | Ohio State 49, Rutgers 7  |
| 2014 | Columbus | Ohio State 56, Rutgers 17 |
Vince Okruch, who was a quality control coach for the Buckeyes in 2014 and 2015, is in his fourth season as the Scarlet Knights' special teams coordinator and has also served as their outside linebackers coach this year.
Kenny Parker, who was an assistant strength and conditioning coach for the Buckeyes from 2012 to 2015, is in his fourth season as the Scarlet Knights' head strength and conditioning coach.
Defensive quality control coach Adam Weber also previously worked at Ohio State before moving to Piscataway with Ash.
Rutgers' next head coach will likely choose to bring in his own staff, so all of them could be cleaning out their offices and returning to the job market at the end of the month, but not before one more game against the Buckeyes and a reunion with some of the fifth-year seniors and longtime staffers who have been at Ohio State since at least 2015.
It's A Software Company
Rutgers' new stadium name has been the butt of jokes all season long, as the venue previously known as HighPoint Solutions Stadium was renamed as SHI Stadium this offseason – we'll let you make your own cracks about that.
If you're wondering, SHI is a global provider of information technology products and services headquartered in Somerset, New Jersey. The company, whose name is pronounced by spelling out its initials, has more than 20,000 customers in the United States and is the largest minority and woman-owned business enterprise in the country, according to Rutgers' release this summer on its partnership with the company.
As a result of the Scarlet Knights' struggles, attendance has been low at SHI Stadium this season – they've drawn less than 50,000 combined fans to their last two home games – but the arrival of Ohio State and its nationwide cavalry of fans should draw a larger crowd to the banks of the Raritan River this weekend.