Ryan Day and Jeff Hafley didn't need to say much to express how they felt about the way Chase Young performed in Ohio State's 28-17 win over Penn State on Saturday.
After Ohio State's superstar defensive end recorded nine total tackles, four tackles for loss, three sacks and two forced fumbles in Saturday's game, his first game in nearly a month after he was suspended two games for an NCAA violation, Day and Hafley both made it clear that there's no one they'd rather have at the forefront of their defense.
"Oh my gosh, I just think Chase Young deserves to be in New York," Day said, referring to next month's Heisman Trophy ceremony. "How dominant of a player is Chase Young? And the impact he has on the game is just unbelievable."
Hafley: "If there's a better defensive player in college football or just a better complete football player in college football, I'd like to watch his tape. I don't say that often, but if there's a more dominant player in the country on defense than Chase Young, somebody needs to bring me the tape and I'll watch every snap of it."
It's going to be tough to find that tape.
With another dominant performance on Saturday, Young has now recorded 38 total tackles, 19.5 tackles for loss, 16.5 sacks – setting a new single-season Ohio State record for sacks in the process – and seven forced fumbles in just nine games this season. 
In Ohio State's last four games, Young has recorded 15 total tackles, nine tackles for loss, seven sacks and four forced fumbles – and he only played in two of them.
"If there's a better defensive player in college football or just a better complete football player in college football, I'd like to watch his tape."– Ohio State co-defensive coordinator Jeff Hafley
After he recorded six tackles, five tackles for loss, four sacks and two forced fumbles in Ohio State's 38-7 win over Wisconsin – which had been considered the Buckeyes' biggest game of the season to date until Saturday's game against Penn State – Young emerged as a real candidate to become the first defensive player to win the Heisman Trophy since Michigan's Charles Woodson accomplished the feat in 1997.
Then came the two-game suspension, which Young had to serve after accepting a loan from a family friend that was impermissible by NCAA rules. In his interview session after Saturday's game, his first meeting with the media since his suspension, Young opted not to discuss any specifics about the violation, preferring to keep his focus forward on the remainder of the season.
"I just made a mistake and put it behind me and just keep moving forward," Young said.
Realistically, Young only missed two halves of football. The Buckeyes didn't need him to beat Maryland or Rutgers, both games they won in blowout fashion, and he wouldn't have played past halftime in either game. His statistics for the season would probably be even bigger if he played in those two games, but his performances against the overmatched Terrapins or Scarlet Knights weren't going to be his Heisman moments.
In the national spotlight once again on Saturday, however, Young had the opportunity to remind people why many consider him to be the most dominant player in college football, and that's exactly what he did. He brought constant pressure and made highlight-reel plays throughout the game. 
On Penn State's second possession of the game, Young was in on back-to-back tackles for loss to force a punt. On Penn State's final possession of the third quarter, Young nearly notched a safety when he sacked Nittany Lions quarterback Will Levis at Penn State's 1-yard line, which ultimately led to another punt. On Penn State's final possession of the game, on which the Buckeyes rushed just three defenders and dropped eight, Young started the series off with a sack that led to a four-and-out.
@Youngchase907 is must-watch TV pic.twitter.com/1qsPs9znq6

— FOX College Football (@CFBONFOX) November 23, 2019
In a game where Penn State had a season-low 227 yards of offense and the Buckeyes were regularly disruptive up front, Young also helped his teammates make plays, like when he combined with Jashon Cornell for a crucial third-quarter sack to force a field goal when Penn State, trailing 21-14 at the time, had a chance to tie the game.
"One thing about Chase being out there, it helps everybody else play fast," Cornell said after the game. "He might be the heart of our defense, 'cause once he gets started, it gets everybody else going."
Now that Ohio State is in the heart of its season, with Michigan up next on the schedule and the Big Ten Championship Game after that, the Buckeyes need Young to be playing at his best, and he showed no signs of rust whatsoever on Saturday.
Young, who was a full participant in practice during the weeks he was suspended and even worked out on his own on the game days he wasn't allowed to participate in, acknowledged that he was "itching to get back on the field" during his suspension, and it showed in his play against the Nittany Lions.
"Just not being out there for two weeks, I just tried to give it all I had today," Young said. "I just tried to put my best foot forward."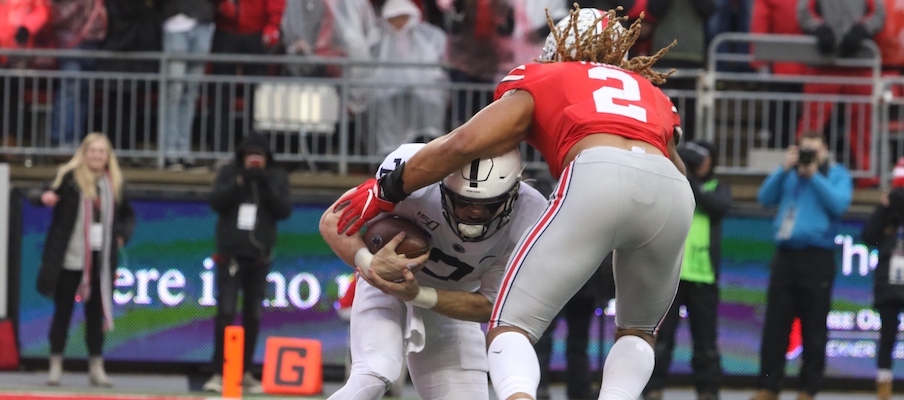 Hafley said he thought Young was even "maybe a twitch faster" on Saturday than he was in his similarly dominant performance against Wisconsin, and that he never saw anything less from Young than he usually sees while he was going through his suspension.
In a game where the Buckeyes scored their least points of the season and needed their defense to be at its best, Young made the biggest impact of anyone in making that happen.
"It allows you at times to rush three, it allows you to move them around, it allows you to put more in coverage and it takes away deep-developing routes," Hafley said of the impact Young makes on the game. "It's hard to drop back and sit in the pocket and throw the ball down the field on deeper-developing routes with him in the game. And then when you get into an end of the game where you know they're gonna throw the football, I mean, you can see it. I think everybody in the stadium was probably watching him. And he came through."
As for the Heisman conversation, Young's performance on Saturday was the kind of performance he needed to thrust himself right back into it. LSU (and former Ohio State) quarterback Joe Burrow remains the favorite to win the award, and Young will likely need two more big games in Ann Arbor and in Indianapolis to make a real run at topping Burrow for the trophy.
Young feels grateful just to have his name in the conversation and to have his head coach publicly advocating for his candidacy.
"It means a lot for our leader, Coach Day, to say that," Young said. "I just thank God to put me in this position and gave me this opportunity to go out on the field."
Young's primary focus this season, however, has never been on trying to win individual awards or rewrite Ohio State's record books, but to help the Buckeyes win games. With the Buckeyes set to play in their annual rivalry game next week and compete for a conference championship the week after that, with a chance to compete for a national championship ahead if they win both of those games, that focus isn't going to change.
"I try not to look at the Heisman and all those awards while we're in season. That was the last thing I was pretty much worried about," Young said. "My mom always tells me, 'Nothing and nobody can stop God's plan.' So whatever's meant to happen is going to happen."