When Luther Muhammad and his older brother Al-Quadin play a game of one-on-one against each other, there's only one rule.
"He can't back me down," Luther says.
That's because Al-Quadin Muhammad, a defensive end for the NFL's Indianapolis Colts, is 6-foot-4 and 250 pounds, while Luther's 6-foot-3 frame carries just 185 pounds.
Don't think that Al-Quadin takes it easy on his younger brother, though.
"I don't even play no basketball no more, but I lace up my sneaks for him," Al-Quadin said. "Because I humble him. I play in the NFL, I don't play basketball no more but I still get after him, I beat him. He has beat me before, but I still beat him to this day.
"I'm not allowed to back him down anymore, because he says it's cheating because I'm huge and I'm big and all that type stuff, but I do be very aggressive with him. Very aggressive with him."
Playing one-on-one against an NFL player with a 65-pound size advantage would be a tough matchup for anyone, but those games have helped Luther get to where he is now.
Ranked as the No. 79 overall prospect in the high school class of 2018, Luther Muhammad is now entering his second season at Ohio State, where he is set to be among the Buckeyes' key players this year. The shooting guard started 28 of Ohio State's 34 games in 2018-19, led the Buckeyes' freshman class with 7.6 points per game and is regarded as the team's best perimeter defender.
Luther says he first realized he had the potential to play basketball at a high level when he was in fifth grade and started receiving attention from Bball Spotlight, a website based in his home state of New Jersey that covers youth and middle school basketball.
"Fifth grade year was like my first year ever being on a traveling team and like going to AAU tournaments. I didn't even really know what AAU was at the very moment. I was just honestly just traveling and playing," Luther told Eleven Warriors during Ohio State's preseason media day in September. "But I started getting like nice little writeups on this website Bball Spotlight and stuff, and I just felt as though like 'Wow, if I just started and I'm already getting writeups, I can probably pursue it and probably be good, and I can probably have a future in it.'"
Al-Quadin, who is four years older than Luther, started to realize around the same time that his younger brother had potential on the basketball court.
"When he was younger, I didn't think he was good or whatever, and then he would just keep playing basketball in the parks and he played AAU basketball and all that good stuff and I thought he was alright, I didn't think he was all that," Al-Quadin told Eleven Warriors in a recent phone interview. "As he got older, I just drastically started seeing change, and I watched him score – it might have been eighth grade, somewhere in there – I watched him score 50-something points in an elementary game. I watched him score 21 or 22 points at the free-throw line. I just watched him do unbelievable stuff where I knew he would be successful, I knew he would be great and all that came from hard work and just not doing what the average young kid is doing."
"He's one of the hardest workers out there. One of the hardest workers I know besides myself."– Indianapolis Colts defensive end Al-Quadin Muhammad on his younger brother, Ohio State guard Luther Muhammad
That work ethic, both Muhammads said, has been instilled in them from a young age by their mother, Michelle Epps.
"We had a rule in the house: If you start something, you can't quit it. I don't care if it was volleyball, baseball, whatever it was – if you started it, our rule in the house was you had to finish it," Al-Quadin said. "My mom ran track. My mom is one of the toughest moms out there … She's just one of those moms that just pushed us to be the best we can, and not quit, always compete. Always be the best."
The Muhammads grew up in Irvington, New Jersey, in what both of them described as a "rough neighborhood," and they say that also instilled a toughness in them that helped them get to where they are today.
"Luther growing up was one of the toughest kids I know," Al-Quadin said. "We grew up in a neighborhood where you got to protect what's yours. You can't leave your bike outside of the store when we go into the store. You gotta be tough. Or people will take advantage of you and take what's yours. My family, we wasn't nothing to mess with."
Al-Quadin grew up to become a football star, first at powerhouse New Jersey high school Don Bosco Prep, where he became the No. 48 overall prospect in the football recruiting class of 2013. Although he only played two seasons at Miami due to suspensions for off-field incidents, Muhammad was selected in the sixth round of the 2017 NFL draft and is now in his third season in the league, emerging as a regular contributor in the Colts' defensive line rotation.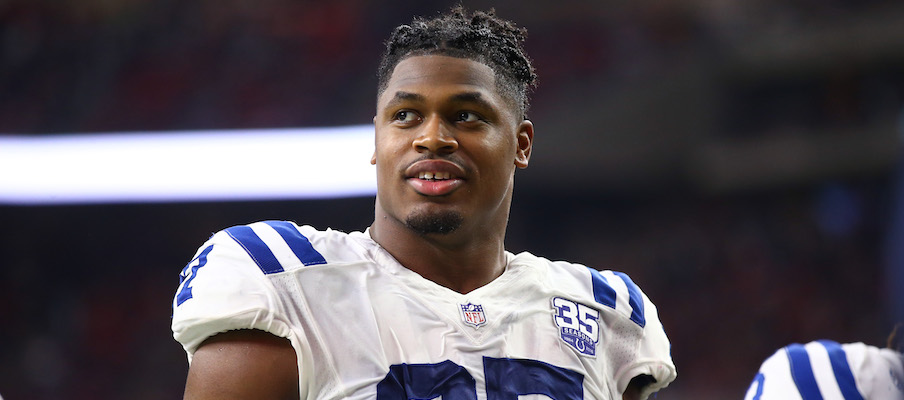 Luther played football when he was a kid, too, but he ultimately decided that basketball was a better fit for him.
"I played football until fifth grade, and then I switched to basketball just because I actually developed faster in basketball than football. So I just took the smarter route and stuck with that," Luther said. "And plus, I didn't like the cold. I don't like playing outside in the cold. So it wasn't my type of sport."
Nonetheless, seeing his brother become a high school football star, an ACC football player and now an NFL player set an example for Luther to follow in his own journey to become a basketball star at Hudson Catholic Regional High School and now, at Ohio State.
"He's definitely a main voice to me, telling me 'Listen, if I can do it, you can do it,'" Luther said. "So he's just living proof of he can make it out of our tough neighborhood from where we come from."
Al-Quadin, who knows from his own successes and trials what it takes to make it as a high-level athlete, wasn't surprised to see his younger brother make an immediate impact for the Buckeyes last season.
"The success he's having at Ohio State, I'm not surprised by none of it, because he works hard, day in and day out," said Al-Quadin, who said he was involved in Luther's decision to attend Ohio State. "He's one of the hardest workers out there. One of the hardest workers I know besides myself. So I'm not surprised by none of it, because I'm a firm believer from working hard and doing things the right way, only success will come from it. So I don't expect nothing less than success for him."
Now, though, Luther wants to take his game to the next level, particularly on the offensive end of the floor, where he hit the metaphoric freshman wall last season. After scoring in double digits in 12 of Ohio State's first 21 games as a rookie, Muhammad did not hit score more than nine points in any of the Buckeyes' final 13 games, so he spent this offseason working on improving his conditioning and becoming a more consistent scorer at all three levels.
On an Ohio State team that also has high expectations this season, as the Buckeyes have what could be their most talented roster yet in Chris Holtmann's tenure as head coach, Muhammad needs to be someone they can rely on in order to reach their potential.
"I think he'll score the ball for us this year, but he needs to be an efficient offensive player, and I think he needs to take that next step and continue to stay committed to being a plus defender," Holtmann said. 
Muhammad believes his struggles down the stretch of last season resulted from inexperience, as he went through the grind of a college basketball season for the first time, all while being immediately thrown into the fire as someone who was called upon to play key minutes for the scarlet and gray.
He also knows, though, that whether he is able to become a more consistent and dominant player this season will ultimately depend on how hard he works.
"I feel like most of it was just being young, being a freshman. But I don't really make excuses for myself," Luther said. "I just have to work even harder, be more consistent and just put more hours in the gym."
No one will be pushing Luther to work hard more than Al-Quadin, who said he talks to his younger brother nearly every day.
"I'm extremely hard on him," Al-Quadin said. "I tell him all the time: In order for him to be great and to be the best and to go to the NBA and all that type stuff, you got to focus on every practice, you got to focus on each game. You can't think ahead. You got to just be the best, you got to have the best practice that you can. And eventually it's going to come. But you got to live in the moment."