Much as Ohio State's 2018-19 basketball season saw the Buckeyes start strong before running into problems in the heart of the conference slate, guard Luther Muhammad experienced the same slide. 
An up-and-down season from a true freshman certainly isn't some kind of rare phenomenon. That said, Muhammad's drastic change in production from the first 21 games compared to his final 13 looked to be a little more complicated than just a young man hitting a wall amid the grind of his first collegiate experience. 
The 6-foot-3, 185 pound four-star talent from Jersey City, NJ was at times sensational for the Buckeyes over the first ~60% of last season at both ends of the floor. 
Muhammad scored 11 points in his collegiate debut in a 64-56 win at Cincinnati but more importantly, showed his willingness and competitiveness as an on-ball defender. He used his length to guard three different positions and helped give the team a level of toughness and swagger that had been missing in recent years. He was so tough, in fact, Muhammad missed just one game after dislocating his shoulder in the closing minutes of a loss to Syracuse in late November.
Playing dogged defense – oftentimes against the opponent's best perimeter player – and taking on the role of emotional leader came natural to Muhammad, but the offensive spark he provided over those first 21 games took some fans by surprise. 
Muhammad reached double figures in 12 of the first 21 games on a solid 45% from the floor and even more impressive 45% from beyond the arc. Key outings included a 24-point effort on 7-of-12 shooting with six boards and three steals in a win at Nebraska and a 20-point outburst with five rebounds, four assists and zero turnovers in a 74-70 win over Penn State. 
After his outstanding performance in that early February win over the Nittany Lions, however, Muhammad would fail to reach double figures the rest of the season while his minutes and production gradually decreased. 
LUTHER MUHAMMAD'S TALE OF TWO SEASONS

| STRETCH | MIN/G | FG% | 3FG% | PTS/G | AST/G | TO/G |
| --- | --- | --- | --- | --- | --- | --- |
| FIRST 21 GAMES | 30.2 | 45.0 | 45.2 | 10.2 | 2.0 | 1.5 |
| LAST 13 GAMES | 20.9 | 17.7 | 23.5 | 3.4 | 1.2 | 1.4 |
Muhammad's slide started quietly enough during a 55-52 win in Bloomington as he shot just 3-of-10 from the field, including 1-of-6 from downtown, for nine points in 32 minutes. He would see another 30 minutes four days later in a 63-56 loss at home to Illinois despite missing all six of his field goal attempts. 
Over the next 11 contests, Muhammad would play 30-plus minutes just once after recording at least 30 minutes in 10 of his first 21 games in scarlet and gray. 
It's worth noting fellow guard Keyshawn Woods came off the missing persons list, emerging as a much-needed scoring option, around the same time Muhammad began to fade out of the top-six portion of the rotation. 
Still, it wasn't just the resurgence of Woods that drove head coach Chris Holtmann to decrease Muhammad's minutes. 
Dreadfully cold shooting was the chief culprit, as Muhammad missed 51 of 62 shots over the final 13 games, good for an icy 17.7%. 
His frigid streak included that 0-for-6 outing versus Illinois, a 1-for-9 effort in East Lansing three nights later and a 1-for-8 showing in a 10-point loss at Maryland.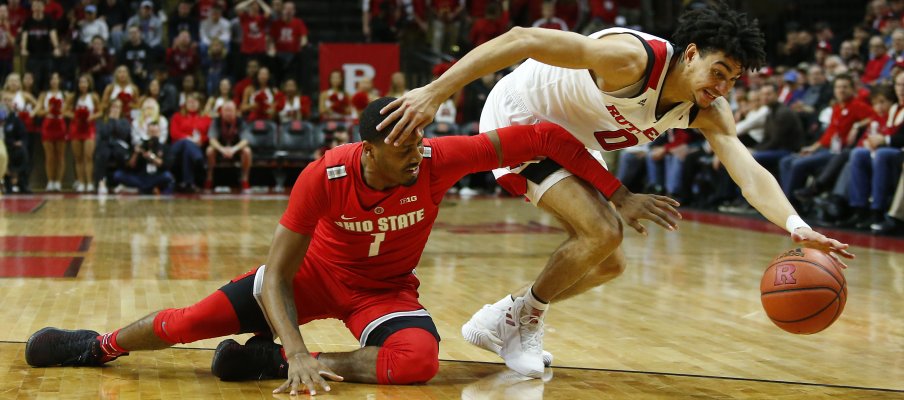 Muhammad failed to record at least three made field goals in any of his final 13 games, nor did he post one game in double figures. Additionally, he had more turnovers than assists in 12 of those final 13 contests. 
To his credit, in what was a ridiculously tough stretch for anyone to manage – let alone a true freshman – Muhammad still gave max effort at the defensive end and was a willing cheerleader on the sidelines. 
That spirit, which attracted Holtmann to Muhammad to begin with, along with the success realized during the first 21 games of his freshman season gives the now-sophomore something to build on. 
Another positive factor heading into Wednesday's season opener against Cincinnati is Muhammad won't be asked to do quite as much. Reinforcements in the backcourt have arrived in freshman blue-chip D.J. Carton and redshirt junior CJ Walker. 
With the Carton/Walker duo expected to handle the point guard duties not to mention sharing the floor at times, it could mean a less is more situation for Muhammad. 
Such a strategy would allow Muhammad to focus on perimeter defense and be more selective at the offensive end which should improve his efficiency and by extension, Ohio State's overall effectiveness as the Buckeyes look to become a legit threat in the Big Ten and beyond.