Keyshawn Woods couldn't make himself watch basketball.
He didn't want to watch any more conference tournaments after Michigan State beat Ohio State, 77-70, to eliminate the Buckeyes from the Big Ten tournament on Friday.
"I just didn't want to think about if we were going to get in (the NCAA tournament), if we wasn't going to be in," Woods said on Sunday. "My approach was come here, find out if we're in and prepare from there. Like, I didn't want to think about all the possibilities of this team winning, this team losing, this, this, I ain't want to do all those factors."
Most bracket projections had Ohio State in the field of 68 teams, but a level of uncertainty remained.
Woods didn't just hope the Buckeyes made the NCAA tournament. Many months prior, he had made the decision to transfer from Wake Forest to Ohio State solely because he wanted to go to the Big Dance in March.
"The reason he came here was to play in the NCAA tournament," Chris Holtmann said. "It was the reason basically. It wasn't me. He basically came here and said, 'Hey, I'm putting my faith in you that I can get there and play.'"
Holtmann didn't exaggerate.
"It was the whole reason why I chose to be a Buckeye," Woods said.
By Sunday night, Woods had his answer.
He laid down on the ground in front of a television in Holtmann's house, gathered around it with the rest of his team. Kaleb Wesson sat on the ground beside him, and the rest of the team surrounded them in a semi-circle. 
Woods, typically stoic on the court, couldn't hold back any emotion when he saw Ohio State pop up on the NCAA tournament selection show as a No. 11 seed facing Iowa State on Friday in Tulsa, Oklahoma. He popped up into an upright position on the ground as a wide smile came across his face, beginning to clap and only stopping hitting his hands together when he and Wesson began to high-five about a half-dozen times in a three-second span.
"We was just happy," Woods said. "We was just really, really happy that our name came across the screen. We had a great moment as a family, as a Buckeye family."
Feels like March #Team120 | #SelectionSunday pic.twitter.com/delvZWg5gz

— Ohio State Hoops (@OhioStateHoops) March 17, 2019
Holtmann felt relieved when he saw his team's name appear on the television screen on Sunday after a "miserable" two-day waiting period.
Some of that sudden calmness came because he no longer had to worry about not getting the Buckeyes to the tournament and potentially not helping Woods achieve that goal he set out to conquer. Woods has played on one NCAA tournament game – a First Four game in Dayton – and he wanted one final opportunity as a fifth-year senior.
"You feel that responsibility as a coach, you do," Holtmann said. "I mean, you feel it to all of your guys. Obviously players win games. We know how special he was really the last two days, but certainly Indiana, and he was off to a great start in the Michigan State game until some things got in the way of that. But he was tremendous."
Without Woods, Ohio State would never have have been in the position it was in on Sunday. The Buckeyes wouldn't have had a chance to make it.
In the third game of the season, Woods dropped a season-high 19 points, hitting 7-of-13 shots from the field and adding four assists and three rebounds to help propel Ohio State to a 69-60 win against Creighton. He scored 18 points in a 10-point win against Illinois in December and dropped 13 points the next game, a two-point vin versus Bucknell. 
It's no secret that Woods endured prolonged struggles during the course of the season, scoring in double figures just once between Dec. 18 and Feb. 20, leading to him becoming a common target for fans angry about the team's nine losses in January and February. But near the end of the season, Woods found his groove.
In what was essentially an NCAA tournament play-in game against Indiana in the first round of the Big Ten tournament, Woods had arguably his best game as a Buckeye. He hit 9-of-13 shots for 18 points, also grabbing seven rebounds and dishing four assists. 
"He doesn't show a lot of emotion, and I know you guys can tell that when he's playing," Kyle Young said after the win against Indiana. "But, you know, we just always tell him he can get to his spots and do what he did tonight. That pull-up, his little turnaround. Everything he does is critical in games like this for us to win. We just tell him stay confident, stay aggressive and get to his spots. When he plays (like that), he's at his best. He did that tonight, and it helped us get the win."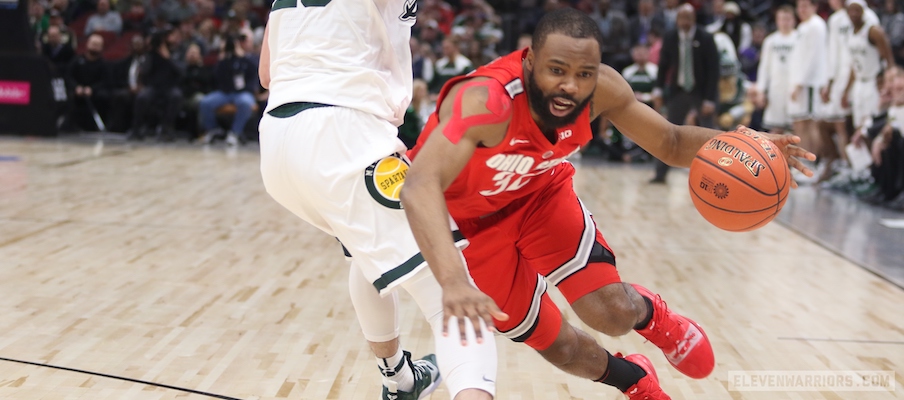 Woods dropped 16 points against Michigan State the next day, but he got into foul trouble and the Buckeyes lost by seven points. After the game while sitting in his locker, Woods was visibly devastated. He chose to transfer from Wake Forest to Ohio State to make the NCAA tournament, and he knew a win against the Spartans could've clinched an at-large bid.
So once he returned to Columbus, he couldn't watch basketball. Instead of sitting in front of his television, he saw "Captain Marvel" at a movie theatre – he said it was good, for those wondering – and spent the weekend resting and recovering from the back-to-back conference tournament games in Chicago on Thursday and Friday.
Sunday night, he and his team learned the news about making the NCAA tournament. Woods has never been to Tulsa, but he might be the happiest visitor the state of Oklahoma has seen.
"This season has been a grind," Woods said. "It's been very up and down for all of us, and I feel like as a team we handled it the best we could with all the adversity that we hit. But this past week or so, just having the support of my teammates and them being on me all season about being aggressive or just be you, I mean I think that just really showed in those past two games with Indiana and Michigan State. I'm just excited. I get another opportunity to help lead this team to another win."