It ended with Amir Johnson.
With the 56th pick in 2005, the Detroit Pistons selected a 6'9" power forward who reneged on his pledge to attend the University of Louisville in favor of declaring for the NBA Draft. In 13 seasons since, Johnson has put together a solid career in the world's best basketball league, contributing to playoff runs with the Pistons, Toronto Raptors, Boston Celtics, and the Philadelphia 76ers, where he still claims a spot on the bench.
But Johnson's selection would signal a change that reverberates across the NBA and college basketball to this day, as no other American high schooler has jumped directly from the prep level to the pros thanks the league's collective bargaining agreement which required minimum age of 19 and that draft entrants be at least one year removed from high school. While Johnson's career may have been a successful one, NBA teams were wary of selecting players straight from their senior proms after watching decorated prospects like Korleone Young, Jonathan Bender, Leon Smith, and Robert Swift all fail to adjust to the physical and psychological demands of professional basketball. 
By forcing players to attend college for at least one season, the league's scouts could better evaluate these young players, tracking their development for an additional 12 months, including on the big stage of the NCAA Tournament. But after Carmelo Anthony had recently led Syracuse to a national title in his only season on campus in 2003, many believed this forced influx of top talent would lead to a parade freshman stars cutting down the nets.
It hasn't exactly worked out that way.
Billy Donovan's University of Florida squad surprised many with a championship run in 2006, knocking off UCLA in the tournament final after beginning the season unranked. What was even more surprising, however, was the decision of star players Al Horford, Joakim Noah, and Corey Brewer to all return to school the following season, leading to zero selections in the that following June's NBA draft from the reigning national champions.
While many traditional powers like Kansas, Kentucky, Duke, and North Carolina were still attempting to recruit and build their programs around players that would be on campus for multiple seasons before turning pro, Thad Matta had already bought into the idea of building around a player nearly everyone expected to go first in the 2007 draft. With the arrival of Greg Oden along with fellow blue-chip recruits Mike Conley, Daequan Cook, and David Lighty, Ohio State immediately vaulted into national contention.
Of course, the Buckeyes would come up just short in a title game that saw Oden outplay both of the Gators' eventual NBA All-Star big men, tallying 25 points and 12 rebounds in the 84-75 loss. But though the game was a disappointment for Buckeye fans, it was a boon for pro scouts, as five of the top ten picks in that season's draft played in the championship game. 
"Honestly, it's been kind of a goal of mine to have a player selected as high as Greg is going to be," Matta said upon Oden's declaration for the draft, just two weeks following his final game in a Buckeye uniform. "This is a situation where we've got to handle it and continue to build."
In the years that followed, college basketball's blue-blood programs all bought into the notion of recruiting top-tier prospects and adopting a 'win-now' attitude. Blue-chip recruits often arrive as freshmen with the expectation of only staying a season or two at most before departing for the league, completing changing the way coaches think about roster construction compared to generations past.
But only twice has a team led by star freshman actually won the NCAA Tournament: the 2012 Kentucky team led by the top two picks in that year's draft (Anthony Davis and Michael Kidd-Gilchrist), and then three years later when a quartet of five-star freshman led Duke to a title.
As millions of Americans fill out their brackets today, the Blue Devils will surely be the most popular choice to be crowned as champions on the first Monday in April, thanks to the hype surrounding star freshman Zion Williamson and his supporting cast of fellow pro prospects. Yet in 13 seasons since the 'One-and-Done' era began, only seven times has the tournament winner featured a player that would be selected as a lottery pick (the first 14 selections) in the subsequent NBA Draft.
Yet while the top prospects are often overvalued in many people's brackets, one fact that shouldn't be overlooked is that 10 of 13 championship teams since 2006 have featured at least one player who was selected in the first round of that year's draft.
Only the 2010 Duke and 2016 Villanova national championship squads failed to produce a single pick following that season since Horford, Noah, and Brewer decided to stay in school. Like the Gators, though, top contributors on each of those title-winning teams would eventually be selected in the first round in the years that followed (Nolan Smith, Miles & Mason Plumlee - Duke; Mikale Bridges - Villanova), meaning every single national champion has featured at least one first-round talent since the rule change was implemented.
Just as most office pools aren't decided by an upset in a 6-11 matchup on the first day, correctly selecting the title winner often isn't what puts Donna from accounting atop the leaderboard. Rather, it's the ability to predict winners in the second weekend that makes Donna a champion herself.
NCAA Tournament Teams with Picks in Same Season's NBA Draft Since 2006

|   | Final 2 | Final 4 | Elite 8 |
| --- | --- | --- | --- |
| Teams with Lottery Pick(s) | 15/26 | 23/52 | 43/104 |
| Teams with first-round Pick(s) | 21/26 | 31/52 | 55/104 |
| Teams with Any Draft Pick(s) | 23/26 | 40/52 | 75/104 |
It's in those Sweet 16 and Elite 8 games where having NBA talent truly makes a difference. Since 2006, 75 of 104 teams that have reached the Elite 8 had at least one draft pick on their roster, with more than half (55) featuring a first-rounder.
Of course, it's rational to wonder whether a deep tournament run could vault a player higher in the draft, such as Villanova's Donte DiVincenzo showed last year. After winning the tournament's Most Outstanding Player, the Wildcat guard was chosen 17th overall by the Milwaukee Bucks a couple of months later despite only starting 12 games in his college career.
Bleacher Report's Jonathan Wasserman looked to answer this very question and received varying responses from NBA scouts:
"Yes, it's a big stage, and the passion and desire to win means a lot to me," one NBA executive told Bleacher Report. "It's about the care factor; at the end of the season, who makes the push to continue to succeed? It does come into play for sure."

For other scouts, it's the gradual buildup and progression, not necessarily the tournament itself. 

"The tournament factor isn't so much of a big deal. I think what guys really want to see is a development line on the uptick from Day 1 up to now," said another NBA scout. 
As the Buckeyes have shown since the title game appearance from Oden, Conley, and company, simply having a future first-round pick on the roster doesn't translate to postseason success. The 2008 and 2009 OSU squads saw freshman centers Kosta Koufos and Byron "B.J." Mullens get selected 23rd and 24th in subsequent drafts but failed to register a single NCAA tournament game victory during either's time in scarlet and gray.
In 2011, a veteran OSU team was boosted by the addition of star freshman Jared Sullinger, winning the Big Ten and securing a #1 seed in the tournament. But a young Kentucky squad featuring six future NBA draft picks upset the Buckeyes in a close Sweet 16 matchup, shocking many in Columbus. Sullinger returned the next season and led the Buckeyes to the Final Four, but couldn't lead his team past fellow All-American and eventual #5 overall pick Thomas Robinson of Kansas.
In 2015, D'Angelo Russell revived a program headed in the wrong direction under Matta, shocking the Big Ten and willing his team to a #10 seed nearly single-handedly before going second in the draft. After beating VCU in their first tournament game, though, the Buckeyes were trounced by the Arizona Wildcats and their duo of first-round picks, Stanley Johnson and Rondae Hollis-Jefferson.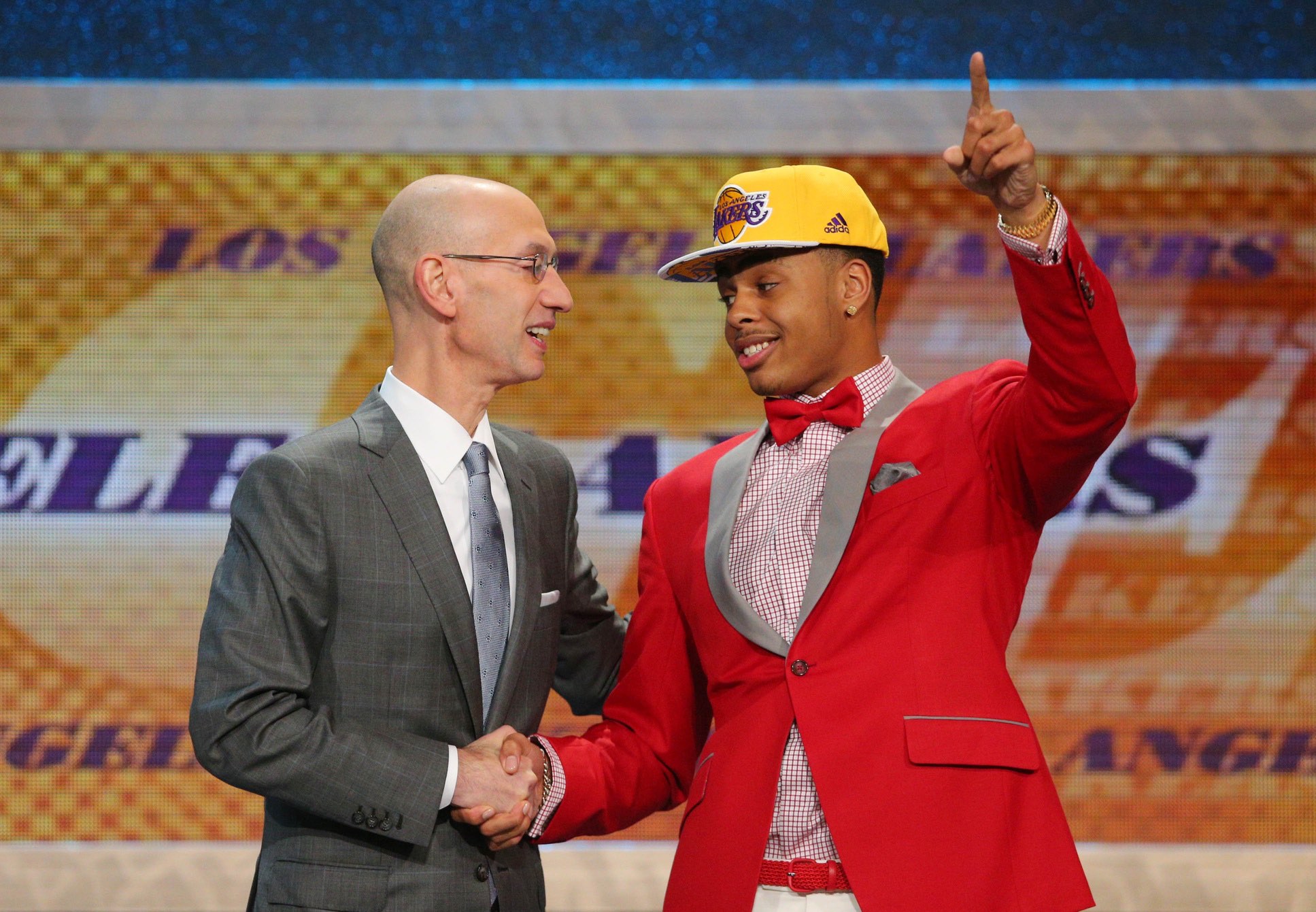 Last season, in their first tournament appearance since Russell left, the Buckeyes were dispatched by a Gonzaga squad that returned nearly all its top contributors this year, including potential lottery pick Rui Hachimura, earning the #1 seed in the west. Now, as they face Iowa State in their round-of-64 matchup in this year's tournament, things won't be much easier for Ohio State.
The Cyclones feature star freshman Talen Horton-Tucker among a cast of talented wings. While Horton-Tucker's game is polarizing to many scouts, both ESPN and Bleacher Report project the freshman from Chicago to be a first-round pick this June. Meanwhile, the Buckeyes feature no legitimate pro prospects of their own as of now.
Similarly, while much of the focus will remain on Williamson and the Blue Devils over the next couple of weeks, there is a common theme among the other #1 seeds.
In addition to the aforementioned Zags, Duke's rivals in Chapel Hill feature a freshman duo of their own, as Coby White and Nassir Little make the top-seeded Tar Heels a tough out for anyone over the next three weekends. Similarly, fellow #1 seed Virginia has much to prove after losing to a #16 seed for the first time in tournament history last year, but with a potential lottery pick in sophomore DeAndre Hunter along with juniors Ty Jerome and Kyle Guy, the Cavaliers are one of the few teams in the nation with both top-tier talent and veteran leadership.
Despite a loss in the semifinals of the SEC tournament, Midwest #2 seed Kentucky features four players making their case to go in the first round this June in sophomore P.J. Washington and freshmen Ashton Hagans, Keldon Johnson, and Tyler Herro. The team that knocked off the Wildcats in the SEC tournament, South #2 seed Tennessee, features a pair of fringe first-rounders in junior Grant Williams and the rare senior, Admiral Schofield.
The SEC's regular season champion and #3 seed in the East, LSU, is led by freshman center Naz Reid and sophomore point guard Tremont Waters, who have both seen their draft stock rise in recent weeks. 
Even Pac-12 regular season champion and #9 seed in the Midwest, Washington, has been overlooked by many and considered a favorite to go down to #8 seed Utah State in what feels like a David-versus-Goliath matchup. But the Huskies have a pair of NBA prospects in sophomore guard Jaylen Nowell and senior wing Matisse Thybulle. Similarly, Pac-12 rivals and South #12 seed Oregon, feature a rising NBA prospect in five-star freshman wing Louis King.
The Big Ten in the Tournament

| Team | Seeding | Opponent |
| --- | --- | --- |
| Michigan State | 2 seed | Bradley |
| Michigan | 2 seed | Montana |
| Purdue | 3 seed | Old Dominion |
| Wisconsin | 5 seed | Oregon |
| Maryland | 6 seed | Belmont/Temple winner |
| Minnesota | 10 seed | Louisville |
| Iowa | 10 seed | Cincinnati |
| Ohio State | 11 seed | Iowa State |
But if we're to believe that the presence of NBA talent is key to postseason success, then the smart money will be betting against the Big Ten. Despite putting more teams in the competition than any other conference in the nation, the league's best pro prospect, Romeo Langford of Indiana, will be watching from home. Of B1G programs that made the big dance, only Maryland features a potential first-round pick in sophomore center Bruno Fernando.
Michigan's Ignas Brazdeikis may have been the conference's freshman of the year, but NBA scouts project him as only a second-round pick right now. Meanwhile, Michigan State's roster lacks a single pro prospect as now, despite sporting the conference player-of-the-year in Cassius Winston, while Purdue's Carsen Edwards, who pushed Winston for the award, is only a likely late second-rounder. Wisconsin's Ethan Happ, a three-time all-conference player, will be playing overseas at this time next year.
The NCAA Tournament has earned its nickname for a reason, but stories like last year's Cinderella run from the Loyola Ramblers are the exceptions to the rule. When filling out your bracket this week, remember that history tells us the talent often rises to the top.