Chris Holtmann didn't say so publicly, but after Ohio State beat Iowa, then a top-25 team, by 20 points on Feb. 26, he thought his team needed just one more win to make the NCAA tournament.
With three games remaining in the regular season, he felt confident. But shortly after the win against the Hawkeyes, Kaleb Wesson was suspended for three games. Purdue blew out the Buckeyes, and Northwestern beat them by 18 points. Ohio State nearly pulled off a miraculous comeback in the final regular-season game of the year, but Wisconsin won in overtime. Eventually, the Buckeyes finally captured their 19th win of the season, beating Indiana in the Big Ten tournament.
Without that victory, they likely would have been among the teams on the outside of the field of 68 looking in.
"It took us a while to get the other win there, so it was dicey there," Holtmann said on Sunday.
Dicey or not, the Buckeyes did just enough to secure an at-large bid into the NCAA tournament.
The season didn't go smoothly – Ohio State went 12-1 to open the season then went 7-13 in the calendar year of 2019 – but it wasn't supposed to.
"We knew coming into this year that a lot of people were just going to count us out just for different reasons. Good thing this team didn't really let that affect us."– C.J. Jackson
A year ago, Holtmann shocked onlookers by leading the Buckeyes to a 26-9 overall record, a second-place finish in the Big Ten with a 15-3 record and a No. 5 seed in the NCAA tournament. Most analysts had projected them to finish in the bottom half of the Big Ten, but behind a Big Ten player of the year – Keita Bates-Diop – and a cadre of role players whose skill sets fit together, Ohio State thrived.
Following that season, Bates-Diop headed to the NBA and Jae'Sean Tate, Kam Williams and Andrew Dakich graduated. Considering those losses combined with how many players had transferred from the program in the final years of Thad Matta's tenure, the roster was relatively barren.
Kaleb Wesson and C.J. Jackson remained in Columbus, but no one else who averaged more than 4.1 points per game was returning. A rebuilding season appeared possible.
"We've never coached a team where it's been this number of new faces, and you're trying to figure out with each passing day who we are and who we're becoming," Holtmann said. "That's been the challenge."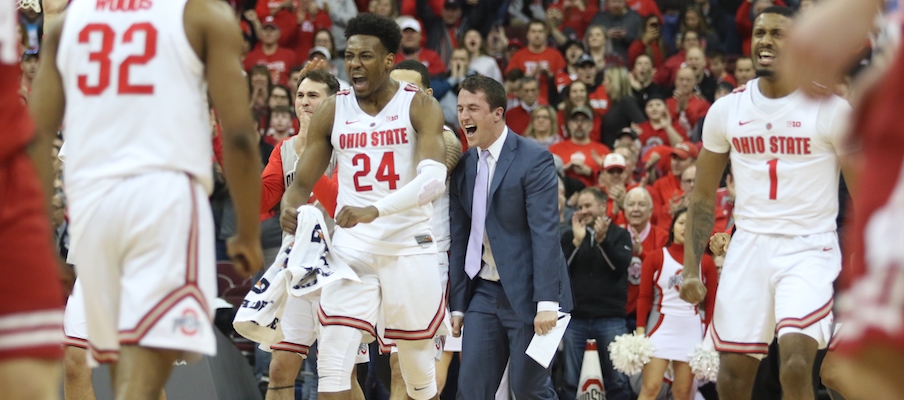 The situation grew even more difficult when Micah Potter transferred two days before the season began, leaving the Buckeyes with 11 scholarship players eligible to play and just three players taller than 6-foot-6.
Consider the pieces Holtmann and the coaching staff had to fit together.
The senior class consists of C.J. Jackson (once a lesser-recruited junior-college transfer who had committed to George Mason and never expected to be Ohio State's starting point guard), Keyshawn Woods (a graduate transfer on his third collegiate team) and Joey Lane (a former walk-on who earned a scholarship under Matta). None of the four freshmen – Duane Washington Jr., Luther Muhammad, Justin Ahrens and Jaedon LeDee – were ranked among the nation's top-75 recruits, and only Muhammad was in the top 100.
Wesson had a year of starting experience, but he had to improve his physique and learn to foul less often. Andre Wesson and Musa Jallow had ample experience, but due to their offensive limitations, they had scored in double figures just four times in three combined seasons. Kyle Young had recruiting pedigree, but no one knew quite what to expect from him in his second year since he played behind Bates-Diop and Tate as a freshman.
That's it. That's the entire group of 11 scholarship players who found a way to win enough games to earn a spot in the NCAA tournament, eschewing any preseason projections that left them out of the field.
"It was really rewarding. Our players have earned this," Holtmann said. "Players win games. We have really good players that have stepped up at important times. And obviously we've had our struggles. We have. There's no doubting that. And we all take responsibility for that. And we're also won some games, and we won some important games, certainly beginning with our very first one."
Holtmann, referring to Ohio State's road win against Cincinnati, understands the importance of each win.
It's simple: had the Buckeyes lost to the Bearcats in the first game of the season more than four months ago, they would not have made the NCAA tournament. Cincinnati ended the season with a higher NET ranking than any other team Ohio State beat.
"Looking overall, I think we had to have a much different identity than last year's team, and we had to find that identity pretty quickly because of who we opened up with," Holtmann said. "So I think that was the challenge. It wasn't like, OK, you're going to play your way into figuring out who you are. We had to be pretty good on opening night or else you're missing out on opportunity that could prove valuable, and it obviously proved very valuable."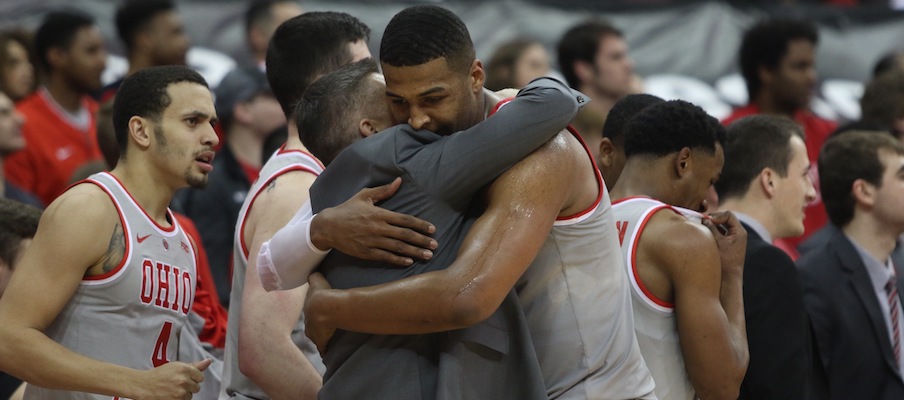 Holtmann didn't enter the 2018-19 season with any delusions. He knew replacing Bates-Diop, Tate and others would be tough, and he accurately predicted the strength of the Big Ten.
Thus, he viewed an NCAA tournament berth as possible, yet understood it would require a mighty effort from everyone involved in the program.
"If we played well, I thought it could be very, very close," Holtmann said. "If we had guys step into new roles and increased roles, which we've seen with a number of guys. Kaleb's better, Andre's better. Keyshawn has really helped us. Our freshmen have helped us. Kyle Young's stepped up. I thought if we had some of that, we would have a chance."
Nothing was perfect this season.
Wesson battled foul trouble and earned a suspension at a terrible time. Jackson turned the ball over too much. Woods went through prolonged offensive slumps. Young suffered a stress fracture in his leg. Muhammad hit the freshman wall.
But Ohio State's coaching staff put the players in enough situations to succeed, and the players played their roles well enough to be in the field of 68.
"We knew coming into this year that a lot of people were just going to count us out just for different reasons," Jackson said. "Good thing this team didn't really let that affect us. We did what we had to do throughout the season to put ourselves in position to make the NCAA tournament. So at the end of the day, especially with a young team, that's all you can ask for."
The Buckeyes didn't need to be perfect to play in the NCAA tournament. They just needed to be good enough, and they were.