It only took a couple of practices this fall for Chris Holtmann to recognize the difference at point guard.
No longer did he have C.J. Jackson and Keyshawn Woods in the backcourt. Instead, he has DJ Carton and CJ Walker. 
The hotshot freshman and the Florida State transfer. The top-35 overall recruit and the fourth-year junior with Elite Eight experience. The Iowan who picked the Buckeyes over other Big Ten powers and the veteran who already has a year of learning the Ohio State system under his belt.
"I think that position, it's exciting to us because we have some experience, obviously, in CJ Walker and in DJ Carton, a young guy who is really gifted," Holtmann said last week at Big Ten media day. "We'll play those two together, as well. So we don't always look at it as an either-or situation. I think there will definitely be times when they play together."
Walker ran with the scout team last year as he sat out following his transfer from Tallahassee to Columbus, so Holtmann's coaching staff already has a grasp on what a team run by him would look like. Carton enrolled this summer and is currently going through his first college preseason camp.
Together, they're a pair of prototypical point guards the Buckeyes didn't have a season ago.
"I think the pace of play with our point guards, they've provided some things for us that are just a little bit different in terms of their ability to get from zero to 60, and we need that," Holtmann said last week at Big Ten media day. "I think we need to be able to touch the paint and threaten the paint more than what we did last year."
Without Jackson and Woods, Ohio State would not have gone dancing in March.
If not for Jackson, the Buckeyes wouldn't have edged out Indiana on the road in February or beat the Hoosiers a month later in the Big Ten tournament. And without Woods, they wouldn't have defeated Creighton in Nebraska, Indiana in the conference tournament or Iowa State in the first round of the NCAA tournament. 
No chance. Even if they weren't natural point guards, like Carton and Walker.
"Guys like C.J. and Keyshawn, they were great leaders," Kaleb Wesson said. "Even though people might think they're not point guards, they led the team."
But with Jackson and Woods running the offense, Ohio State often stagnated.
The Buckeyes often had prolonged scoreless stretches that left Holtmann and his coaching staff wondering whether they could do anything at all to get the ball in the bucket. That led to a much-too Kaleb Wesson-centric offense that was hapless whenever he headed to the bench – which was on full display during his three-game suspension at the end of the regular season. Without anyone who could consistently drive to the rim, Ohio State settled for more contested 3-pointers than Holtmann would prefer and didn't get to the free-throw line often.
The Buckeyes ranked 11th in the Big Ten in adjusted offensive efficiency (107.8), 163rd in the nation in free-throw rate (33.7) and 193rd in the country in adjusted field-goal percentage (50.3) last season, per Bart Torvik. If the presence of Carton and Walker improves the offense in the way Holtmann hopes, all three numbers will jump this season.
"We just could not get enough easy scores last year. Whether in the half court or certainly in the open floor, it was so hard for us to manufacture against a good defense," Holtmann said. "Remember our Northwestern game. That was a top-half defense in our league. And we just couldn't score without (Wesson). Our inability to touch the paint. It's definitely different. Probably I've noticed that with DJ. I think CJ Walker can touch the paint a little bit."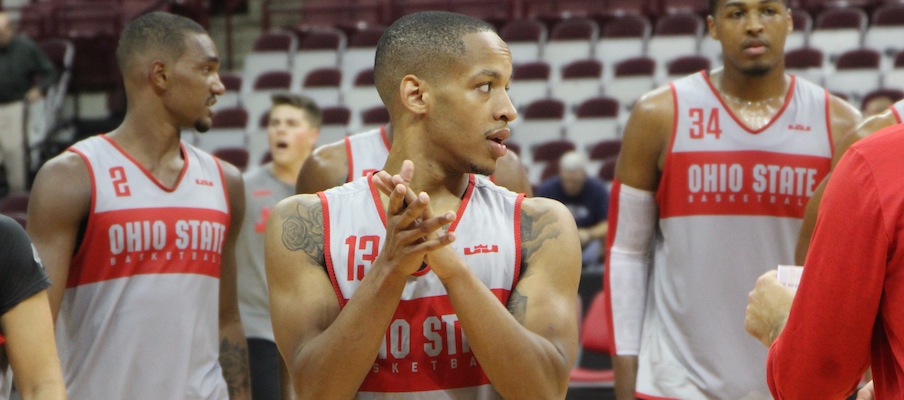 Last year's offensive inconsistency extended to transition opportunities.
Well, that's not actually true. The results were consistent, just not in the way Ohio State would prefer. Of its shots last season, 21.6 percent came in transition, but the Buckeyes ranked 274th in the country with an effective field-goal percentage of 52.6 on transition, per Hoops-Math. The Buckeyes ranked 276th in the country in adjusted tempo, underscoring their tendency to run a half-court offense that relied heavily on Wesson.
With Carton and Walker in the backcourt, both the total amount of transition opportunities and the efficiency in those moments could increase.
"Obviously with the guards that we have now, they're a lot quicker, a lot faster, so we'll definitely see us playing faster, for sure," Andre Wesson said. "For guys like me, it just makes it easier for me to run to the wing or run in transition and get easier baskets."
Holtmann agrees with Andre's assessment.
"I think that we're going to be able to be better in transition," he said. "I would say based on the last three or four practices, we've got guys that have real opportunities in the open floor, particularly DJ. We knew that when we recruited him. He's tremendous in the open floor."
Of all the attributes that made Carton the No. 34 overall prospect in the nation, his explosiveness stands out.
"In transition, things like that, I feel like we can really fit each other. I really don't have a problem teaching or playing with him or whatever situation it may be."– CJ Walker on playing with DJ Carton
In March, he won the dunk contest at the Iowa vs. Illinois High School All-Star game in March, and he claimed first place in the dunk contest at the Iverson Classic the following month. Based on recent comments from his Ohio State teammates, Carton has shown off his 39-inch vertical leap plenty since arriving in Columbus.
"He's a freak of nature," Kaleb Wesson said. "He's really fast. Really athletic. He finishes around the rim at a different level."
Walker added: "There's a lot to see from all the YouTube and things like that. But to actually see it in person is amazing."
Outside expectations, as evidenced by his landslide selection as preseason Big Ten freshman of the year in the unofficial Big Ten media poll, are for Carton to take over at point guard due to his ability to get to the rim and control the game in transition. However, he might not even start to open the 2019-20 season.
Walker could have the inside edge, considering he's already spent more than a year getting himself integrated into Holtmann's program. 
"I think you're going to like watching CJ Walker," Holtmann said. "He's about the right stuff. He's about winning. I think he's a coach in the making at some point."
Nobody at Ohio State – not a single coach or a player – has mentioned Walker yet without bringing up either his leadership ability. He made a positive enough impression that Holtmann chose to bring him along with the Wesson brothers to represent the team at Big Ten media day in Chicago even though he hasn't played a minute in scarlet and gray.
Beyond those intangibles, he also showed himself to be a quality point guard at Florida State.
Walker came off the bench and managed 4.9 points and 1.3 assists in 12.5 minutes per game as a freshman before averaging eight points, 2.5 rebounds and 2.4 assists in 23.2 minutes per game as a full-time starter the following year. He shot 41.2 percent from the field and 35.5 percent from beyond the 3-point arc as a sophomore.
"I've been in both situations, coming off the bench and starting for a full season," Walker said. "I'm able to use my experience, able to teach and be able to play with (Carton) at the same time. I feel like we kind of fit each other very well. I can see us playing on the floor at the same time, whether I'm at the two, he's the one. In transition, things like that, I feel like we can really fit each other. I really don't have a problem teaching or playing with him or whatever situation it may be."
Holtmann has tossed out plenty of lineup ideas. Four-guard lineups with both Carton and Walker. Bigger lineups with two post players.
But one way or another, whether they play together or apart, Ohio State will almost always have at least one of Walker and Carton on the court. That's simply in the best interest of the Buckeyes this year.
"CJ is tough and tough-minded and I think has a really good understanding of playing to win and what that looks like and plays with good pace, has been a part of successful teams," Holtmann said. "DJ adds a dynamic of being able to get in the paint and provide an opportunity to attack in transition."
It probably won't take more than a couple games to see the difference in how the point guards run Ohio State's offense.